Want a fun and easy potato recipe to add to your arsenal? Check out these Spicy Oven Potato Wedges. They are simple and easy to make and everyone will rave about them.
These days, I am all about easy recipes to feed my family. I love flavor but I hate spending hours in the kitchen. I love creating delicious foods using real ingredients.
A few years ago, I was introduced to these oven baked potato wedges. They were good but lacked some seasoning and flavor, so I played around with them until we came up with this fantastic flavor combo!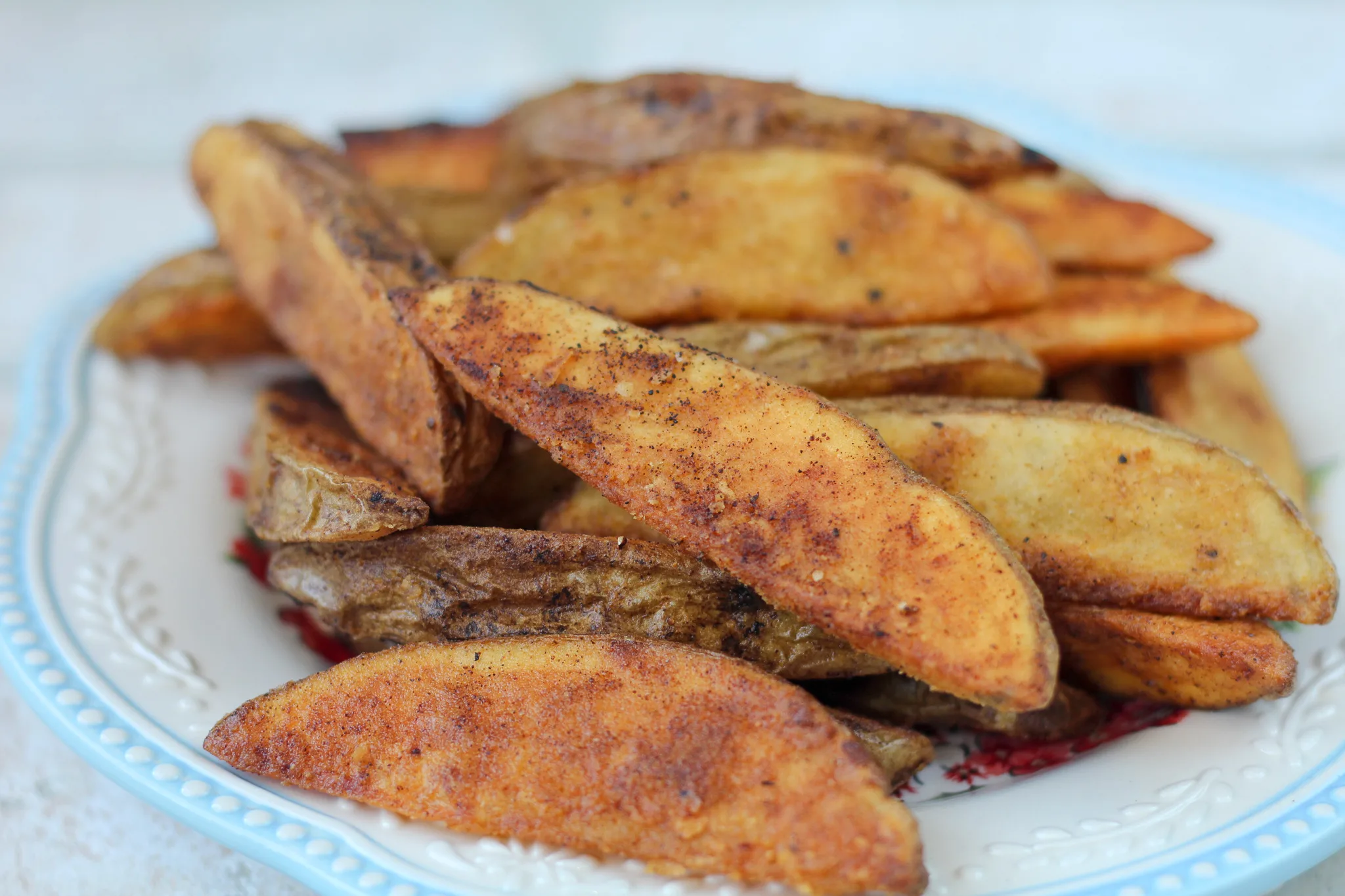 With just a few potatos and the perfect seasoning blend, you can make some of the best potato wedges ever.
How to Make Spicy Oven Potato Wedges
To make these delicious potatoes, you need about 4 russet potatoes. Cut them in half lengthwise, and then cut each of those in half lengthwise. You should end up with about 4 wedges, but you can even cut those smaller if you want and create 8 wedges. I like the smaller ones because they cook faster.
Next, mix up your seasonings. Now, you can do this in a bowl if you want, which is what I do sometimes. But, the best way is to get a paper sack and pour the seasonings in the sack. Then dump your potatoes in and close the bag and shake to coat the potatoes.
If you choose to do it in a bowl, just dump the seasonings on top of the potatoes and mix well.
Now, preheat the oven and grab your baking sheets. I add about 3-4 tablespoons of oil to the tray and spread it out all over it.
Then, I lay the potato wedges in a single layer on the tray.
Bake for 15 minutes. Now, take the wedges out of the oven and flip over. Then, you will want to bake it again for another 15-20 minutes or until the potatoes are fork tender.
Let them rest for a few minutes and then serve them alongside recipes like my Blackstone Philly Cheesesteak Sandwiches or my Nashville Hot Chicken.
Check out these other potato recipes
Yield: 8-16
Spicy Oven Potato Wedges
These potato wedges are delicious and easy to make. Better than any restaurant.
Ingredients
2 pounds potatoes, about 4 large
3 tablespoons flour
1 teaspoon onion powder
1 teaspoon garlic powder
1 teaspoon paprika
1/4 teaspoon of cayenne pepper
1 teaspoon salt
1/2 teaspoon black pepper
3-4 tablespoons vegetable oil
Instructions
Preheat oven to 450º.
Using a large baking sheet, add the oil and swirl it around until the entire bottom is coated in oil.
Cut the potatoes in half and then cut each half in half, and then cut each of those halves into halves. You should end up with 8 wedges.
In a paper sack, combine the flour and seasonings. Shake to blend. Place the potatoes, a few at a time, into the bag.
Close the top and shake the potatoes to coat them with the seasoning mixture.
You can also do this in a bowl without using a bag. Just put the potatoes into a bowl and dump the seasoning on top. Mix with your hands until the potatoes are coated well.
Arrange the coated potatoes on the oiled pan in a single layer.
Bake the potatoes at 450º for 15 minutes. Take them out and flip them over. Bake for an additional 15-20 minutes.
Serve!
Nutrition Information:
Yield:
4
Serving Size:
1
Amount Per Serving:
Calories:

359
Total Fat:

14g
Saturated Fat:

1g
Trans Fat:

0g
Unsaturated Fat:

12g
Cholesterol:

0mg
Sodium:

553mg
Carbohydrates:

54g
Fiber:

6g
Sugar:

3g
Protein:

7g