These praline pecans are some of the easiest snacks you will ever make. They are a Southern classic the whole family will love. Store them in an airtight container for up to two weeks.
One of my all-time favorite candies to make during the holiday season is Praline Pecans. You won't need a candy thermometer for making this easy recipe!
I love making these all times of the year, but during the holidays, this pecan praline recipe makes the perfect treat for gift baskets, appetizers for a party, or just a snack while you are watching your favorite Christmas movie.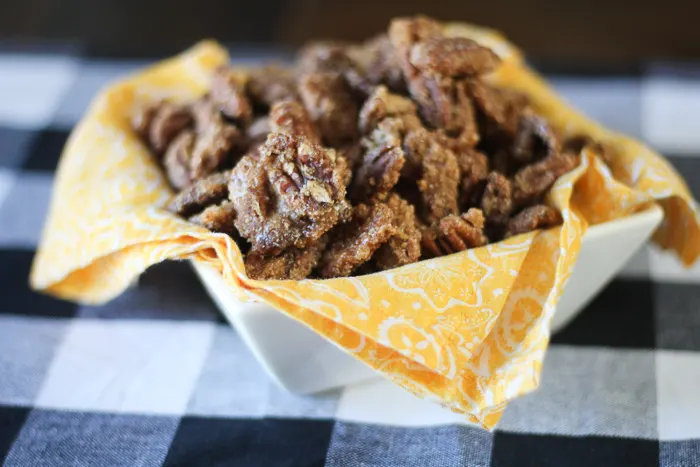 Now, these are a little different than your Southern Pecan Pralines made with heavy whipping cream, corn syrup, butter, and granulated sugar. A lot of people just call these candied pecans but they have the flavor of a Praline.
This post was originally published on December 11, 2015, but has recently been updated.
How to Make Praline Pecans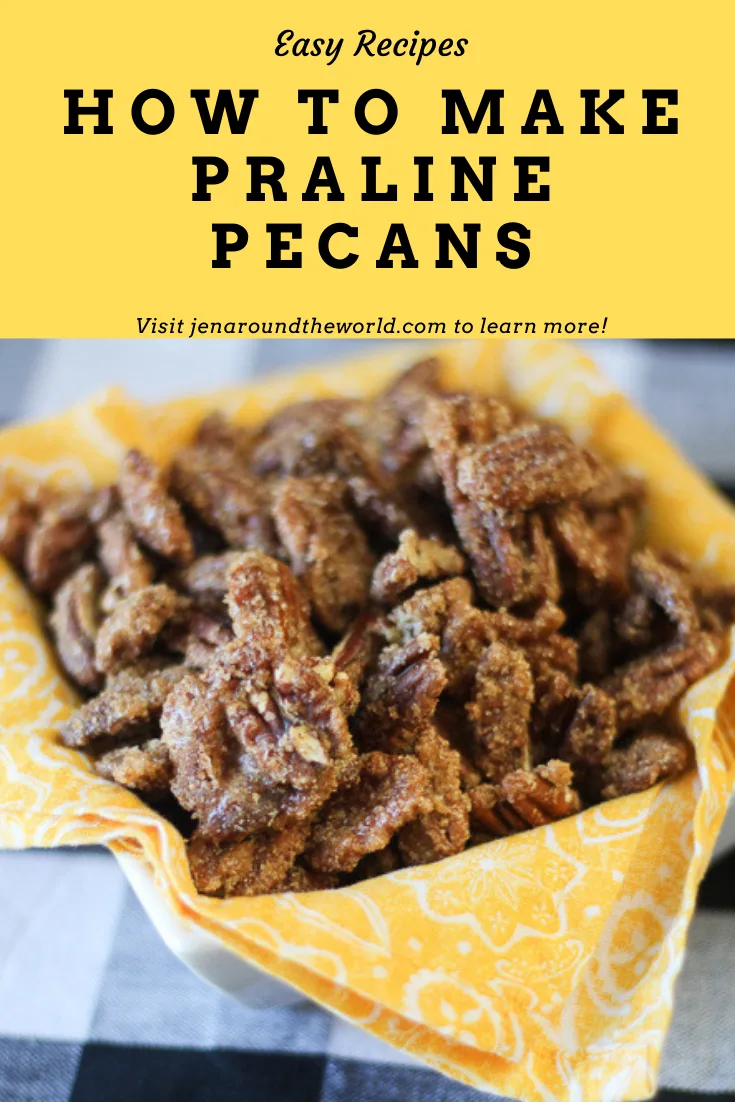 You only need a few ingredients when you are making this Praline Pecans recipe. All of these are pantry ingredients you should have on hand (if you stocked it as I told you to — here's the free printable fall pantry checklist).
If you keep these on hand, then you can make them any time of year. But for me, I love making these for the Christmas holidays.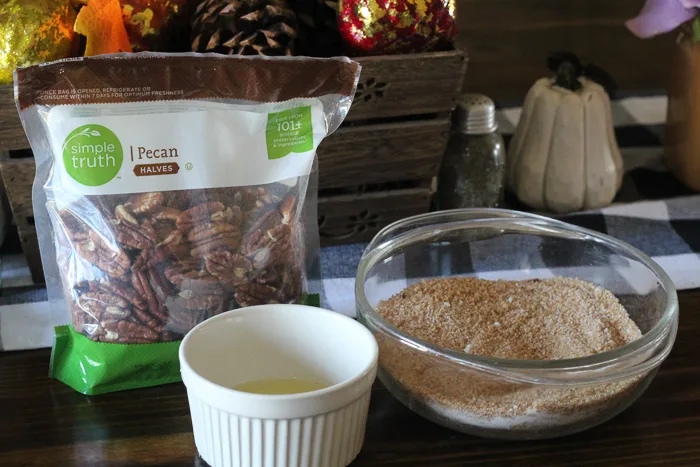 The first thing to do is mix together the brown sugar, white sugar, cinnamon, and salt and set aside.
In another bowl, mix together an egg white, vanilla extract, and water. Mix that together and then, in a large bowl, combine pecans with egg white and water.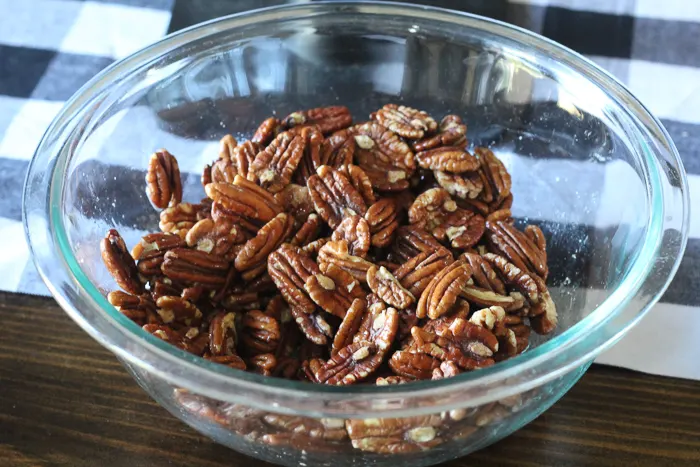 Then toss in the cinnamon-sugar mixture and coat all the pecans well.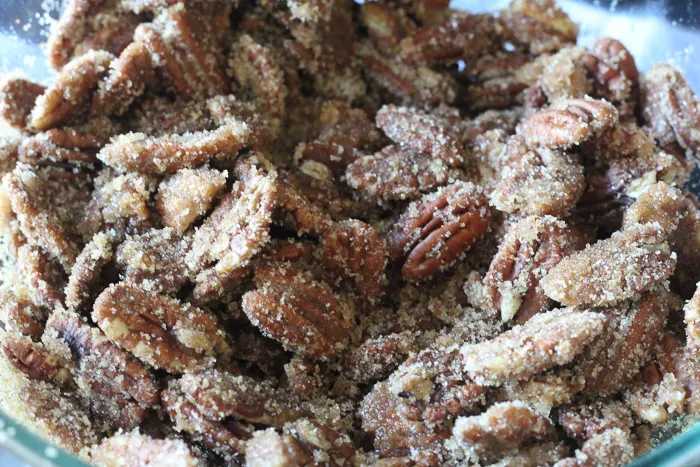 Now, line a large baking sheet with aluminum foil or parchment paper (please do not forget this step. You will thank me later). You definitely do not want them sticking to the bottom of the pan. Pour out your pecan halves on this tray in a single layer and put them in a preheated 250-degree oven.
You will bake them for one hour. Every 15 minutes, pull them out and stir them with a wooden spoon. It will look yucky as they bake but don't give up. These crunchy pecans will turn out amazing and delicious.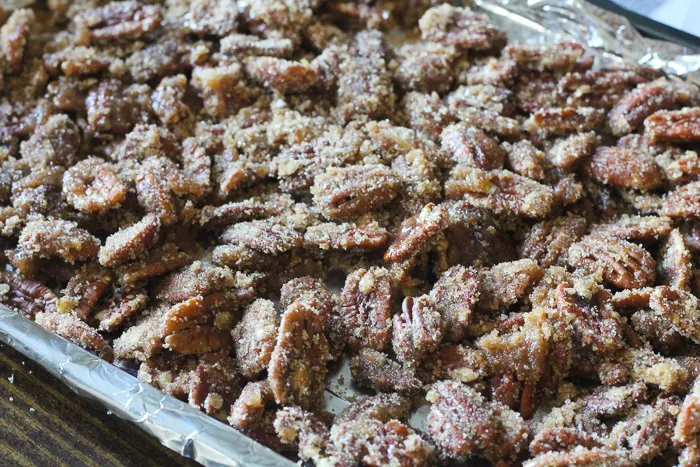 Once they come out, mix one last time and let the sugars harden on the nuts. Let them cool to room temperature.
Once they do, you can store the candied pecans in mason jars, or serve them just like we did — in a bowl on a beautiful napkin. The best place to serve them is over a big bowl of ice cream!
The first time you make these candied nuts, they will definitely become a yearly favorite treat. The whole family will LOVE them. This is a favorite recipe that will cure any sweet tooth craving you might be having.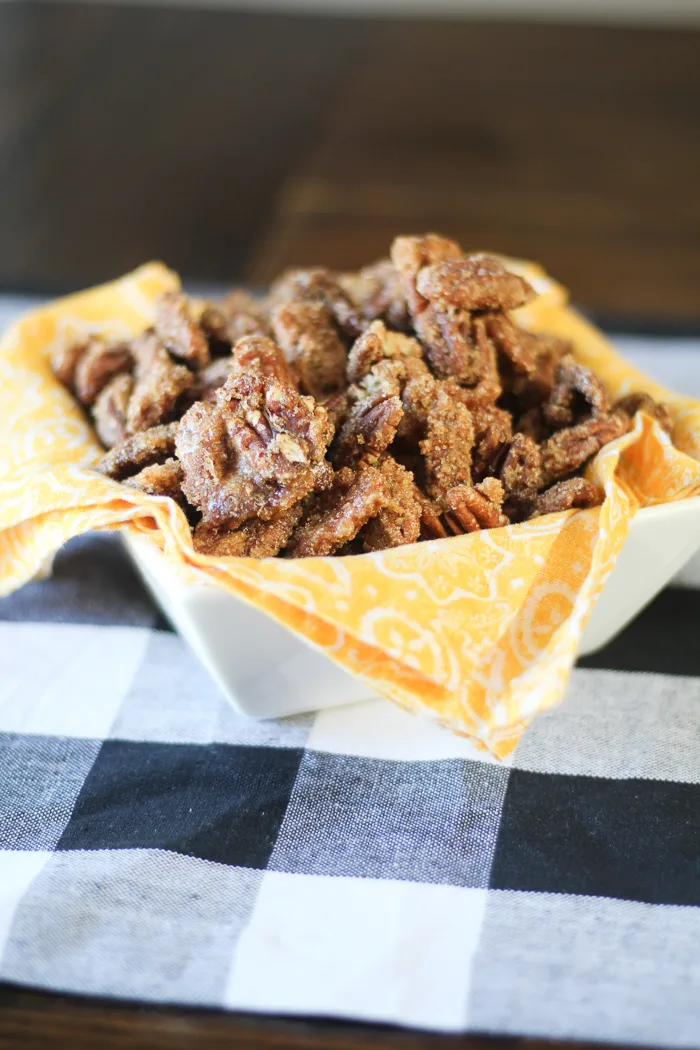 Looking for more snack ideas? Check out these delicious recipes!
Do you have a favorite pecan recipe?
Yield: 4 cups
Praline Pecans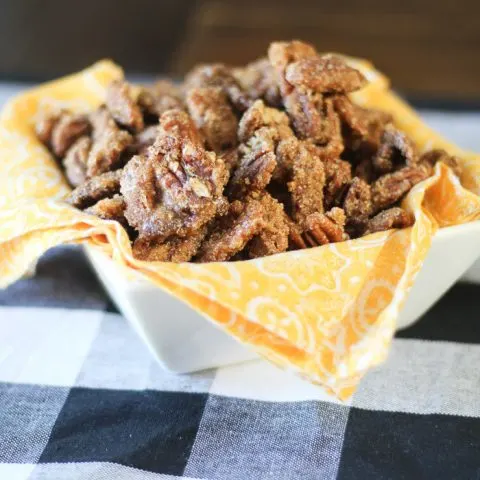 If you want a delicious sweet and salty crunch snack, make a batch of these Praline Pecans.
Total Time
1 hour
10 minutes
Ingredients
12 ounces of Pecan halves
1/2 cup light brown sugar, packed
1/2 cup granulated sugar
1 large egg white
1 tablespoon of water
1 1/2 teaspoon cinnamon
1/2 teaspoon of salt
Aluminum foil
Instructions
Preheat oven to 250 degrees.
Line cookie sheet with aluminum foil and set aside.
In a bowl, beat egg white and water until frothy. Set aside.
In another bowl, combine sugars, cinnamon, and salt. Set aside.
Take pecans and mix with egg and water mixture. Stir until all pecans have been coated.
Pour in your sugar mixture and continue to stir pecans until they are coated well in sugar mixture.
Pour pecans onto the foil lined cookie sheet and bake in the oven for 1 hour.
Every 15 minutes remove from the oven and stir with a silicone spatula.
At the end of the hour, remove from the oven and allow pecans to cool. Box up and give as a gift or serve at a party or function.
Nutrition Information:
Yield:
12
Serving Size:
1
Amount Per Serving:
Calories:

264
Total Fat:

21g
Saturated Fat:

2g
Trans Fat:

0g
Unsaturated Fat:

18g
Cholesterol:

16mg
Sodium:

96mg
Carbohydrates:

20g
Fiber:

3g
Sugar:

17g
Protein:

3g