These Peanut Butter Kiss Cookies are perfect for a Christmas Cookie swap or even if you want to make special gifts and treats for your loved ones.
In our home, the closer it gets to the fall, the "I want to bake everything in sight feeling" comes out. My peanut butter kiss cookies are exactly what the doctor ordered for this time of the year.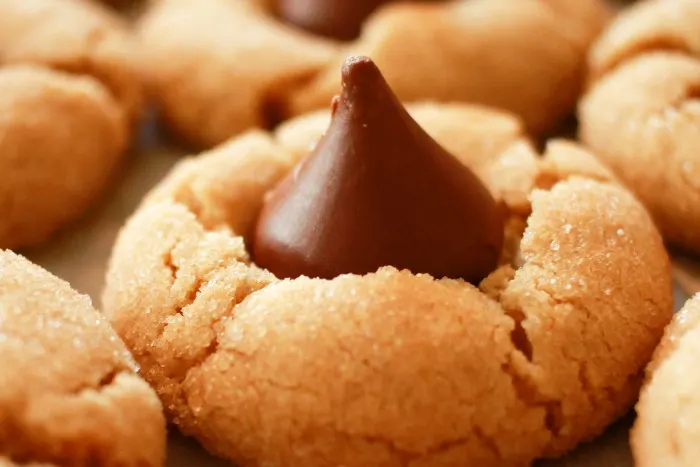 This recipe is super easy to make and tastes amazing! You can even switch it up and use dark chocolate kisses, mint kisses, or almond kisses.
Every year, Kayla and I make a ton of cookies. They can be frozen for later use, but especially around Christmas and Thanksgiving, I like to give them as gifts — teachers especially love these.
Some of my favorite cookie recipes I have made in the past are my Pioneer Woman Lemon Bars, these Christmas Haystack Cookies, and my new favorite — Peppermint Oreo Cake Balls.
This is a soft-baked style peanut butter cookie and in the center is a delicious chocolate kiss on top. The cookies are small but packed with tons of peanut butter flavor.
How to Make Peanut Butter Kiss Cookies
The cookie dough is very soft so I suggest at least 30 minutes in the refrigerator before you begin rolling. I have in the past, just did spoon drops onto the parchment paper and then used a spoon to flattern them out.
You can add a little color to your peanut butter kiss cookies by using colored sugar sprinkles. If you want regular colored cookies, just use white sugar.
Here's a tip for you —
Stick the baked cookies in the freezer once you put the kisses on them to prevent the chocolate kiss candy from melting.
All you need to do take the peanut butter cookies out of the oven, let them cool for about 5-10 minutes. Then press a chocolate kiss candy into the center and immediately stick the baking sheet into the freezer.
These peanut butter cookies with kiss candies on them taste so good and are perfect for the holiday season ahead.
Love Peanut Butter Desserts? Check Out These Recipes
Yield: 24 cooki
Peanut Butter Kiss Cookies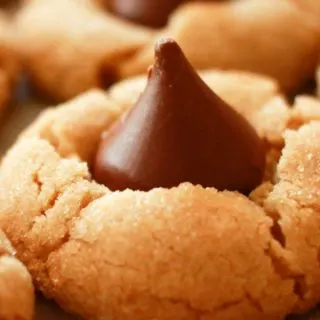 These classic peanut butter cookies are exactly what you need for this fall. They are super easy to make and taste amazing!
Ingredients
1 1/4 cup all-purpose flour
1/2 tsp baking soda
1/2 tsp salt
1/2 cup butter, softened
3/4 cup sugar, divided
1/2 cup light packed brown sugar
1 large egg at room temperature
3/4 cup creamy peanut butter
1 tsp vanilla extract
24 each kiss candies unwrapped
Instructions
Whisk the flour, baking soda, and salt together. Set aside.
Using a hand mixer or a stand mixer fitted with the paddle attachment beat the butter for 1 minute on high speed until creamy.
On medium-high speed, beat in 1/4 cup of granulated sugar and the 1/2 cup of brown sugar until completely creamed and smooth, about 2 minutes.
Add the egg and beat on high until combined, about 1 minute. Scrape down the sides and bottom of the bowl as needed. Add the peanut butter and vanilla extract and mix on high until combined.
Add the dry ingredients to the wet ingredients and mix on low until combined. Cover and chill the dough for at least 30 minutes in the refrigerator.
Preheat oven to 350°F. Line two large baking sheets with parchment paper. Set aside. Also, make sure there is room in your freezer because they will later need to be placed inside to prevent the Kisses from melting on the warm cookies.
Scoop and roll cookie dough, about 1 Tablespoon of dough each. Roll each ball in the remaining 1/2 cup of sugar and arrange on the baking sheet about 2 inches apart. Bake for 10 minutes or until the tops begin to slightly crack. Remove cookies from the oven and allow to cool for 10 minutes.
Press a chocolate kiss candy into each cookie on 1 of the baking sheets until it sticks. Place the baking sheet in the freezer so the chocolate does not melt. Remove after 10 minutes in the freezer.
Nutrition Information:
Yield:
24
Serving Size:
1
Amount Per Serving:
Calories:

148
Total Fat:

8g
Saturated Fat:

3g
Trans Fat:

0g
Unsaturated Fat:

4g
Cholesterol:

18mg
Sodium:

148mg
Carbohydrates:

17g
Fiber:

1g
Sugar:

11g
Protein:

3g