This Easy Strawberry Shortcake Recipe is made with freshly made sweetened biscuits, homemade whipped cream and lightly sweetened strawberries in less than an hour.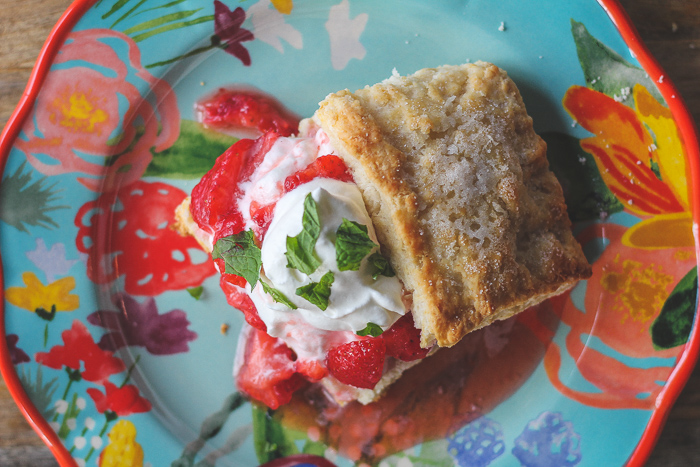 I love when my daughter gets an itch to make something new in the dessert area. Since Spring is here, we both have been wanting to try our hand at making homemade strawberry shortcakes from scratch.
This Easy Strawberry Shortcake is definitely going to be on our menu frequently this Spring and Summer.
Why We Are So In Love with Homemade Strawberry Shortcake
For years, when we served homemade strawberry shortcake, I always served it on those spongy cakes from the grocery store. Nothing makes a strawberry shortcake taste better than the sweet biscuits this is served on.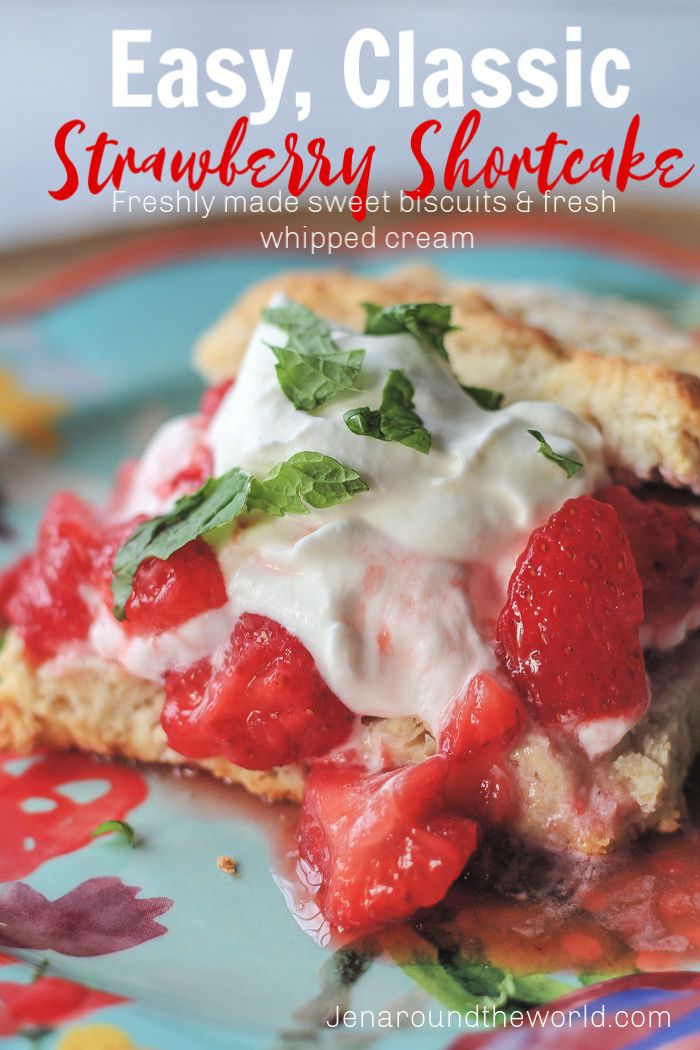 This recipe for an easy sweetened biscuit topped with turbinado sugar crystals is the perfect flaky, shortbread biscuit that pairs so perfectly with fresh, juicy strawberries.
Then, when you create that delicious strawberry sauce that is served with a hint of lemon and fresh mint and homemade fresh whipped cream that makes the shortcake really creamy.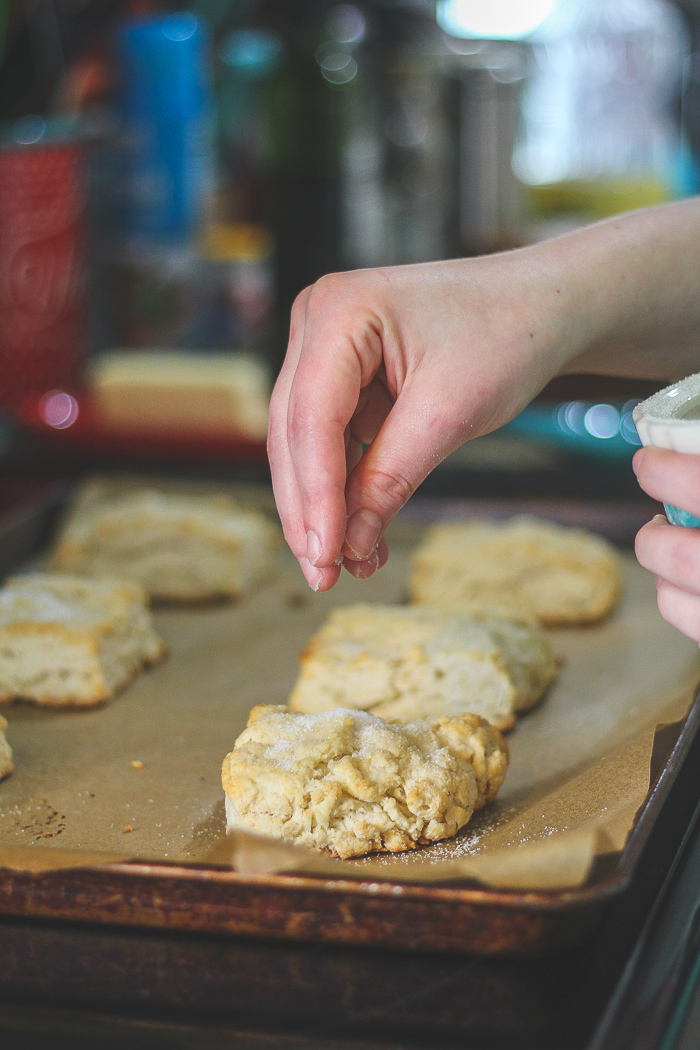 You can make any shape you want, but we wanted square biscuits.
HOW TO MAKE THE PERFECT STRAWBERRY SHORTCAKE RECIPE:
Dough
The dough comes together quickly and because it is biscuit dough, you do not want to work it that much. If you do it will make the dough tough.
It is combined until just crumbly so the all-purpose flour is mixed just enough to be combined and not enough for the dry ingredients to be overworked.
The Top
The top of the dough is sprinkled with sugar crystals (normally called turbinado sugar) instead of granulated sugar which totally makes this dish.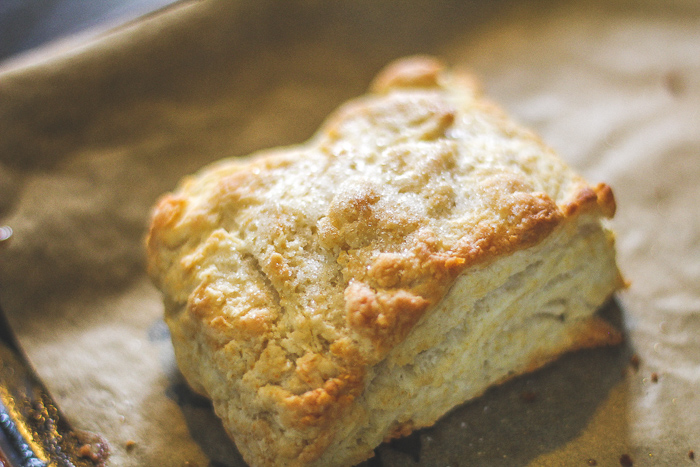 However, if you are in a pinch you can use just regular sugar, but the turbinado sugar does add the perfect texture making them perfect for this easy strawberry shortcake recipe.
The Filling
For the filling, it is just a simple three-ingredient mixture — strawberries, lemon juice and a bit of sugar. Then, it is topped with fresh whipped cream and torn mint leaves.
You're going to love how easy these strawberry shortcakes are to make!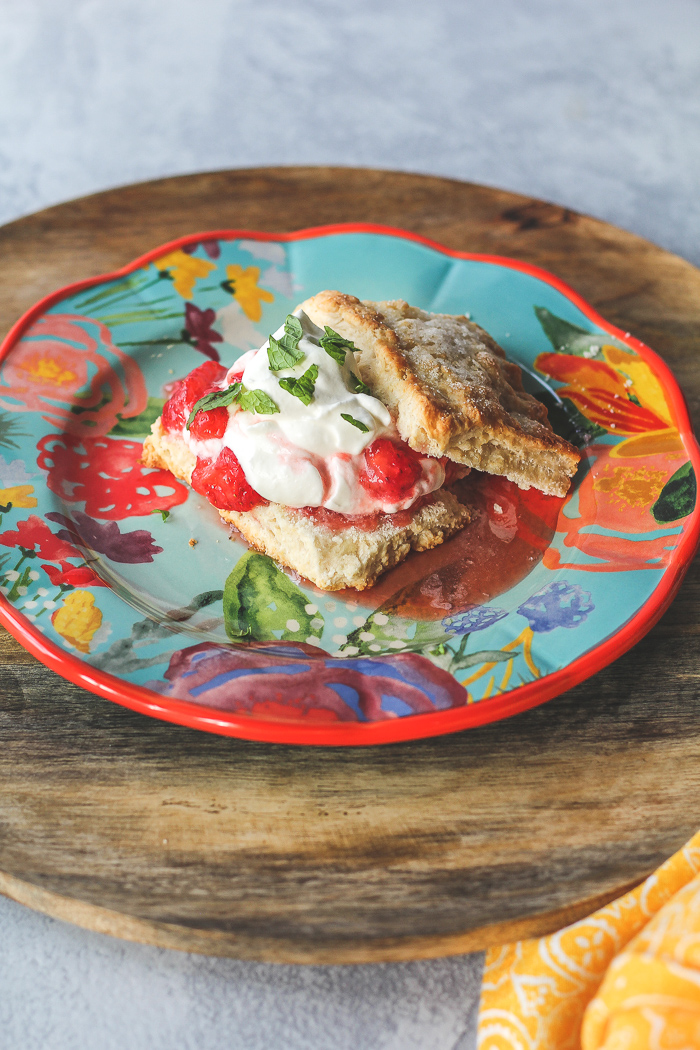 The strawberries are diced and tossed with granulated sugar and allowed to sit so they can naturally release liquids. Then, with a potato masher or a fork, you are going to mush some of the strawberries (which is called macerating them) to release even more juices. Then, take a lemon half and squeeze the juice into the strawberries and mix together.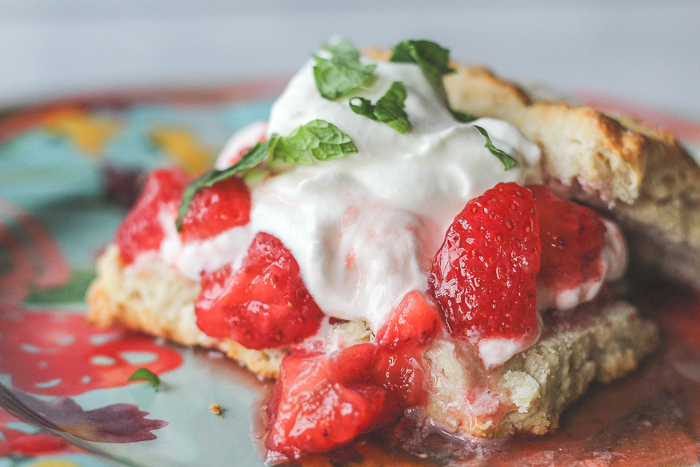 The Whipped Cream is made using ice-cold heavy whipping cream in a stand mixer or large bowl that is ice cold. The colder both of these are the better your whipped cream will be.
We like to add a little vanilla or powdered sugar to add a great dimension of flavor.
Looking for more strawberry desserts? Super Easy Strawberry Freezer Jam or Easy Strawberry Buttercream Cake are also great choices to showcase one of Spring's best fruits!
Yield: 8 desserts
Easy Strawberry Shortcakes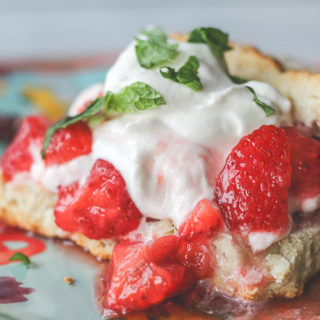 Easy Strawberry Shortcakes with freshly made sweetened biscuits, homemade whipped cream and lightly sweetened strawberries in less than an hour.
Ingredients
2 cups flour
1/4 cup sugar divided
1 tablespoon baking powder
1/2 teaspoon salt
1/4 cup cold butter cut into small cubes
1 cup whole milk
1/4 cup turbinado sugar
2 pints strawberries hulled and diced
2 cups heavy whipping cream
2 tablespoons powdered sugar
Instructions
Preheat the oven to 425 degrees.
In a mixing bowl, add in the flour, 2 tablespoons sugar, baking powder, salt and butter and mix with a fork or a pastry blender until the butter is in pea sized crumbles.
Add in the milk, using a wooden spoon, mix until the dough comes together.
Pour the dough out on a lightly floured surface and shape into a rectangle. Using a knife, cut into squares and place on a parchment paper lined baking sheet. Top with Turbinado sugar.
Bake for 12-15 minutes.
While the biscuits are baking, add the remaining two tablespoons of sugar to the bowl with the strawberries and stir together with lemon juice. Adjust sugar based on how sweet your strawberries are.
In another medium sized bowl add the heavy cream and beat with a hand mixer or in your stand mixer until soft peaks form.
Add in the powdered sugar and whip for an additional 20 seconds until stiff peaks form.
Once the biscuits are cooled, split them in half, top with strawberries and whipped cream and fresh torn mint leaves then top with the biscuit top.
Recommended Products
As an Amazon Associate and member of other affiliate programs, I earn from qualifying purchases.
Nutrition Information:
Yield:
8
Serving Size:
1 serving
Amount Per Serving:
Calories:

471
Total Fat:

29g
Saturated Fat:

18g
Trans Fat:

1g
Unsaturated Fat:

9g
Cholesterol:

86mg
Sodium:

392mg
Carbohydrates:

49g
Fiber:

3g
Sugar:

22g
Protein:

7g