Halloween Taco Dip, or the 7-layer dip recipe as most people call it, is the perfect spooky dip for family and friends. Layer all your favorite taco ingredients in one dish and serve at any of the Halloween parties you are attending or hosting this year.
Nothing makes me happier than making fun Halloween treats for my family during spooky season. This great dip was inspired by the popular 7-layer taco dip.
However, I left a few layers out because I'm not too fond of refried beans (like the kind they use for bean dip) and I cannot stand warm lettuce. But, if you like the bean mixture and the lettuce, feel free to add them to this Spider Web Taco Dip.
How to Make Halloween Taco Dip
This fun and festive dip is topped with a sour cream spider web for the holiday. However, if you want to serve this any other time of the year, just leave the spider web off the top.
This dip has always been popular with everyone. They all love the layers and the best part is that it only takes 15 minutes to whip this dish up! I like to serve mine in a 9″ deep dish pie plate, but you can use whatever dish you have on hand.
Check Out the Layers
Layer 1: The first layer of this dish is simply a cream cheese mixture of cream cheese, sour cream, and taco seasoning mix.
Layer 2: This layer is the ground beef taco meat. You can also use ground chicken or ground turkey if you want. Just place some ground beef in a skillet and cook over medium-high heat. Drain the beef, and then add the taco seasoning to it.
Layer 3: the third layer will be the shredded cheese. I like the Taco Fiesta blend, but any of your favorite cheeses will work here.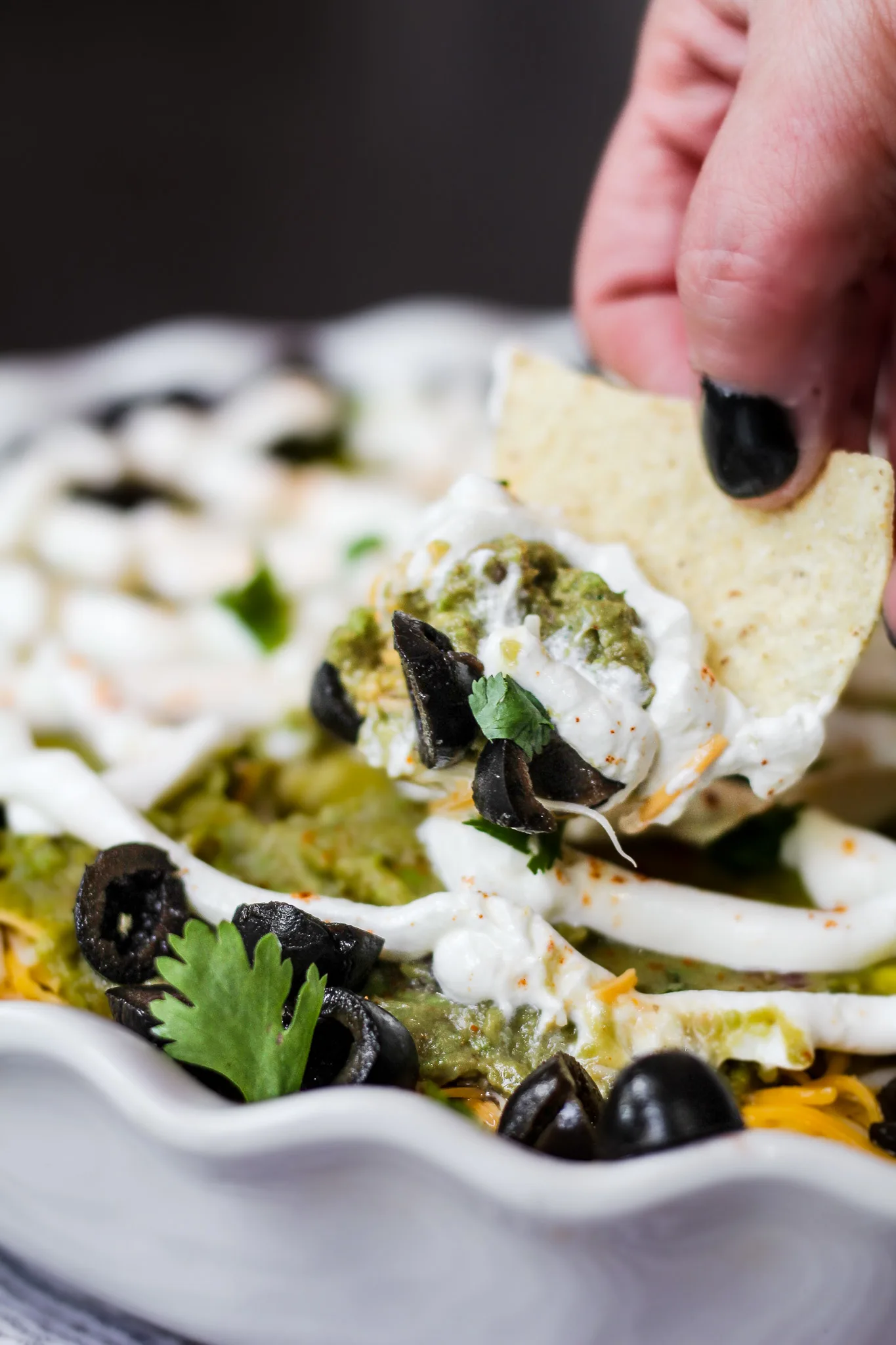 Layer 4: The fourth layer will be salsa. I like making my own (in fact my most popular recipe on the site is my Pioneer Woman Restaurant Style Salsa). You can also add some diced green chiles in to create a chunky salsa also.
Layer 5: The layer of guacamole is my favorite! You can buy store-bought guacamole or make my Easy Homemade guacamole recipe. Add a squeeze of lime juice to keep it a bright festive green.
Layer 6: The spider web sour cream layer can be as spooky as you want it. No need to be a decorator to do this layer. If I can do it, so can you! If it's not Halloween, just spread the sour cream over top of the guacamole and serve.
Making the spooky spider web is easy. Put about 1 cup of sour cream in a ziploc bag or a piping bag. Snip off the corner and draw a straight line around in a circle. Then connect the lines to create a web pattern.
Serve This Dip at Your Next Halloween Party
Once you have the taco dip layered, add your favorite taco toppings around the edge. I added black olives, cilantro, cheddar cheese, and green onions. To finish it off, we sprinkled just a little more taco seasoning on top. Grab a bag of tortilla chips and serve! My favorite chip are tortilla chips with a hint of lime. They are SO good!
Cover the dip with plastic wrap and store it in the fridge until you are ready to serve.
Top the dip with fake spiders or place them around the edge. If you are crafty, take a whole black olive and turn that into a black olive spider for the middle of your dip. The best part is just having fun with this dip! Of course, you can always use a plastic spider ring and place it in the center of the web. Your partygoers will LOVE it.
Check Out These Other Halloween Recipes!
Here are some great recipes for #HalloweenTreatsWeek
HAPPY HALLOWEEN!!!
Welcome to 2023's #HalloweenTreatsWeek event!
If you're new here, Welcome! If you're a returning haunt, welcome back!
#HalloweenTreatsWeek is a yearly Halloween blogging event that is hosted by Angie from Big Bear's Wife . You'll find that this fun and spooky event is an online, week-long event that is filled with some frightfully fun Halloween treats and recipes from some fantastic Halloween loving bloggers!
For this years 6th annual #HalloweenTreatsWeek event we have 18 hauntingly talented bloggers that are sharing their favorite Halloween recipes throughout the week! You can following the hashtag #HalloweenTreatsWeek on social media to collect all of these frightful recipes to use at your own Halloween parties and events!
Make Sure to check out all of the fun Halloween recipes that we're sharing this week!
Today's Halloween Offerings:
Yield: 8 servings
Halloween Taco Dip
This spooky Halloween dip is so fun to throw together for your next Halloween party.
Ingredients
1 pound of ground beef
2 packs of taco seasoning mix
1 8 ounce package of cream cheese
16 ounces of sour cream, divided
2 cups of shredded cheddar cheese, divided
16 ounces of salsa
16 ounces of guacamole
sliced black olives for garnish
green onions for garnish
Instructions
Brown the ground beef. Mix one pack of taco seasoning with the ground beef. Set aside.
For the 1st layer, mix together the block of cream cheese, the other pack of taco seasoning, and 8 ounces of sour cream. Mix together and spread in the bottom of the pie pan.
Top that layer with the second layer which is the ground beef layer.
Add the salsa next.
The next layer is 1 cup of shredded cheese.
On top of the shredded cheese add the guacamole. Spread it around to cover it all.
Take the other 8 ounces of sour cream and place in a ziplock bag. Create a web pattern on top with the sour cream.
Around the edge of the dip, add extra cheese, black olives, green onions, and cilantro.
Serve with your favorite chips and enjoy!
Nutrition Information:
Yield:
8
Serving Size:
1
Amount Per Serving:
Calories:

588
Total Fat:

48g
Saturated Fat:

22g
Trans Fat:

1g
Unsaturated Fat:

20g
Cholesterol:

141mg
Sodium:

1093mg
Carbohydrates:

15g
Fiber:

5g
Sugar:

6g
Protein:

27g