This grilled teriyaki chicken is perfect when you want something full of flavor but a little lighter on the diet.
Do you remember the recipe I shared recently where I discovered how delicious homemade teriyaki sauce is?
Well, here is the Grilled Teriyaki Chicken that I made when I created a batch of that delicious sauce!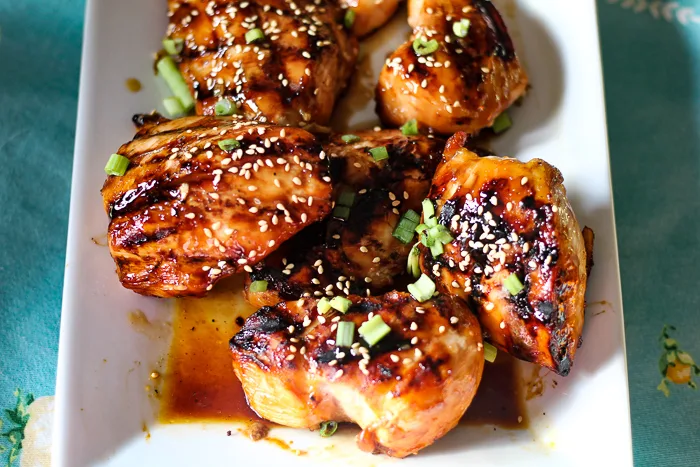 Making Grilled Teriyaki Chicken is very easy to do. All you need is the sauce, a grill or grill pan, and that's it! It is super delicious.
How to Make Grilled Teriyaki Chicken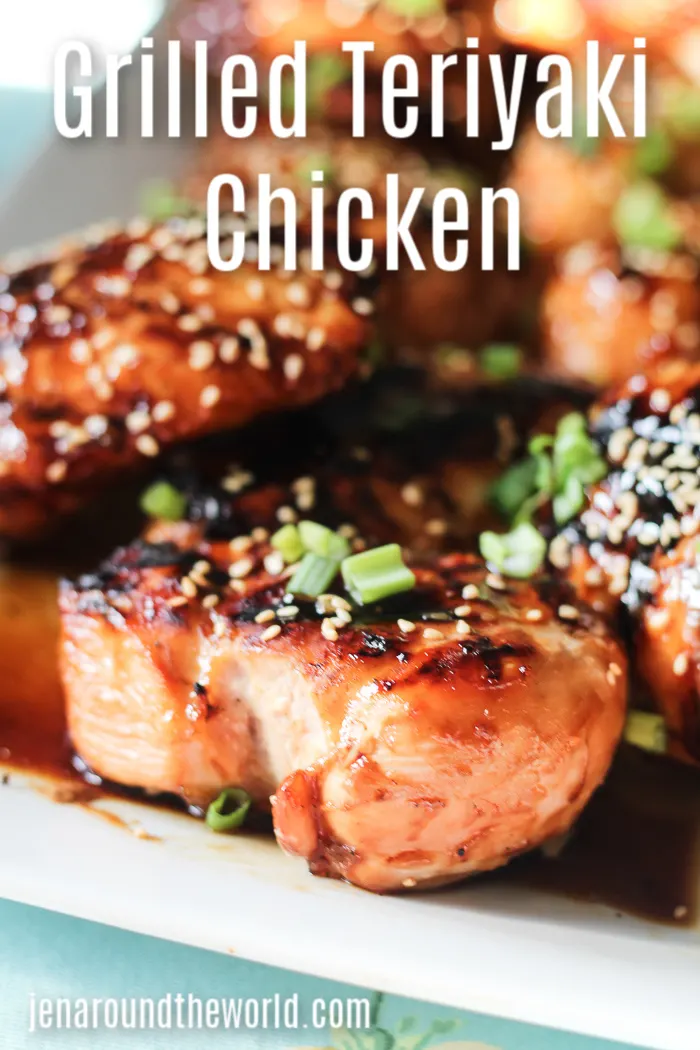 To start, let's gather all of our ingredients. You are going to need a batch of my homemade teriyaki sauce. If you don't have time to make it, I won't fault you if you go to the grocery store and buy store bought. But trust me when I say that homemade tastes way better.
Grab your pack of chicken breasts or thighs, or whatever part of the chicken you plan on using. Cut away all the fat portions on the meat.
Once you have cut away all the fat, take your chicken and place in a shallow dish. Place half of your sauce over the chicken and allow it to marinate at least one hour (or up to overnight), whichever is easiest for you.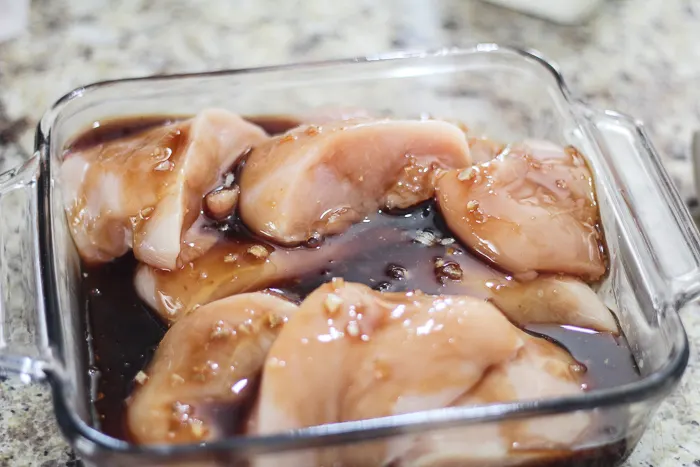 Once the chicken is done marinating, heat your grill and place the chicken on the grill. Discard the remaining sauce that is in this baking dish. Since it touched raw chicken, you will not want to use this sauce for anything else.
During the grilling process, pour some of your sauce from your jar into a bowl and baste onto your chicken. Cook the chicken on one side for 6-7 minutes. Baste and turn over. Do the same thing for the other side.
Keep basting as you turn and in the end, you will have this beautifully charred chicken that has the most amazing flavor ever.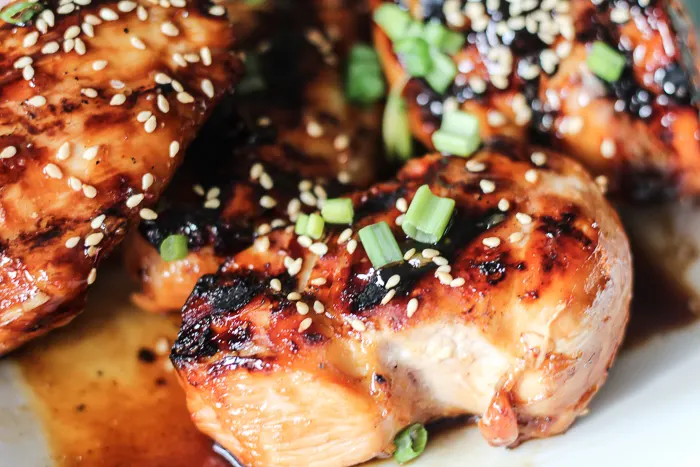 Remove from the grill and drizzle on a little more teriyaki sauce. Then sprinkle on some chopped green onions and toasted sesame seeds.
This is definitely one of my favorite chicken dishes. If you are looking for more chicken dishes, check out these other favorite recipes —
Yield: 8 chicken breasts
Grilled Teriyaki Chicken
This is the best​-grilled​d teriyaki chicken you will ever make!
Total Time
1 hour
25 minutes
Ingredients
8 boneless chicken breast or thighs
1 cup of homemade teriyaki sauce or storebought sauce
3 green onions chopped
sesame seeds (optional)
Instructions
Place chicken breasts into a shallow baking dish along 1/2 cup of the sauce. Keep some sauce aside to serve with the chicken. Marinate the chicken in the refrigerator for at least one hour or overnight.
Remove chicken from the marinade and throw away the remaining marinade in the pan.
Heat the grill to 350 degrees. Grill chicken for about 7-8 minutes per side until chicken is done and no longer pink and registers 155-160 on a meat thermometer.
Baste chicken with teriyaki sauce during the cooking process.
Garnish with green onions and sesame seeds.
Nutrition Information:
Yield:
8
Serving Size:
1 breast
Amount Per Serving:
Calories:

295
Total Fat:

9g
Saturated Fat:

2g
Trans Fat:

0g
Unsaturated Fat:

6g
Cholesterol:

123mg
Sodium:

1570mg
Carbohydrates:

8g
Fiber:

1g
Sugar:

6g
Protein:

44g