With the stores going crazy right now and being ransacked of everything from toilet paper to bread to sandwich meat and more, I thought I would share with you some super easy bread recipes you can make from home.
The best part about these recipes is that you don't need any fancy equipment like a KitchenAid Mixer or anything like that. All you need are your hands and some muscle to knead that bread and you can create some delicious looking bread!
Easy Bread Recipes You Can Make From Home
Homemade Honey Wheat Bread
We went to the store to buy our favorite honey wheat bread and they were already sold out. We bought a couple of loaves of white bread but I knew I had this recipe handy at home for our favorite honey wheat bread.
Classic Skillet Cornbread
If you keep cornmeal on hand, you can always make this classic Skillet Cornbread. It goes great with chili, with whatever dinner you're having or if you just want to have a supper of beans and cornbread.
No-Knead Dutch Oven Bread
This No-Knead Dutch Oven bread is great to serve with pasta dishes and if you want, you can make this olive oil dipping sauce and dip your bread pieces in it. It is SO good.
Homemade Hamburger Buns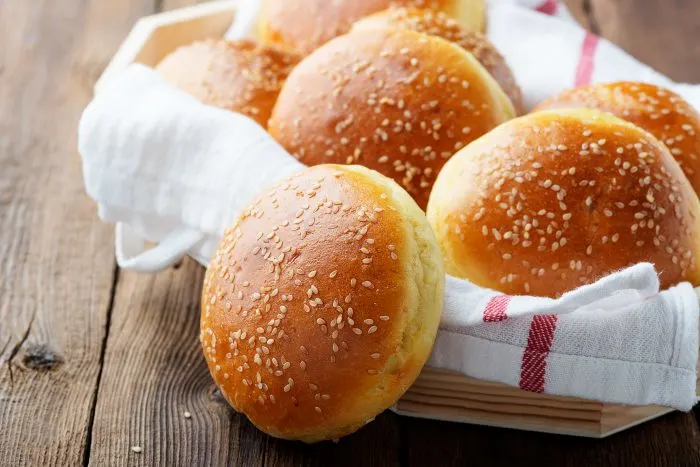 Whenever we used to run out of bread before we would get more money, I made homemade hamburger buns from scratch.
It's amazing what you can actually make homemade when you put your mind to it.
Copycat Cheesecake Factory Honey Wheat Bread
This is a super easy Copycat Cheesecake Factory Honey Wheat bread you can make right at home and it goes great with delicious dinners like my Mongolian Ground Beef Noodles or my One Pan Cheeseburger Pasta.
Homemade White Bread
This homemade white bread recipe will have you making delicious easy loaves of bread in no time flat!
Of course, you can also make homemade butter to go along with your homemade bread recipes as well.
What Supplies Do I Need to Make Bread at Home?
If you are making bread at home, there are a few supplies you are going to need —
All-Purpose Flour
Sugar
Honey
Water
Other than having a great bread pan for your loaves, the only other equipment you need is your hands!
That's it. I hope this list of bread recipes will help you make ends meet with how crazy everything is right now.