Ina Garten's Lemon Chicken has the best flavor and is simple and easy to make. Wow your family with this dish and enjoy the tasty lemon flavor. From the Barefoot Contessa herself, Ina Garten's Lemon Chicken is juicy, flavorful, and oh so easy!
Welcome to #LemonWeek 2022 hosted by Lynn from Fresh April Flours and Rebecca from Devour Dinner. This week is sponsored by Rodelle and La Tourangelle.
I may have received product samples from these sponsors to help in the creation of my recipes. All opinions are my own. Come join me and my fellow Lemon Week bloggers as we bring you recipes from appetizers to drinks to entrées and desserts!
I love Ina Garten if you have not figured that out by now. Her recipes are some of my favorite. I have made so many of her dishes, but this one has been my favorite so far.
The sauce is bright and tangy thanks to the lemon and white wine. It is also full of fresh herbs adding to the depth of flavor.
The sauce in this recipe is finger licking good. Use it to dip your bread, and be sure to pour extra over your chicken once it is finished cooking.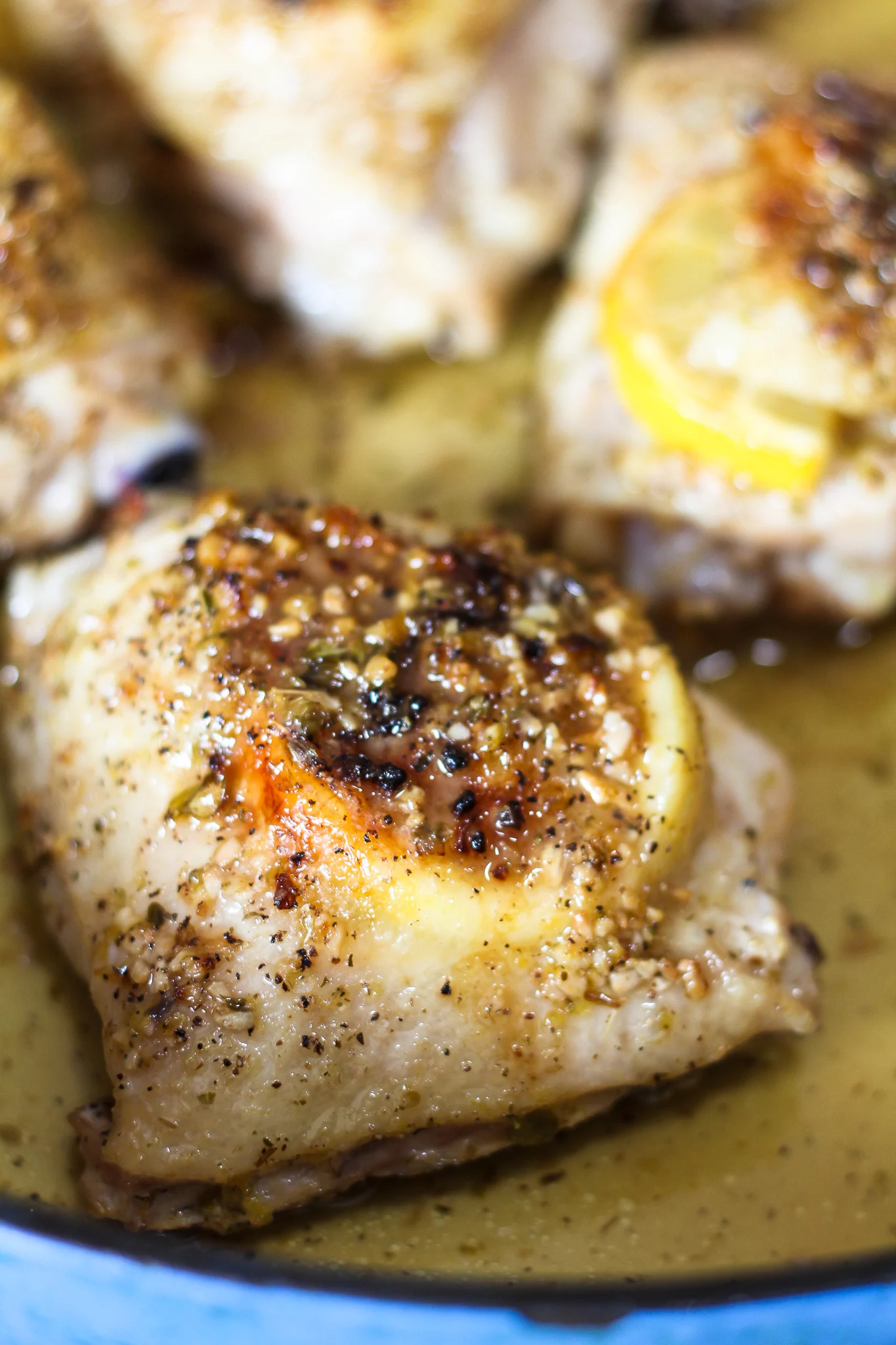 You can use any cut of meat you want, but I chose thighs this time. The meat is so juicy and the skin is perfectly crisped.
How to Make Ina Garten's Lemon Chicken
This starts by adding lots of chopped garlic to some olive oil to let it warm through. Then, the lemon and wine get mixed with herbs and poured into the warm olive oil. Mix it well together.
Place lemon slices under the skin of the chicken and place in the pan. Pour the sauce over the chicken pieces and then bake in the oven.
This is the perfect no fuss entree that's easy to throw together. You can do it ahead of time or an hour before serving. I love how rustic this dish is and it is the perfect meal to make after a long day of work.
Serve it over along side some blistered green beans and a delicious kale salad for a complete meal.
Check Out these Other Ina Garten Recipes Below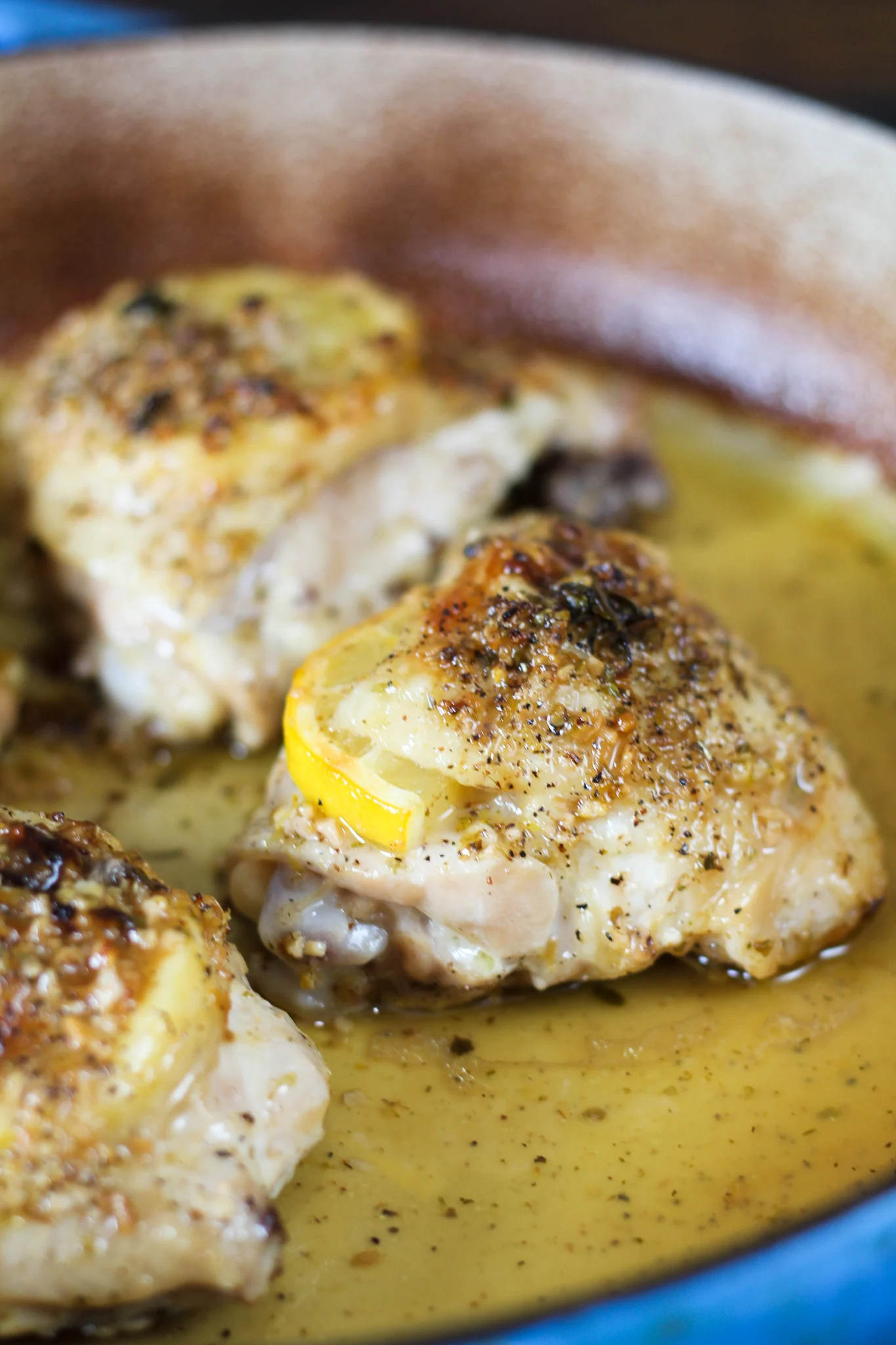 Enter to Win
a Rafflecopter giveaway
For a complete list of prizes and the contest rules and regulations, please visit my 15 Minute Lemon Pasta recipe.
Friday #LemonWeek Recipes
Lemon Poppy Seed Loaf by Fresh April Flours
Grilled Chicken Piccata by Palatable Pastime
Creamy Lemon Smoothie Recipe by Blogghetti
Gluten Free Lemon Bars by Hezzi-D's Books and Cooks
Lemon Tarragon Salmon by Art Of Natural Living
Meyer Lemon Vanilla Shortbread Cookies by Karen's Kitchen Stories
Easy Lemon Poppy Seed Thumb Print Cookies by Cheese Curd In Paradise
Best Lemon Pasta by Devour Dinner
Perfect Lemon Blueberry Cookies by Best Cookie Recipes
Easy Lemon Tea Bread by The Freshman Cook
Homemade Lemon Cake by Simply Inspired Meals
Italian Lemon Ricotta Cake by The Fresh Cooky
Lemony Shrimp Pasta by A Day In The Life On The Farm
Rosemary Watermelon Lemonade by The Spiffy Cookie
Easy Lemon Crumb Muffins with Lemon Glaze by An Affair From The Heart
The Best Lemon Poppy Seed Cake by Kathryn's Kitchen Blog
Lemon Ice Cream by Lemon Blossoms
Simple Lemon Sour Cream Pound Cake by Home Cooked Harvest
Grilled Lemon Herb Flatbread by That Recipe
Lemon Meringue Cheesecake by The Redhead Baker
Oven Baked Lemon Pepper Chicken and Gnocchi by Jonesin' For A Taste
Dragonfruit Lemonade by Magical Ingredients

Yield: 6 servings

Ina Garten's Lemon Chicken

The perfect tangy and citrusy chicken baked in a lemon wine sauce and topped with fresh garlic and lemon slices.

Ingredients

¼ cup olive oil
3 tablespoons minced garlic
⅓ cup dry white wine
1 tablespoon lemon zest
2 tablespoons freshly squeezed lemon juice
1 ½ teaspoons dried oregano
1 teaspoon fresh thyme leaves
Salt and pepper to taste
4 bone-in, skin-on chicken thighs, or your favorite cut of chicken

Instructions

Preheat the oven to 400°F.
In a small sauce pan, warm the oil over low heat. Add the garlic and stir until fragrant. Do not let the garlic brown. Remove from heat.
Take one lemon and squeeze the juice out into a small bowl. Set aside.
In a measuring cup, add the wine, lemon zest and juice, oregano, and thyme. Mix well and then add in the warm oil and garlic. Season with salt and pepper to taste.
In an oven safe-baking dish, pour in about half of the wine and oil mixture. Place the chicken over the sauce, skin side up.
Slice the other lemon and set aside.
Tuck the lemon slices under the chicken skin. Season the skin with salt and pepper. Pour the remaining wine and oil mixture over the chicken.
Bake until the juice from inside the chicken is no longer pink, about 40-50 minutes if using thighs or 30-40 minutes for boneless breasts. If the skin has not browned, place the dish under the broiler for 1-2 minutes.
Once the chicken comes out, baste it with the remeaining juices in the pan.

Nutrition Information:

Yield:

6

Serving Size:

1 Amount Per Serving:

Calories:

177

Total Fat:

14g

Saturated Fat:

3g

Trans Fat:

0g

Unsaturated Fat:

11g

Cholesterol:

41mg

Sodium:

100mg

Carbohydrates:

3g

Fiber:

0g

Sugar:

0g

Protein:

9g