I discovered this Lemony Chicken Orzo Soup sometime during the past couple of years when I did a review for Peach Dish. It's one of those delivery box meal services and I tried it, it was a bit out of my budget, so I decided to cancel and just keep the recipe cards. The food they sent me to cook was phenomenal — especially this soup. It has been one of my favorites for so long now.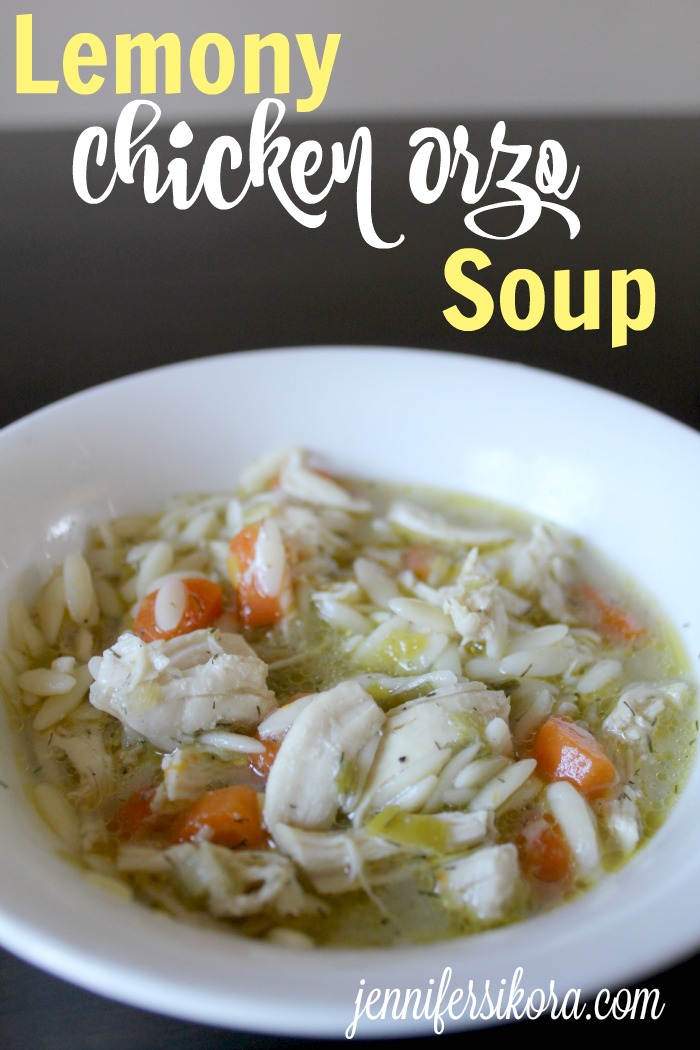 What really sets this soup apart from all the others is the vibrant lemony taste and tangy dill flavor. I've never used fresh dill much until I tried this dish, but then I branched out and made my own tatsizki sauce and even tried my hand a gyros topped with that sauce.
(I'll be posting about those recipes soon!)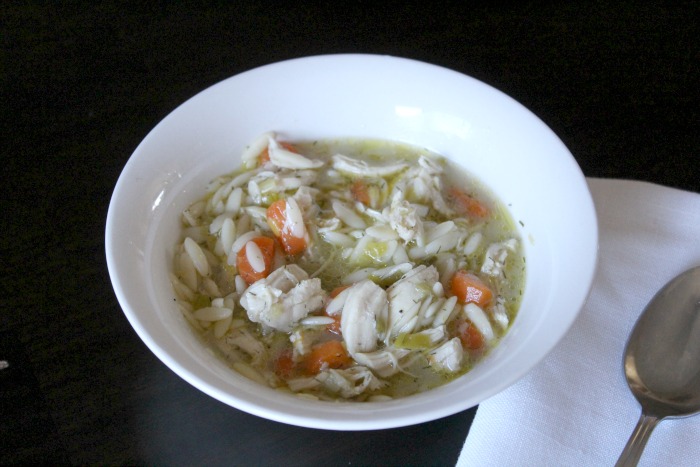 Here is my recipe for this dish. Seriously — it is so good and so easy to make. It's light and hearty and makes for a great weeknight meal. We top ours with chopped avocado — YUM!
Lemony Chicken Orzo Soup
Ingredients
Instructions
Rinse, peel, and chop carrot into 1/2" pieces.
Cut of the dark green part and root end of the leek and throw away.
Cut remaining light green and white portion in half lengthwise. Rinse thoroughly to remove any natural sand.
Place leek halves cut side down and chop into 1/2" pieces.
In a large pot, heat olive oil over medium heat. Add carrots and leeks and saute for 2-3 minutes until softened.
Add 3 1/2 cups of water and two bouillon cubes as well as the 2 chicken breasts. Bring to a boil over high heat.
Bring to boil on high and then simmer the pot for 10-12 minutes or until the chicken is cooked through. Remove the chicken and set aside.
Add 1/2 cup of orzo to the pod and bring back to boil. Cooke, uncovered for about 7 minutes. While the orzo cooks, shred the chicken using two forks.
Also remove stems from dill and chop.
When the orzo is cooked, reduce the heat and add shredded chicken and chopped dill.
Take your lemon and zest the entire outside and add to the pot along with 1/2 of the lemon squeezed.
Remove from the heat and adjust seasoning if needed. Top remaining soup with more lemon if desired
What is your favorite winter time soup?