Last week I shared with you my Bunny Butt Cupcakes to make for your Easter gathering. Today, I have another fun cupcake to share with you that is equally as easy and makes the perfect pairing to go with those bunny butt cupcakes. How about a Carrots in the Dirt cupcake?
This cupcake is super cute and everyone will rave about how creative it is. Your friends are going to want to know your secret on how to make fun recipes like this. My secret weapon is my artistic daughter who loves to bake and create. She came up with this cupcake.
How to Make Carrots in the Dirt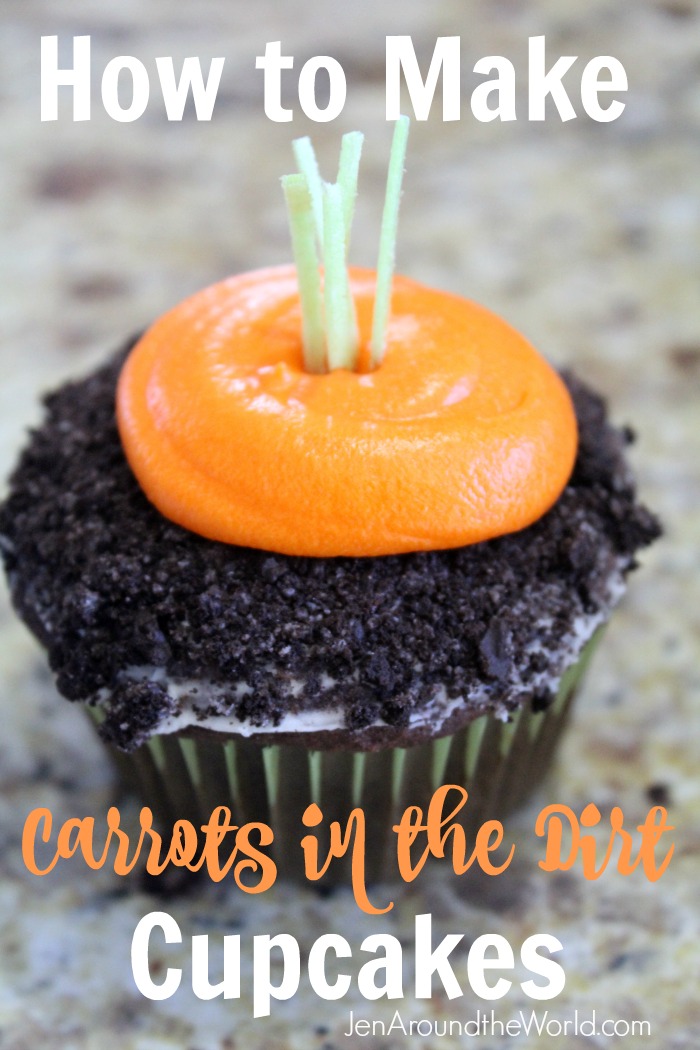 Take your baked and cooled cupcakes and cut out a center hole in each one.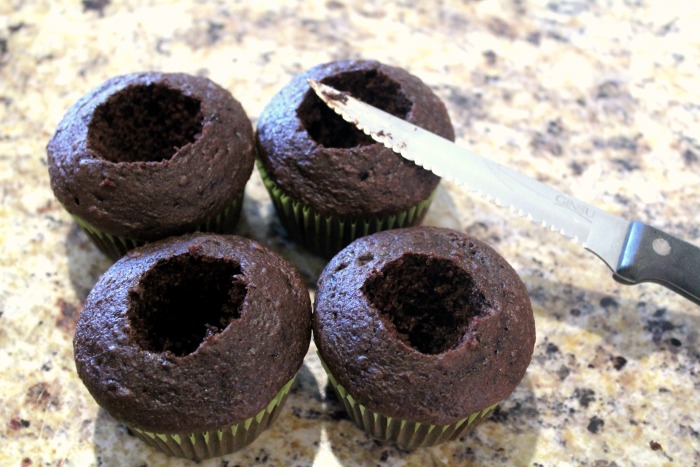 Fill this cavity with icing and be patient. Once you get your cupcakes hulled out, set them aside and prepare your "dirt".
The dirt in this case is simply Oreo cookies crushed up on a plate to resemble dirt. Leave the white creme-filled center inside so that you can make sure it is crumbly.
Take the homemade buttercream icing or store-bought icing and separate it. Save most of it for the carrots.
Ice those cupcakes thinly with the white icing. This gives something for your dirt to stick to. Now, dunk the cupcakes into the Oreo dust and cover all that white icing.
Prepare the remainder of the icing. Using bright orange food coloring tint your icing to make it the color of carrots.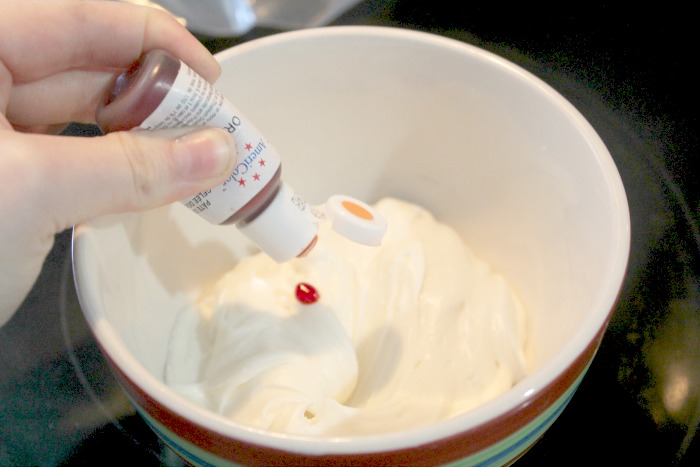 Once you do, then you are going to fill a piping bag and either use a 2″ round tip or just by cutting off the tip of the bag to create a 2″ hole, you are going to pipe the orange icing into the hole of the cupcake.
Be sure when you come above ground on the top of the cupcake, you round it out to make it look like a carrot on top.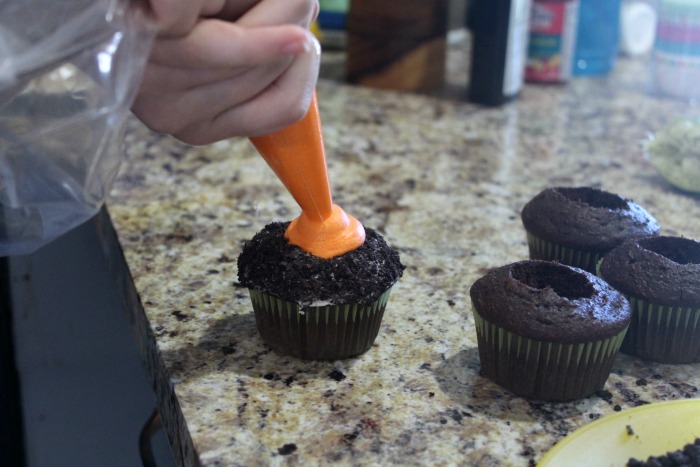 Then using your edible Easter grass, add a few sprigs to look like the sprigs of green on top of a carrot.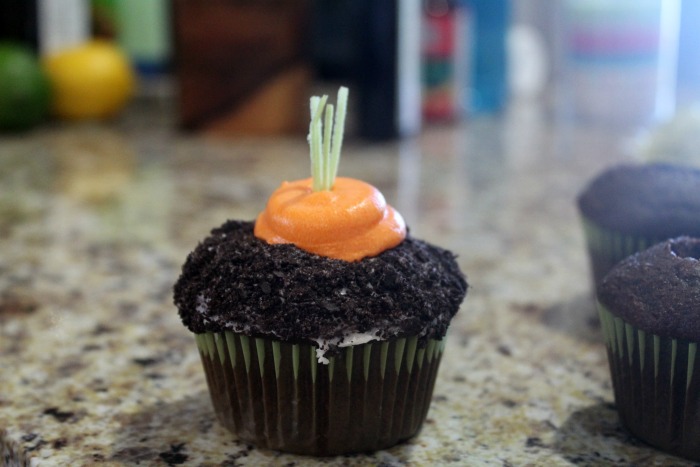 Once you do that, set them aside and finish assembling all the others until you have this amazing row of carrots in the dirt cupcakes.
Yield: 24 cupcakes
How to Make Carrots in the Dirt Cupcake
Make fun cupcakes that resemble carrots in the dirt for Easter.
Ingredients
1 box of chocolate cake mix
1 container of Oreo Cookies, crushed and crumbled
2 tubs of vanilla frosting
1 piping bag
orange food coloring
edible easter grass
Instructions
Cook the cupcakes according to package directions. Set them aside and let them cool. Once cool, carve out a round hole in each one.
Take icing and lightly icing the cupcakes with the vanilla. Take all the rest of the icing and tint it orange like a carrot.
Take the Oreo Cookies and crumble up what you need. Make it as fine as you can to resemble dirt. Dip iced cupcakes in dirt and then set aside.
Take orange icing and place in the piping bag and snip the tip off to create about a 2" hole. Pipe the orange icing down into the hole of each cupcake and ending with a round mound on top.
Top each one with easter grass. Enjoy!
Nutrition Information:
Yield:
8
Serving Size:
1
Amount Per Serving:
Calories:

526
Total Fat:

20g
Saturated Fat:

4g
Trans Fat:

0g
Unsaturated Fat:

16g
Cholesterol:

0mg
Sodium:

252mg
Carbohydrates:

87g
Fiber:

1g
Sugar:

78g
Protein:

0g