It's a late night here in my small town. The hubby and I are out running errands, so we stop into our local Cracker Barrel for a bite to eat. We always get the same thing. It tastes good. I am a creature of habit you know 🙂 After dinner, we have gotten to where we split dessert and it never fails — it's always the Old Fashioned Coca Cola Cake they serve with a dollop of vanilla ice cream.
This week, I decided to make some myself. Pure. Chocolate. Heaven.
Just one bite of this cake takes me back to my childhood days of running wild and free on Mr. Major's tobacco farm. As a kid, we were left to enjoy all the adventure a farm offers. Mr' Major's wife though, always made sure us kids had a snack while my mom and dad worked bringing in the tobacco plants.
She had these shiny tin glasses that she used to serve us lemonade in or milk — whichever we preferred. For me, it was always lemonade :).
Then she would cut each of us a piece of cake — and it usually was this Old Fashioned Coca Cola Cake. She made them all the time.
As I made my own this past week, it allowed me to reflect on those days of climbing bales of hay, scaling the rafters of the barn, and just being wild and free.
Here is the recipe. I hope you enjoy it as much as I did 🙂
Old Fashioned Coca Cola Cake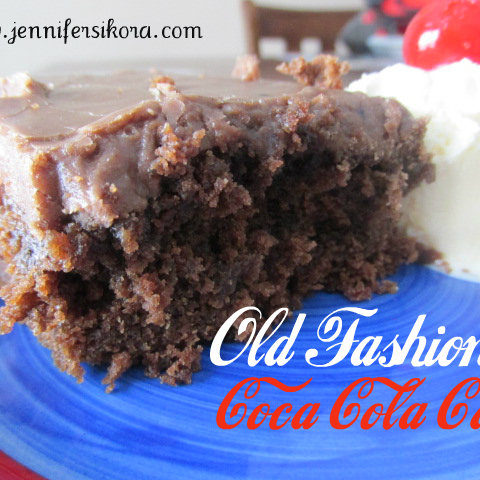 Ingredients
For the cake
1 cup Coca Cola
1/2 cup oil
1 stick butter
3 tablespoons cocoa
2 cups sugar
2 cups flour
1/2 teaspoon salt
2 eggs
1/2 cup buttermilk
1 teaspoon baking soda
1 teaspoon vanilla
For the Frosting:
1 stick butter
3 tablespoons cocoa
6 tablespoons cream or milk
1 teaspoon vanilla extract
3 3/4 cup confectioners sugar
Instructions
For the cake:
In a saucepan, mix Coca Cola, oil, butter and cocoa and bring to a boil. In another bowl, combine the sugar, flour and salt. Pour the boiling Cola mixture over the flour mixture and beat well. Add the eggs, buttermilk, soda and vanilla and beat well. Pour mixture into a greased and floured 13 x 9 inch baking pan and bake at 350 degrees or 20 to 25 minutes. Remove pan. Cool for about 10 minutes before frosting.
For the Frosting:
In a saucepan, combine the butter, cocoa, and milk. Heat until the butter melts. Beat in the remaining ingredients and spread on the cake while it's still warm.
Do you have any recipes that you make today that bring back special memories?