If you love French toast, you will not want to miss this copycat Cracker Barrel Sourdough French Toast recipe. It features homemade sourdough artisan bread and is so simple to make. Skip going to the Cracker Barrel restaurant and make your favorites at home!
Copycat recipes allow you to get close to the flavors you love without going out to eat! Sometimes the flavors are not spot-on perfection, but it will help you get close. Not only will you be able to enjoy your favorites at home, but your wallet will thank you too!
Cracker Barrel's French toast recipe is one of my favorite copycat recipes to make and now you can too!
So let's check out how we make this amazing French toast recipe.
How to Make This Copycat Cracker Barrel Recipe
Start by taking the stale bread and slicing it into 1″ to 2″ slices and setting them aside. French toast always works best when you use stale bread.
In a large bowl, combine eggs, milk, and spices. Mix well and set it aside.
Now, heat a skillet over medium heat. Add in a couple of tablespoons of butter. Take the sourdough bread slices and dip them in the milk mixture. You don't want the bread saturated, but you do want them to be coated well. You can also use a preheated griddle if you prefer instead of a skillet.
Now, place them in the skillet and allow each side to cook for 3 to 5 minutes or until golden brown. Once it is golden brown and the egg mixture is cooked through on both sides, remove from the pan and top with your favorite toppings.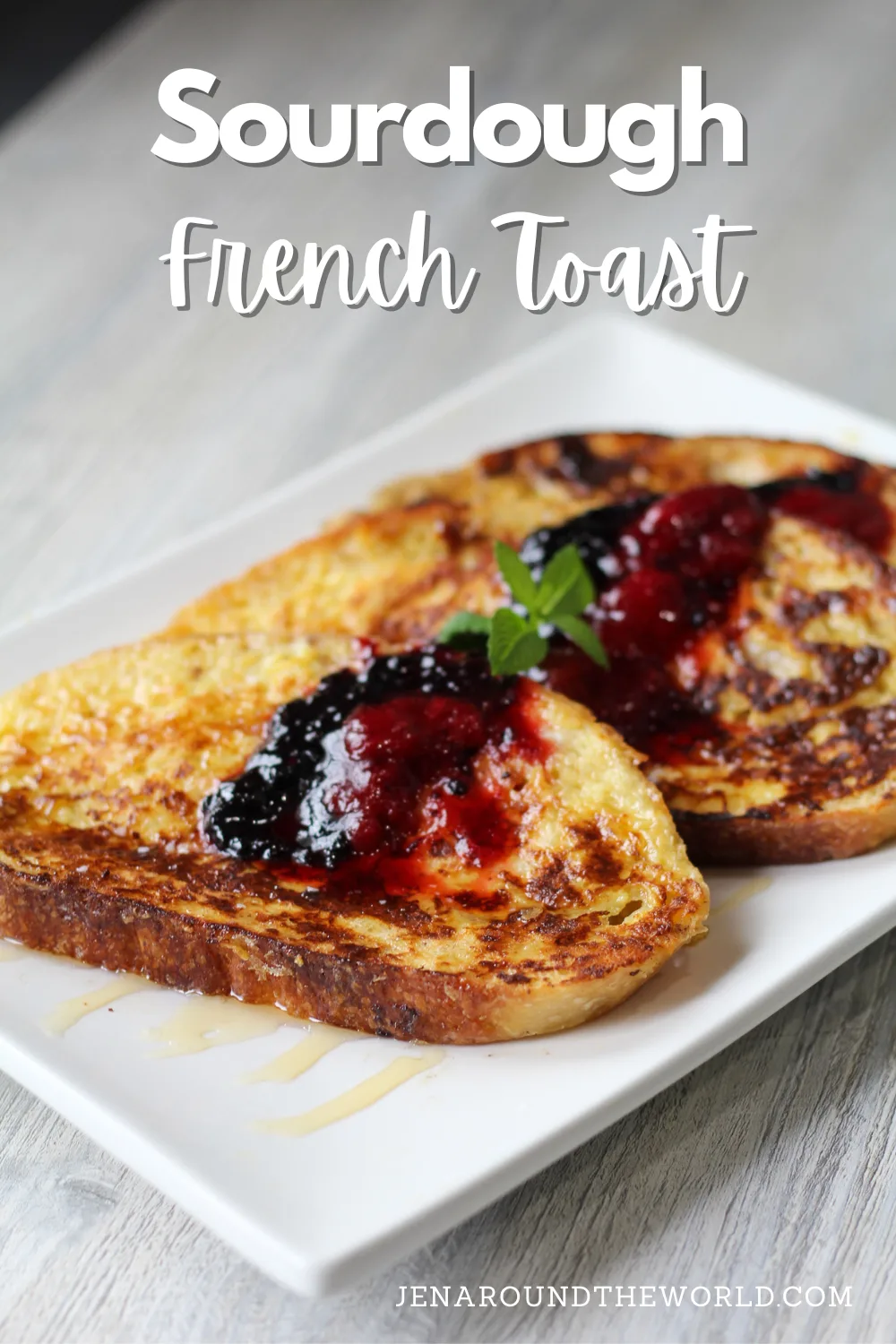 Remove the slices of bread to a wire rack and place them in a 200-degree F oven to keep warm until you are ready to serve it. Just cover it with a piece of aluminum foil to keep the heat in.
I like adding jam, delicious cinnamon apples, fresh fruits, powdered sugar, or maple syrup. You could even slather on some cream cheese and add some pepper jelly!
The toppings for the perfect French toast are endless!
What if I don't have sourdough bread?
You can still make this Cracker Barrel French Toast recipe even if you don't have sourdough bread. You can sub in brioche, Texas toast, Italian bread, and more. I prefer sourdough because I like the slight tang it gives. Honestly — the kind of bread you use is totally up to you. Just make sure that they are thick slices of bread.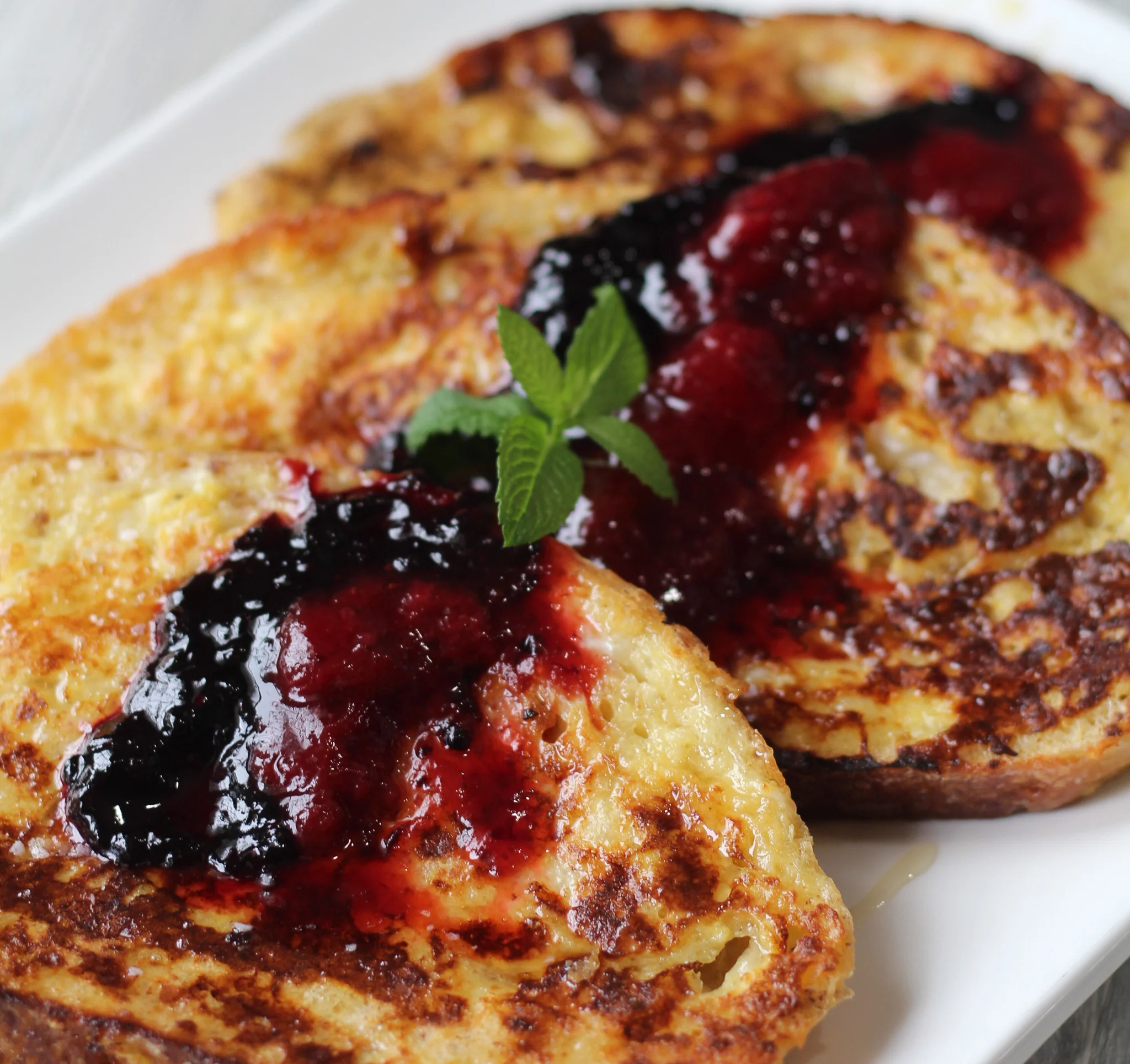 This recipe will make your taste buds sing!
What to Serve with this easy French Toast recipe
Whenever I have good French toast, I like to have some of my favorite country sides to go along with it. My homemade Southern Breakfast Biscuits and Fried Potatoes are perfect companions alongside French Toast.
Of course, you can also create a fun French Toast Breakfast Board for your guests!
Check Out These Other Breakfast Favorites!
Yield: 6 servings
Cracker Barrel Sourdough French Toast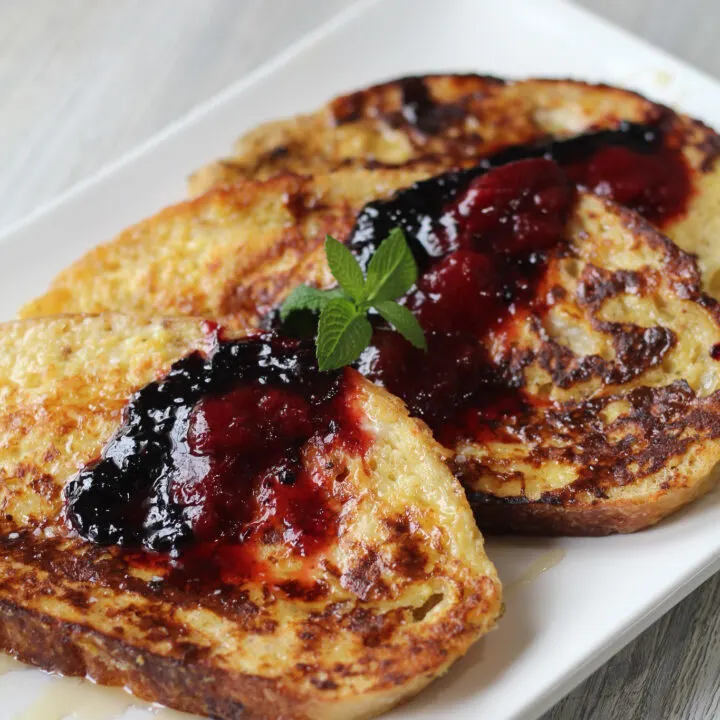 Thick slices of sourdough, coated in an egg mixture and cooked to golden brown. It's the perfect copycat Cracker Barrel recipe.
Ingredients
4 large eggs
2/3 cups of milk
1 teaspoon of vanilla extract
1 teaspoon of cinnamon
12 slices of thick bread
butter for greasing the pan
Instructions
Add all of the ingredients to a shallow dish. Do not add the bread.
Whisk together until everything is smooth.
Heat a non-stick skillet to medium-low heat. Add 1 tablespoon of butter to the pan and allow it to melt.
Dunk a piece of bread in the egg mixture. Make sure to coat each side.
Place in the pan and cook on one side for 3 to 5 minutes until it is golden brown. Then, flip and cook the other side until it is golden brown.
Repeat with all the other pieces of bread.
Serve with maple syrup, powdered sugar, fresh fruit, jam, and berry butter.
Nutrition Information:
Yield:
6
Serving Size:
1
Amount Per Serving:
Calories:

247
Total Fat:

8g
Saturated Fat:

3g
Trans Fat:

0g
Unsaturated Fat:

4g
Cholesterol:

131mg
Sodium:

380mg
Carbohydrates:

33g
Fiber:

2g
Sugar:

5g
Protein:

11g