Pumpkin French Toast is the perfect fall breakfast. For this recipe, I use my homemade sourdough bread soaked in sweet, cinnamon and pumpkin egg mixture and cooked to a golden perfection. Top it off with a little powdered sugar, cinnamon butter, or some maple syrup on top.
When you are making any kind of French toast, never use freshly baked bread. It needs to be at least a day old or stale bread. The bread will come back to life when it gets fried in the pan.
Pumpkin French toast is made just like regular French toast. The only difference is you're going to add some pumpkin puree and pumpkin pie spice to the mix. Honestly, this is the best way to make this delicious breakfast recipe.
How to Make This Amazing Pumpkin French Toast Recipe
Here is a list of ingredients you will need —
day-old bread (Brioche bread, Sourdough, French bread, Italian bread, or Texas Toast)
Pumpkin Puree (NOT pumpkin pie filling)
Pumpkin Pie seasoning
large eggs
whole milk (you can also use heavy cream)
brown sugar
cinnamon
vanilla extract
butter for greasing the pan
Toppings — pure maple syrup, cinnamon butter, whipped topping, butter, or berry butter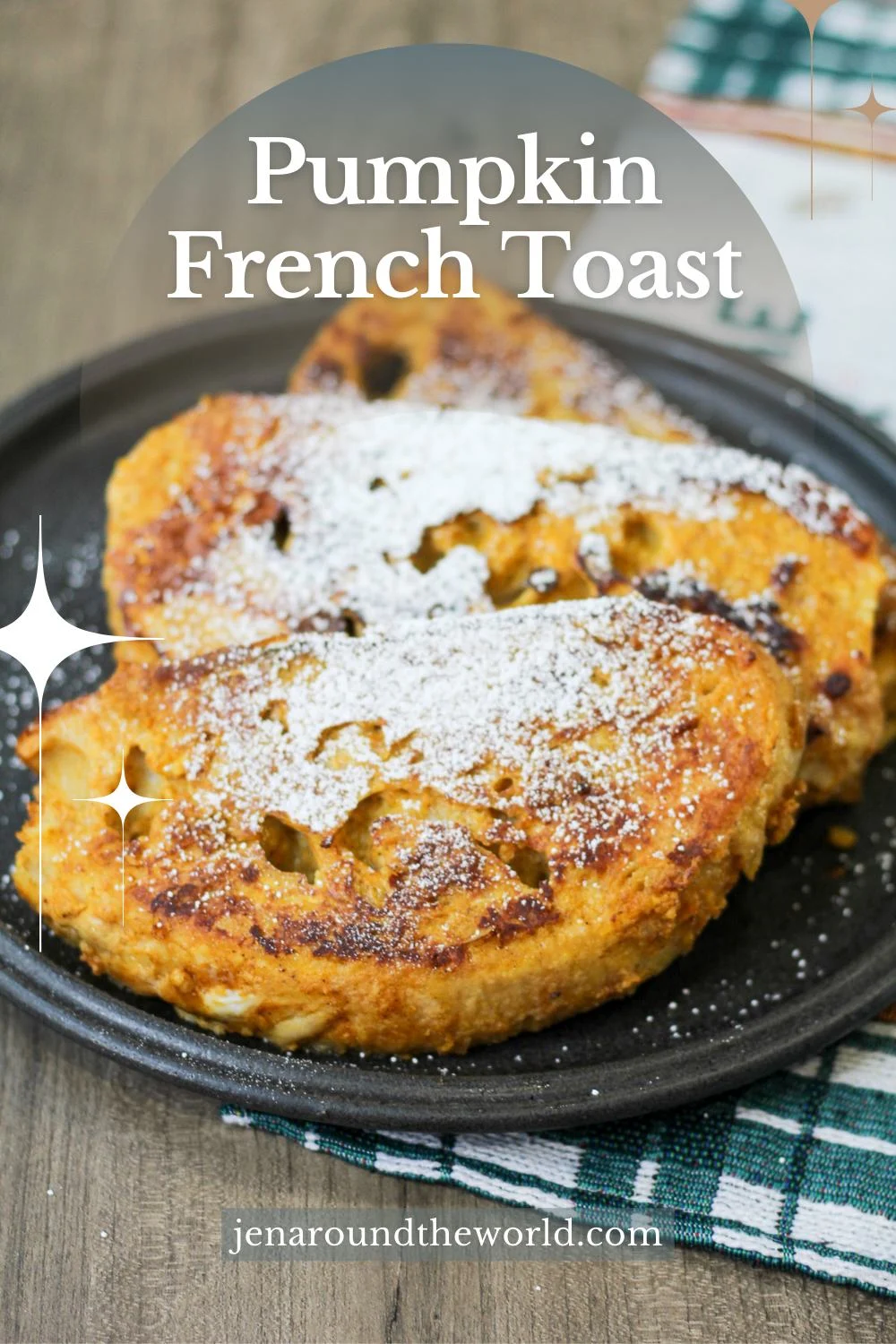 Slice the bread pretty thick if it is not already sliced. 1″ slices are the best. Set the bread aside. Regular white bread is not a good choice for this because of how thin it is. The kind of bread you use is important. You need one that has substance.
Now, mix all the other ingredients. Heat the non-stick skillet over medium heat. Add the butter to the hot skillet and allow it to melt. Dunk the thick slices of bread in the egg mixture and place it in the skillet.
Allow it to cook for a few minutes on each side until golden brown. To keep them warm, place them on a baking sheet and place them in a 200F degree oven. This will keep the pieces warm until they are ready to be served.
Toppings for French Toast
Remove the pieces from the baking sheet and put them on the plate. Top with your favorite toppings — whipped cream, maple syrup, powdered sugar, and butter.
The pumpkin flavor of this French toast is phenomenal. This time of year, I crave all things pumpkin and this hits the nail on the head.
I would love to add this to my French toast breakfast board. The pumpkin pie seasoning adds warm spices to this dish and pumps up the pumpkin flavor.
The best part is that if you have any leftovers, store them in an airtight container. The next morning, take the pieces, slice them into French toast sticks, and serve them to the kiddos.
You could even add some berry butter to the top if you have fresh berries and some real butter.
Need Substitutes?
If you cannot do whole milk, you can substitute almond milk or coconut milk instead.
You could even take the pieces and turn them into a Pumpkin French Toast Casserole. Add in some cream cheese, egg pumpkin batter, and a little caramel sauce, and top with a sprinkling of cinnamon for the perfect breakfast casserole.
What Can I Serve With This Breakfast
I like to serve Copycat Cracker Barrel Hashbrown Casserole alongside the French toast and my Oven Baked Poached Eggs. It makes the perfect breakfast companion and the best breakfast for the fall season.
The next time you want to wow your guests, whip up this delicious breakfast and watch their faces light up with joy with each bite. Make a pot of coffee and serve it with my homemade pumpkin-flavored syrup.
Check Out the Best Pumpkin Recipes Below
Yield: 12 slices
Pumpkin French Toast
Fluffy French toast filled with delicious pumpkin spice flavor. An easy fall breakfast idea
Ingredients
1/2 cup of pumpkin puree
4 large eggs
2/3 cups of milk
1 teaspoon of vanilla extract
1 tablespoon of brown sugar
1 tablespoon of cinnamon sugar
1 teaspoon of pumpkin pie spice
12 slices of thick bread
butter for greasing the pan
Instructions
Add all of the ingredients to a shallow dish. Do not add the bread.
Whisk together until everything is smooth.
Heat a non-stick skillet to medium-low heat. Add 1 tablespoon of butter to the pan and allow it to melt.
Dunk a piece of bread in the egg mixture. Make sure to coat each side.
Place in the pan and cook on one side for 2 to 4 minutes until it is golden brown. Then, flip and cook the other side until it is golden brown.
Repeat with all the other pieces of bread.
Serve with maple syrup, powdered sugar, and berry butter.
Nutrition Information:
Yield:
12
Serving Size:
1
Amount Per Serving:
Calories:

134
Total Fat:

4g
Saturated Fat:

2g
Trans Fat:

0g
Unsaturated Fat:

2g
Cholesterol:

66mg
Sodium:

191mg
Carbohydrates:

19g
Fiber:

1g
Sugar:

5g
Protein:

5g