Homemade Pumpkin Ravioli with Sage and Brown Butter is SO good! It starts with a homemade ravioli then stuffed with a pumpkin-flavored filling and topped with a brown butter sauce that we kicked up with some white wine.
Welcome to the fourth annual #FallFlavors! We have 21 bloggers sharing over SIXTY recipes using fall ingredients like squash, apples, maple, pecans, and many more. Follow #FallFlavors to see all the delicious recipes on social media.
Making homemade ravioli does not have to be intimidating. You can make it with a pasta roller or if you have enough strength, you can do it with just a rolling pin.
But it is much easier to use either a manual pasta roller or a Pasta roller attachment for your KitchenAid mixer.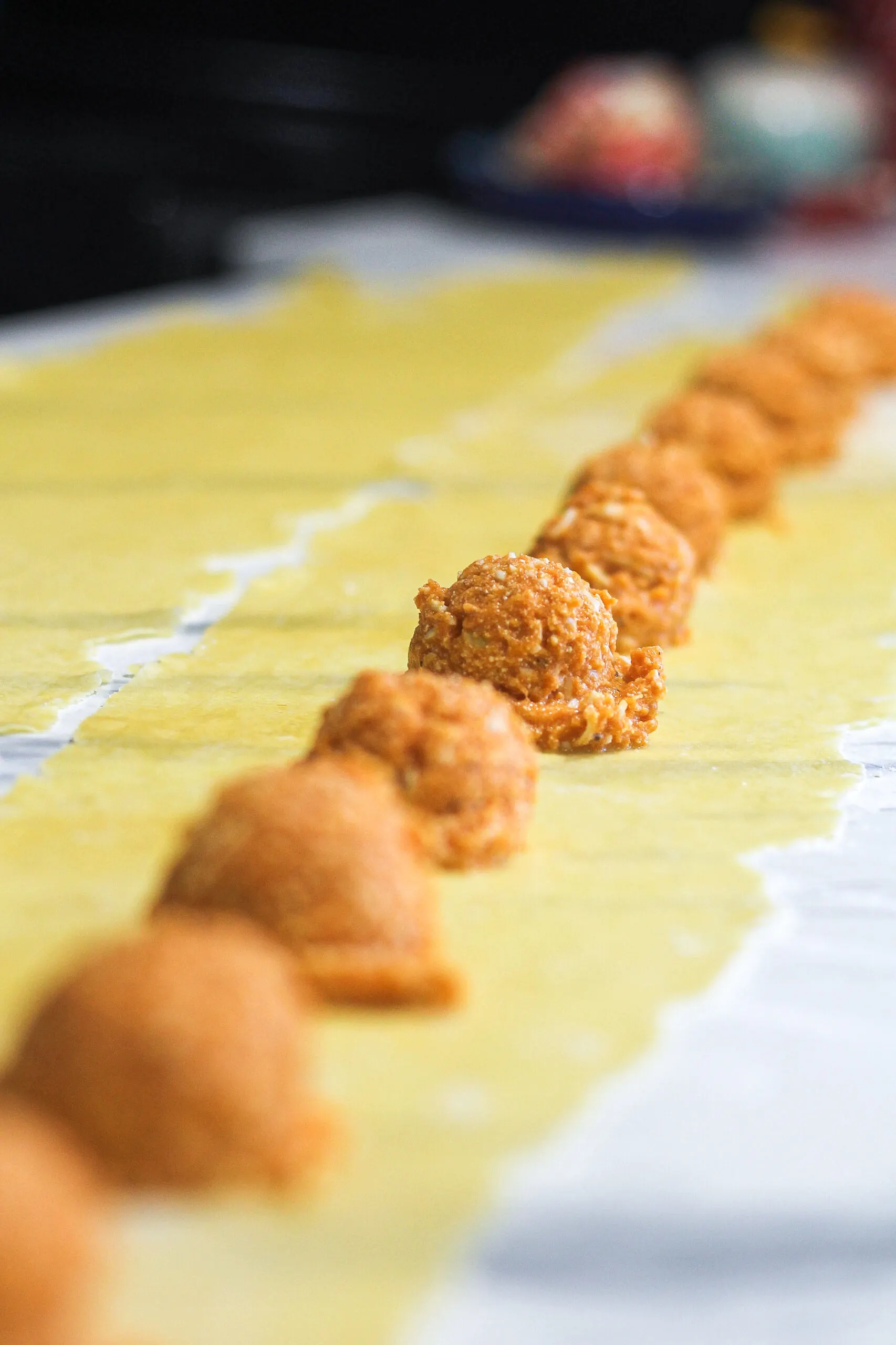 Once you get the pasta dough rolled out and the filling made, putting it together is simple and easy. I found these amazing Ravioli cutters on Amazon that work great for making these pumpkin ravioli.
How to Make Pumpkin Ravioli
Start by adding your flour and salt to your work area. Make a circle in the center. Add in your egg, egg yolks, and oil, and mix with a fork to get everything incorporated.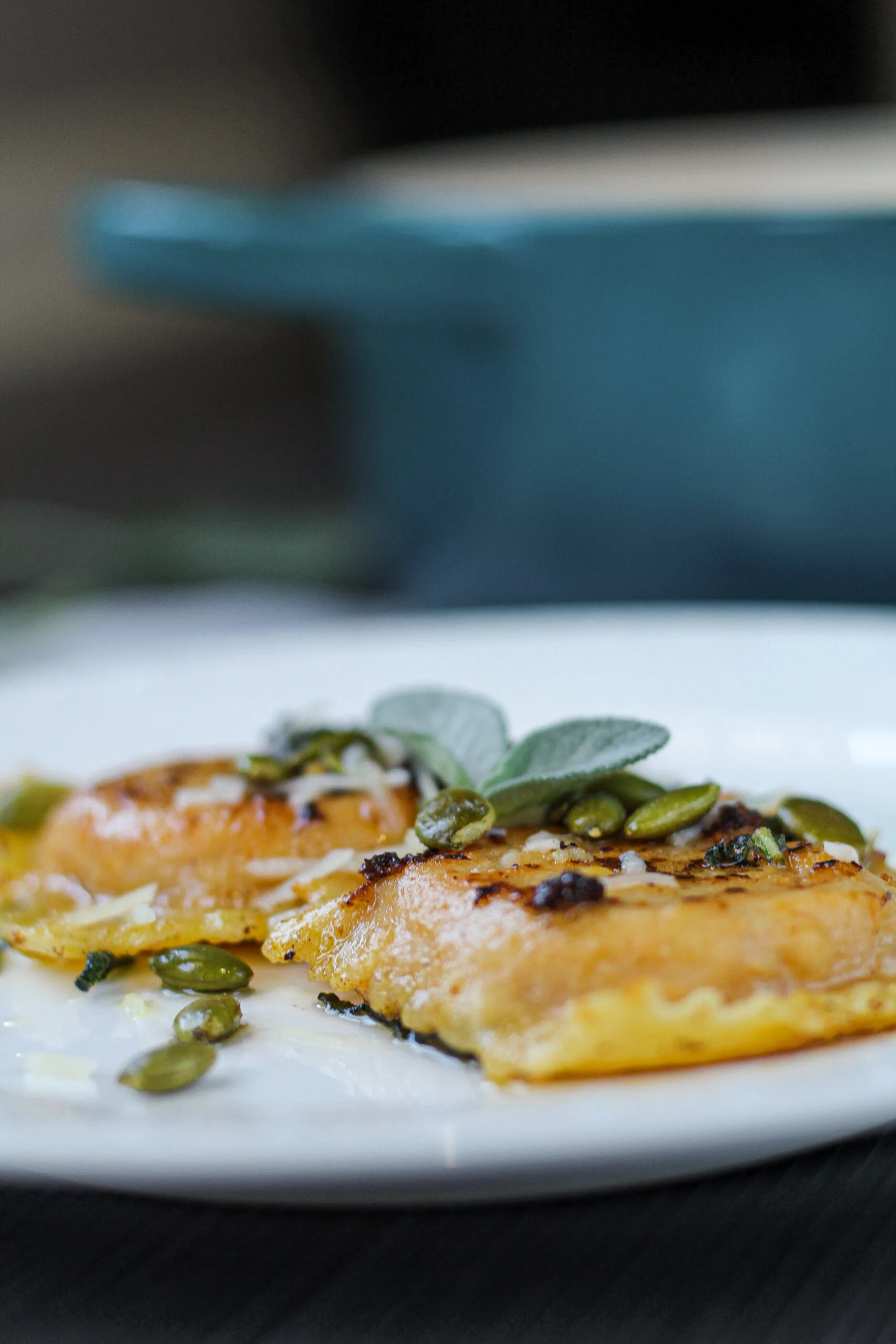 Once you mix with a fork, get in there and start kneading! Knead for about 7-10 minutes. After you knead the dough, cover it and let it rest for about 30 minutes.
Next, roll out the dough into a rectangle that is about 1/4 inch thick. Continue to lower the setting for each time you run the dough through the attachment. The final run-through of the dough should make the sheet of dough almost see-through.
I use a 2″ cookie scoop to scoop out the filling onto the dough. Then, I place the ravioli cutter over that to make sure I leave plenty of room in between.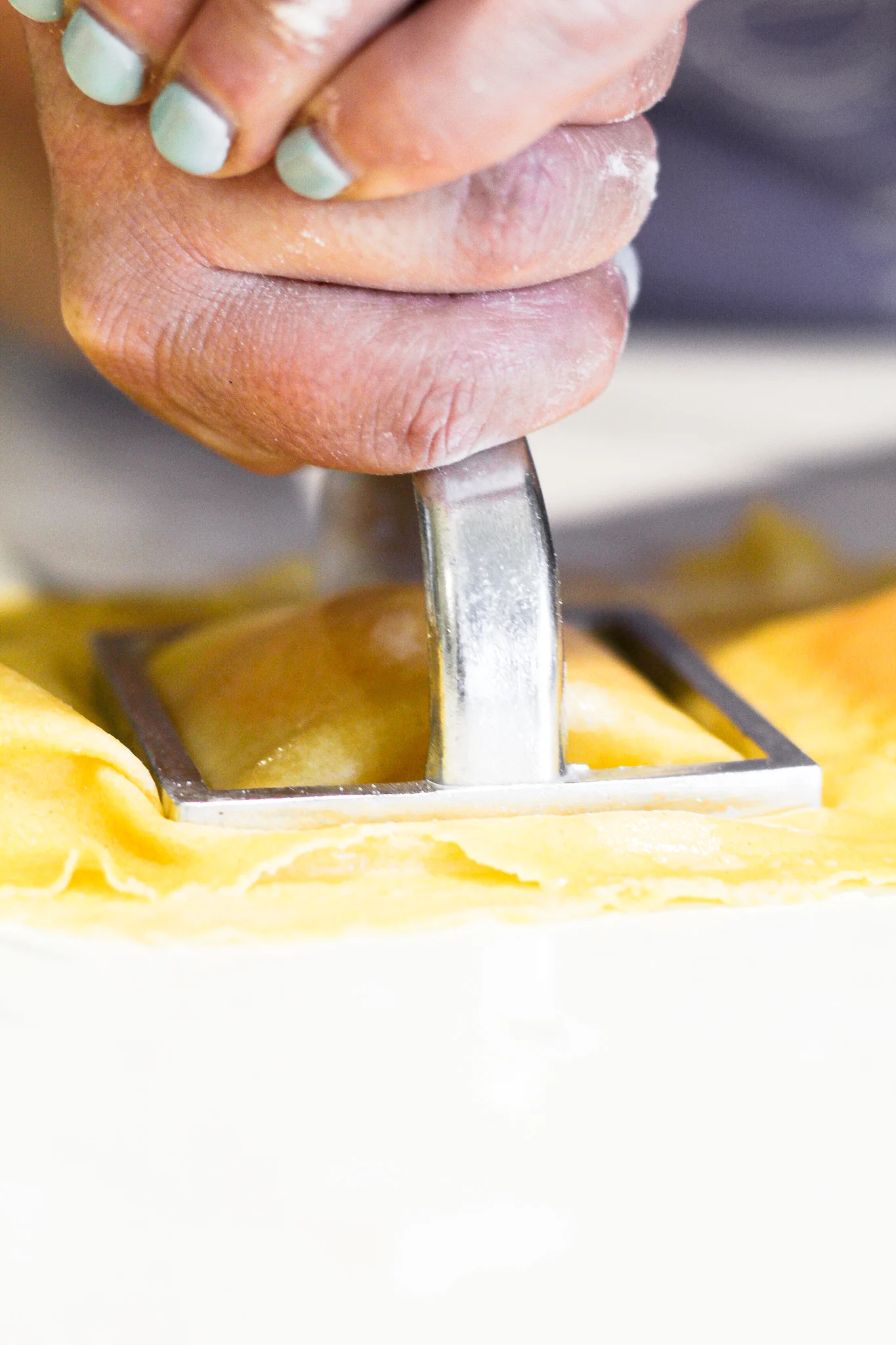 Top with another sheet of dough and then use the cutter to cut out the shapes. I like to place the ravioli on a parchment-lined sheet pan. From this point, you can freeze them for later use, or you can let them firm up in the fridge and then boil or fry them to eat.
To Make the Sage and Brown Butter Sauce
Most people only make their ravioli sauce with brown butter and sage sauce. But for me and Kayla, we like to kick it up a notch, so we added a little bit of wine to ours! We finished it off with some roasted pepitas.
And since these ravioli are fresh, we did not bother boiling them. She cooked them right in the pan with the sauce. It gave them a little bit of a dumpling feeling.
You can skip this step if you do not want the wine. Simply boil the pasta and then plate it and top it with the sage and brown butter sauce. Don't forget the Parmesan cheese either!
Can I Save Homemade Ravioli For Later?
Yes, and it makes for a great freezer and time-saving meal. If you are not planning to boil or cook the pasta right away, place the filled ravioli on a parchment-lined baking sheet and freeze them for about 30 minutes.
Then, put them all in an airtight container to freeze until you are ready to cook them. They will last in the freezer for about 6 months.
When you are ready for ravioli night, take them from the freezer and plop them into a pot of boiling water for about 3 minutes, and they are ready to go!
Check out these other delicious pasta recipes!
Tuesday #FallFlavor Recipes
Apple Cheddar Ebelskiver from A Kitchen Hoor's Adventures
Easy Pie Crust Cookies from Best Cookie Recipes
Maple Pecan Oat Bread from Karen's Kitchen Stories
Follow the Favorite Fall Recipes Facebook group and follow the Favorite Fall Flavors Pinterest board for more fall inspiration!
Yield: 24 ravioli
Pumpkin Ravioli with Sage and Brown Butter Sauce
Delicious homemade ravioli filled with a cheesy pumpkin filling.
Ingredients
For the ravioli dough
1 cup all-purpose flour
1 teaspoon salt
1 large egg
2 large egg yolks
1/2 teaspoon olive oil
For the pumpkin filling
1/2 cup ricotta cheese
1/4 cup mozzarella cheese, grated
1/4 cup parmesan cheese, grated
1 cup pumpkin puree
2 cloves garlic, minced
1/2 teaspoon salt
1/4 teaspoon pepper
1/4 teaspoon nutmeg
For the Sage and Brown Butter Sauce
1/3 cup butter
1/4 cup of white wine
1 clove garlic, minced
1 teaspoon kosher salt
1/4 teaspoon pepper
1/4 teaspoon fresh sage, finely diced
Pepitas and extra Parmesan for garnish
Instructions
To make the ravioli dough -- Add the flour and salt onto a work surface.
Make a circle in the center of the flour.
Crack the full egg, the egg yolks, and the oil into the middle. Mix it all together with a fork.
Continue to knead the dough back and forth toward you and away from you for about 7-10 minutes. If the dough is too sticky, you can add a little more flour as needed.
Form a ball with the dough and cover it, allowing it to rest for 30 minutes.
Roll the dough out into a ¼ inch thick rectangle. Begin to roll the pasta dough through the pasta roller.
Move the rollers to the next smallest setting and pass the dough through again. Continuously lower the size settings, passing the dough through once or twice each time.
When the dough is thin enough to partially see-through, you have reached the right consistency.
Cut the length of the dough into 24-inch sections. Set aside as you make the filling and garlic brown butter.
To make the filling -- In a medium bowl, combine the ricotta cheese, mozzarella cheese, parmesan cheese, pumpkin puree, garlic, salt, pepper, and nutmeg. Mix well and then set aside.
To assemble the ravioli -- Lay out each section and, working one pasta sheet at a time, use a cookie scoop and spoon out 2 teaspoons of filling in the center of each sheet, leaving 1 inch of space on each side.
Use a pastry brush and brush water around the ravioli filling.
Top each ravioli with another sheet of dough.
Using your fingers, gently press the dough as close as you can to the filling. Try to eliminate any air pockets that form.
Press again on the edge to seal it completely.
Using a fluted pastry wheel, or a ravioli cutter, cut the pasta.
To boil the pasta -- Bring a large pot of salted water to a rolling boil. Add ravioli to hot water, working in batches to not overcrowd the pot.
Cook for 3-4 minutes and then gently scoop out the ravioli, strain out any excess water, and transfer to a plate.
To cook them without boiling --In a large saucepan, melt the butter. Add the garlic and cook for 1 minute. Be sure to not overcook the garlic. Add the wine, salt, pepper, and sage.
Add the ravioli to the pan and allow the brown butter wine sauce to cook the pasta. After a few minutes, flip the ravioli so it can brown on the other side.
Remove from the pan and drizzle on some of the sauce. Top with Parmesan cheese and pepita seeds.

Nutrition Information:
Yield:
4
Serving Size:
1
Amount Per Serving:
Calories:

622
Total Fat:

42g
Saturated Fat:

18g
Trans Fat:

1g
Unsaturated Fat:

20g
Cholesterol:

247mg
Sodium:

1503mg
Carbohydrates:

38g
Fiber:

5g
Sugar:

3g
Protein:

26g