This recipe for homemade pasta noodles uses only 3 ingredients! Read on to learn my secrets for perfect pasta noodles every time.
Over the Christmas holiday, my family gifted me with a Kitchenaid Pasta Press attachment — the one that makes the cute little noodle shapes like fusilli, rigatoni, elbow macaroni — yeah — that one.
I was so excited to get it because I have been wanting it for years. The thing is — I had NO CLUE how hard it was going to be to find the right dough recipe for making homemade pasta noodles.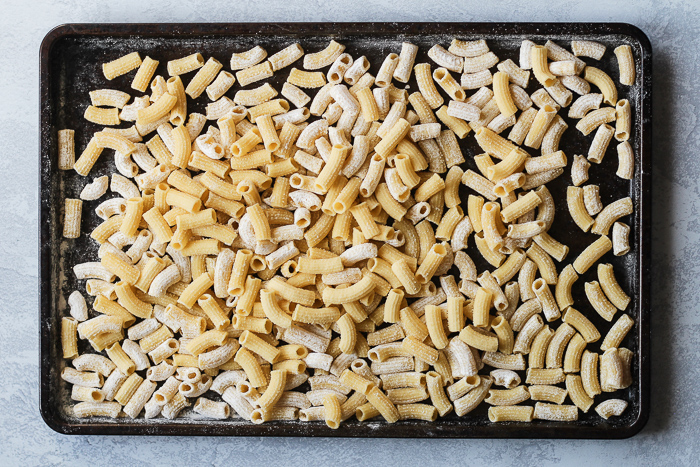 But never fear — I finally found the perfect recipe so today I am going to share my tips and tricks with you!
A Foolproof Recipe for Making Homemade Pasta Nooodles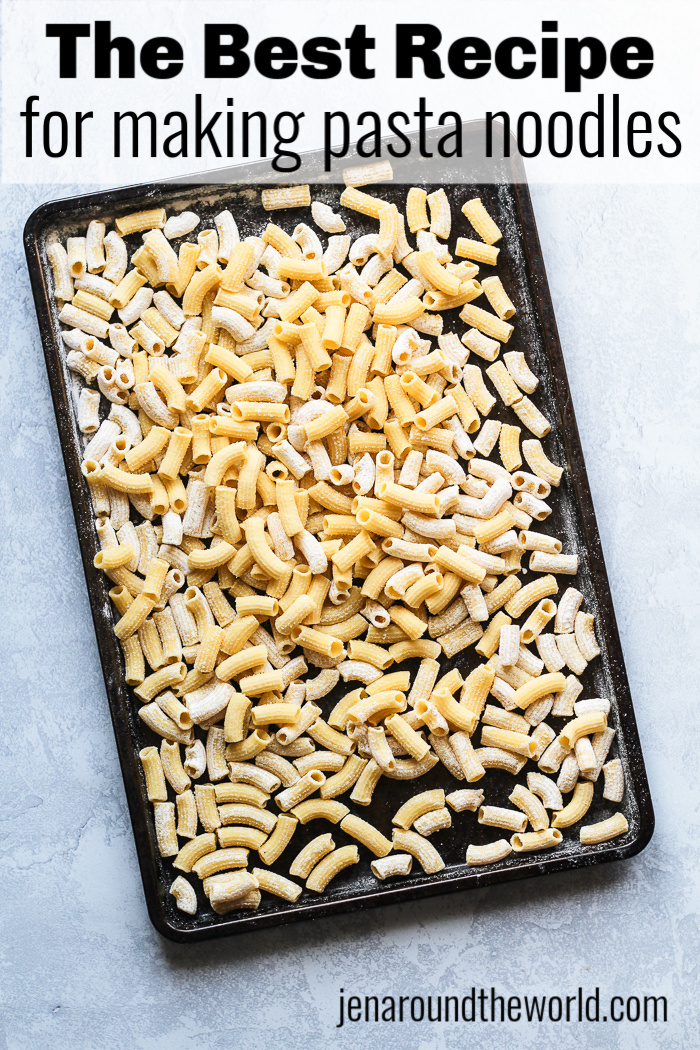 When I first pulled my pasta press out of the box I was so excited to get started making my favorite shaped noodles. However, after making the recipe in the book that comes with the press, I was deeply disappointed.
The dough was SO wet that it kept sticking to the inside and would not come out of the press.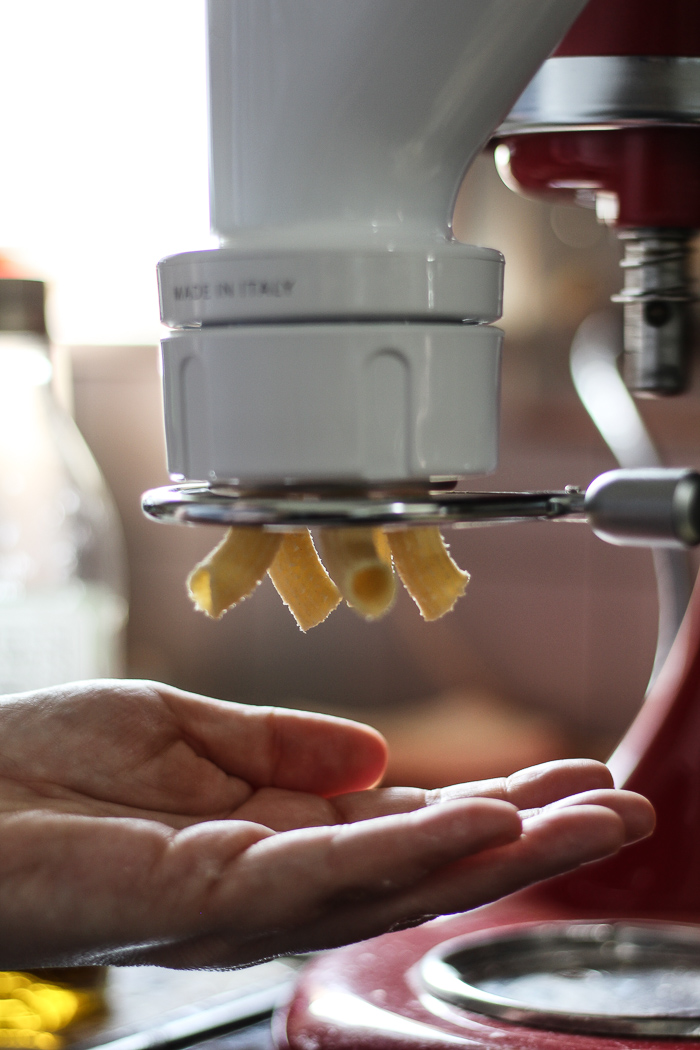 Then I tried another dough, and it wound up being too dry. I had no clue what I was going to do. I was at the point that I was ready to pack up my pasta press and send it back to Amazon where it came from.
Then I came upon another recipe that said you could add extra eggs and olive oil to the dough and it would make all the difference in the world. And you know what? It did!
Last night we successfully made over a pound of pasta dough with this easy and simple recipe. You can use this pasta in my Southern Cream Cheese noodles recipe.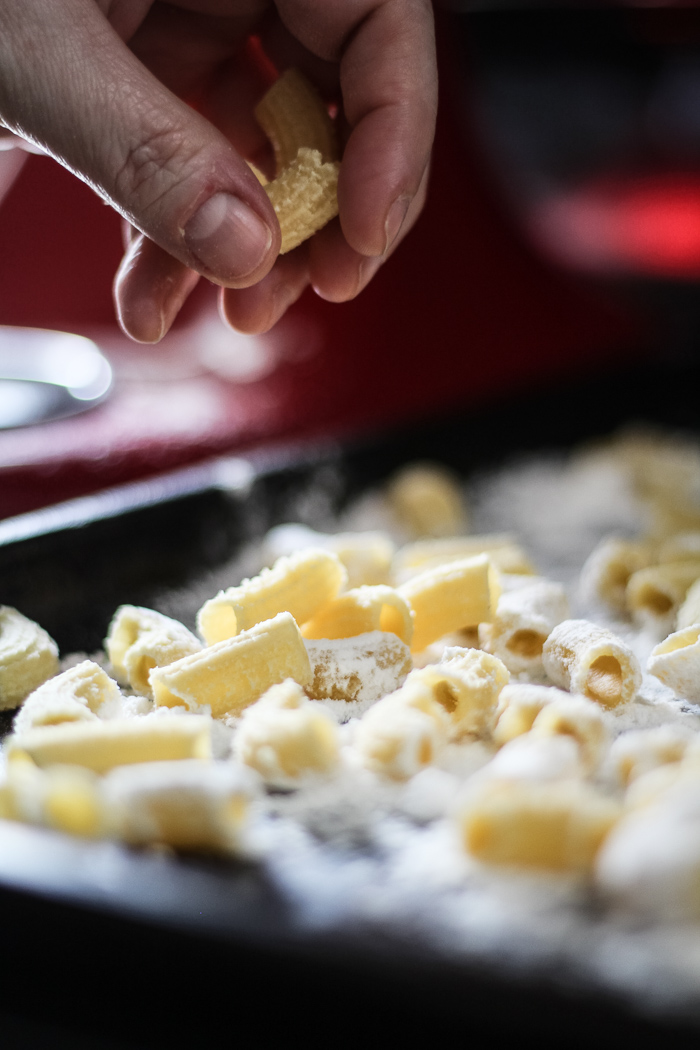 Let me take a moment to explain what extruded pasta is and how it's different from other pasta. Extruded pasta is made by forcing a dry flour and egg dough through a die.
Spaghetti, rotini, fusilli, penne, bucatini, macaroni, and rigatoni are all examples of extruded pasta. Fresh extruded pasta is rare, but most of the dried pasta sold at the grocery store are actually extruded.

Rolled pasta, like spaghetti and fettucini, on the other hand, is made by rolling out a flour-and-egg dough using your pasta roller attachment, into a thin sheet and then cutting the sheet into strips of the desired width.
Examples of rolled pasta include lasagna, linguini, fettuccini, tagliatelle, and pappardelle. When pasta is made at home, it's usually the rolled type of pasta.
How to Make the Best Pasta Dough for Extruding Pasta
So — are you wondering what my recipe is? Here's the secret —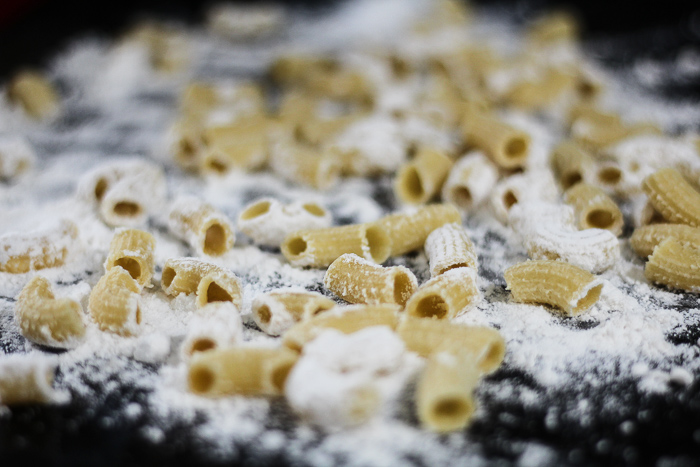 You need to use 3 1/2 cups of flour and 5 large eggs to get your dough going. Instead of using water to make it come together, use olive oil!
The olive oil will help the dough stay dry enough to come together and will keep the dough from sticking to the inside of the attachment. This means your noodles will come out perfect and easy every single time.
Now – the amount of olive oil that you use will determine the area where you live. Start with two tablespoons and move on from there. It took me about 3 tablespoons of oil and 1 tablespoon of water to make my dough come together.
It turned out beautiful and cooked up even better!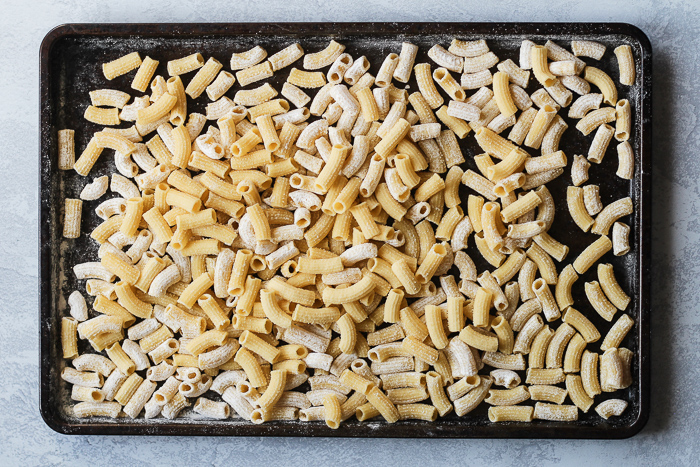 Check Out These Other KitchenAid recipes
Yield: 1 pound of fresh pasta
The Best Recipe for Making Homemade Pasta Noodles (plus a look at the Kitchenaid Pasta Press Attachment)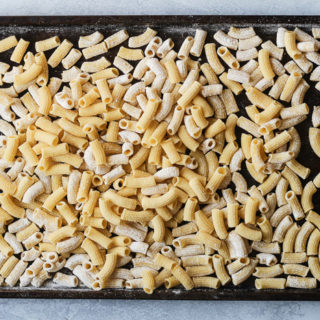 This recipe is a base for making easy homemade extruded pasta noodles from scratch
Ingredients
3 1/2 cups of all-purpose flour
5 large eggs
2 tbsp olive oil (may need more depending on the dryness of your dough)
Instructions
In your Kitchenaid mixer, combine the flour and 5 large eggs and mix. Add in olive oil to make the dough come together just a bit. The dough should be very dry—so dry that it won't even come together into a single mass.
Pour the dough out onto the work surface and pinch off walnut-size pieces to feed into the extruder.
Don't shove it down in there as that will cause a big clog and mess everything up. Larger amounts of dough tend to bind up in the extruder as they reach the auger.
Using the cutter on your attachment, as the pasta comes out, cut it off and lay it in a single layer on a floured surface to dry.
Cook the homemade extruded pasta as you would any other pasta, in a large pot of boiling, salted water until al dente. Cooking time will vary depending on how wet the dough was and how long the pasta was dried. Mine took about 4 minutes.
Finally, disassemble the extruder, remove any large gobs of dough, and let the rest dry overnight before attempting to clean the parts. The dough will flick right off once it's completely dry.
Remove using a slotted spoon and add to your sauce
Toss to coat the pasta and serve
Recommended Products
As an Amazon Associate and member of other affiliate programs, I earn from qualifying purchases.
Nutrition Information:
Yield:
10
Serving Size:
2 ounces
Amount Per Serving:
Calories:

219
Total Fat:

6g
Saturated Fat:

1g
Trans Fat:

0g
Unsaturated Fat:

4g
Cholesterol:

93mg
Sodium:

36mg
Carbohydrates:

34g
Fiber:

1g
Sugar:

0g
Protein:

8g