Quick and Easy 15-Minute Shrimp Tacos Recipe — Perfect for a weeknight meal or as a last-minute dinner party idea. These tacos are spicy, creamy, and healthy! Ready in only 15 minutes and can be made year-round either on the grill or pan-seared in a skillet. Pair it with my delicious pineapple salsa or a creamy cilantro Mexican coleslaw topping.
One thing that I have come to love eating is shrimp. I used to hate it and couldn't even stand the smell, but the older I get, the more I love seafood and shrimp is like chicken — you can add it to anything and it tastes good.
These tacos have the best flavor. They are a little bit spicy and go so well with so many different kinds of toppings.
I like to serve tacos with a side of pico de gallo, guacamole, and cilantro-lime rice and you will have yourself a well-rounded Mexican fiesta!
Ingredients You Will Need
Raw shrimp: Fresh or frozen shrimp will work here. To thaw shrimp, place in cold water for an hour or so or in the fridge overnight. Be sure to drain and dry your shrimp off. This will ensure it gets a char on instead of releasing a lot of water. Make sure that your get the shrimp peeled and deveined as well. You definitely do not want a poop sack or a shrimp peeling in your tacos.
Tortillas: The best to use are small corn tortillas around 6 inch in diameter. You can use flour tortillas as well, but the corn work best. Be sure to double up instead of using just one.
Seasonings: Taco seasoning, garlic powder, lime and cilantro. That's it!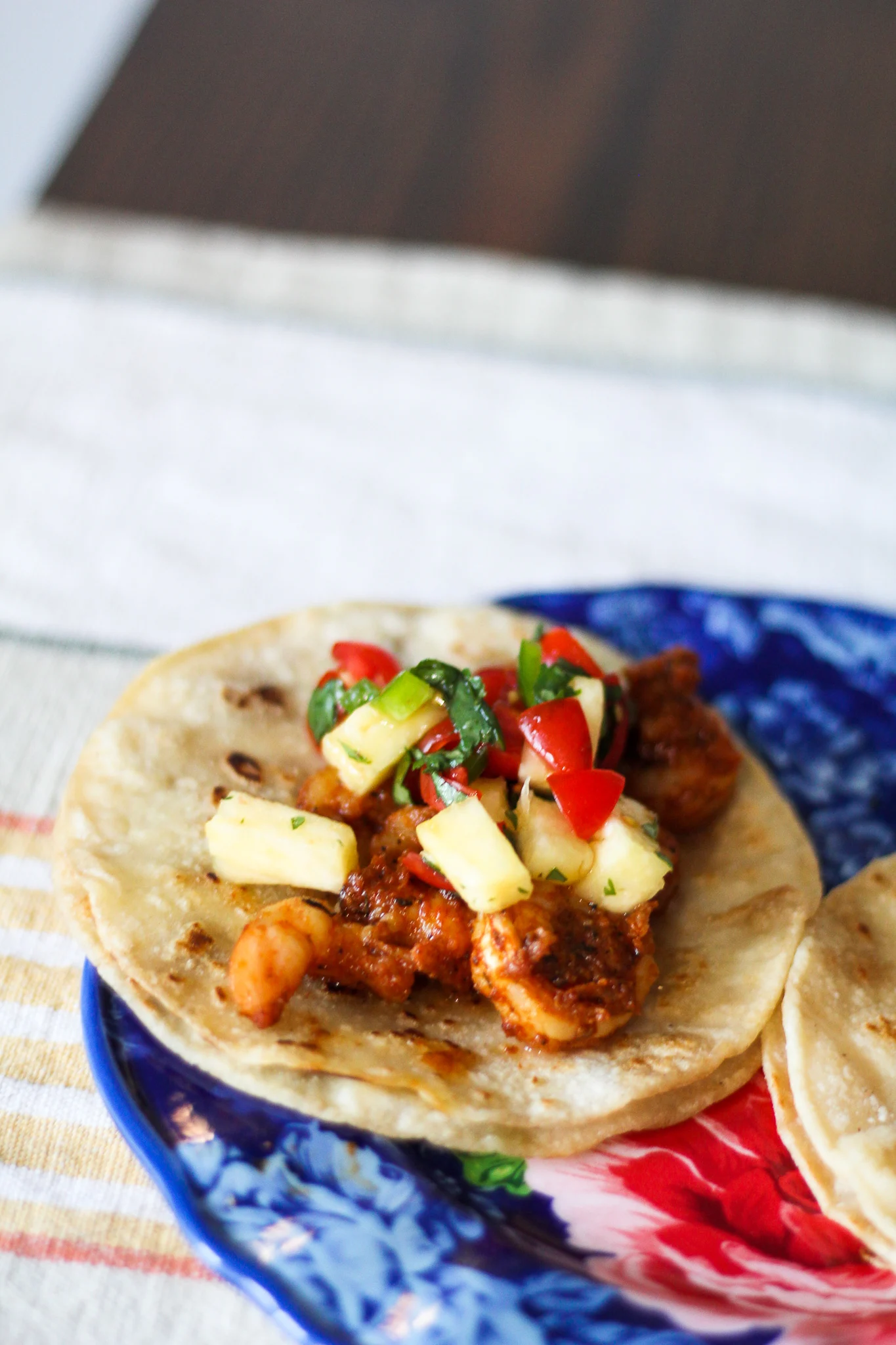 How to Make Shrimp Tacos
Shrimp taco seasoning: Combine seasoning ingredients with the raw shrimp for 5 minutes while you preheat the cast iron skillet.
You want the shrimp to be a little spicy so that your tacos do not have a very bland flavor. Skip adding any salt to this dish because shrimp contains a lot of sodium, and so does taco seasoning.
Shrimp taco topping: For this recipe, I mix together an equal part of diced pineapple and tomato. Then, I add in one de-seeded and diced jalapeno. I chop up some cilantro and add it as well. Then squeeze in the juice of one lime. It turns out like a pico de gallo.
Cook shrimp for 4 minutes in a hot ceramic non-stick skillet. Shrimp cooks fast and it's ready when no longer gray and starts to turn pink.
Now that your shrimp is done, you can assemble the tacos!
For the tortillas, I like to warm tortillas in a cast-iron skillet on high heat. Just 10 seconds per side because otherwise the tortilla will dry out and break as you fold them.
Fill each tortilla with 3-4 sauteed shrimps (depending on the size), top with the pineappe topping, and serve.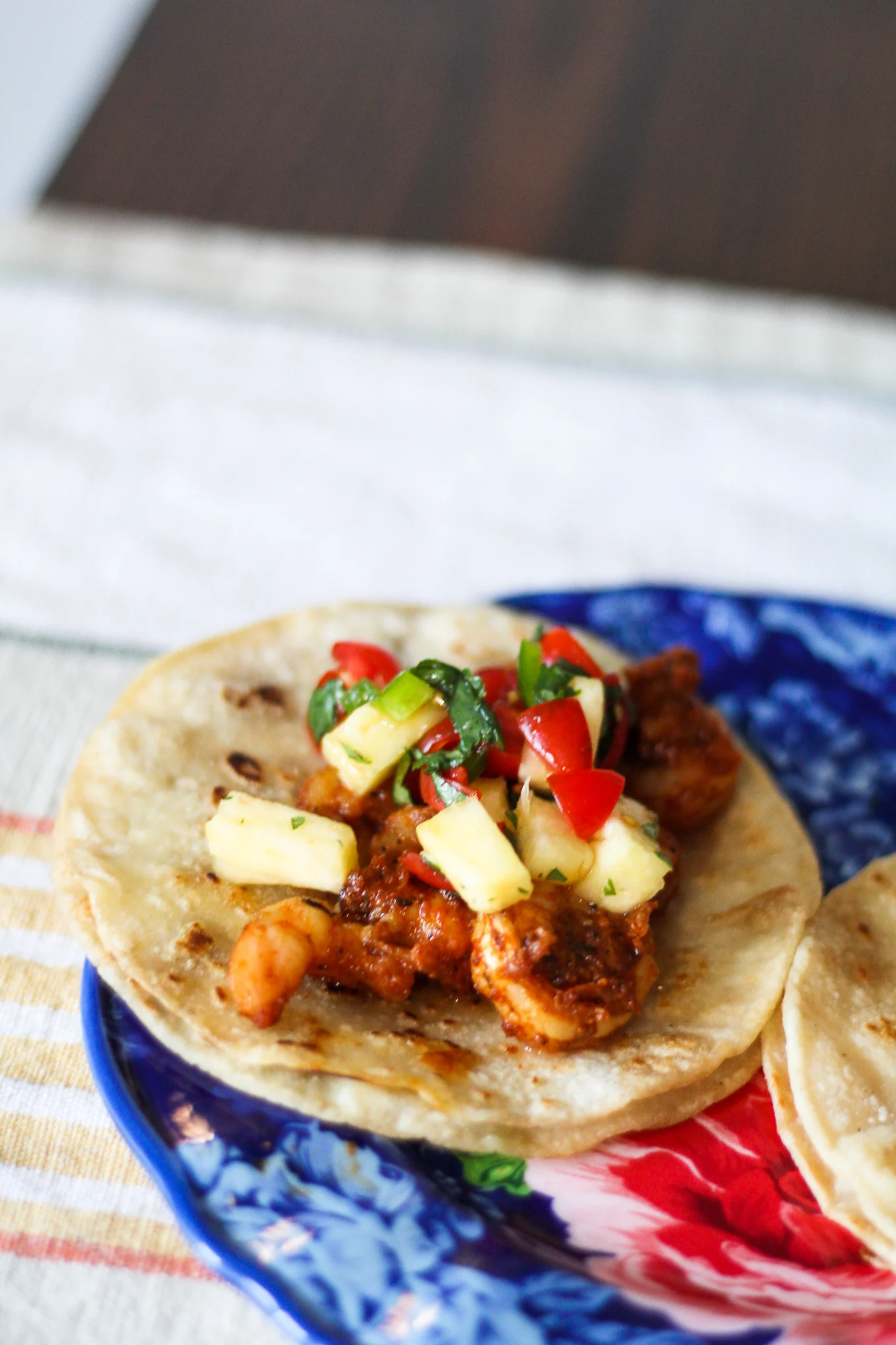 Check out these other shrimp dishes
Garlic Shrimp with Blistered Tomatoes
Yield: 6 tacos
15 Minute Shrimp Tacos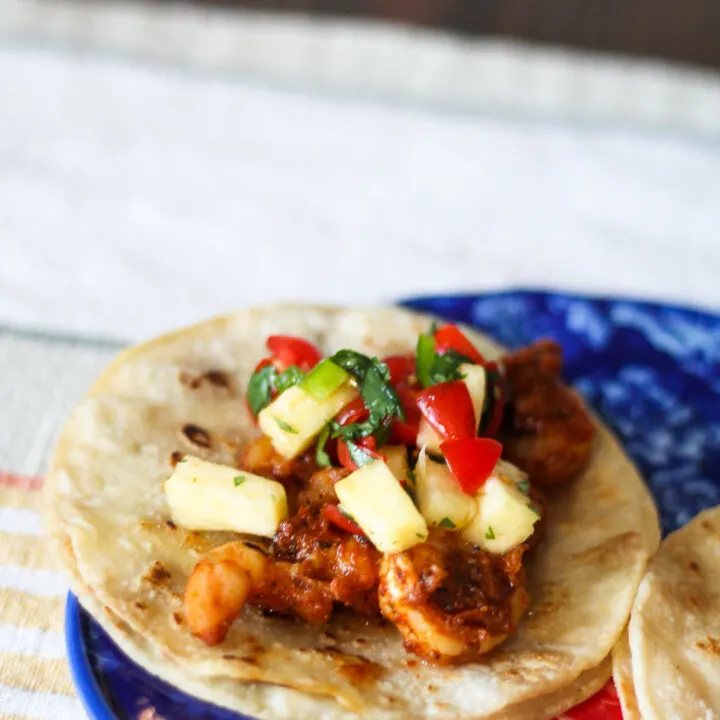 Make a weeknight meal or last-minute entertaining simple and easy with my Easy Shrimp Tacos. Ready in only 15 minutes and can be made year-round either on the grill or pan-seared in a skillet.
Ingredients
20 medium shrimp, peeled & deveined
1 clove garlic, minced
1/2 tsp. ground cumin
1/2 tsp. chili powder
1/4 tsp. salt
1/4 tsp. cayenne pepper
1 T. olive oil
4 corn tortillas or you can use taco shells
oil for frying
pineapple pico de gallo recipe
Instructions
In a bowl, whisk together 1 tablespoon of oil, garlic, ground cumin, chili powder, salt, and cayenne pepper. Add in shrimp and toss to coat completely. Place in the refrigerator for about 10 minutes to let the flavors marry a bit.
Cook shrimp in a cast-iron skillet with all of the marinade on medium heat until pink and cooked through, about 5 minutes.
Lightly coat small pan with oil over low-medium heat. Warm tortillas until soft.
Spoon 5-7 shrimp onto each tortilla, top with lettuce, tomato, avocado, or my famous pineapple pico de gallo -- the possibilities are endless.
Nutrition Information:
Yield:
6
Serving Size:
1
Amount Per Serving:
Calories:

118
Total Fat:

6g
Saturated Fat:

1g
Trans Fat:

0g
Unsaturated Fat:

5g
Cholesterol:

35mg
Sodium:

314mg
Carbohydrates:

12g
Fiber:

2g
Sugar:

2g
Protein:

5g