Making a delicious Pico de Gallo to on top of dishes like tacos, burritos, and grilled chicken is simple and easy. This condiment will soon become your very favorite.
If you go to a Mexican restaurant, the best side item you can get besides a side of Restaurant Style Mexican Cheese Dip is Pico de Gallo.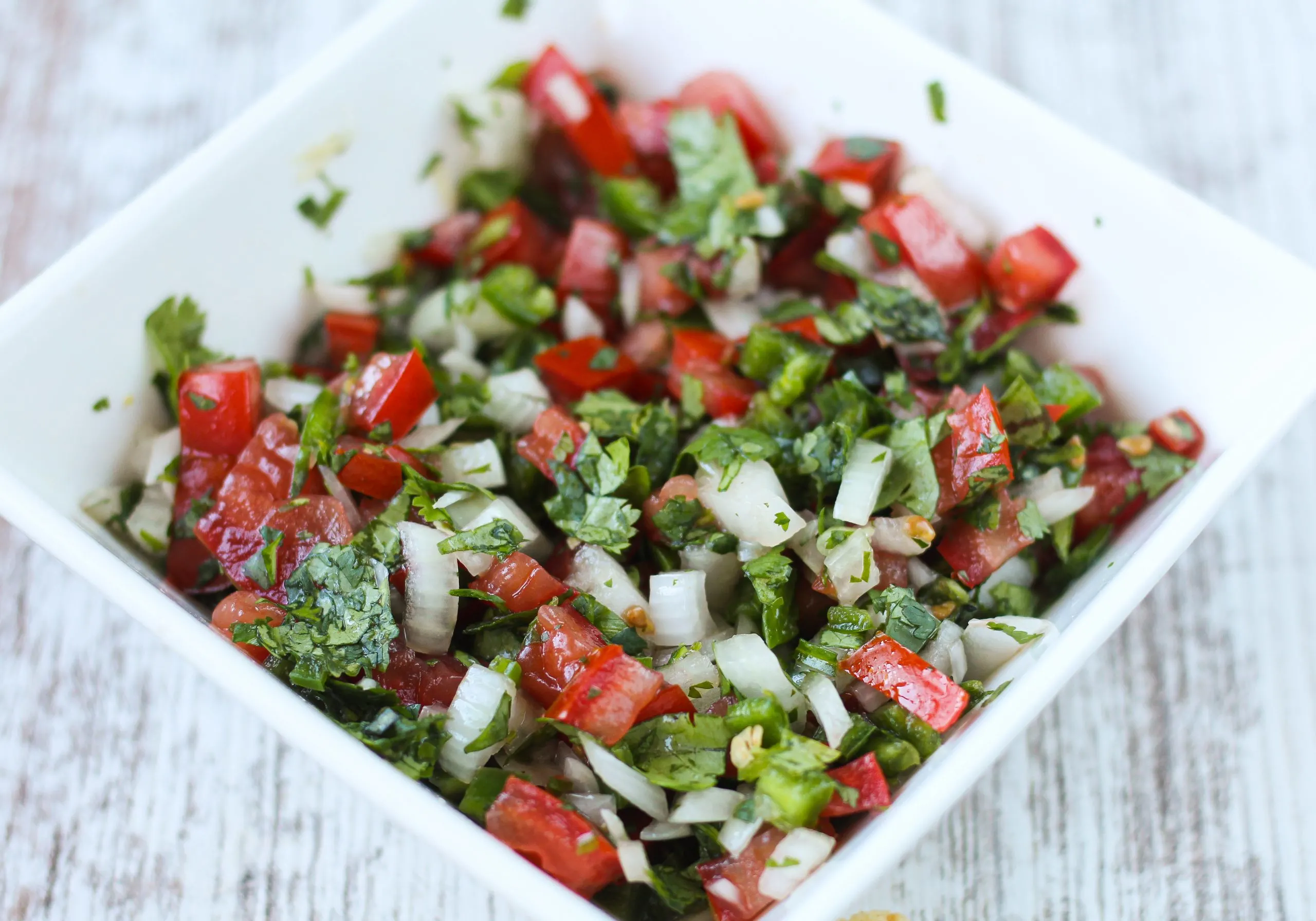 I knew for a long time I wanted to make this recipe because I use it on my tacos instead of sauce, shredded cheese, and sour cream.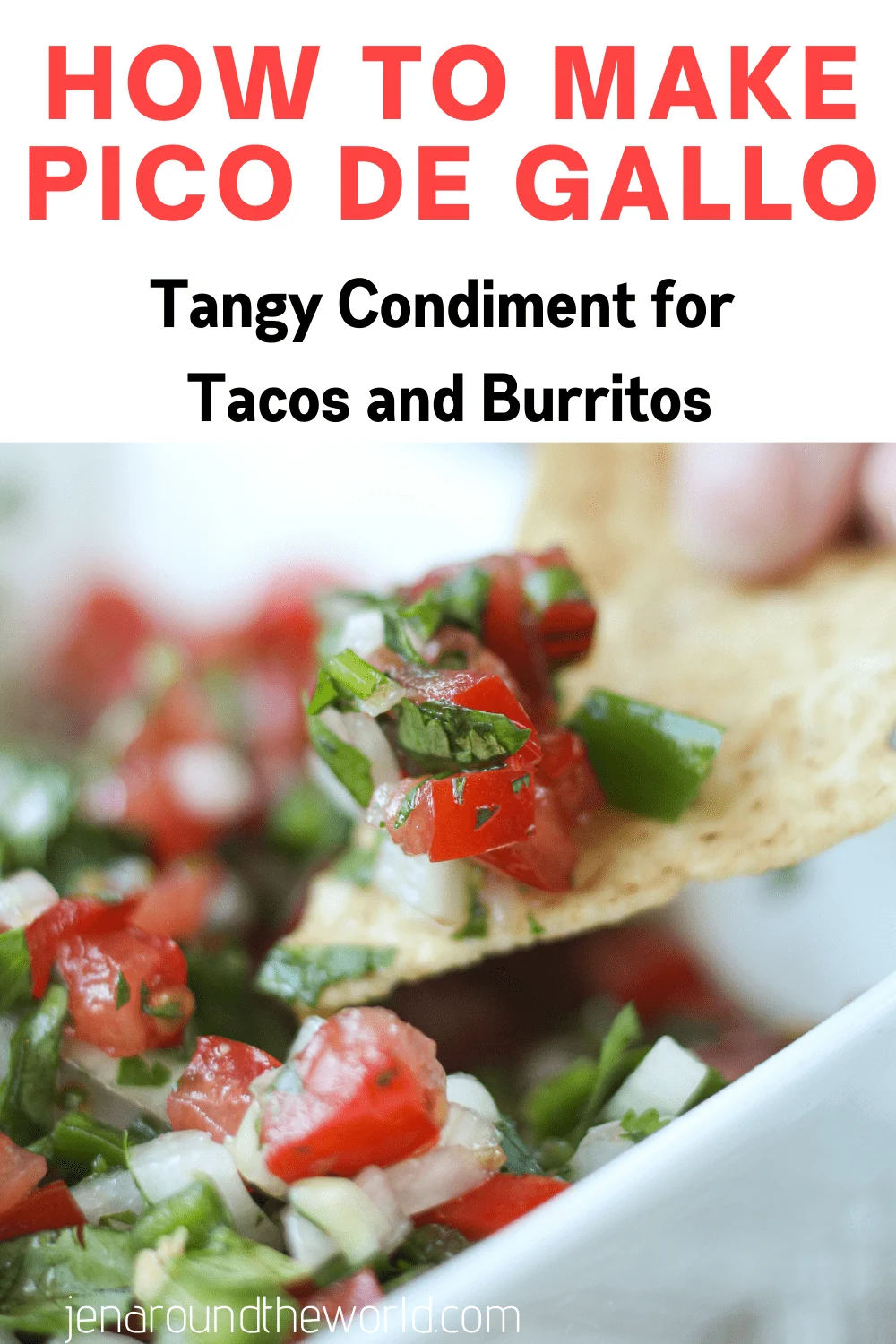 It's a way that I can add tons of flavor to my burritos and tacos without adding extra calories. Pico de Gallo is full of fresh hearty flavors like cilantro, onion, jalapeno, tomatoes, and to top it all off, some tart lime juice.
Pico de Gallo is super easy to make and really takes about 10 minutes from start to finish.
How to Make Pico de Gallo
Whenever we have taco night at home, I will make a huge bowl of this. I serve it alongside the tacos and homemade Mexican rice.
This side dish would even go great on top of my Tex Mex Migas.
There are really no measurements here. It is basically equal parts of the onion, tomatoes, and cilantro. Then, I add 1 jalapeño seeded and diced, and salt to taste. I usually use two limes, but if you have one big juicy lime, that should be enough.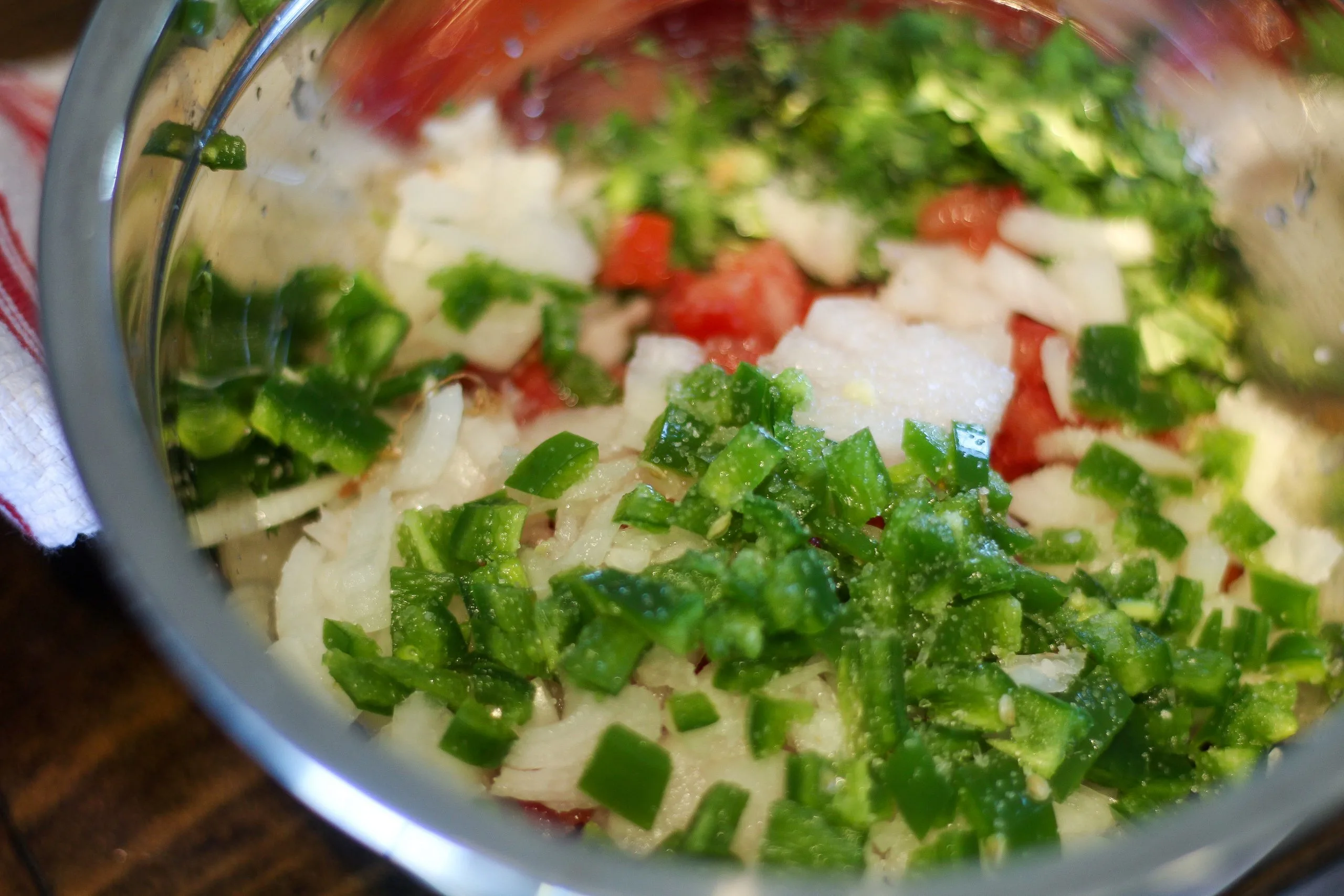 You just have to make sure that you get all the veggies about the same size. I use a really sharp chef's knife to cut all my ingredients the same size.
Then I serve it on the table in these super fun salsa bowls I got on Amazon.
What Kind of Tomatoes Should I Use?
Whenever you make this side dish, the best tomatoes to use are Roma tomatoes. They are more fleshly and have fewer seeds and juice than other tomatoes.
With Roma tomatoes, you can slice around the seedy center, making it easier to dice the flesh part of the tomatoes. You definitely do not want the tomato juice in certain tomatoes to overtake your pico. That is what lime juice is for.
Looking for Other Fun Mexican Inspired Recipes? Check this list out
Yield: 8 servings
Pico de Gallo
This simple and easy pico de gallo will be the perfect addition to your tacos and burritos.
Ingredients
5 roma tomatoes, enough to make 1 cup
1/2 whole Large or 1 small onion, enough to make 1 cup
2 whole Jalapeno Peppers
Cilantro
Lime Juice
Salt To Taste
Instructions
Dice up in a very small dice your jalapenos, tomatoes and onions. Before dicing up the jalapenos, be sure to remove the seeds so that your tongue is NOT on fire.
Next, chop up 1/2 a bunch of cilantro. Don't chop up the stems with it. Remove those as they have no flavor and will make your pico look ugly.
Place all of these ingredients together in a bowl and stir them together.
Squeeze the juice of one whole lime into the bowl.
Add salt to taste and stir again.
Taste with a chip to see if more salt is needed.
Serve immediately or place in the refrigerator covered until needed.
Nutrition Information:
Yield:
8
Serving Size:
1
Amount Per Serving:
Calories:

20
Total Fat:

0g
Saturated Fat:

0g
Trans Fat:

0g
Unsaturated Fat:

0g
Cholesterol:

0mg
Sodium:

75mg
Carbohydrates:

5g
Fiber:

1g
Sugar:

2g
Protein:

1g