If you go to a Mexican restaurant, the best side item you can get is Pico de Gallo. I knew for a long time I wanted to make this recipe because I use it on my tacos instead of sauce, shredded cheese, and sour cream. It's a way that I can add tons of flavor to my burritos and such without added lots of fat, which you will get with the above mentioned condiments.
Pico de Gallo is super easy to make and really takes about 10 minutes from start to finish. Here is my recipe. The next time you need a healthier condiment for your Mexican meal, make the pico. You will be glad you did.
Looking for more easy recipes? Check out my huge database of delicious, homemade goodies.
Yield: 8
Pico de Gallo: Authentic and Delicious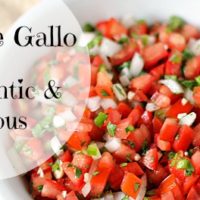 Ingredients
5 roma tomatoes, enough to make 1 cup
1/2 whole Large or 1 small onion, enough to make 1 cup
2 whole Jalapeno Peppers
Cilantro
Lime Juice
Salt To Taste
Instructions
Dice up in a very small dice your jalapenos, tomatoes and onions. Before dicing up the jalapenos, be sure to remove the seeds so that your tongue is NOT on fire.
Next, chop up 1/2 a bunch of cilantro. Don't chop up the stems with it. Remove those as they have no flavor and will make your pico look ugly.
Place all of these ingredients together in a bowl and stir them together.
Squeeze the juice of one whole lime into the bowl.
Add salt to taste and stir again.
Taste with a chip to see if more salt is needed.
Serve immediately or place in the refrigerator covered until needed.