This is a sponsored post written by me on behalf of RAGÚ® Homestyle Pasta Sauce. All opinions are entirely my own.
When game day rolls around, I am all about quick and easy snacks I can serve my guys. I know that my husband LOVES meat snacks, so after seeing a friend create these Quick and Easy Meatball Kabobs, I knew I wanted to make them as well.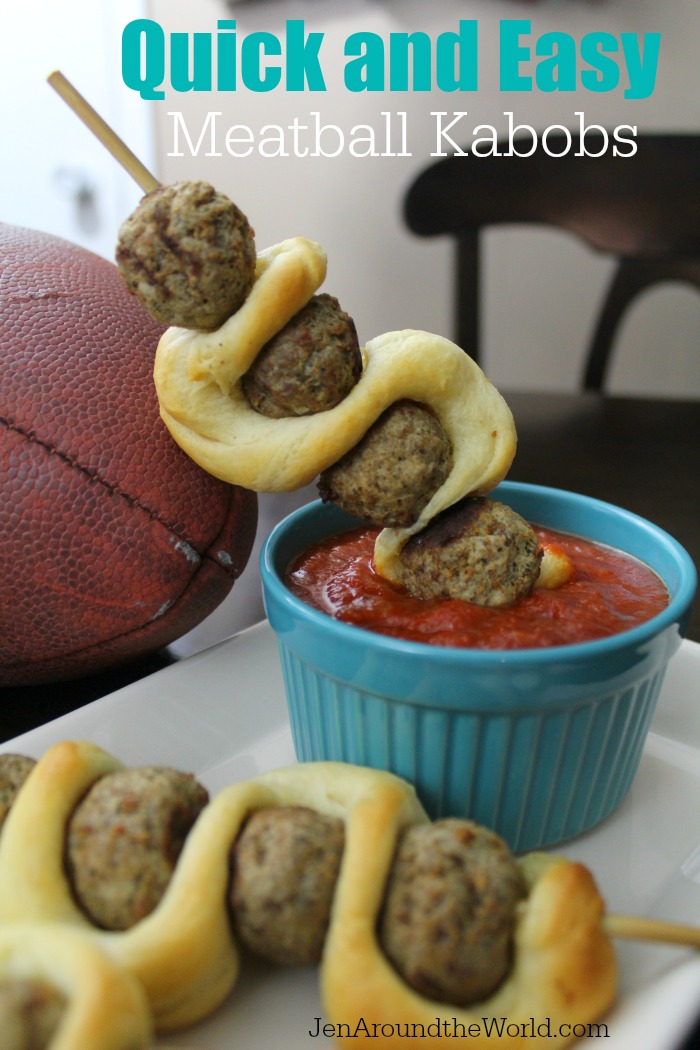 These kabobs use only 3 ingredients – all of which can be picked up right from your local Kroger store. Frozen fully cooked meatballs gives my husband the meaty flavor he desires in his snacks, and of course, I pair it with crescent rolls, and top it off with RAGÚ Homestyle Roasted Garlic Sauce. It is the perfect combination of made from scratch taste and easy snack that makes this the perfect game day food.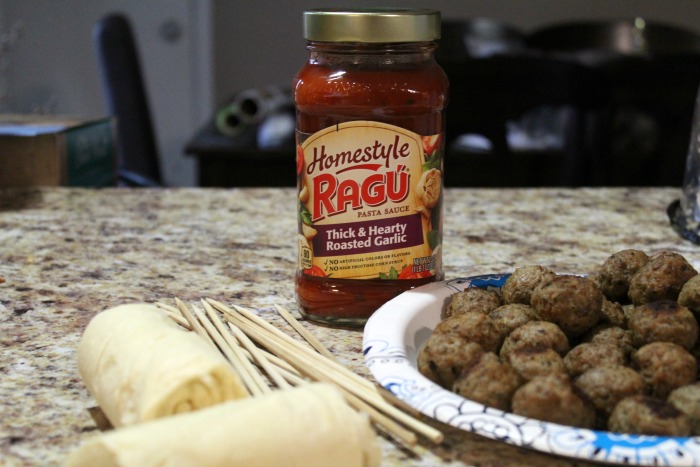 RAGÚ Homestyle Traditional Pasta Sauce uses peeled, chopped and simmered ingredients to create a robust texture. For me, it is more than just a pasta sauce. I LOVE using sauces like this as a dipping sauce for out of the box snack ideas like this one.
There are no artificial flavors, no high fructose corn syrup, and no artificial history. RAGÚ lets you see, smell and savor the longstanding tradition of fresh tastes
 Be sure to download the coupon for $0.75 off any ONE RAGÚ Homestyle Pasta Sauce
These snacks are everything I love about a quick and easy appetizers I can serve my guests. Whenever I have guests over, they always request this dish now. The garlic flavor of the RAGÚ Homestyle Roasted Garlic Pasta Sauce adds just the right kick that has my party goers drooling! What is not to love about this dish?
So – here is how quick and easy these kabobs come together.
Start by preheating your oven to 400 degrees. Now, cook the meatballs for about 10 minutes and then remove them from the oven and set them aside. I buy the frozen ones because it makes it easier, but you can totally make fresh ones here. Either one will work just fine.
Then, take your crescent roll dough and separate into 8 triangles. Take each triangle and roll it until you end up with a snake about 7 inches long.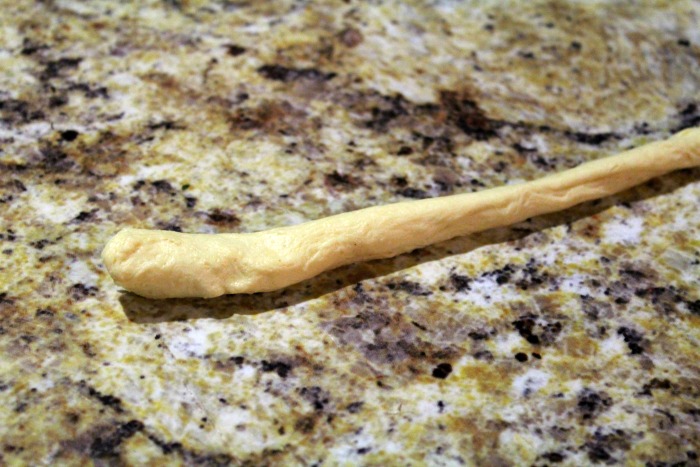 Now, alternating between the crescent dough and your meatballs, thread each one onto the skewer. To really understand how to do this, be sure to watch the video.
Now, place them all on a sheet pan and bake in the oven for about 8-10 minutes or until the crescent dough is brown and golden.
The dough puffs up nicely around the meatballs and tastes delicious when dipped in the RAGÚ Homestyle Roasted Garlic Sauce. My daughter said that it was one of the tastiest appetizers she has had in a very long time.
While I used the Roasted Garlic Sauce to dip mine in, you might want to try the RAGÚ Homestyle Traditional Pasta Sauce, RAGÚ Homestyle Cheese Pasta Sauce, or the RAGÚ Homestyle Meat Pasta Sauce.
They all offer a great taste since they are farm grown ingredients with vine ripened tomatoes, and fragrant herbs like fennel, garlic, basil, and black pepper.
Head to your local Kroger and grab a jar of RAGÚ Homestyle Pasta Sauce to make your game day the best it can be. Be sure to download the coupon for $0.75 off any ONE RAGÚ Homestyle Pasta Sauce.
What is your favorite way to use a pasta sauce other than on pasta? What is your best #Ragutailgating recipe?