Do you have an over abundance of peppers growing in your garden right now? Check out this super easy recipe for making your own Red Pepper Jelly! It goes great on wheat crackers when poured over cream cheese.
A couple of months ago, my daughter embarked on a journey of making homemade jelly. She wanted to try her hand at making red pepper jelly because it has to be my all time favorite snack when poured over cream cheese and enjoyed with a batch of my homemade wheat thin crackers.
I love she loves to experiment with different recipes and she is not afraid to try anything! How do you think we mastered those French Macarons that took us two tries to get right?
Anyway — this was a very simple and easy jelly to make.
Start by gathering your ingredients. As Chef Anne Burrell says — Mis en place — get them all together in one place. 🙂
You need red peppers, diced green chiles, vinegar, Certo liquid pectin, and sugar — that is it! Most of this stuff is pantry ingredients you should have on hand, with the exception of the red peppers.
Chop up your peppers in an average dice.
Once you have diced them place them in a food processor and pulse for around a minute or until they are in small little pieces.
Transfer the red peppers into a cheese cloth (or kitchen towel) over a bowl.  Add in the canned chili peppers at this time.
Now at this point, you can use the whole can of green chiles, or if you want it less spicy, just use only 1/2 the can.
Squeeze the cheese cloth to remove most of the liquid from the peppers. You can discard the liquid.
In a large pot add 5 cups sugar and 2 cups of vinegar. Place on medium heat. Remove the peppers from the cheese cloth and place in a bowl. Carefully stir in the peppers to the sugar/vinegar pot.
Continue to stir the mixture on medium heat until it begins to boil. Once the mixture has reached a vigorous boil you can add the liquid pectin. Stir the mixture for another 10-15 minutes. When the mixture gets to 220 degrees remove it from the heat and pour into canning jars.
Wipe around the lip to remove any jelly and place the lids on them. Let them sit on the counter until they reach room temperature. Then place them in the refrigerator for 24 hours. The jelly can be stored for up to three months in the fridge.
Seriously — you will love this jelly more than any store bought kind you have ever made!
Red Pepper Jelly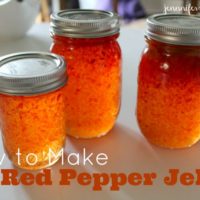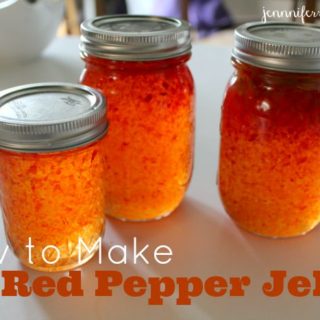 Ingredients
3 Red Peppers
5 cups Sugar
2 cups Vinegar
1 3 oz. Liquid Pectin
2-4 oz. Chili Peppers
Instructions
Wash off the three peppers. Cut the tops off of the peppers and remove the stems, seeds and ribs.
Slice the peppers into strips and then dice them. Place the diced peppers in a food processor and pulse for around a minute or until they are in small little pieces.
Transfer the peppers into a cheese cloth over a bowl. Add in the 2-4 oz. canned chili peppers. Remove the liquid from the peppers by squeezing the cheese cloth. Throw away the liquid and set the drained peppers aside.
Place 2 cups vinegar and 5 cups sugar in a large pot on medium heat. Add the drained peppers and stir.
Once the mixture is boiling add the liquid pectin. Continue to stir for about 10-15 until the mixture reaches 220 degrees.
Pour jelly into canning jars and let sit until they reach room temperature. Place in fridge and allow to cool for 24 hours. Serve over cream cheese with crackers. Jelly will last about 3 months in fridge.