This Green Pepper Jelly recipe is super easy to make and goes great over a block of cream cheese with some wheat-thin crackers.
I don't know about you, but I love jelly jars. The jars are so cute and some of my favorites are the ones with the gingham tops on them.
I set out to make my own jelly this past year and with the help of a certain book!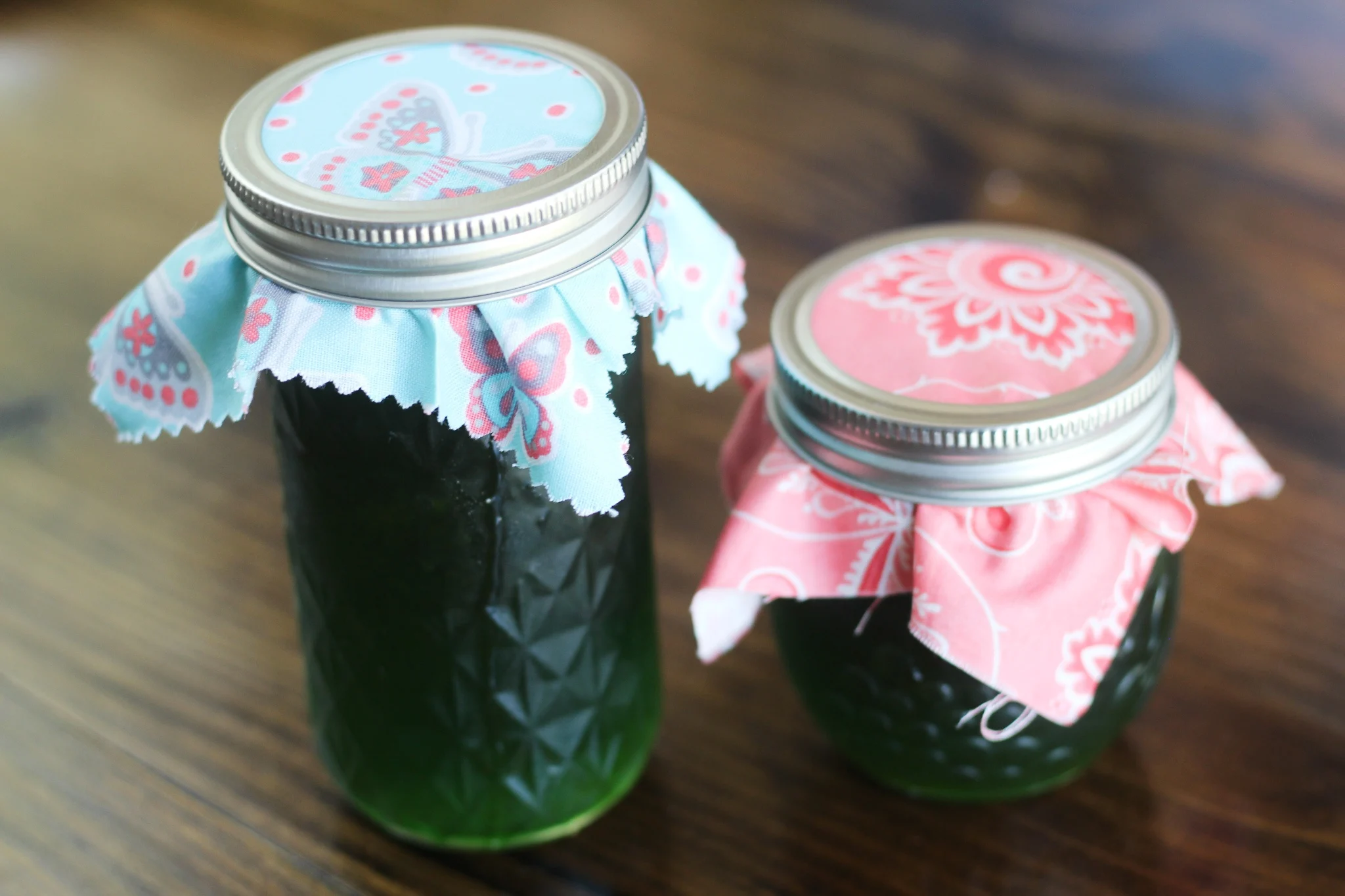 This post was originally published on January 17, 2017, and has been updated with new photos.
It helped me to accomplish that goal with my first ever attempt at making Green Pepper Jelly.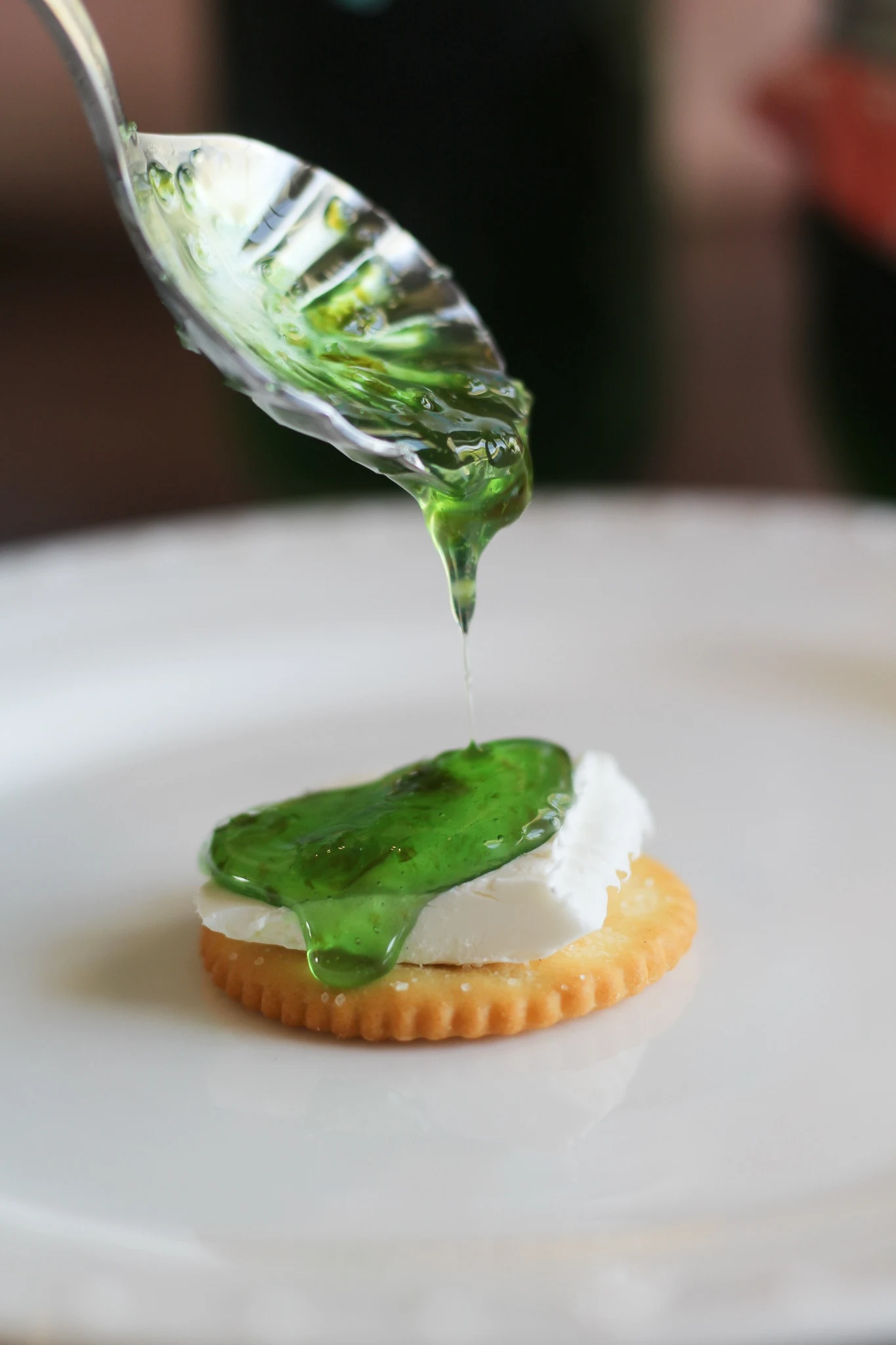 As a little girl, I used to stand in the kitchen and watch my mom every year as she can. She would make green beans, tomato juice, diced tomatoes, homemade pickles, jellies, and more. Most of my summer as a little girl was spent helping my mom ready the jars for canning.
A couple of years ago, I was given a Ball Preserving and Canning book and let me tell you — if you are planning on trying to can, then you need to have a copy of this book. It is the bible of canning– no joke.
For me, I like canning recipes that don't require a pressure cooker for canning, but if you are going to make things like green beans and such you will need one. However, this recipe uses the other method of canning — the water bath.
I picked up these really cute jelly jars on Amazon. They always make them with the cutest designs from quilted to plain and sometimes you can get them in the prettiest blue color. They look great when you pass them on as gifts.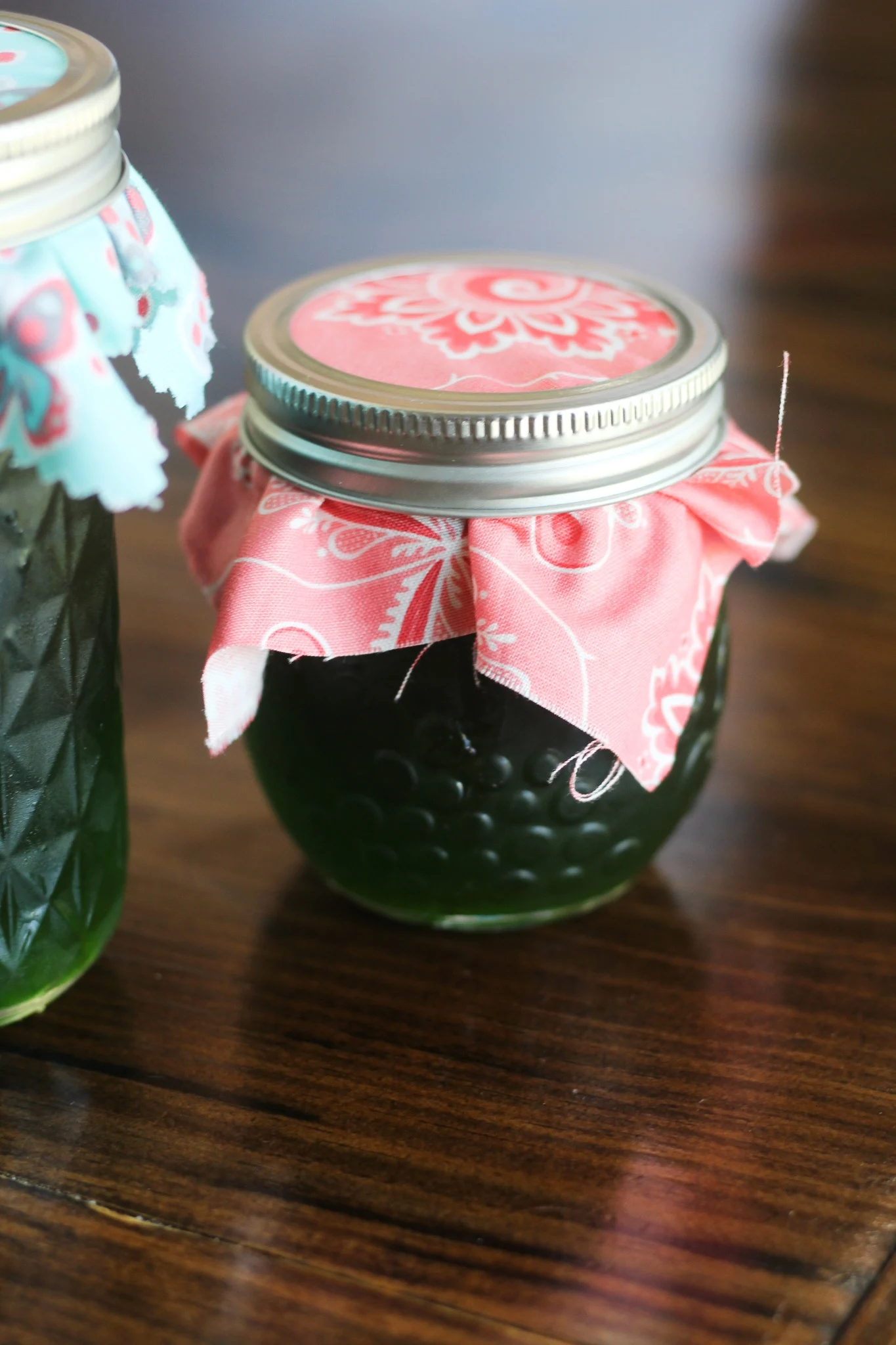 Also, if you are going to can, you don't need these items, but they are very helpful — Ball Jar Lifter and a Ball Collapsible Jar Funnel. Trust me when I say you will want these two items because it will make your life so much easier when you make your jelly.
How to Make Green Pepper Jelly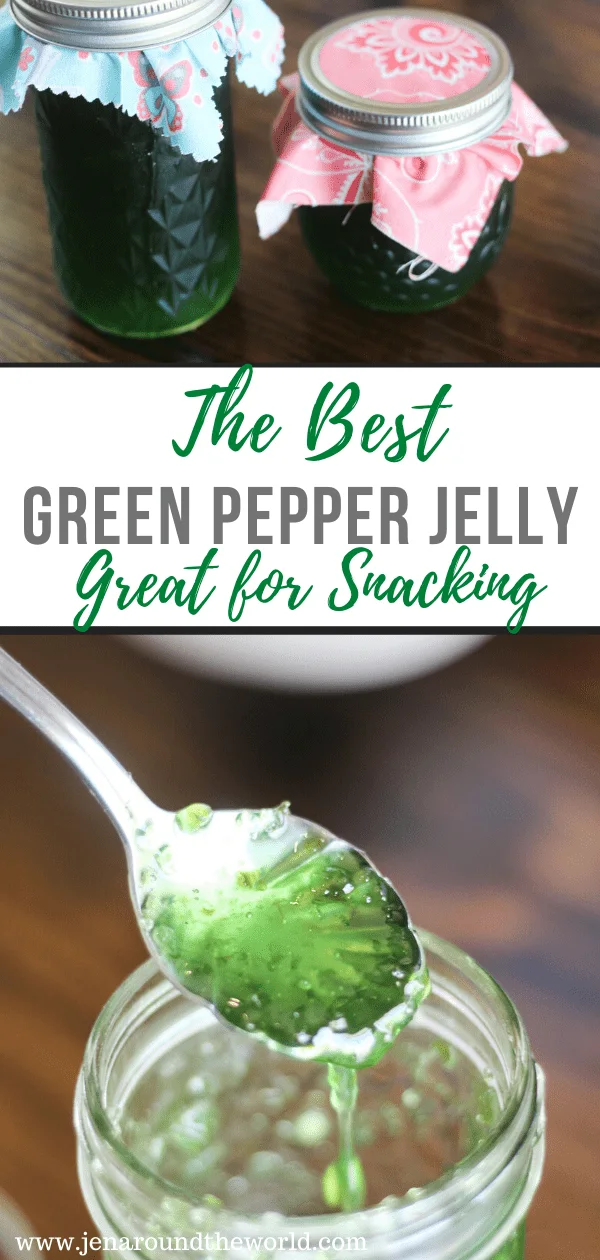 What makes this green pepper jelly "green" is the bell pepper and jalapeno that you use. You use more bell pepper than you do jalapeno so that it has less heat.
You are going to start by processing the bell peppers and jalapeno peppers in a food processor until finely minced.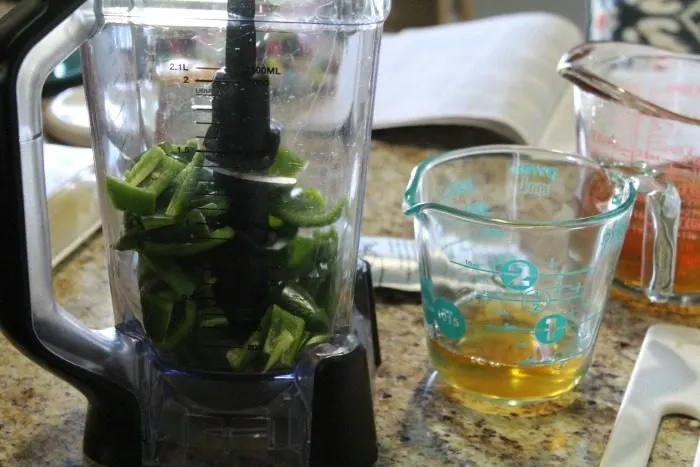 I use my Ninja processor because it does such a fabulous job. It eliminates me having to use both a blender and a food processor. It does the job of both.
Once you get the peppers minced, you are going to combine the pepper mixture, vinegar, and sugar in a saucepan and bring to a rolling boil.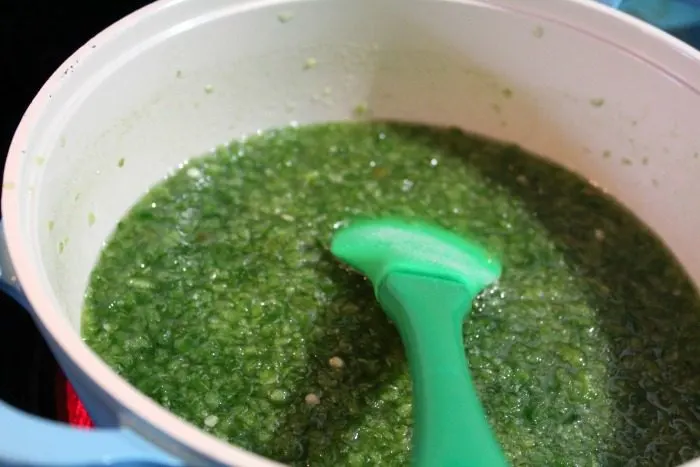 Now, when this first starts cooking, it is going to smell very peppery, but don't worry. That smell soon goes away and pretty soon the sugar takes over and the smell is amazing — trust me.
Once it has done that step, you are going to remove the jelly from the heat and add in the liquid pectin and if you want it to be a vibrant green, you can add a bit of food coloring.
You can use any brand you like, but the one I trust more than any other is Certo. It's pretty inexpensive and goes a long way.
Now, while your jelly is boiling away on the stove or even after you have removed it from the heat, you need to sterilize your jars.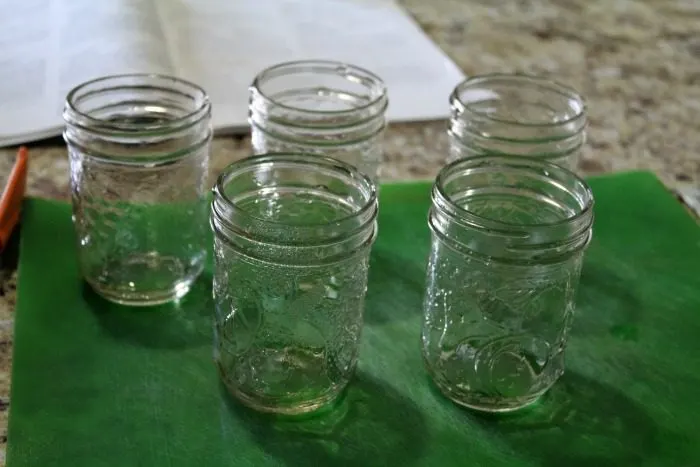 Here is how to sterilize the jars
To sterilize jars before filling with jams, pickles or preserves, wash jars and lids with hot, soapy water. Rinse well and arrange jars and lids open sides up, without touching, on a tray. Boil the jars and lids in a large saucepan, covered with water, for 15 minutes.
Use tongs when handling hot sterilized jars, to move them from boiling water. Be sure tongs are sterilized too, by dipping the ends in boiling water for a few minutes.
As a rule, hot preserves go into hot jars and cold preserves go into cold jars. All items used in the process of making jams, jellies and preserves must be clean. This includes any towels used, and especially your hands.
After the jars are sterilized, you can preserve the food.
Once your jars are sterilized, you can fill with your jelly and seal. Be sure to leave about 1/4″ of headspace at the top of the jar so that it can seal properly.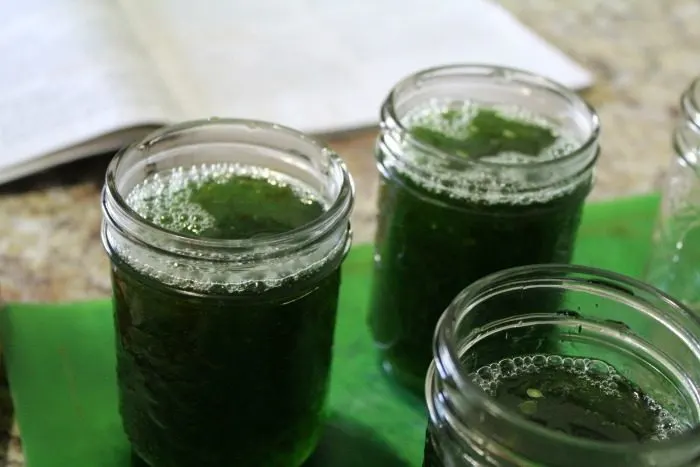 Place the lids and seals on your jars and screw down tightly. Now, from this point, you fill a pot with enough water to cover the jars. Be sure to add some kind of rack to the bottom. I found one online at Amazon that works great for any size pot.
Then place the jars in the pot with the rack and water and heat for about 10 minutes. This will ensure that the seals properly seal as they should.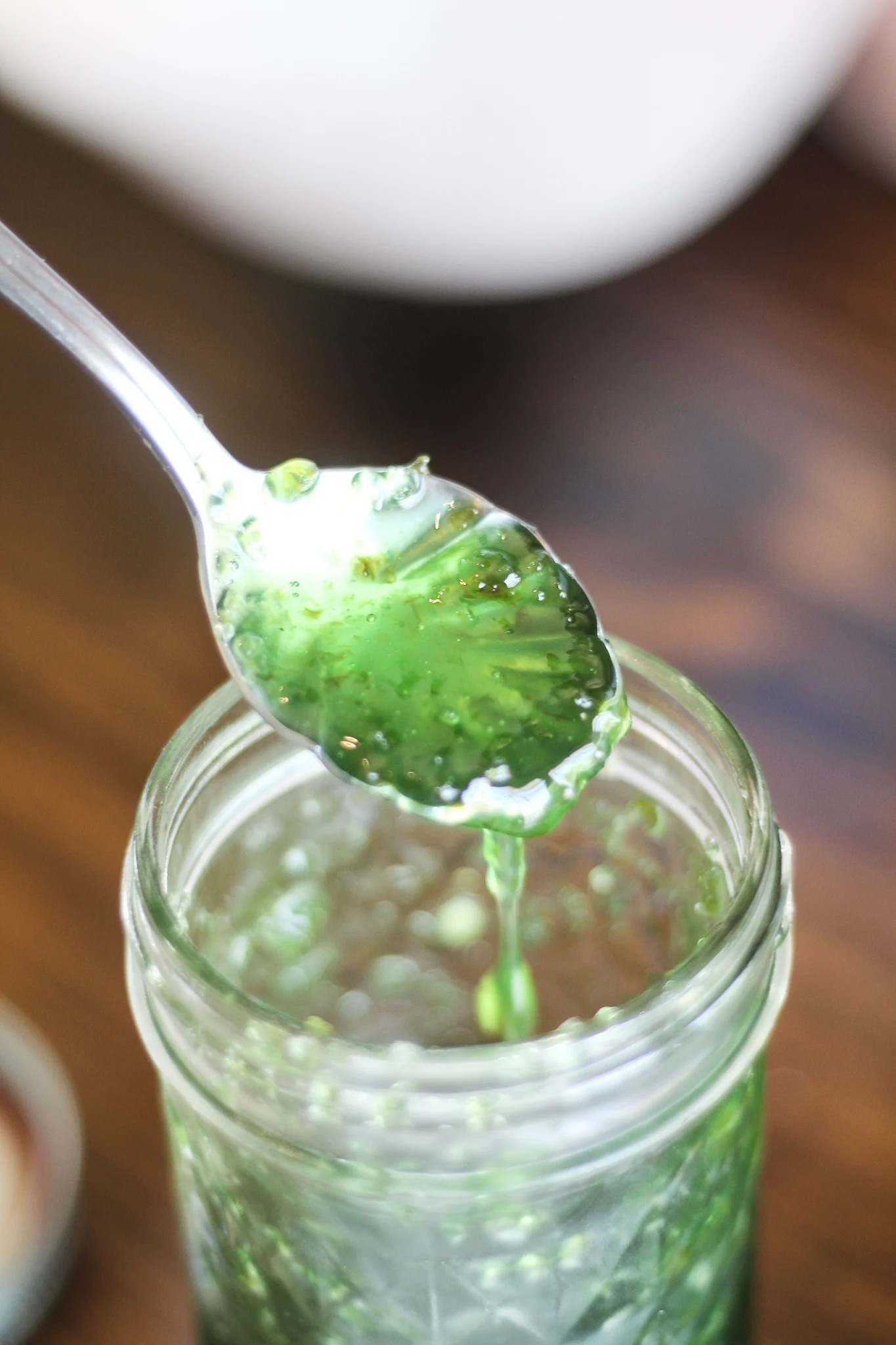 Remove from the water bath and place on a towel on the counter and allow it to rest and cool. You will eventually hear a "pop" sound come from each of your jars as they are sealing.
A few hours later, be sure to press on the top of each jar and make sure that the center has sunk down. That means it has been sealed. Then store the jelly in either the refrigerator or give it to someone to enjoy.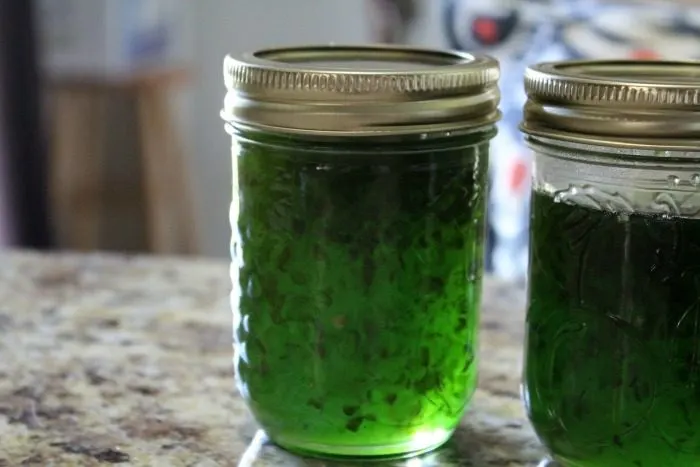 I like to eat mine on top of cream cheese with wheat crackers — it is SO darn good!
Looking for other jam and jelly recipes? Check these out!
Yield: 4 pints
Green Pepper Jelly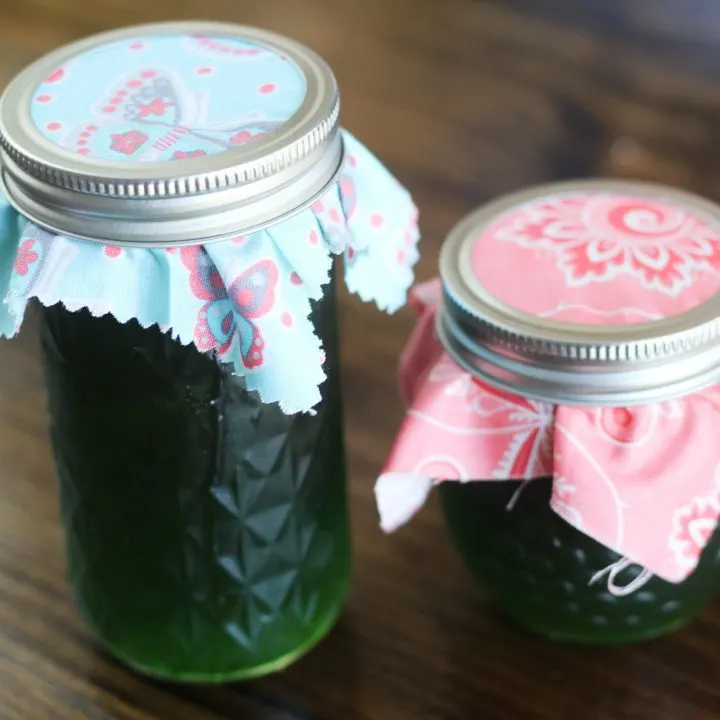 This green pepper jelly is the easiest and most delicious homemade jelly you can make
Ingredients
3 small green bell peppers
2 jalapeno peppers, seeded
1 cup of apple cider vinegar
6 cups sugar
4 tablespoons of pectin
4 drops green food coloring
Instructions
Process bell pepper and jalapeno pepper in a food processor with 1/2 cup of the vinegar until finely minced.
Combine pepper mixture, remaining vinegar, and sugar in a saucepan and bring to a rolling boil. Let cook for 1-2 minutes at a rolling boil.
Remove from heat and add pectin and food coloring. Pour into sterilized jars and seal.
Nutrition Information:
Yield:
100
Serving Size:
1
Amount Per Serving:
Calories:

52
Total Fat:

0g
Saturated Fat:

0g
Trans Fat:

0g
Unsaturated Fat:

0g
Cholesterol:

0mg
Sodium:

3mg
Carbohydrates:

13g
Fiber:

0g
Sugar:

12g
Protein:

0g