This Quick and Easy Homemade Peach Jam is perfect when you have an overabundance of Freestone peaches in the summertime.
A couple of weeks ago when I hit up the farmers market, I bought a big box of fresh peaches. Peach season is in full swing and I wanted to make some peach ice cream with fresh fruit, not frozen.
I looked through some recipes and found one for a quick and easy homemade fresh peach jam, so I decided to make that instead.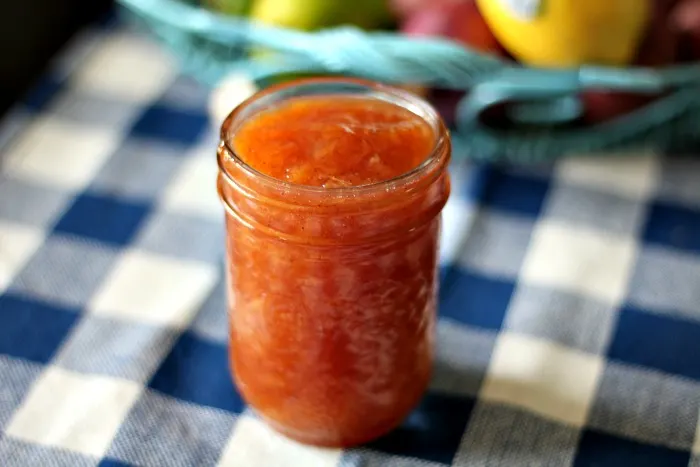 This jam does not require pectin or a long drawn-out process of water bathing or anything. Many people refer to it as freezer jam, because once it is done, you can store them in containers in the freezer- if you make a big batch. It is a very easy recipe to make.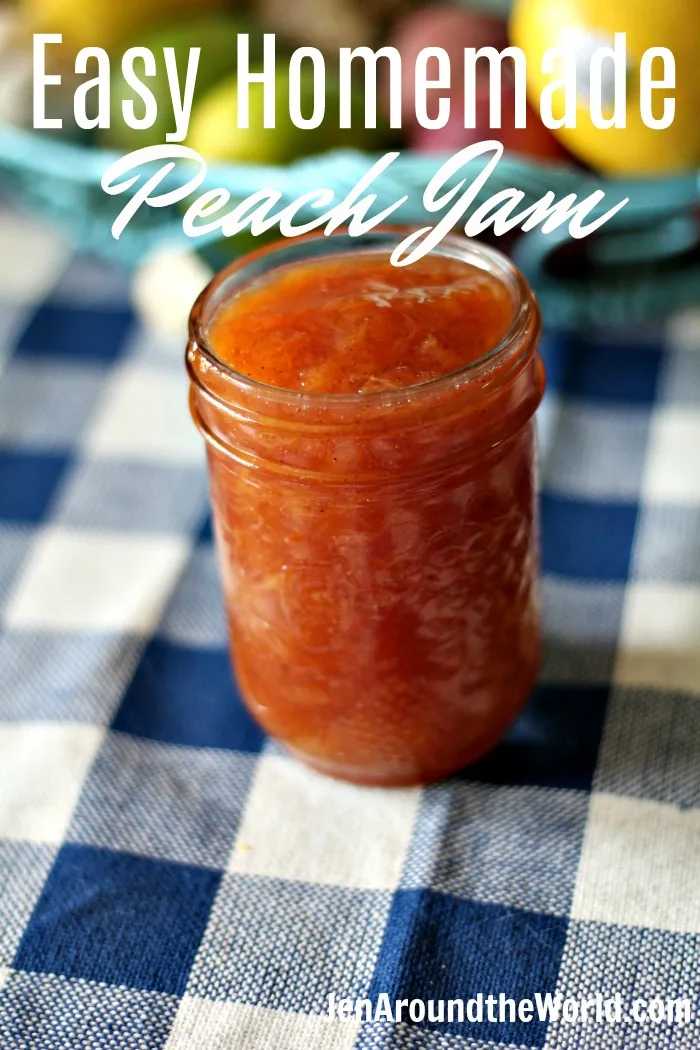 This is a small batch jam recipe — only one jar. It's perfect to use up those last few peaches that are happening to get too ripe too quickly.
This is the same peach jam I used to make my Peach Drop Danish Cookies last week.
The Best Way to Make This Easy Peach Jam Recipe
For starters, you need three simple ingredients — 3 peaches, 1 lemon, and 3/4 cups of granulated sugar (more if you like it sweeter). You can use a different amount of sugar if you don't want it as sweet. However, you may need to use fruit pectin if you use less sugar.
of course, you can use a sugar substitute if you are trying to watch your sugar intake. Simply choose one that offers the same ratio as regular sugar. You can usually find those on the same aisle in the grocery store.
Wash the peaches in cold water, and then peel them with a paring knife. If you want the peach skin to come off easier, just boil them in water for a couple of minutes. Remove them with a slotted spoon and place them in an ice water bath. The skin then just peels off with little to no effort.
Once you get that done, slice the peaches, remove the pits, dice them up, and place them in a large bowl. Add the sugar and the juice of one lemon. Mix well and then add to a large pot.
The fresh lemon juice is a natural pectin and will help your jam jell like it is supposed to. This is one of my favorite ways to firm up my jam and jelly recipes.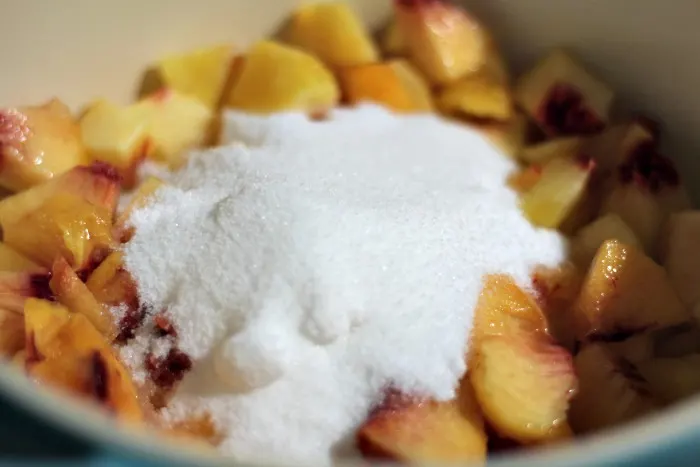 Turn your stove on to medium-high heat and start cooking those beautiful peaches until the come to a full boil. When they start getting soft, you can take your potato masher and start mashing them to release their juices and help the fruit break down. A lot of older people call these peach preserves, but I have always called it peach jam.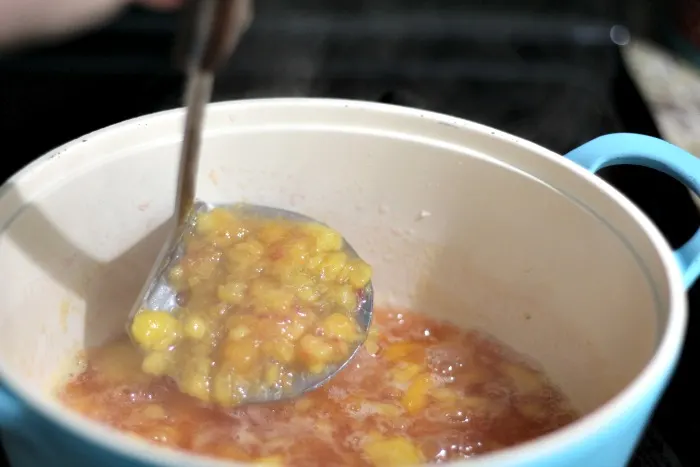 Just keep mashing and stirring. After probably about 20 minutes or so, your mixture will start looking like this. If you don't want big chunks, simply use an immersion blender to puree it more.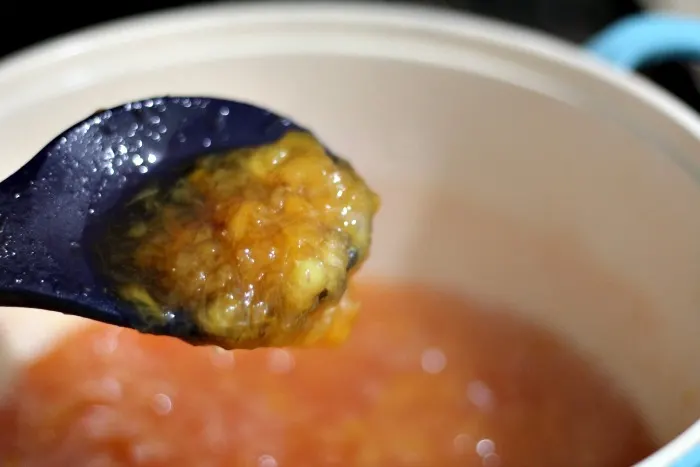 After about 30 minutes, take a small spoonful and put it on a plate that you had resting in the freezer. Put it back in the freezer for a minute and pull it back out. Run your finger down the middle and see if the jam stays put. If it does, your jam is finished and ready to be enjoyed.
If it seems a bit runny, for best results, then you need to boil it just a little bit longer.
Seriously — nothing tastes better than hot jam on a buttery biscuit!
Here is a list of canning supplies you will need
How to Store Your Homemade Peach Jam
Once it is done, remove the juicy peach mixture from the stove and place it in clean sterilized canning jars. You should have hot jars. It does best in hot jars. Fill them almost full and leave 1/4 inch headspace at the top. Use a skewer to get all the air bubbles out.
Let it cool to room temperature and then put the lids on. From there, store them in the fridge, give jars of peach jam to friends, or put them in storage containers and place them in the freezer.
I use this peach jam to put inside my delicious Baked Hand Peach Pie.
However, if you want to keep it longer on a shelf, simply grab a water bath canner and let it water bath on medium heat for 20 minutes on the stove. Use a jar lifter to remove them from the water bath canner and place jars on the countertop to cool for the next 12-24 hours. Then, just store the jars in a cool dark place like the pantry until ready to use.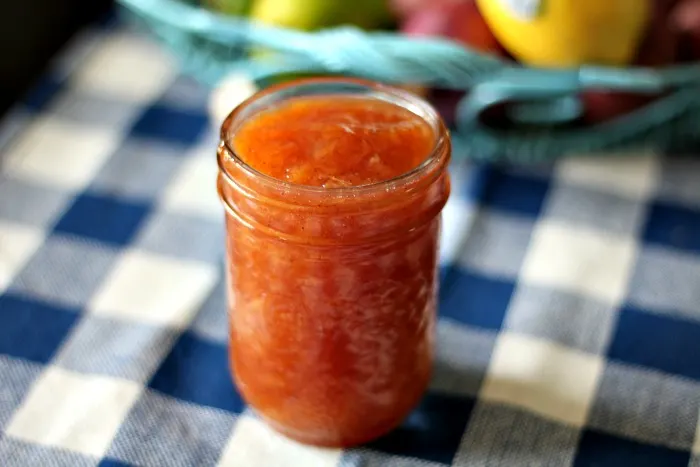 How I Like to Serve My Jars of Jam
Not only is my jam great for serving on biscuits, but sometimes I like to take some and grind it up smaller using the immersion blender. Then, I take it and serve it over some warm cream cheese.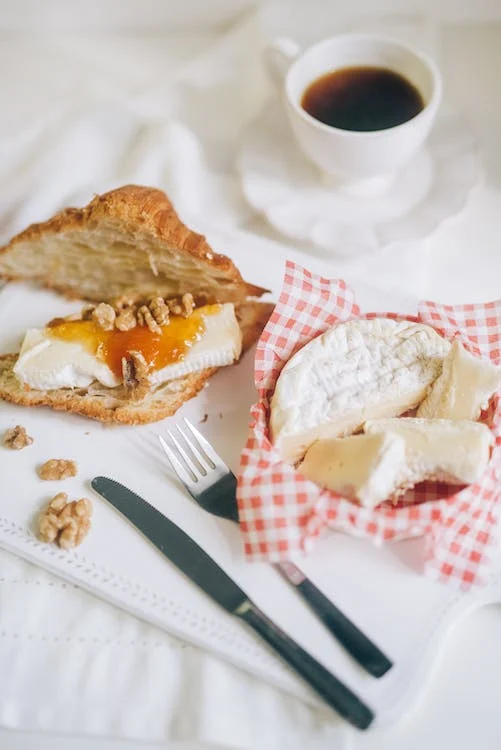 Then, I toast up some English muffins and spread the cream cheese and peach jam right over top. It is SO good this time of year. It makes the perfect breakfast with delicious jam! This is literally my favorite fruit ever.
Looking for Other Jam recipes? Check these out
Now you know how easy it is to make a delicious homemade jam with fresh summer peaches! Jam making is one of those things that just make me feel like a great cook, especially when I am enjoying this jam in the middle of winter!
What flavor will you make this month?
If you need more ideas of what to do with overripe peaches, click the link.
Check out the recipe card below for a printable version of this recipe.
Yield: 3 half pints
Quick and Easy Homemade Peach Jam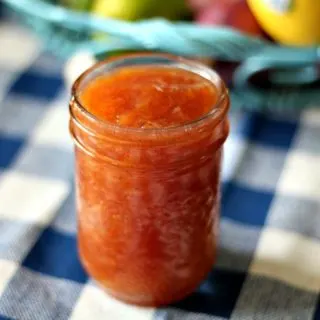 This quick and easy homemade peach jam is the way to go to use those late summer peaches.
Ingredients
3 to 4 medium peaches, peeled, pitted, and cut into chunks
3/4 cup sugar, remember, you can start with less sugar and add more if needed
Juice from one lemon, Lemon juice is naturally high in pectin and will help the jam set.
Instructions
Add peaches and lemon juice to medium sauce pan. Bring to boil over med high heat, using a spatula or masher to crush peaches to desired consistency.
Reduce heat to medium. Add sugar. Bring peaches back to a boil, stirring frequently.
Continue to boil and stir, until peaches reduce and reach desired consistency. (Anywhere from 15 to 25 minutes – jam should stick to spoon when lifted and turned sideways.)
Nutrition Information:
Yield:
3
Serving Size:
1
Amount Per Serving:
Calories:

401
Total Fat:

1g
Saturated Fat:

0g
Trans Fat:

0g
Unsaturated Fat:

0g
Cholesterol:

0mg
Sodium:

85mg
Carbohydrates:

103g
Fiber:

5g
Sugar:

82g
Protein:

2g