If you love Taco Bell Crunchwrap Supreme, then you will not want to miss this copycat recipe. Make this Crunchwrap Supreme at home with this easy-to-follow recipe. This tastes as good as the fast food version, including all the delicious toppings!
I LOVE Taco Bell food. I mean, who wouldn't? It's tacos, burritos, nachos, and more. The problem is that every time I eat there, I have issues afterward. The solution? Make my own copycat versions of my favorites right at home!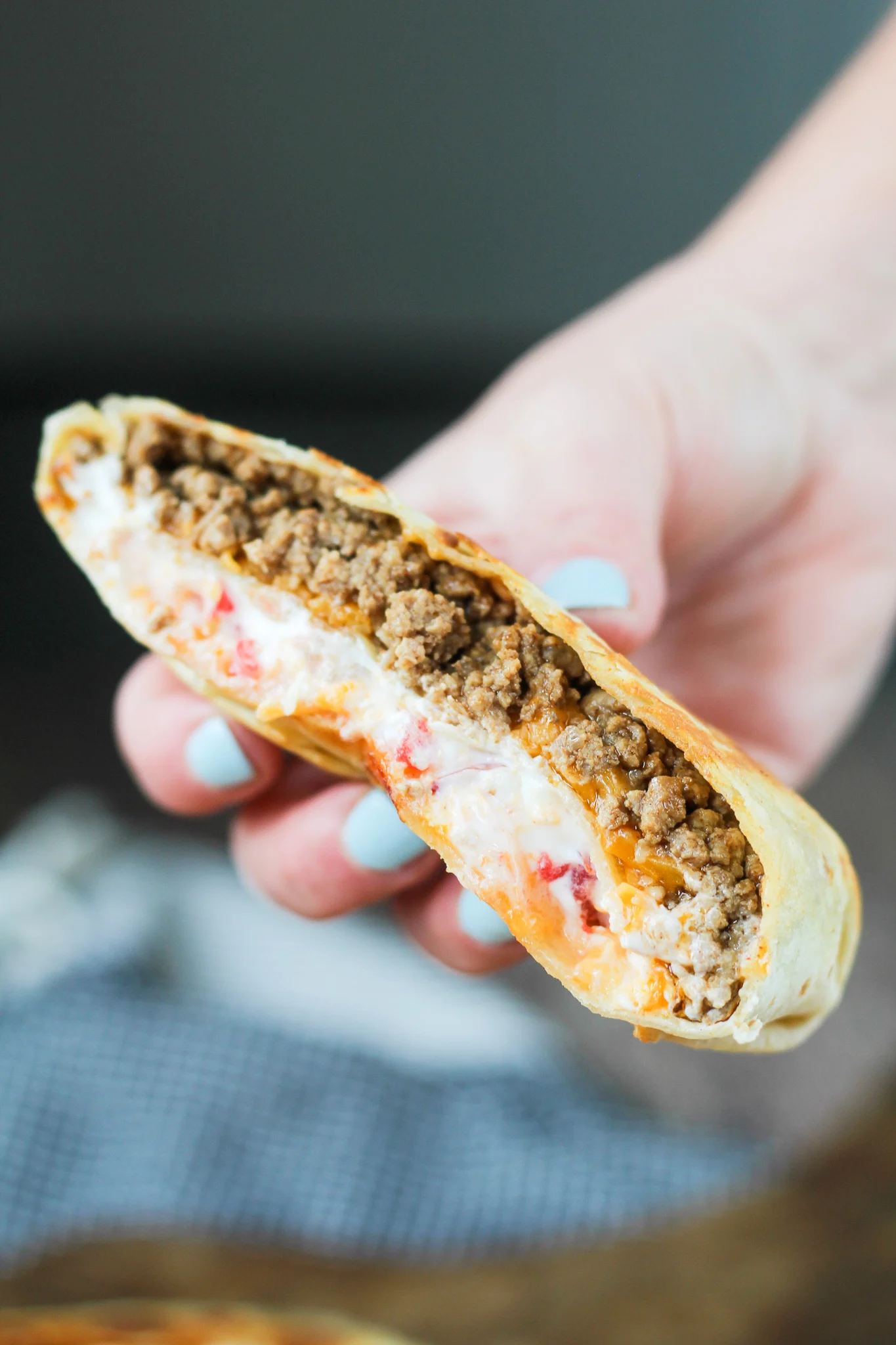 For my family, some of us work hard to try and stay away from eating fast food as much as possible. However, sometimes you just have to indulge.
But what's even better is when you can make it at home with high-quality meat and fresh veggies from your local farmer's market.
If you want a real authentic taco, try this recipe for making Mexican Gorditas.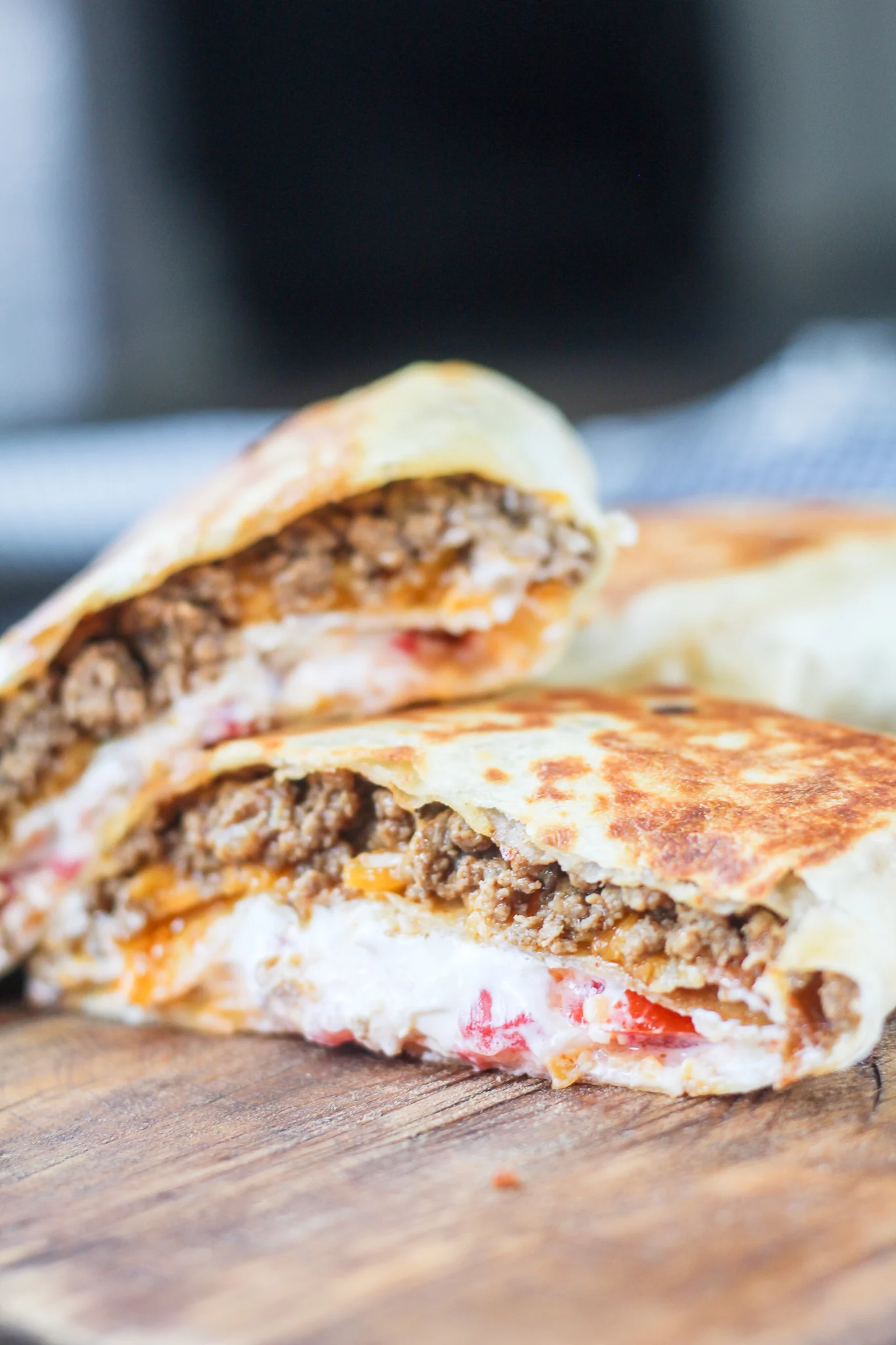 What Goes in a Taco Bell Crunchwrap Supreme?
Have you wondered what all you put in a Crunchwrap Supreme?
The answer is — all the things! Inside this delicious recipe, you will find meat, shredded cheese, taco sauce, sour cream, lettuce (I left that out this time), tomatoes, 2 ingredient cheese sauce, crunchy tostadas, and a flour burrito.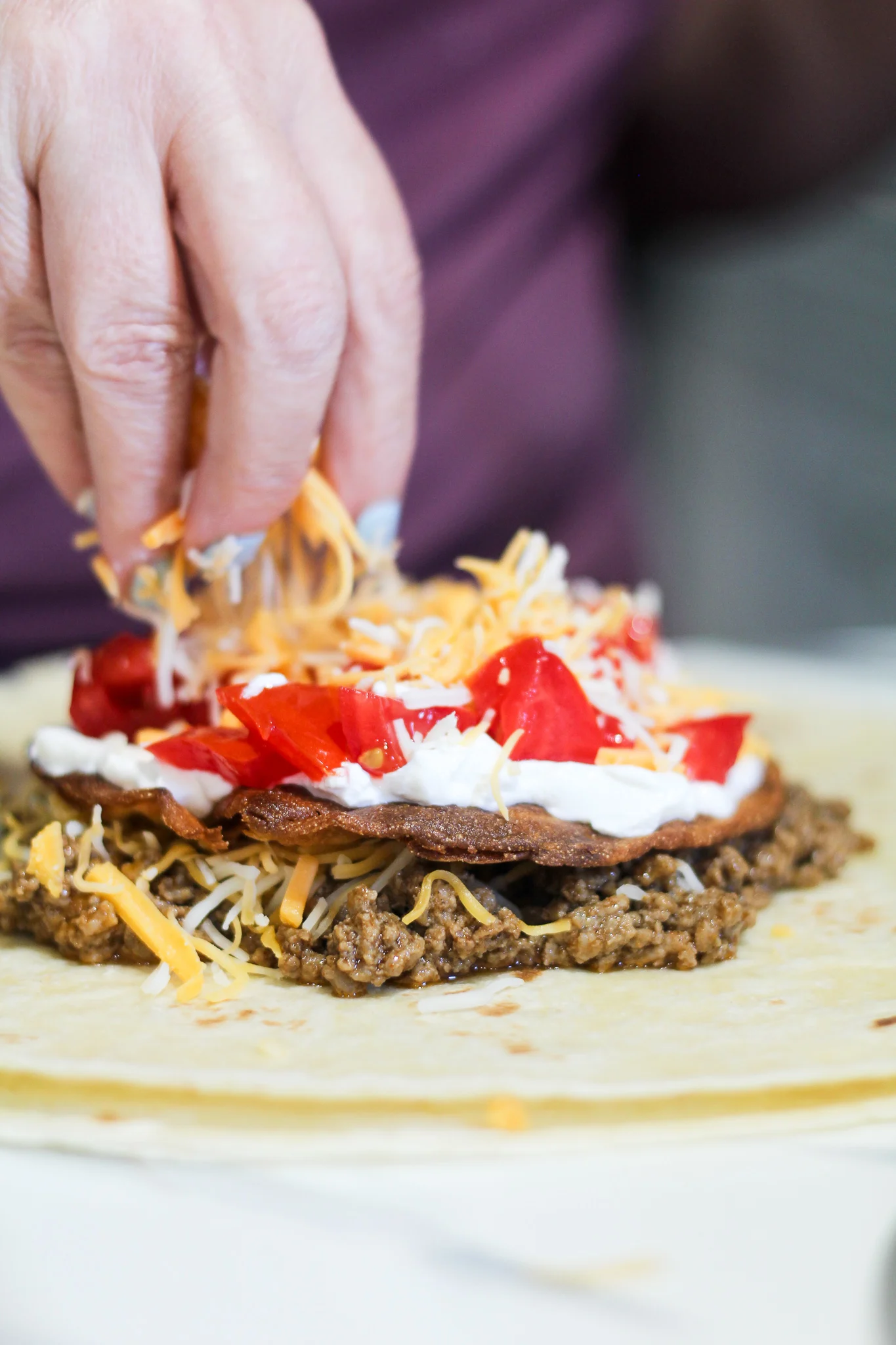 Basically, you make these like you would do if you were having a Taco Tuesday night at home. Brown your meat, add your taco seasoning, and set it aside.
Microwave your grande burritos until they are warm and pliable.
The way you layer a Crunchwrap Supreme is this — layout your burrito. Top it with some meat and then add a little nacho cheese.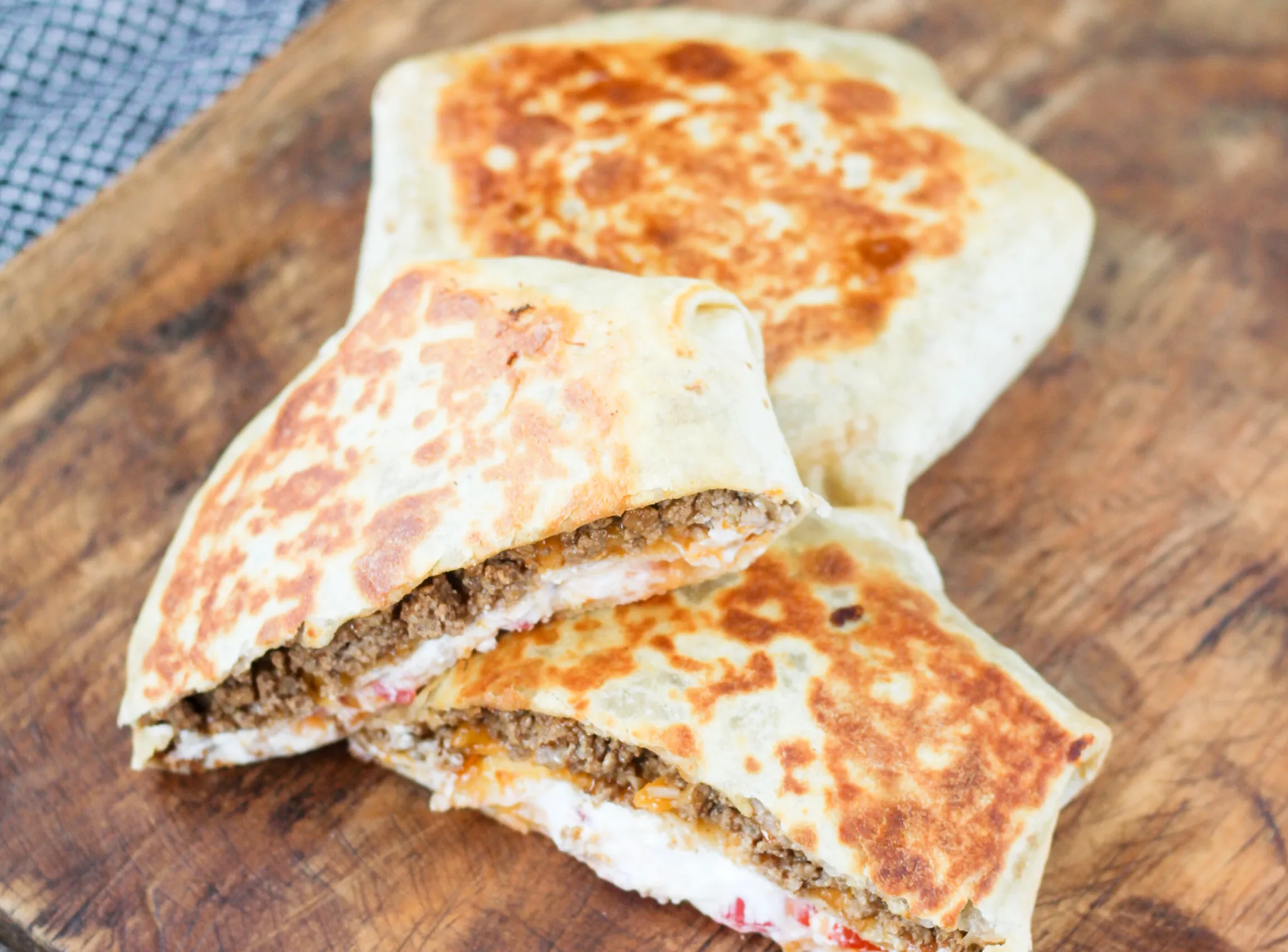 On top of that, add on your tostada, then top with sour cream, shredded cheese, lettuce, and tomatoes. Then fold and create a pocket.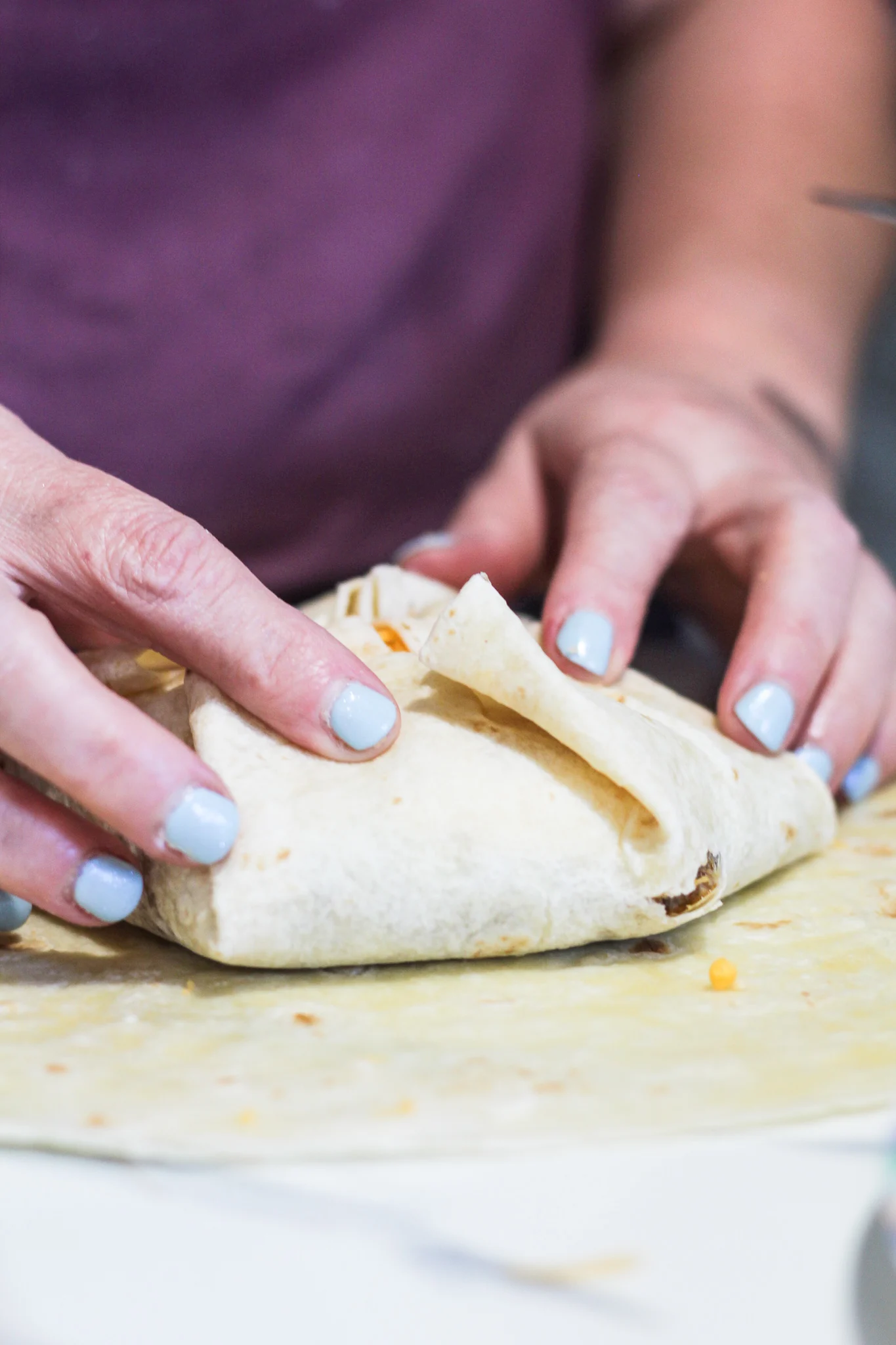 If your burrito is not soft enough, you will rip it as I did in this photo. Now, once you get it folded, place them in a preheated skillet with the seam side down and let it toast.
Then, flip and let the other side toast. Remove from the skillet and let them rest for a few minutes before cutting them.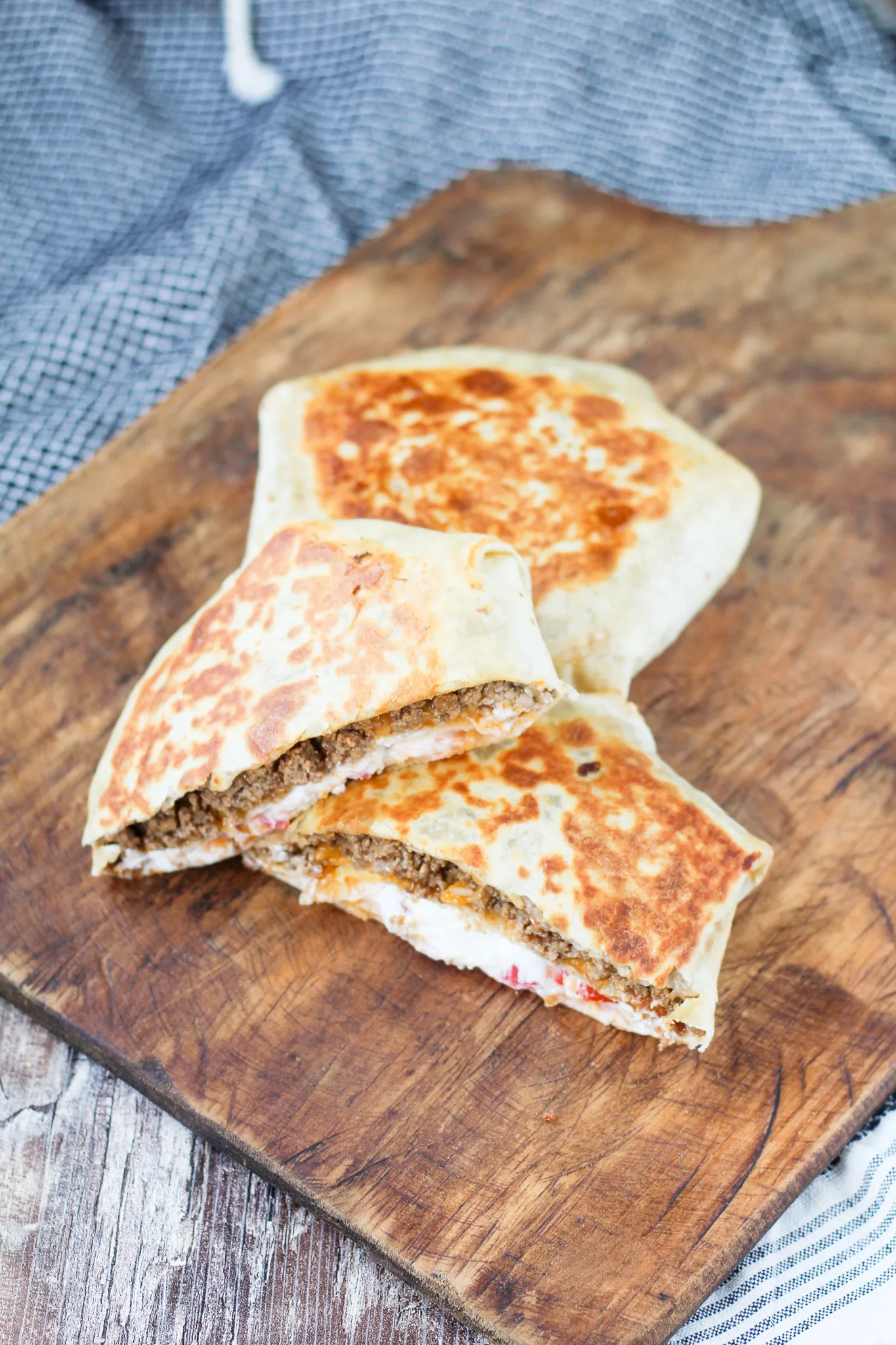 Check out these other delicious copycat recipes
Yield: 6 servings
Taco Bell Crunchwrap Supreme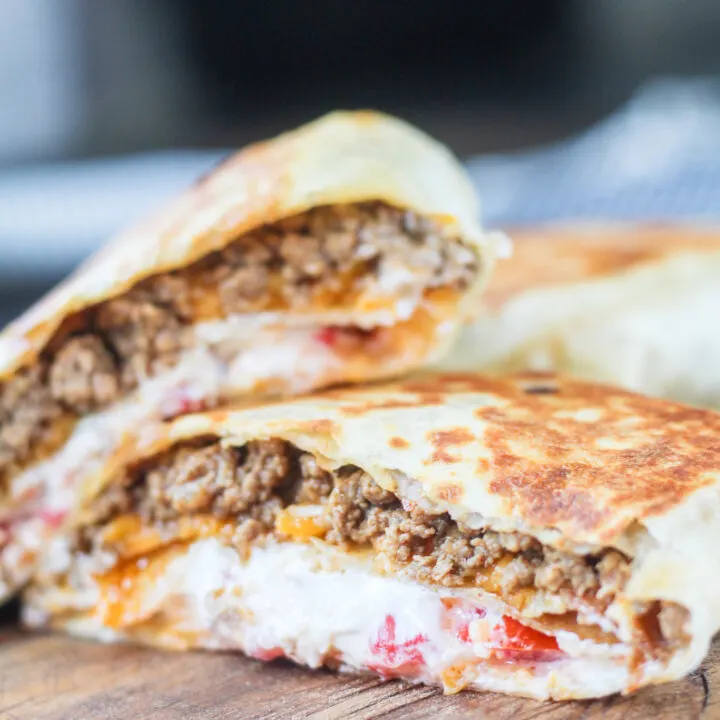 Make this super easy copycat recipe at home! Tastes just like a Taco Bell Crunchwrap Supreme.
Ingredients
1 lb ground chuck
1 packet taco seasoning mix
6 burrito size flour tortillas
6 tostada shells
1 cup of sour cream
2 cups of shredded lettuce
2 tomatoes, diced
1 cup shredded cheese
Homemade Nacho Cheese or a can from the store
2 tablespoons of butter
Instructions
In a skillet cook the ground beef over medium-high heat until it is brown and no longer pink. Drain off any excess grease.
Stir the taco seasoning mix in and cook according to the package instructions.
Warm up the nacho cheese sauce in the microwave and set it aside.
Place the flour tortillas on a plate and warm in the microwave for about 40 seconds. You want them pretty warm so they stay flexible. You can reheat them as you build your crunchwraps.
Lay a tortilla out on a flat surface. Spread a couple of tablespoons of nacho cheese in the middle of the tortilla.
Place ½ cup of taco meat on top of the nacho cheese.
Next, add the tostada shell, a thin layer of sour cream, lettuce, tomato, and lastly, the shredded cheese.
To fold into the crunchwrap, start with the bottom of the tortilla and fold the edge up to the center of the fillings.
Do this all the way around making sure to keep it as tight as possible.
Add a tablespoon of butter to another skillet and heat over medium heat.
Place the crunchwrap supreme, seam-side down, onto the skillet. Cook for 2-3 min., or until golden brown.
Flip over and cook the other side for another 2-3 min or until golden brown.
Cook the rest of your crunchwraps and serve!
Nutrition Information:
Yield:
6
Serving Size:
1
Amount Per Serving:
Calories:

945
Total Fat:

51g
Saturated Fat:

23g
Trans Fat:

2g
Unsaturated Fat:

22g
Cholesterol:

150mg
Sodium:

1819mg
Carbohydrates:

76g
Fiber:

11g
Sugar:

8g
Protein:

45g