Love Red Lobster Cheddar Bay Biscuits? Check out this copycat recipe for an even better version than the restaurant's biscuits.
You know that when a recipe is made multiple times in a week — it has to be good — and that is what we found when we made these delicious Copycat Red Lobster Cheddar Bay Biscuits.
We visited Red Lobster not too long ago and had their complimentary cheddar biscuits. Y'all — those little puffs of heaven are so full of flavor. Everyone in the family fell head over heels in love with them.
We knew right then and there that we were going to come home and experiment until we got the perfect cheddar bay biscuit complete.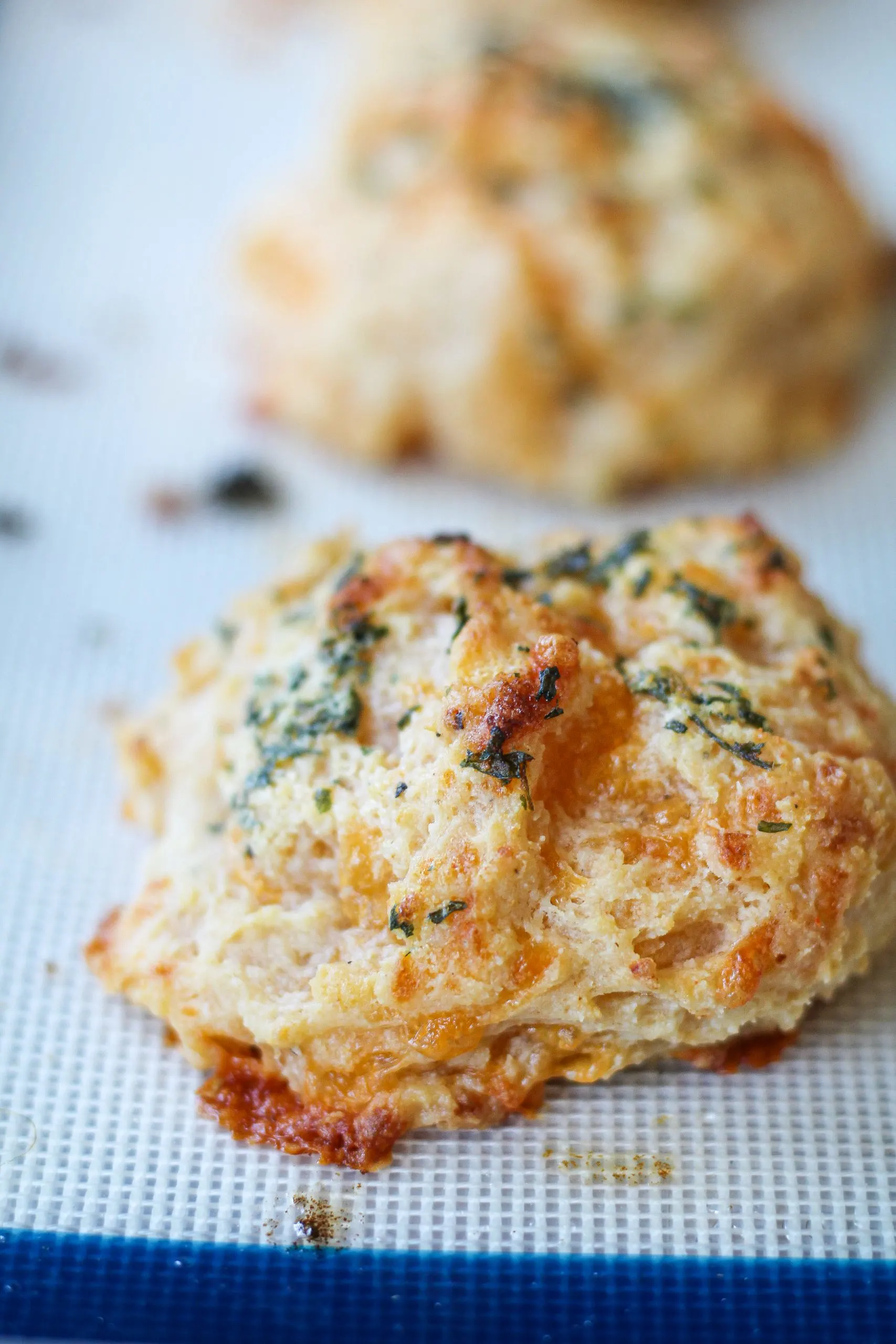 We have made this recipe so many times now, we could make them in our sleep! They are super easy and your family will be wowed that you made them from scratch.
How to Make Copycat Red Lobster Cheddar Bay Biscuits
She has made these biscuits SO many times now, that she doesn't even need to use the recipe anymore. And we love the addition of fresh parsley and butter on top.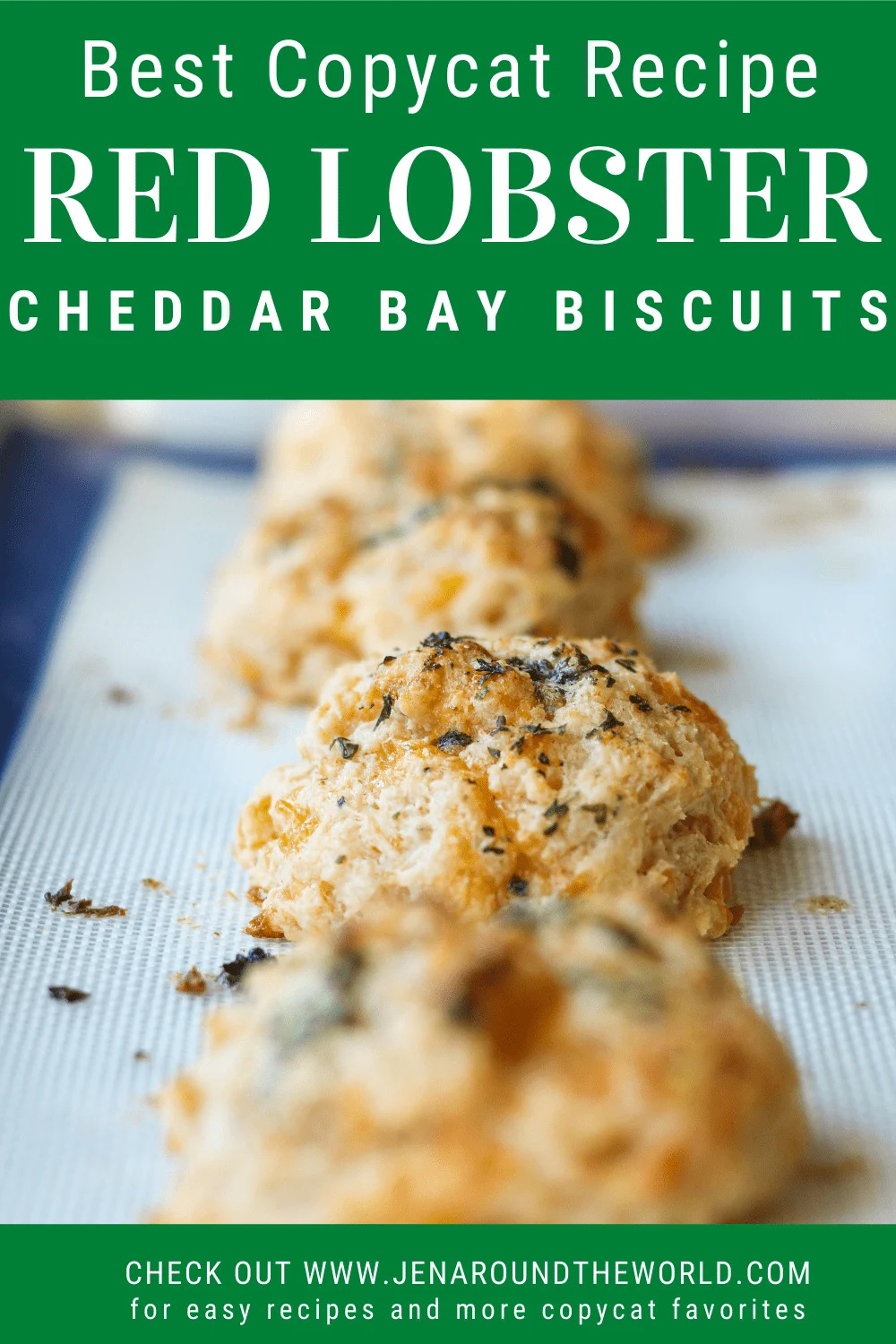 You can get fresh parsley from the store, but if you still have some flourishing in your herb garden as we do, then, by all means, use it.
I caution you though — you cannot just eat one. They are addictive.
Start by mixing all your dough together, add your spices and your shredded cheese. Then drop them by spoonfuls onto a baking sheet covered with parchment paper or one of these awesome silicone mats.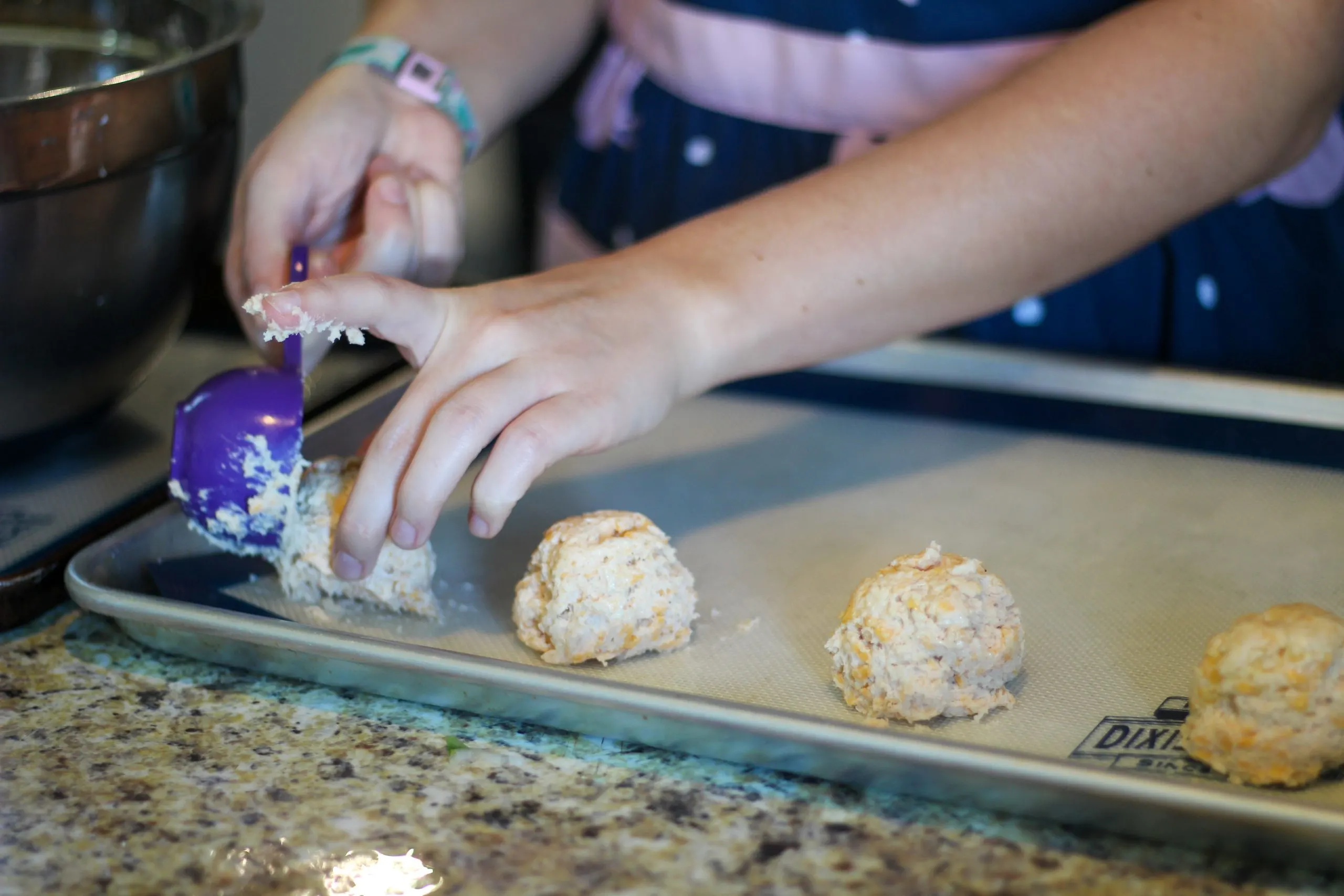 We use a 1/4 cup measuring cup to make sure our biscuits have all the same proportions.
Then, bake them in the oven. When they come out, brush on some delicious butter and then serve to your friends and family.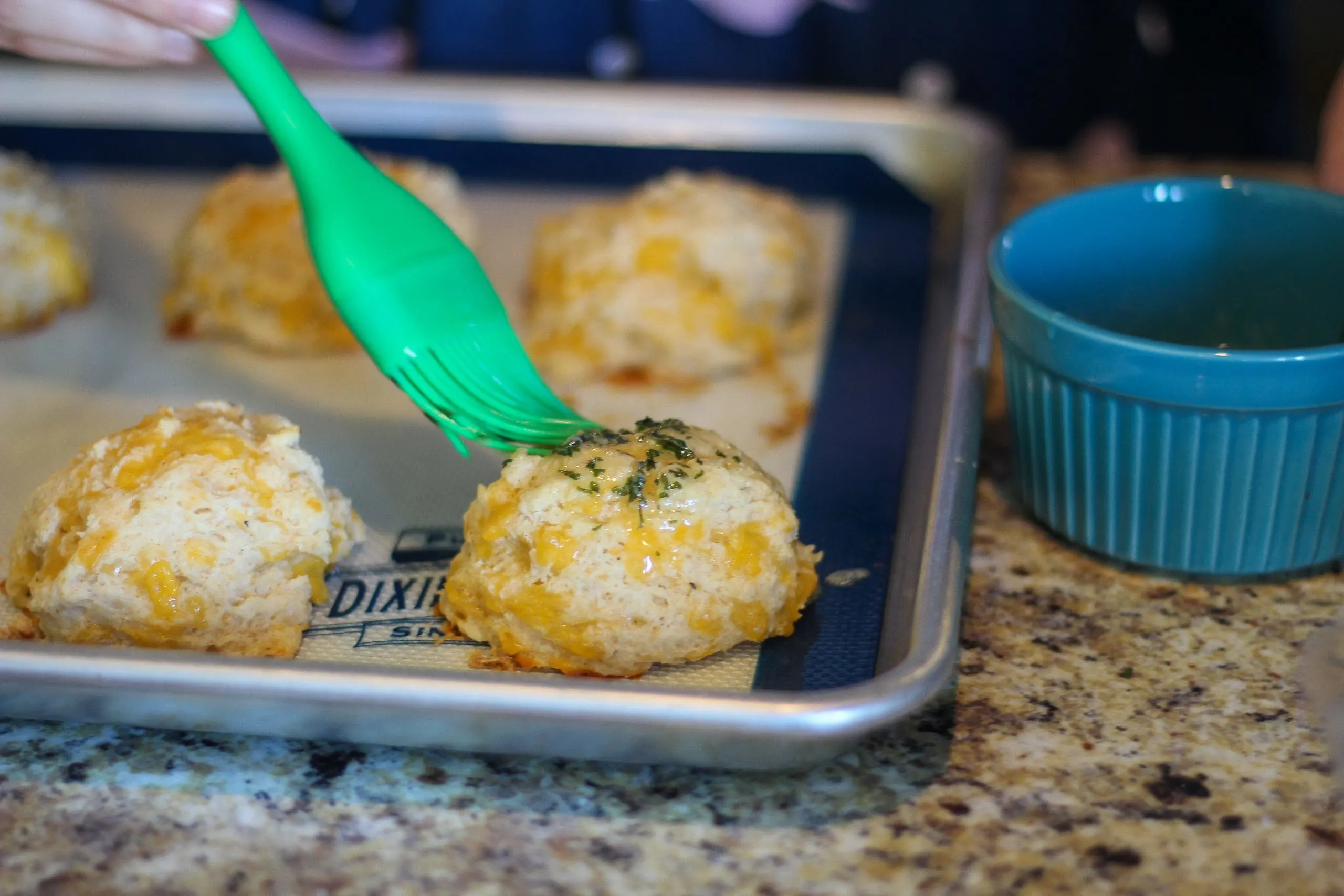 These biscuits would go perfectly with my Mongolian Ground Beef Noodles recipe or even my Grilled Steak Alfredo.
Looking for Other Homemade Bread Recipes? Check These Out
Recipe Bucket List

We share Recipes From Our Dinner Table! Join our group and share your recipes, too! While you're at it, join our Pinterest board, too!
Yield: 16 biscuits
Copycat Red Lobster Cheddar Bay Biscuits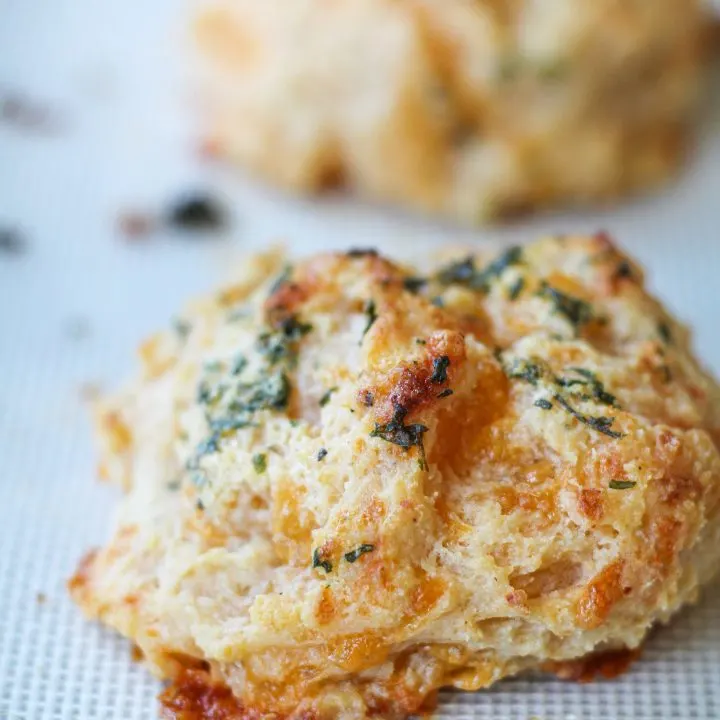 These copycat Red Lobster Cheddar Bay Biscuits are to die for. Simple and easy to make and tastes even better than the original restaurant version.
Ingredients
2 cups all-purpose flour
1 tablespoon sugar
1 tablespoon baking powder
2 teaspoons garlic powder
1/2 teaspoon kosher salt
1/4 teaspoon cayenne pepper
1 cup buttermilk
1/2 cup unsalted butter, melted
2 cups shredded sharp cheddar cheese
!For the topping
3 tablespoons unsalted butter, melted
1 tablespoon chopped fresh parsley leaves
1/2 teaspoon garlic powder
Instructions
Preheat oven to 450 degrees F. Line a baking sheet with parchment paper or a silicone baking mat; set aside.
In a large bowl, combine flour, sugar, baking powder, garlic powder, salt and cayenne pepper, if using.
In another bowl, whisk together buttermilk and butter. Pour mixture over dry ingredients and stir using a rubber spatula just until moist. Gently fold in cheese.
Using a 1/4-cup measuring cup, scoop the batter evenly onto the prepared baking sheet. Place into oven and bake for 10-12 minutes, or until golden brown.
For the topping, whisk together butter, parsley and garlic powder in a small bowl. Working one at a time, brush the tops of the biscuits with the butter mixture.
If they are not brown enough by this time, stick them under the broiler for just a few minutes until they get the desired color you want.
Serve hot or at room temperature.
Nutrition Information:
Yield:
16
Serving Size:
1
Amount Per Serving:
Calories:

255
Total Fat:

18g
Saturated Fat:

11g
Trans Fat:

0g
Unsaturated Fat:

6g
Cholesterol:

50mg
Sodium:

371mg
Carbohydrates:

15g
Fiber:

0g
Sugar:

2g
Protein:

9g