This recipe for the best strawberry buttercream frosting is filled with fresh strawberries and the most flavor frosting for cupcakes and cakes you will find.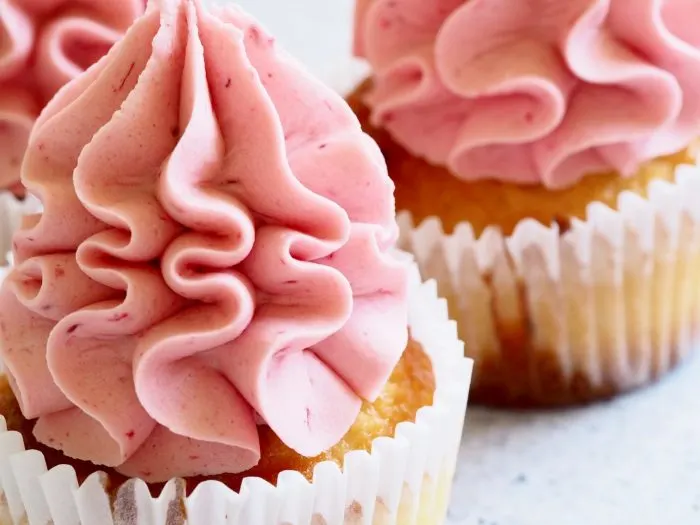 I am a fruity dessert kind of girl, so when you put anything strawberry in front of me, I get all excited.
We have made everything from strawberry drinks like this Copycat Strawberry Limeade. We have also made homemade strawberry ice cream and delicious strawberry lemonade cupcakes.
When using fresh strawberries, the possibilities are endless.
I am not a fan of strawberry extract because it gives it kind of a fake flavor. So, when I am making anything with strawberry, I love to use fresh or frozen berries.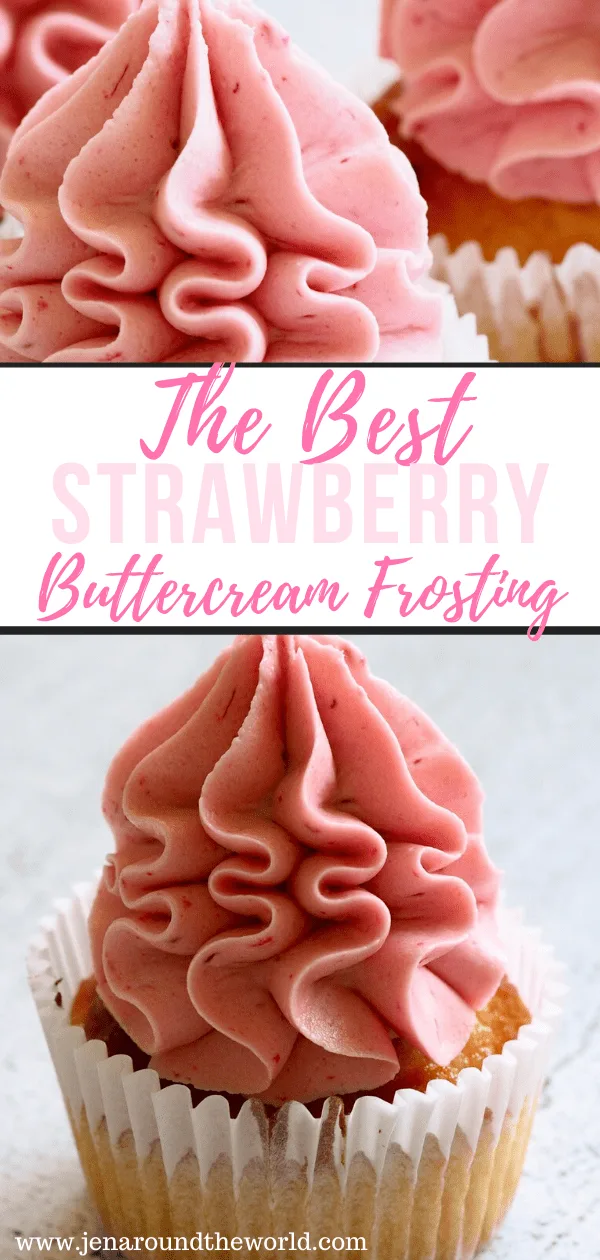 How to Make the Best Strawberry Buttercream Frosting
Begin this recipe with fresh strawberries/ As I said above, you could also use frozen strawberries for this frosting recipe.
Start by washing them and then just give them a quick chop. If your strawberries are sweet and ripe, it will give the frosting a much better taste.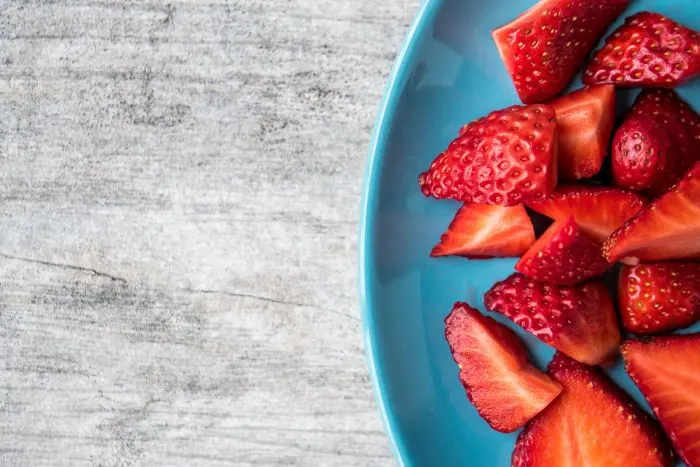 Puree your strawberries in a food processor by themselves. You might get more puree than you need and that is okay. You will just freeze the remainder to use at a later time.
For this recipe, you are only going to need 1/4 cup of puree.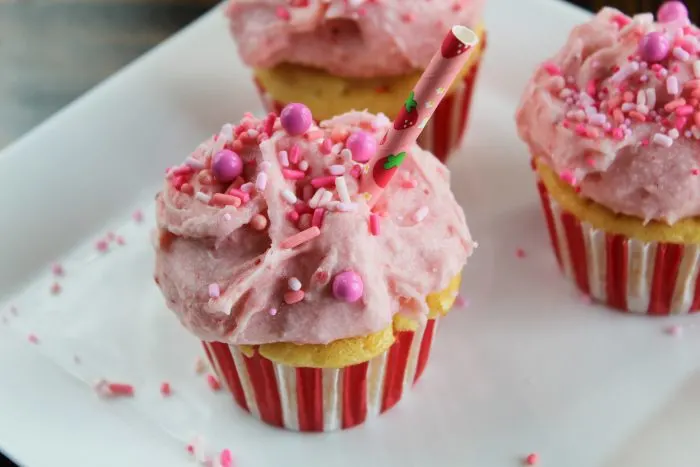 In a stand mixer, you are going to combine 2 sticks of salted butter, 4 cups of powdered sugar and the 1/4 cup of strawberry puree.
Combine until all is mixed together. Then, you can either plop the icing on top of your cupcakes like the photo above, or you can pipe it with your favorite piping tip and piping bags.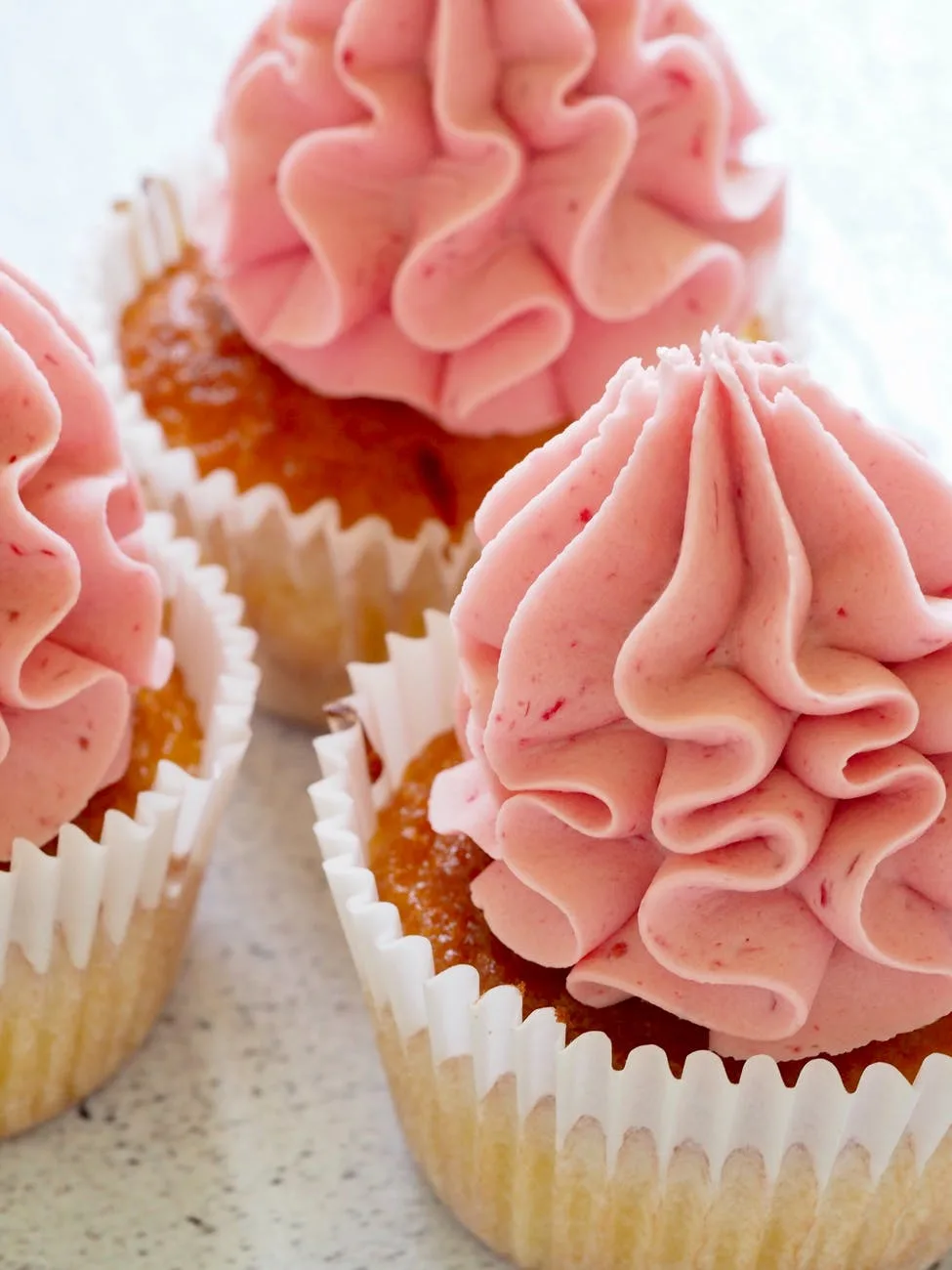 If your frosting seems too thick to pipe, you can add a little more strawberry puree to it to make it a bit thinner.
The icing will firm up in the refrigerator if you feel it is too loose when you put it on. I use this icing on my Strawberry buttercream cake and it always turns out so delicious.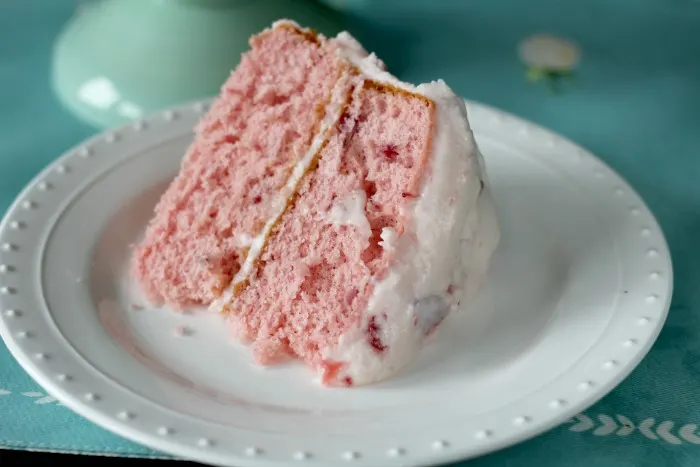 This recipe will make enough Strawberry Buttercream Frosting to cover a 9″ x 13″ sheet cake or a two-layer 8″ cake.
If you make frosting for cupcakes and use a knife to swirl it on, you can frost 24 cupcakes. However, if you pipe it on, you will only be able to frost about 12-15 cupcakes.
This is my favorite Strawberry buttercream frosting and it is a foolproof recipe that I promise you cannot mess up!
Yield: 2 1/2 cups
The Best Strawberry Buttercream Frosting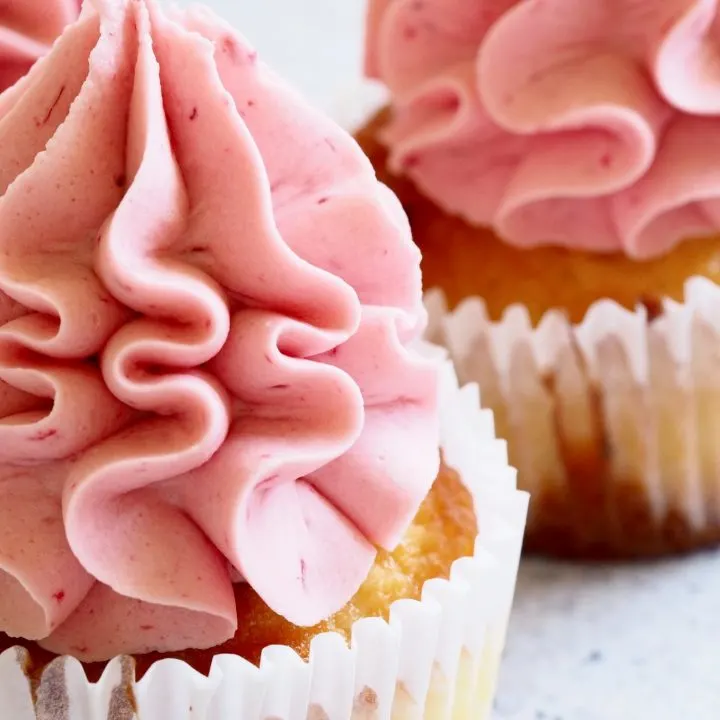 This is The Best Strawberry Buttercream Frosting and it tastes amazing and is so easy to make.
Ingredients
4 cups of Powdered Sugar
2 sticks of salted sweet cream butter
1 pint of strawberries, hulled and roughly chopped
Instructions
Take chopped strawberries and place them in a food processor. Puree and set aside. You will need 1/4 cup for this recipe. Freeze the remainder for later use.
Mix Powdered Sugar and Butter in a mixer on low.
Add Strawberry Puree and mix it until the right consistency. If your frosting is too thick, add a little more puree. If it is too thin, add a little more powdered sugar.
Nutrition Information:
Yield:
18
Serving Size:
1
Amount Per Serving:
Calories:

107
Total Fat:

1g
Saturated Fat:

0g
Trans Fat:

0g
Unsaturated Fat:

0g
Cholesterol:

2mg
Sodium:

6mg
Carbohydrates:

26g
Fiber:

0g
Sugar:

25g
Protein:

0g