If you are on TikTok and love food, I am sure you have seen the Green Goddess Salad going around that was started by Baked By Melissa.
I watched everyone making this salad for weeks now and I finally had to see what the hype was about. I made it and now, I cannot stop eating it.
Because it is so good, I thought I would share it with you as well!
The Beauty of the Green Goddess Salad
Now, this salad is not to be confused with Green Goddess Dressing. They are very different but both taste equally amazing.
The thing that I love about this salad is just how versatile it is. Everything in this dish is green and veggie related. If you don't have something listed in the ingredients, try to use what you have on hand.
The original recipe uses cabbage, green onions, and cucumbers as the salad portion. For the dressing, she mixed up shallot, garlic, olive oil, lemon juice, chives, spinach, basil, walnuts, cashews, rice vinegar, nutritional yeast, and salt.
While making the video, I decided to read some of the comments and she said that you can use any nuts if you don't have walnuts and cashews. I traded those out for pumpkin seeds and pecans and that dressing was so delicious.
You have to ask yourself when you see things like this, and you say "Could this salad really be that interesting and tasty?" The answer to that is YES! Trust me when I say that you have to make this salad ASAP!
Check out these other salad recipes below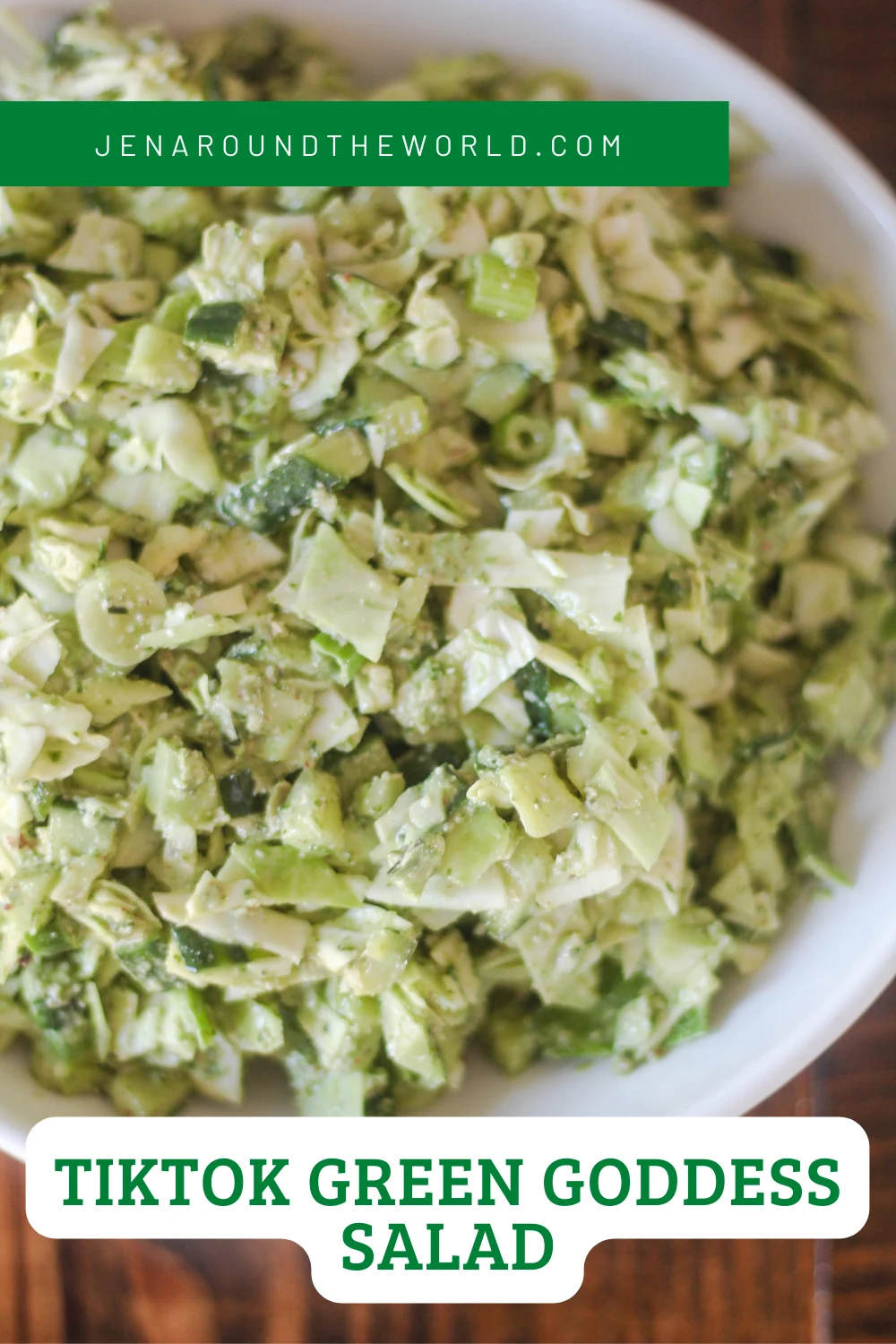 If you love healthy foods, be sure to check out Baked by Melissa on TikTok. She posts some really amazing salads and lots of healthy food.
Yield: 10 servings
TikTok Green Goddess Salad
Fill your belly with all things green and good for you!
Ingredients
For the salad
1 head of green cabbage, chopped fine
2 cucumbers, seeded and diced
5 green onions, chopped
For the dressing
one shallot, peeled
2 cloves of garlic, peeled
Juice and zest from two lemons
6 chive stems
1/4 cup of olive oil
1/4 cup of pecans
1/4 cup of pumpkin seeds
1/2 cup of basil leaves
2 cups of spinach
1 tablespoon of Rice vinegar
1/4 cup of nutritional yeast
2 teaspoons of salt
Instructions
Add salad portions to a large bowl.
In a blender or food processor add all of your dressing components. Blend until pureed together. If the dressing seems too thick, it's ok. It will mix together easily.
Mix well together. Eat with chips, pita bread or just by itself. It's SO good!
Nutrition Information:
Yield:
10
Serving Size:
1
Amount Per Serving:
Calories:

153
Total Fat:

8g
Saturated Fat:

1g
Trans Fat:

0g
Unsaturated Fat:

7g
Cholesterol:

0mg
Sodium:

479mg
Carbohydrates:

19g
Fiber:

6g
Sugar:

8g
Protein:

6g