This easy whipped ricotta dip makes the perfect snack. Top toast, use veggies or crackers and get to snacking with this awesome dip.
Kayla and I have been in the food experimenting stage lately.
Last week we made our own homemade ricotta cheese and it turned out amazing. The flavor was better than any store-bought ricotta I have ever had.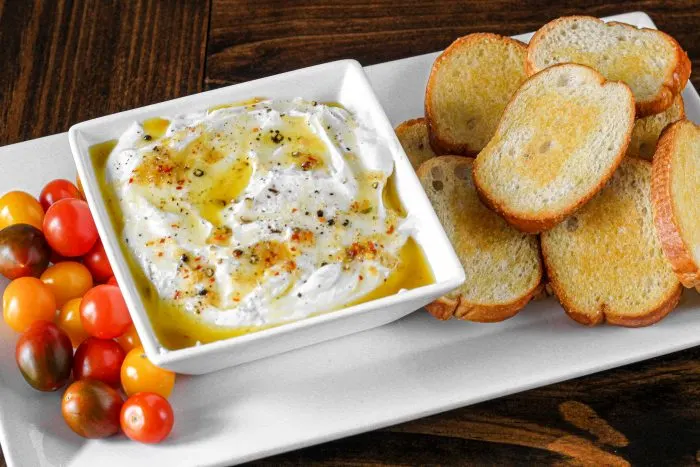 Then, Kayla decided she wanted to take the ricotta further and came up with this awesome whipped ricotta dip.
How to make Whipped Ricotta Dip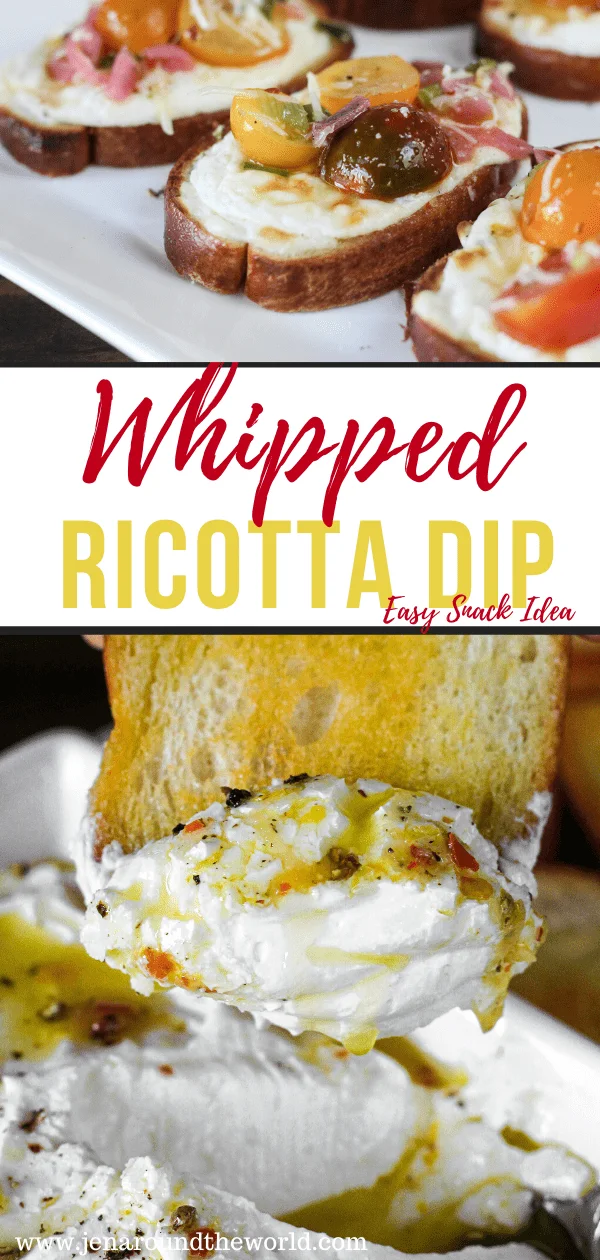 To make this dip, all you need are a few simple ingredients —
1/4 cup cream cheese, softened
2 cups whole-milk ricotta
2 tablespoons whole milk
coarse sea salt + fresh cracked black pepper + lemon vinaigrette
toasted bread for serving
The cool thing about this recipe is that you can change it up to suit your fancy. We love a good tart lemon flavor, so we added a simple lemon vinaigrette to ours. If you want it sweeter, you can drizzle honey on top.
If you would like it to have a more garlic flavor, roast a head and mix the garlic into the dip.
Once you make the dip, you can use it to put on toast, or use your toast as a dip. You can also take crackers and use this as the centerpiece of a charcuterie board.
For us, we like to always take things up a notch. Kayla toasted some bread slices.
Then we slathered on the whipped ricotta dip. We had some fresh baby tomatoes so we add them to the top and drizzled with more oil. Then broiled in the oven for a couple of minutes for one of the most delicious snacks I have had in a long time.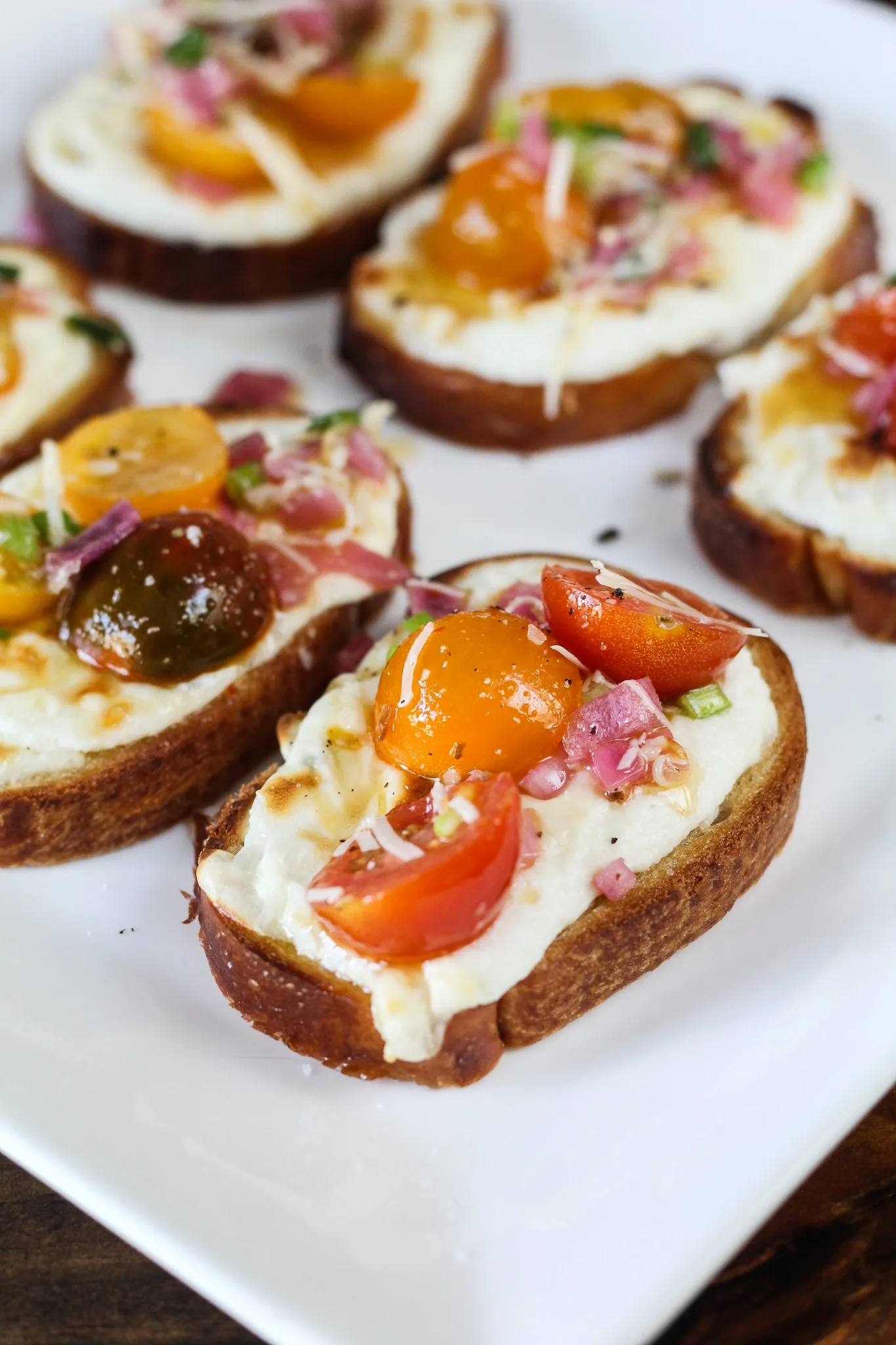 Since you are stuck at home right now with not a lot to do, why not try and experiment with some easy recipes?
Try making your own homemade buttermilk from scratch and then creating delicious Nashville Hot Chicken?
If you have always wanted to try your hand at making some bread, try this easy Cheesecake Factory Honey Wheat Bread. It is a game-changer for everyone who says they can't bake bread.
Yield: 2 cups
Whipped Ricotta Dip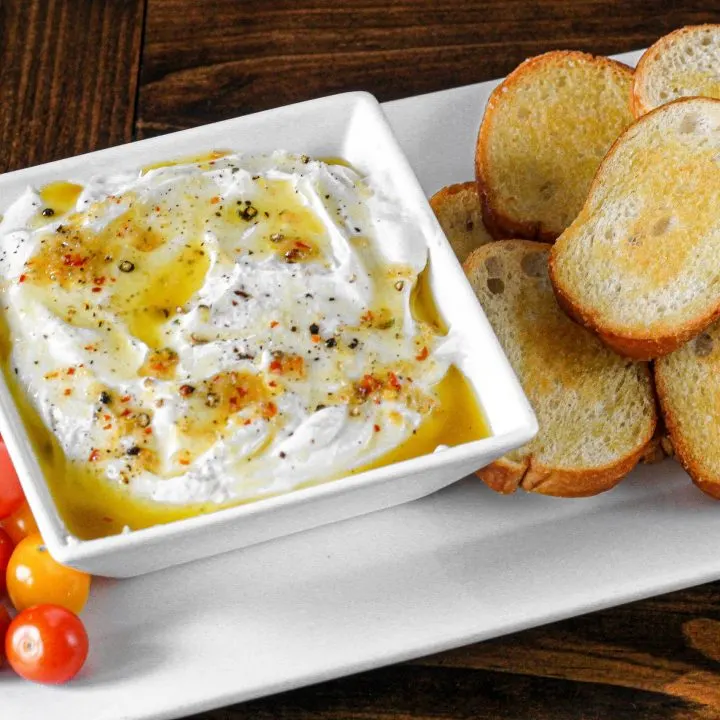 This easy whipped ricotta dip will make a delicious and fun snack for you.
Ingredients
For the dip
1/4 cup cream cheese, softened
2 cups whole-milk ricotta
2 tablespoons whole milk
coarse sea salt
fresh cracked black pepper
toasted bread for serving
baby tomatoes (optional)
For the lemon vinaigrette
1/4 cup freshly squeezed lemon juice
1/2 cup good olive oil
1 teaspoon kosher salt
1/2 teaspoon freshly ground black pepper
Instructions
To make the vinaigrette, mix the ingredients together and whisk until combined.
For the dip, combine the cream cheese, milk, ricotta, salt, and black pepper together. Whip together in a stand mixer or with a handheld mixer until combined.
Place in a bowl and top with a drizzle of the lemon vinaigrette. Top off with more cracked black pepper and if you are up to it, sprinkle on some red pepper flakes.
Nutrition Information:
Yield:
12
Serving Size:
1
Amount Per Serving:
Calories:

178
Total Fat:

16g
Saturated Fat:

6g
Trans Fat:

0g
Unsaturated Fat:

10g
Cholesterol:

26mg
Sodium:

287mg
Carbohydrates:

4g
Fiber:

0g
Sugar:

1g
Protein:

5g