This is the easiest pantry staple you will ever make. This homemade buttermilk is the perfect staple you need in a crunch when you don't have buttermilk on hand.
For a while now, I have been learning about making things from scratch.
So far, I have mastered making homemade breakfast biscuits, honey what bread, desserts, chocolate syrup, caramel sauce, salad dressings, pizzas, taco seasoning mix, fajita mix, and bagged chicken nuggets.
I can now add to my growing number of homemade prepackaged items homemade buttermilk and sweetened condensed milk.
How to Make Homemade Buttermilk
First, I have to tell you that I was very skeptical at first about trying to make things homemade, because well…I thought it would just be too time-consuming.
But what I have found out is that I have plenty of time to make these things while I am cooking, if I just do it!
I have learned that these things are so much better for me because as I have read on other blogs, I know what is going in my food.
This recipe only uses 2 simple ingredients — milk and vinegar. And the best part? You can have it ready in 10 minutes.
I love to use buttermilk in all my baked goods and it is THE BEST when you marinate chicken in it for homemade fried chicken because it creates a tender crumb and also helps add moisture.
Most people do not keep this on hand. Plus, no one really loves to make an extra trip to the grocery store for one ingredient in a recipe.
For this recipe, you can use either freshly squeezed lemon juice or vinegar in this recipe. I like to use white vinegar, but you can use any neutral vinegar you want.
You can also use any kind of milk that you prefer for this recipe. I prefer whole milk but you can use skim, 2%, whole, or whatever you want.
I love how easy this is to make. No longer do I need to buy that huge carton of buttermilk. To me, that is a waste of money. I don't use that much of it, and it is much simpler to purchase milk and only make what I need.
Check out these other homemade baking essentials
Yield: 1 cup
Homemade Buttermilk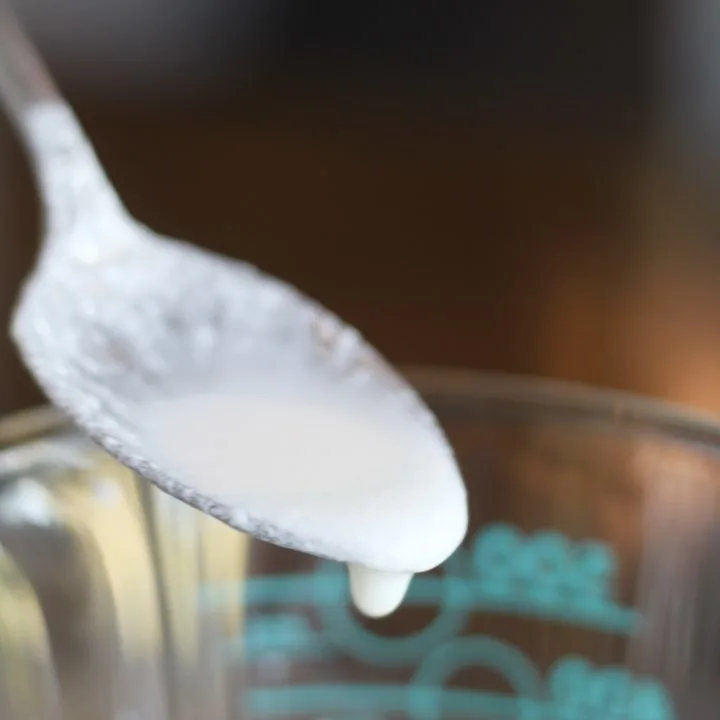 This is the perfect buttermilk substitute when you need buttermilk for a recipe.
Ingredients
1 tbsp vinegar or lemon juice
1 cup of milk
Instructions
Mix together and allow everything to sit for 10 minutes.
Nutrition Information:
Yield:
1
Serving Size:
1
Amount Per Serving:
Calories:

128
Total Fat:

5g
Saturated Fat:

3g
Trans Fat:

0g
Unsaturated Fat:

2g
Cholesterol:

20mg
Sodium:

129mg
Carbohydrates:

12g
Fiber:

0g
Sugar:

0g
Protein:

9g