This is the best classic meatloaf recipe ever! My husband loves this dish because it is tender, moist, and flavorful. The glaze on top really sets it off.
Serve this meatloaf with a side of homemade mashed potatoes and some Honey Butter Brussels Sprouts.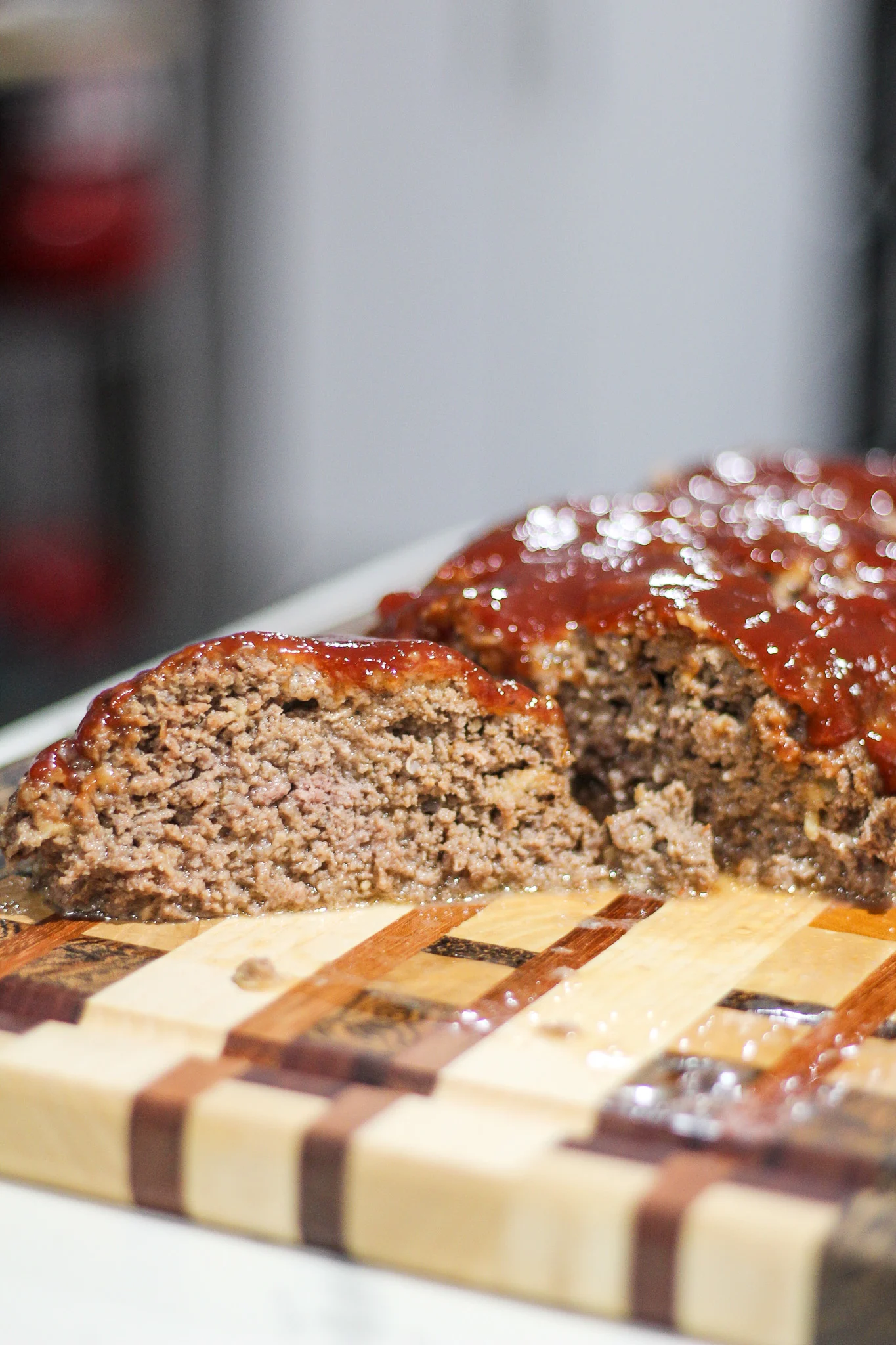 How to Make Homemade Meatloaf
To make this recipe, here's a list of ingredients you will need —
Ground beef. For a leaner version, you can switch out half the ground beef for turkey or ground pork.
Fresh bread: A lot of people use bread crumbs in their meatloaf, but I like to use fresh bread slices.
Onion. any onion variety works well, sweet onions, red, yellow, white, etc.
Milk. I use full red top milk. It creates the best flavor in this dish.
BBQ Sauce and Ketchup: Choose your favorite variety. My favorite is the honey-flavored bbq sauces.
Worcestershire sauce. If you don't have any Worcestershire sauce on hand, simply increase the barbecue sauce by 2 TBS.
Minced garlic. The garlic really adds great flavor to the meatloaf.
Light brown sugar. dark brown sugar can be used in place of light.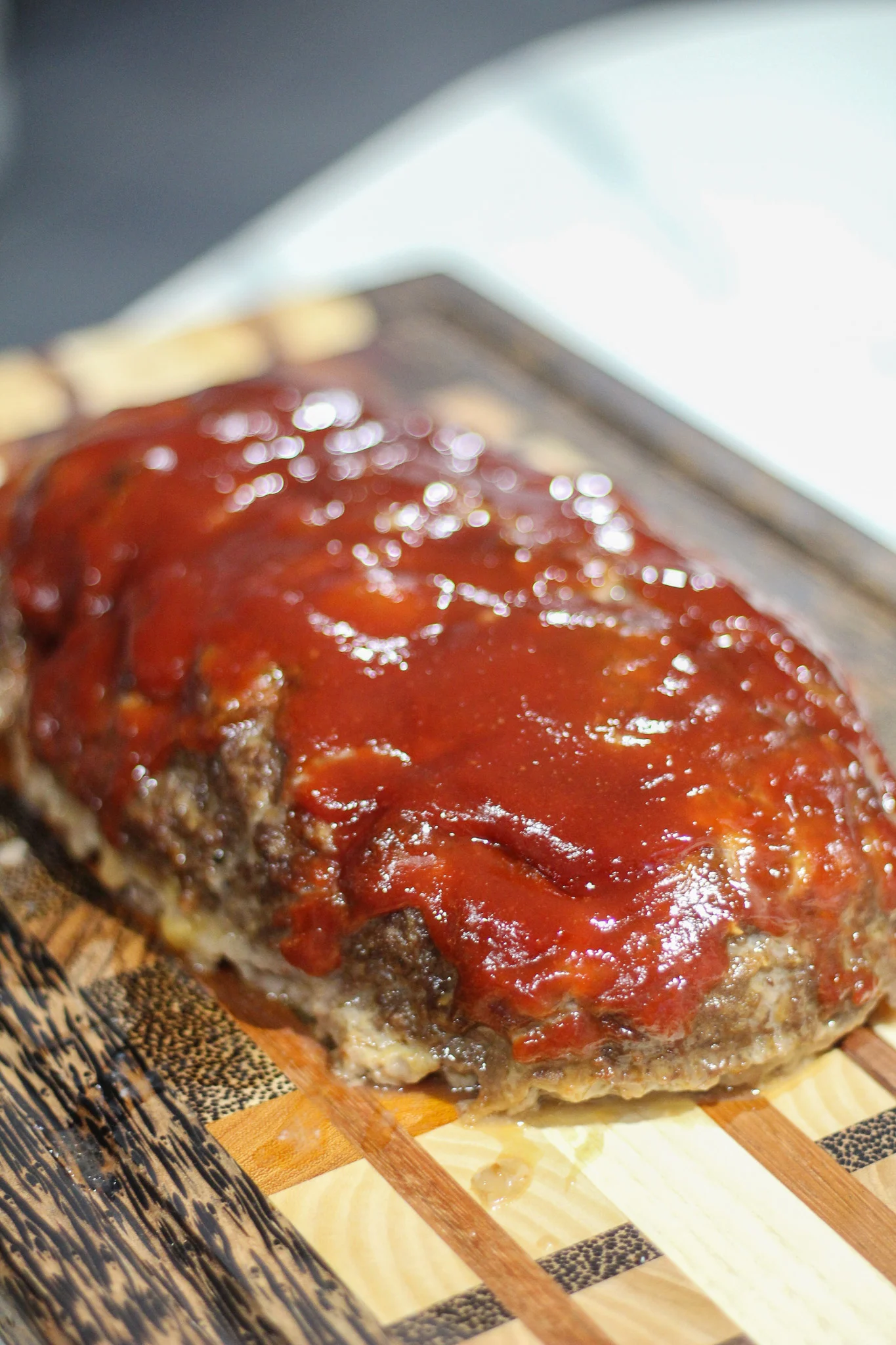 Mix the brown sugar, ketchup, and bbq sauce together and set it aside. This is your glaze.
Now, mix the remaining ingredients together. This is your meatloaf.
Line a baking sheet with parchment paper. Add a wire rack to the baking sheet. Form the meatloaf into a loaf shape and place it on the wire rack.
Preheat the oven to 350 degrees and bake the meatloaf for 40 minutes until the top starts looking slightly browned and set.
Now add the glaze on top and bake for an additional 10 to 15 minutes. The internal temperature should be 160 degrees. You can broil the top for 2-3 minutes if you want as well.
Remove from the oven and transfer the loaf to a cutting board. Allow it to cool slightly before slicing and serving.
Check out these other delicious ground beef recipes
Yield: 6 servings
The Best Classic Meatloaf Recipe
This is the best meatloaf recipe ever! It's tender, moist, and flavorful with the most delicious glaze.
Total Time
1 hour
10 minutes
Ingredients
For the meatloaf
2 pounds ground beef
2 slices of fresh bread crumbled up to make soft bread crumbs
½ cup onion finely diced (optional)
¼ cup whole milk
½ cup barbecue sauce
2 eggs
2 Tablespoons of Worcestershire sauce
1 Tablespoon of minced garlic
1 teaspoon of fine sea salt
¼ tsp ground black pepper
For the glaze:
½ cup ketchup
¼ cup light brown sugar
2 Tablespoons of BBQ Sauce
2 Tablespoons of Worcestershire sauce
Instructions
Preheat the oven to 350 degrees.
In a large bowl whisk together milk, BBQ sauce, eggs, Worcestershire sauce, garlic, salt, and pepper.
Add the meat, onions (if you are adding them), and fresh bread. Mix well with your hands.
Line a wire rack with aluminum foil and poke holes in it, then place it on a large baking sheet covered in parchment paper.
Form the mixture into a large loaf (about 10" by 5" by 2")
Bake for 40 minutes.
While the loaf is baking, mix together the topping ingredients and set them aside.
Remove from oven, spread sauce on top, and bake for 10 to 15 more minutes or until meatloaf reaches an internal temperature of 160 degrees F.
To caramelize the top, place under the broiler for 3 to 5 minutes.
Remove from oven and let cool for at least 5 minutes before serving.
Nutrition Information:
Yield:
6
Serving Size:
1
Amount Per Serving:
Calories:

618
Total Fat:

30g
Saturated Fat:

11g
Trans Fat:

1g
Unsaturated Fat:

14g
Cholesterol:

198mg
Sodium:

1182mg
Carbohydrates:

40g
Fiber:

1g
Sugar:

25g
Protein:

46g