This easy Homemade Mac and Cheese is one of the easiest side dishes you will prepare. With the holiday season fast approaching, I am all about recipes that are simple to make and ones that can be made ahead of time to reheat the day of the event.
Around here, mac and cheese is a food group all on its own. We eat it as a main dish but most times you find it gracing our Thanksgiving table! If you love mac and cheese as much as I do, read on to learn how we make it. I do things just a bit differently than most people, but we still achieve the same delicious effect!
How to Make a Classic Mac Dish
In a large pot, add water and salt. The amount of salt to add is up to you, but to get a really good flavoring on the elbow macaroni noodles, add enough salt to make the water taste like the ocean. At least, that is what Anne Burrell says!
Let the macaroni noodles cook over medium heat until al dente in a large saucepan. While the noodles cook, prepare the creamy cheese sauce. A lot of people make a roux with all-purpose flour and butter, but I do not like the gritty texture it leaves after it has cooled down. I just use butter, milk, and cheese!
Start by heating whole milk over low heat in a saucepan. You can also sub out heavy cream for a more intense flavor if you prefer.
Once the milk is heated through, it's time to add in all your pre-shredded cheese. Sometimes when I make this recipe, I use my own cheese that I make (my homemade mozzarella cheese) but using store cheese is honestly the easiest way to go.
I like to use my favorite cheeses like Monterey Jack, Sharp Cheddar Cheese, cream cheese, pepper jack, Colby jack, and even sometimes mild cheddar. Honestly — the cheese variety is totally up to you. You can even use the best cheese brand or the store label. It all tastes the same in the end.
Pro Tip — Use a Velveeta cheese block in place of all of the other cheeses and it will create the creamiest mac and cheese you will ever eat. The flavor is better than the boxed mac and cheese.
Once the cheese and milk have been incorporated together, it's time to add in the spices. I like to add a bit of cayenne pepper, some black pepper, garlic powder, onion powder, mustard powder, paprika, and salt. It adds a lot of flavor to this dish. This makes the best creamy sauce to pour over the cooked pasta!
Get the Best Homemade Mac Ready for the Oven!
Once the noodles are done, drain them. Mix in the cheesy sauce until all the noodles are coated.
Pour the noodle mixture into a 9×13 casserole dish that has been coated with unsalted butter. This will keep the noodles from sticking to the pan.
I like my noodles plain, but a lot of people add Panko Bread Crumbs to the top to give it an extra crunch factor. Straight cheese topping is my jam and I like to let it bake until it gets golden brown.
However, if you like the crunchy topping, it's as simple as sprinkling on a little Panko and placing it under the broiler to get a beautiful golden crispy crunch.
Substitutions for the Best Macaroni
If you love experimenting with different pasta shapes, try using ziti or penne for this dish. Cavitappi has always been a favorite noodle because of the ridges on noodles.
For a secret ingredient that will make your guests go "hmmm"…, try adding a little ground nutmeg to your mac n cheese recipe. It does bump up the flavor some.
Switch out the regular pasta for gluten-free pasta. Make it dairy-free by using plant-based melted butter and almond milk.
There is no way to mess up this classic homemade mac and cheese. And if trying to make homemade is too daunting for you, buy boxed mac and cheese and bump up the flavor of the boxed kind.
Add in extra cheese, some hot sauce, and more to really give it pizazz!
How to Store Baked Mac and Cheese
Once this tasty dish has cooled to room temperature, store it in an airtight container in the fridge. This will last for a couple of weeks in the fridge or you can freeze it for up to 3 months. If you want a good mac dish, this is it. It's even better the next day!
What Dishes Can I Serve With Homemade Mac?
For me, there is just something about fried chicken and mac and cheese that go hand in hand. I add in some of my homemade buttermilk biscuits and mashed potatoes with a passle of these Slow Cooker green beans for a complete dinner meal.
Yes — I know, sometimes I go all out and get a little extra. But I love seeing the love on my family's face when they eat the food I cook for them.
Check Out These Other Cheese Dishes
Macaroni is the ultimate comfort food, so if cheesy pasta is your thing, here are a few more favorite dishes!
Yield: 8 servings
Homemade Mac and Cheese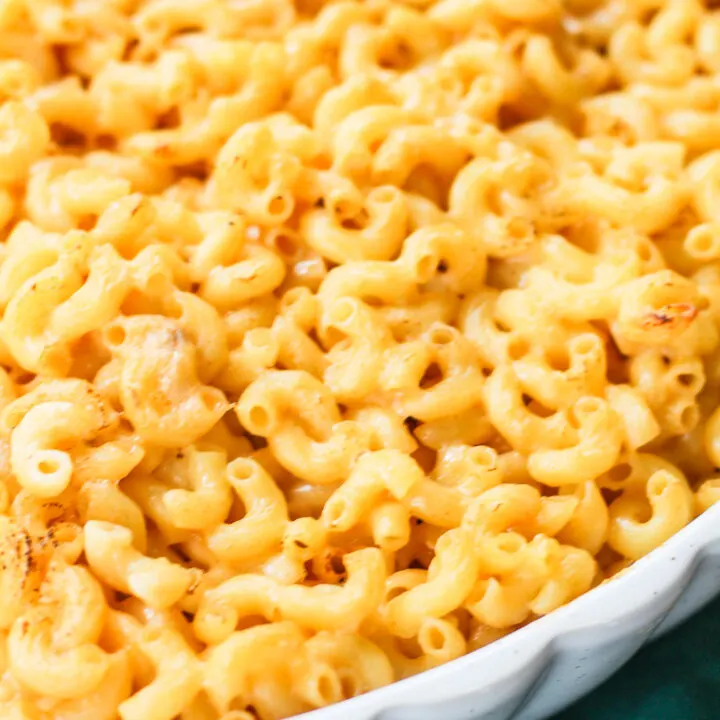 Creamy Mac and cheese full of your favorite cheeses. Perfect side dish for any holiday meal
Ingredients
16 oz elbow macaroni, cooked (or other tubular pasta)
1 tbsp extra virgin olive oil
3 cups whole milk
1 cup heavy whipping cream
6 cups of your favorite shredded cheese (sharp, mozzarella, colby jack, etc)
8 ounce block of cream cheese
1/2 teaspoon garlic powder
1/2 teaspoon onion powder
1 teaspoon of paprika
1 teaspoon of mustard powder
1/4 teaspoon of cayenne powder
salt and pepper to taste
Instructions
Preheat oven to 350F. Lightly grease a large 3 qt or 4 qt baking dish and set aside.Combine shredded cheeses in a large bowl and set aside.
Cook the pasta one minute shy of al dente according to the package instructions. Remove from heat, drain, and place in a large bowl.
Drizzle pasta with olive oil and stir to coat pasta. Set aside to cool while preparing cheese sauce.
Add the milk and heavy cream into a large saucepan.
Add two cups of shredded cheese and whisk until smooth. Add another two cups of shredded cheese and continue whisking until creamy and smooth.

The sauce should be nice and thick. Now, add in all your spices. Mix well.
Stir in the cooled pasta until combined and the pasta is fully coated with the cheese sauce.
Pour half of the mac and cheese into the prepared baking dish. Top with the remaining 2 cups of shredded cheese and then the remaining mac and cheese.
Bake until bubbly and golden brown, about 30 minutes. Serve immediately.
Nutrition Information:
Yield:
8
Serving Size:
1
Amount Per Serving:
Calories:

707
Total Fat:

54g
Saturated Fat:

31g
Trans Fat:

1g
Unsaturated Fat:

18g
Cholesterol:

155mg
Sodium:

728mg
Carbohydrates:

27g
Fiber:

1g
Sugar:

7g
Protein:

28g