Caramel apple mocktail is a delectable nonalcoholic drink recipe for kids and adults to enjoy.
This is the perfect fall drink that is made using Torani caramel sauce and apple syrup, cold apple cider, and sparkling ginger beer.
The decorated rim of caramel and sugar makes this the perfect after-school drink for your kids after a long day of learning.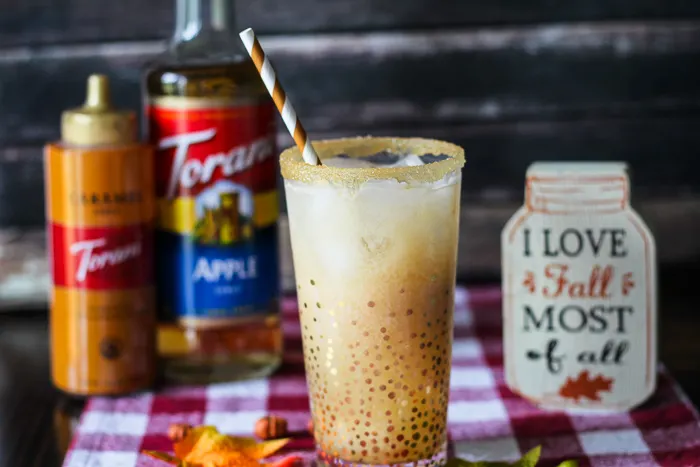 School is back in session as of yesterday and I remember those days of the kids coming home from school — starving and exhausted all in one.
Not only does this drink help you transition from summer to back to school to fall time, but it is simple and easy to throw together and has THE BEST flavor.
How to Make a Caramel Apple Mocktail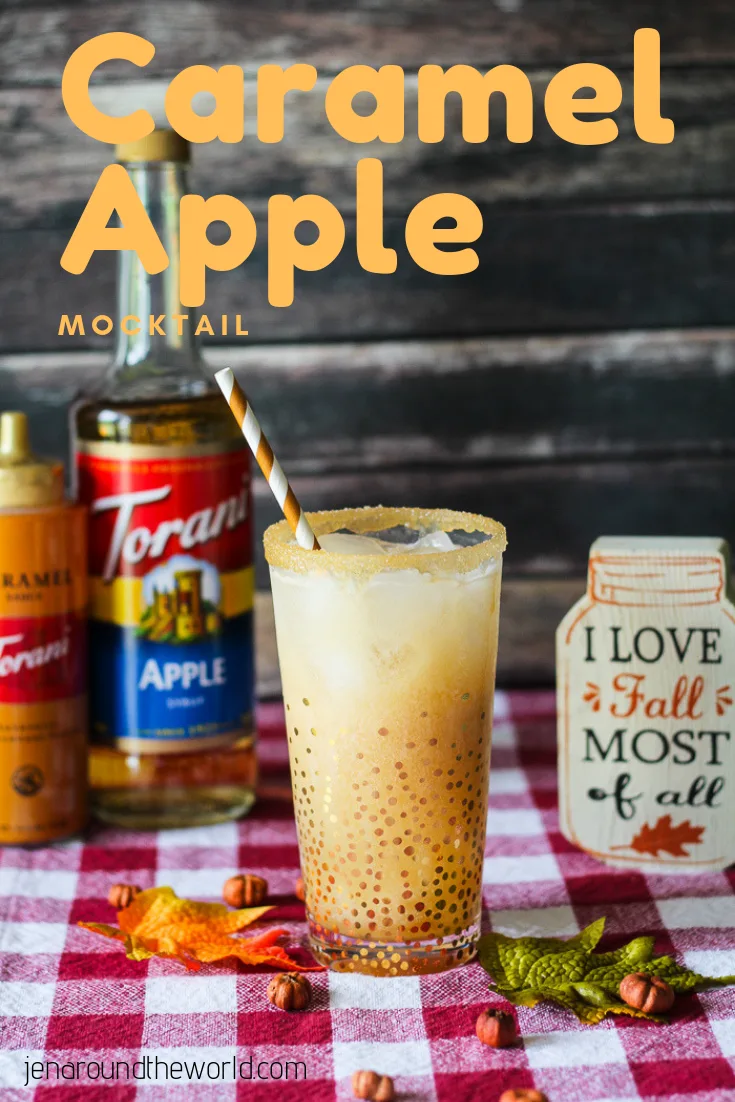 This recipe is made with Torani Caramel Sauce, Torani Apple syrup, and a new favorite ingredient for us — Ginger beer!
Is ginger beer alcoholic?
No, it is not alcoholic in any way! If you love the taste of ginger, you will love this ginger beer because it is more like a very strong ginger soda
Ginger beer is made with ginger juice and ginger extract and has a strong ginger taste. It's meant to be mixed with other ingredients to make it more palatable, but if you choose to drink it plain, it definitely packs a punch with its zippy zing.
Decorating the Rim of Your Glass
To decorate the rim of your glass, pour some turbinado sugar in a shallow dish. In another shallow dish, pour some caramel sauce.
Now, dip in the caramel sauce and then dip in the sugar.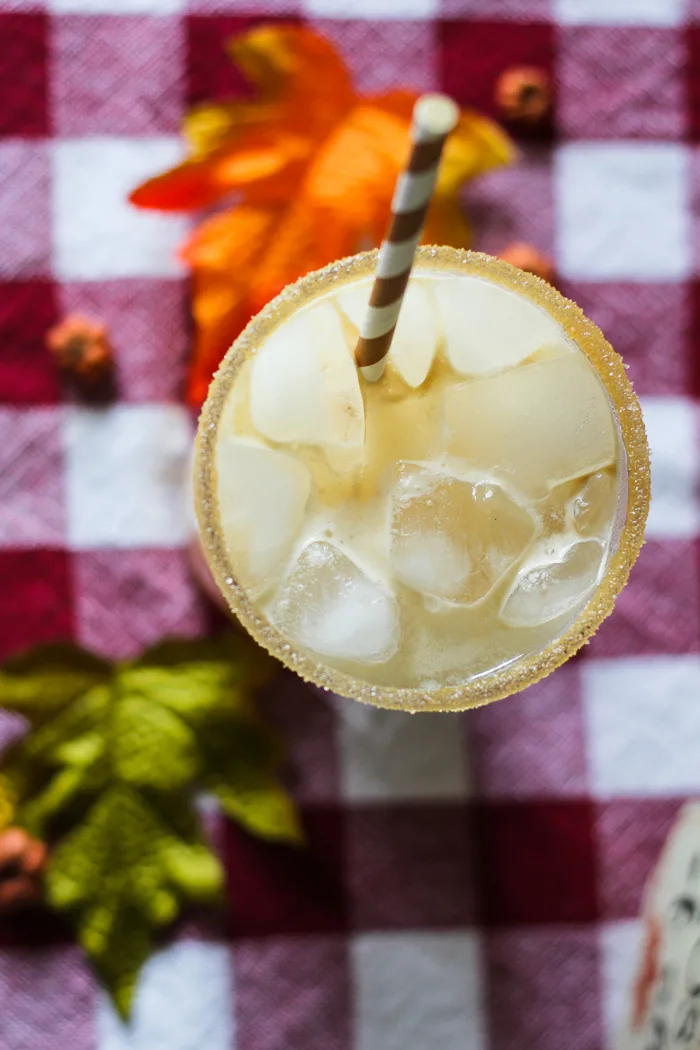 The caramel sauce and the sugar go perfectly well together and if you warm the caramel sauce for a few seconds in the microwave, it will harden just a bit and not trail down your glass!
How to Assemble this Delicious Drink
After decorating the rim of your glass, pour some caramel sauce into the bottom of your glass. It will be about a tablespoon. Now, top the glass off with 1/2 ginger beer, and then 1/2 apple cider.
Top it off with a splash of the apple syrup and some ice. Serve to your kiddos — or even better, serve at your next fall dinner party!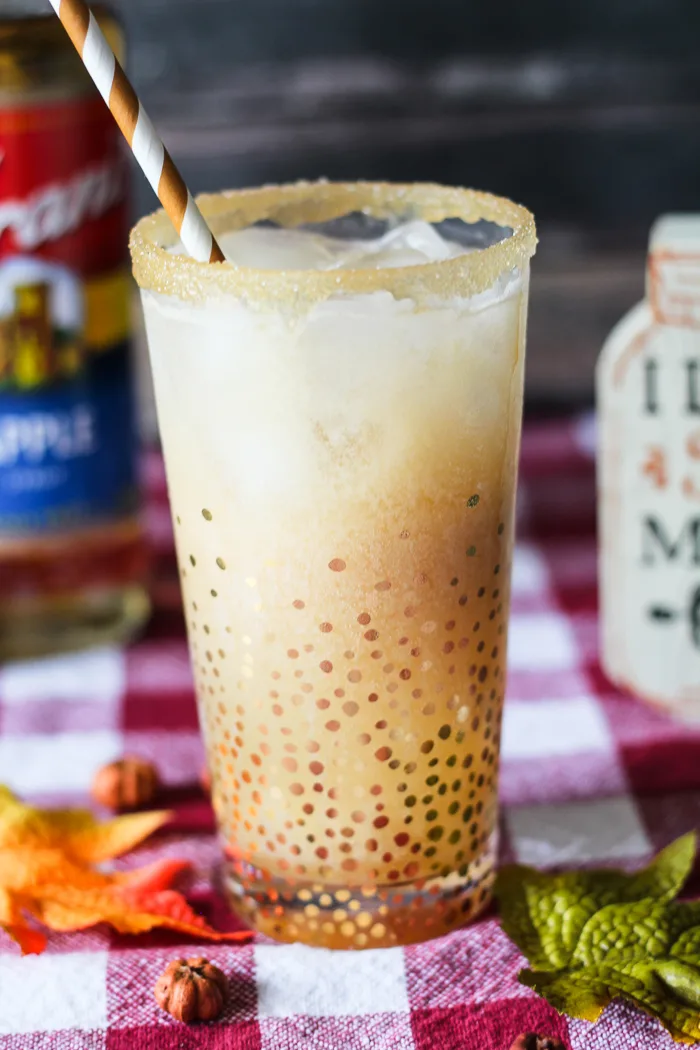 This is one of my favorite recipes we have made so far. The taste of the ginger beer mixed with the apple cider screams back to school and fall to me. I can promise your kids are going to LOVE being able to have a grown-up drink (without alcohol) to refresh those little minds before cracking down on that homework.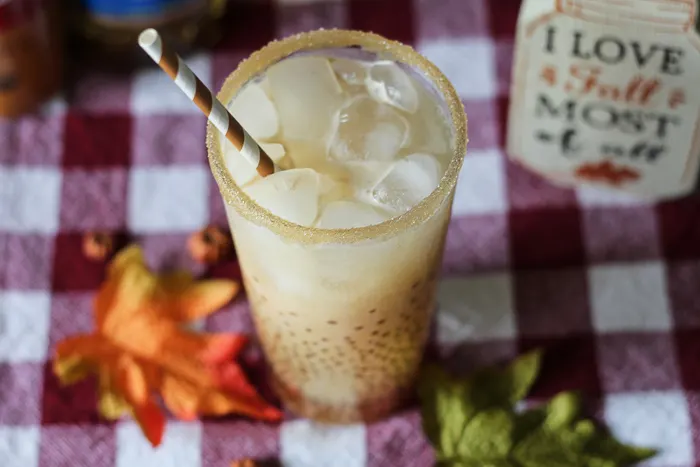 Looking for other fun apple recipes? Check this list out!
Yield: 16 ounces
Caramel Apple Mocktail
This non-acoholic version of caramel apple mocktail is everything that your kids are going to love! Filled with delicious caramel and apple flavor and then topped off with ginger beer!
Ingredients
For the Rim
1/3 cup Torani caramel sauce, warmed
1/3 cup turbinado sugar
For the Drink
2 ounces caramel sauce, warmed (1/4 cup)
7 ounces apple cider, chilled
7 ounces ginger beer, chilled
splash of Torani Apply Syrup
Ice Cubes
Instructions
Dip the rim of the glass in the caramel sauce, then dip it in the turbinado sugar.
Pour the warm caramel sauce into the glass, then the apple cider and finish with the ginger beer.
Add a splash or two of the Torani Apple Syrup.
Stir until well combined. Add ice to the glass.
Serve immediately.
Nutrition Information:
Yield:
16
Serving Size:
1
Amount Per Serving:
Calories:

55
Total Fat:

0g
Saturated Fat:

0g
Trans Fat:

0g
Unsaturated Fat:

0g
Cholesterol:

0mg
Sodium:

38mg
Carbohydrates:

14g
Fiber:

0g
Sugar:

14g
Protein:

0g