I received product samples from sponsor companies to aid in the creation of this recipe for Mini Caramel Apples for #BacktoSchoolTreats week. All opinions are mine alone.
If you have not figured it out by now, caramel apples are one of my favorite desserts. However, one large caramel apple per person is a lot!
I have figured out how to get my love of caramel apples in by making these mini caramel apples!
Since it is a treat and this is back to school, what better time to share these with you than right now!
How to Make Mini Caramel Apples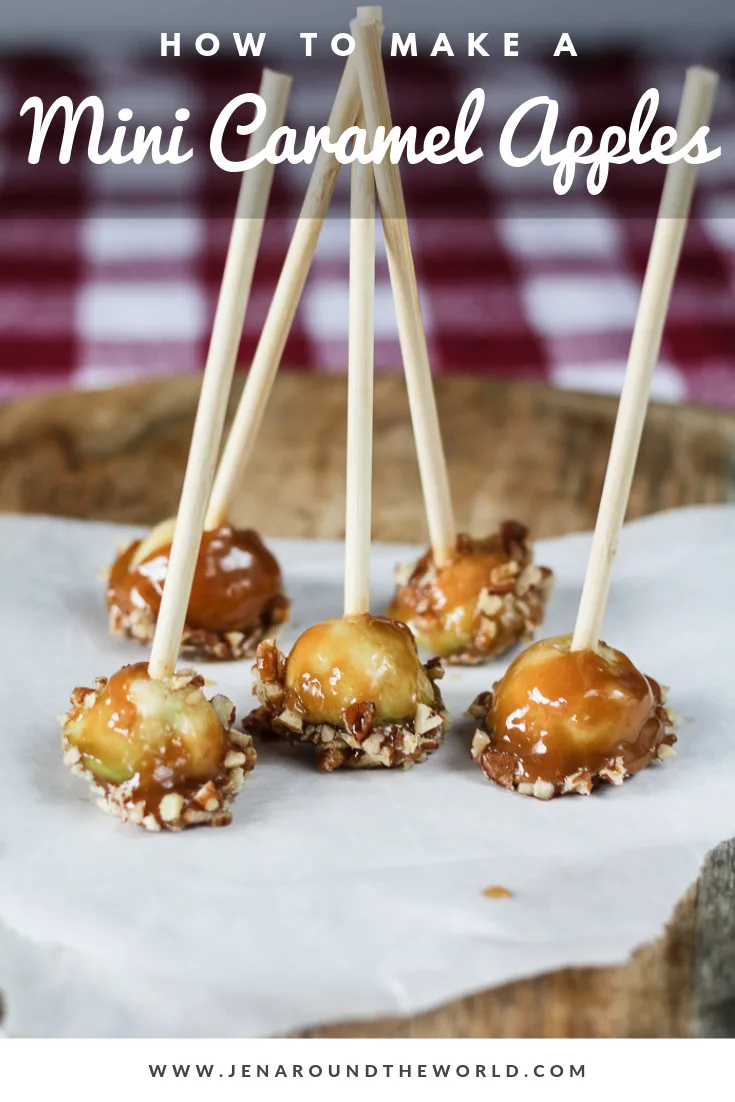 To make these fun little nuggets of goodness, all you need are some apples, a melon baller, Torani Caramel Sauce and your favorite nut of choice chopped up.
The melon ballers have two ends — a small one and a large one. For this recipe, we used the large one to make our apples.
Just dig into your apple and let the melon baller do its thing. Cut out as many balls as you can from your Granny Smith apples.
Using caramel apple sticks, poke your mini apples and then set them aside.
Chop up the nuts into a coarse grind. Any nut will do. For this one we used pecans.
In a saucepan, add in about 1/4 cup of Torani Caramel Sauce and let it cook for a couple of minutes on high heat to thicken it. Add in a tablespoon of butter and whisk together.
Now, dip your mini apples into the caramel sauce and then immediately dip them in the crushed nuts. Set on wax paper to harden.
And that's it! The perfect mini caramel apple that gives you that delicious taste you love without having a huge apple to eat!
Check out these other delicious apple recipes
Yield: 8 each
Mini Caramel Apples
These mini caramel apples are perfect for back to school, or anytime you are craving that favorite fair food.
Ingredients
1-2 Granny Smith Apples
Torani Caramel Sauce
Chopped nuts of choice
Caramel Apple Sticks
melon baller
Instructions
Using the large end of your melon baller, cut your apple making around 7-8 mini apples per large apple.
Take your caramel apple sticks and insert them into the mini apples. Now, set them aside.
In a saucepan, add in 1/4 cup of Torani Caramel Sauce and let it cook on medium high heat for 2-3 minutes or until it starts to thicken.
Remove from heat and add in 1 tablespoon of butter. Now whisk together.
Dip the mini apples in the caramel and then dip in the chopped nuts.
Set aside on a waxed paper to set up. Enjoy!
Nutrition Information:
Yield:
8
Serving Size:
1
Amount Per Serving:
Calories:

94
Total Fat:

2g
Saturated Fat:

0g
Trans Fat:

0g
Unsaturated Fat:

2g
Cholesterol:

0mg
Sodium:

72mg
Carbohydrates:

19g
Fiber:

2g
Sugar:

17g
Protein:

1g