These cheesy hashbrown waffles are super delicious and very easy to make. Everyone in your house will love making these.
I love when I can find a food that is so versatile that you can use it with just about anything. That's what happened when we made these Cheesy Hashbrown Waffles.
My husband loves to cook breakfast for me. That is his thing. So, when we purchased a new waffle maker, he started looking for new recipes to make. He wanted to cook things in it other than just waffles.
He loves hashbrowns, so we decided to make some really cheesy ones.
How to Make Cheesy Hashbrown Waffles
To make these waffles, you only need a few simple ingredients —
Thawed hashbrowns
Eggs
Milk
Cheese
It's really a very simple recipe. The cool thing about these waffles is that you can bump up the flavor by adding a sauce, or even throwing other things in the batter.
So — let's get started making these scrumptious potato waffles!
In a bowl, combine all your ingredients together and mix well.
Heat your waffle iron until it says it is ready. Then, add about 1 and 1/4 cups of the mixture to your waffle iron.
Close the waffle maker and allow the hashbrowns to cook until the light comes on and says it is ready to eat.
Remove from the waffle maker and repeat the process over again.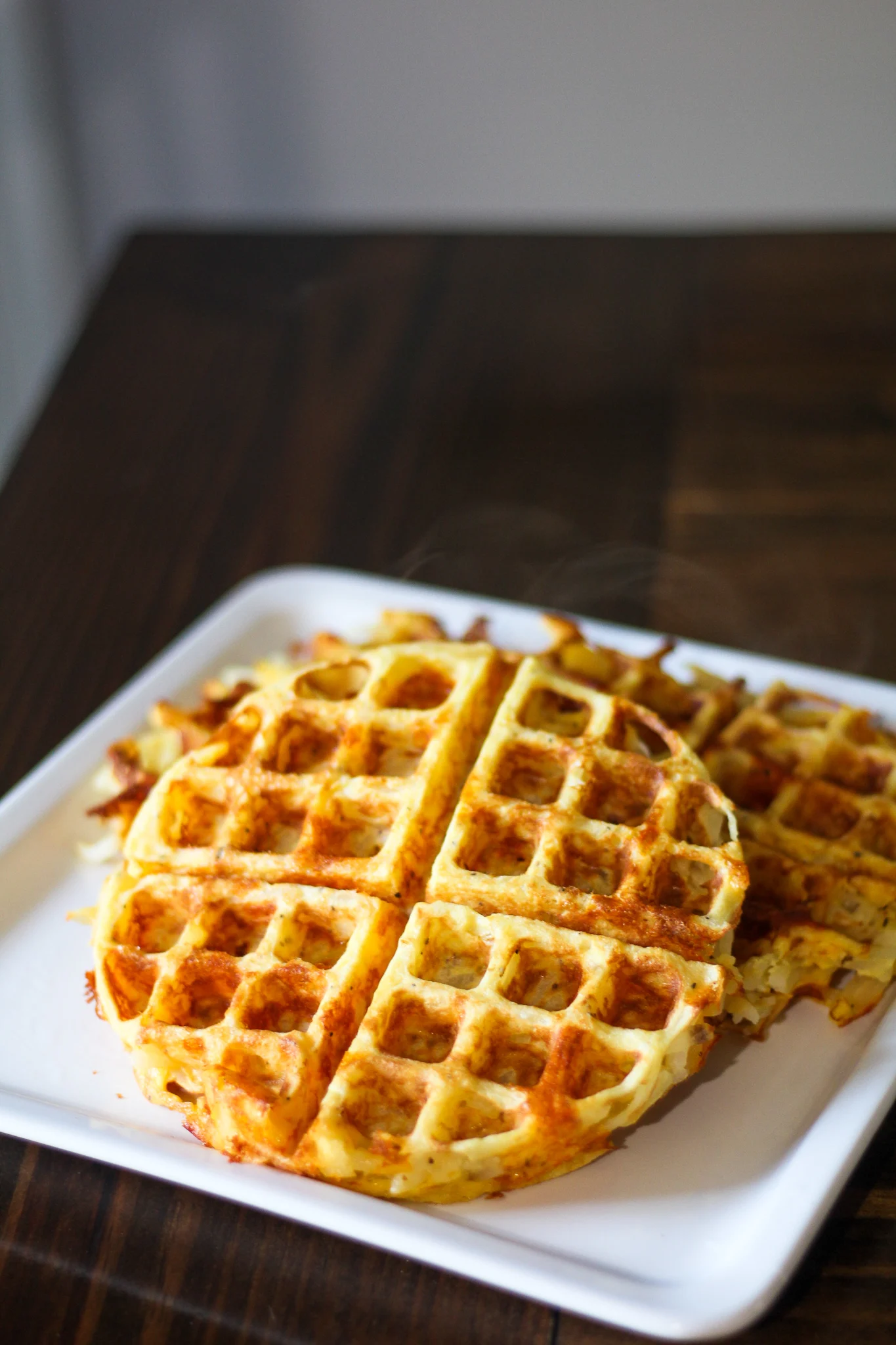 The waffle maker will crisp the hashbrowns and the cheese making them super delicious.
If you are pretty adventurous, you can make my poached eggs and my 3 ingredient hollandaise sauce and create an eggs benedict with them.
I just topped mine with some fresh cut chives and served it up with a side of bacon and some fresh cut tomatoes.
Looking for more fun breakfast options? Check out these recipes
Yield: 4 waffles
Cheesy Hashbrown Waffles
Easy egg and cheese hash brown waffles make the perfect side dish or breakfast item.
Ingredients
3 eggs
1 (20 ounce) bag of thawed hashbrowns
1 cup of sharp cheddar cheese
1/2 cup of milk
salt to taste
pepper to taste
Instructions
Preheat your oven to 250 degrees.
In a large mixing bowl, combine all the ingredients together and mix well.
Heat the waffle iron according to package directions.
Spray the waffle iron with non-stick cooking spray.
Scoop 1 1/4 cup of the batter into the waffle maker and close. If you have a smaller waffle maker, you will use less batter.
Cook the waffle until the hashbrown is golden brown. This usually takes about 5 minutes.
When the waffle is cooked to your liking, carefully remove it from the waffle maker and place it on a baking sheet.
Keep the waffles warm in the oven until ready to serve.
Top with ketchup, a fried egg, more chives, and more.
Nutrition Information:
Yield:
6
Serving Size:
1
Amount Per Serving:
Calories:

226
Total Fat:

17g
Saturated Fat:

9g
Trans Fat:

0g
Unsaturated Fat:

6g
Cholesterol:

132mg
Sodium:

437mg
Carbohydrates:

5g
Fiber:

0g
Sugar:

0g
Protein:

13g