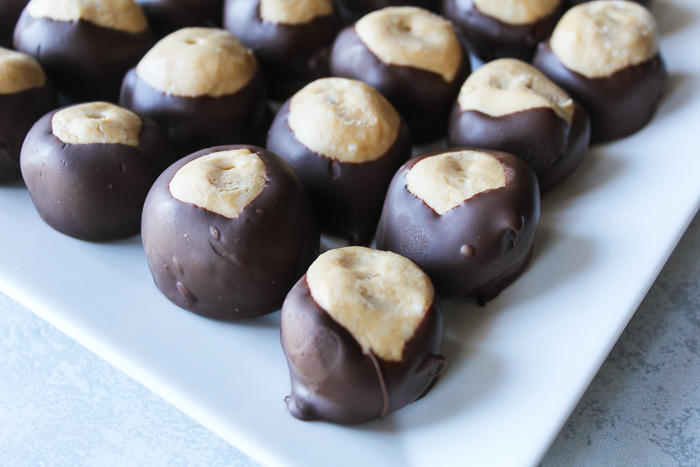 I love making candy for Christmas. One of my favorites is the chocolate peanut butter buckeye candy. These little truffle-like candies are my favorites and they are super easy to make and take to a party somewhere.
These candies were one of the first I ever learned how to make. Then I ventured out and made some yummy peppermint cookies and five other Christmas cookies that eventually became my favorites.
If you are in need of a quick dish to take to get together, or even if you are making Christmas goodie boxes for friends, this candy is one you will want to make.
It's budget friendly, comes together in less than 30 minutes, and is always a favorite among people.
Yield: 18
Chocolate Peanut Butter Buckeye Candy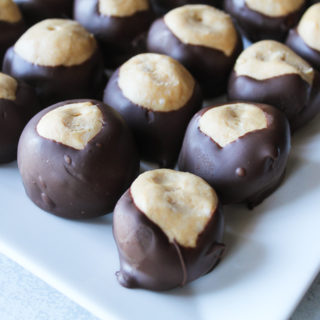 This candy recipe will quickly become a favorite in your home.
Ingredients
1/2 cup butter, melted
1 pound confectioners' sugar
1 1/2 cups peanut butter
1 teaspoon vanilla extract
2 cups semisweet chocolate chips
1 tablespoon shortening
Instructions
Combine the melted butter or margarine, confectioners' sugar, peanut butter and the vanilla together and mix well. Refrigerate for 1 hour or until firm. Roll into 1 inch balls and place on waxed paper.
In the top half of a double boiler melt the chocolate chips and shortening, stirring constantly. Use a toothpick to dip balls into the melted chocolate, leaving a small uncovered area so balls resemble buckeyes. Place balls on waxed paper. Use fingers to blend in toothpick holes. Refrigerate until chocolate is firm. Enjoy!
This candy reminds me of my childhood when I was just a little girl. My cousin made these all the time and we shared them every year around Christmas time. I would wait excitedly for her to walk in the door carrying her delicious and yummy Peanut Butter Buckeye balls.
Then when we started going to church, a lady at our church made them and hers were even better. Now — I can make my own. When I make my own, I always try to host a cookie swap (the last time I did I made a tasty Peppermint Meringue cookie) or make yummy homemade goodies like my homemade cinnamon rolls to give as gifts at Christmas. I always package them in cute little containers, like these I found on Amazon. By using the gold colored ones, I can pretty much give them at any occasion.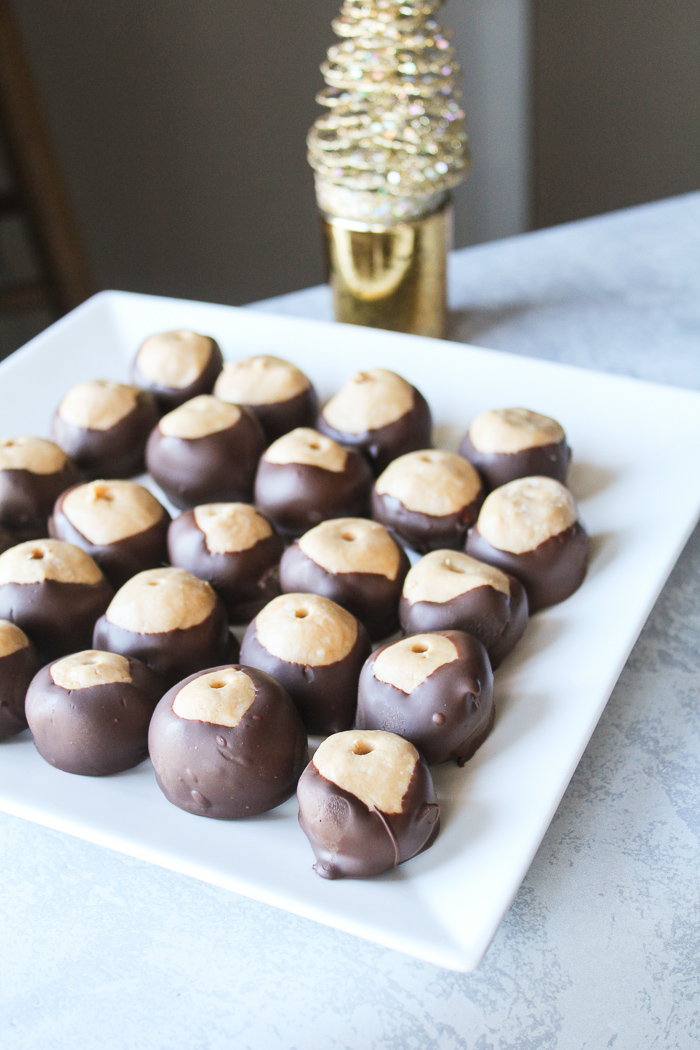 I love using this Babycakes small chocolate melting pot to keep my chocolate warm while I get each peanut butter ball dipped. It makes it SO much easier instead of having to stop and remelt my chocolate in the microwave.
 These cute little boxes are only $6.00 for a dozen of them and they always look great to give homemade gifts in.
For more yummy Christmas Candy recipes like this one, I suggest you get a cookbook like this Betty Crocker Christmas Candy Cookbook. Betty has never let anyone down when it comes to her recipes.
What is your favorite holiday candy?