Peppermint Oreo Cake Balls are the perfect treat for your holiday parties. They take no time at all to make and are full of holiday flavor.
I love when the holiday rolls around because I get to make some fun and amazing treats to share with family and friends.
My newest one though is going to have you flipping because it is FULL of delicious peppermint flavor — without using any extracts at all!
How to Make Peppermint Oreo Cake Balls
To make these cake balls, you really only need just a few simple ingredients —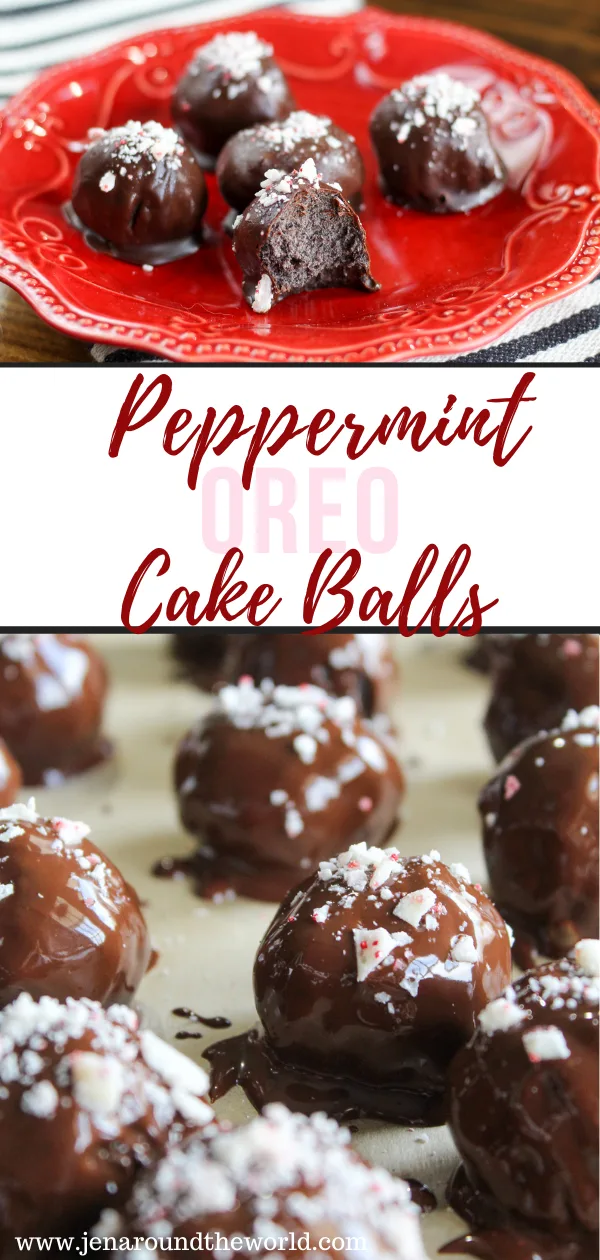 Peppermint Oreos
cream cheese
semi-sweet chocolate chips
Hershey Kiss peppermint kisses
Using your little Ninja food chopper, make sure and grind all your whole package of Oreos to a pulp! You want coarse little crumbs that look like this —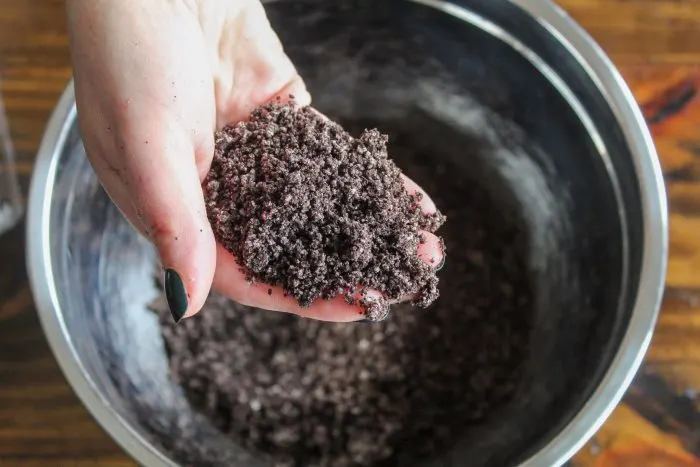 Next, add in one 8 ounce block of softened cream cheese and blend together. It will take a minute or two for them to come together.
Then, using a cookie scoop, scoop out into balls. Use your hands and roll it around until you have a smooth little ball in your hand.
Place on a cookie sheet covered with parchment paper.
Let them set in the refrigerator for 30 minutes so that they can firm up.
Let's Decorate These Peppermint Oreo Cake Balls
Once you remove them from the refrigerator, pour your entire bag of semi-sweet chocolate chips into a microwave-safe bowl and microwave in 20-second increments until the chocolate begins to melt.
You can use a double boiler if you prefer, but I have found the quick and easiest way is to melt in the microwave.
Take and place each ball in the chocolate and roll it around to cover it completely.
Use a fork to remove the cake ball from the chocolate. Be sure to tap the fork on the side to remove any extra chocolate. Place on the baking sheet.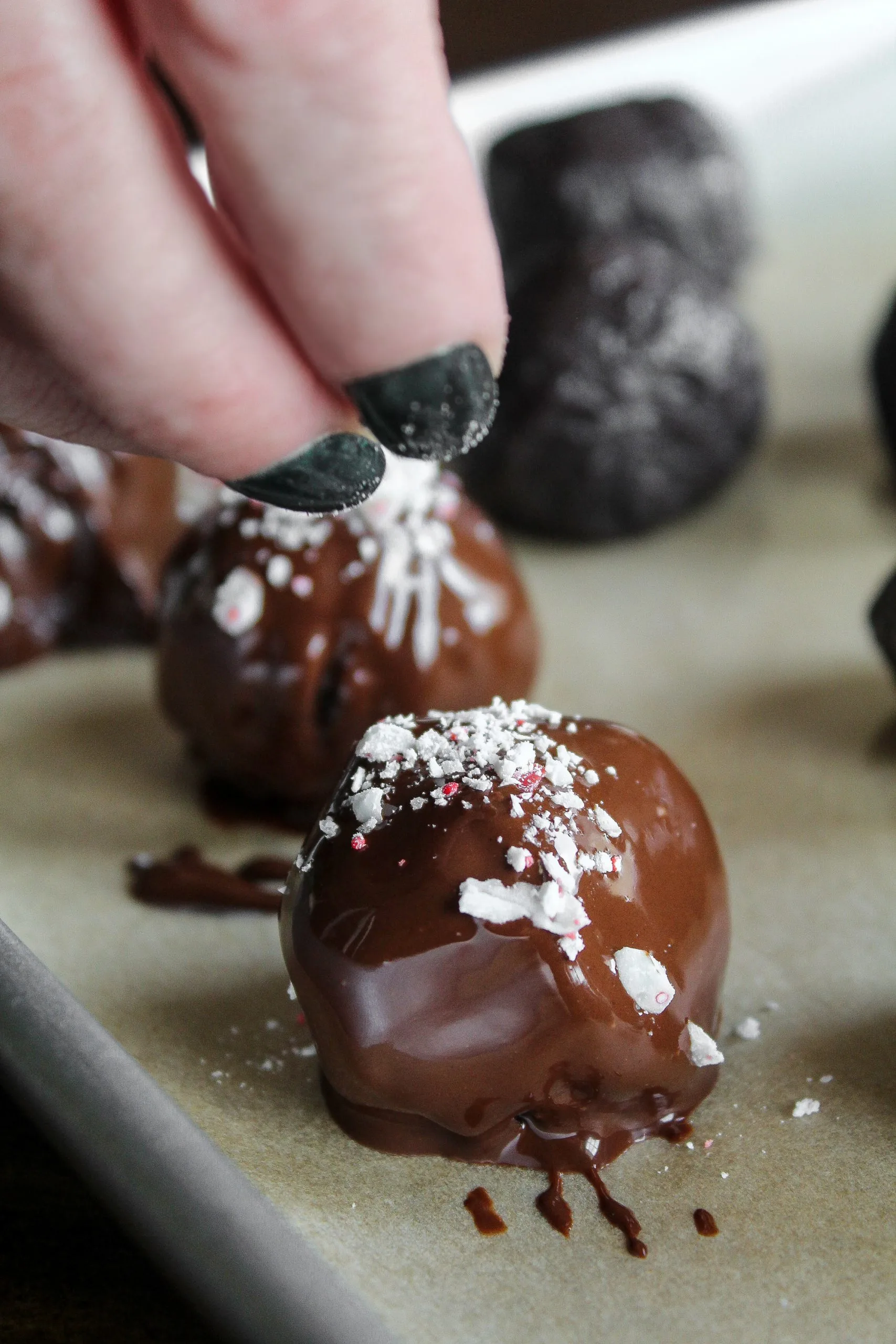 Take 4 Peppermint Hershey kisses and chop up until you have fine crumbs and sprinkle them over the top of the oreo cake balls.
Continue until you have them all complete and then place in the freezer for an hour to let it set up completely.
These balls freeze perfectly so you can make them ahead of time and pull them out when you are ready to serve them.
The inside is creamy and delicious and has the perfect peppermint flavor.
Don't worry if you can't find peppermint Oreos. You can just use regular Oreos and add in 1/4 teaspoon of peppermint extract to achieve the same flavor.
I can see this recipe turning into every holiday Oreo cake ball flavors like lemon, Red Velvet, Chocolate, and more!
Looking for more fun sweet treats? Check These Out
Yield: 30 balls
Peppermint Oreo Cake Balls
This fun and festive treat is full of holiday flavor and takes no time at all to prepare.
Total Time
1 hour
15 minutes
Ingredients
39 Peppermint Oreo cookies, don't remove cream filling
8 ounces cream cheese, softened
16 ounces semisweet chocolate
4 Hershey Kiss peppermint kisses
2 tablespoons vegetable oil
Instructions
Place the Oreo cookies in the bowl of a food processor and pulse until finely ground.
Add the cream cheese and pulse until the mixture is well combined and smooth.
Line a rimmed baking sheet with parchment paper. Using a cookie scoop, scoop the mixture into balls about 1-inch in diameter. Roll in the palms of your hand to get a smooth surface.
Place the cookie balls in the fridge until well chilled, about 30 minutes.
Take 4 peppermint Heshey kisses and chop up finely and set aside.
When cookie balls are chilled, combine the semi-sweet chocolate chips and oil in a medium microwave-safe bowl.
Microwave in 20-second bursts, stirring between times until just melted and smooth. Do not overheat.
Drop each cookie ball into melted chocolate, coating evenly.
Remove with a fork, gently tapping off excess chocolate.
Place back on cookie sheet and immediately sprinkle with the chopped peppermint kisses.
Repeat with the remaining cookie balls. Reheat the chocolate as needed so it remains melted.
Freeze until set before serving.
Enjoy!
Nutrition Information:
Yield:
30
Serving Size:
1
Amount Per Serving:
Calories:

128
Total Fat:

9g
Saturated Fat:

5g
Trans Fat:

0g
Unsaturated Fat:

3g
Cholesterol:

9mg
Sodium:

33mg
Carbohydrates:

13g
Fiber:

1g
Sugar:

10g
Protein:

1g