Want a light and healthy lunch? This Greek Quinoa Salad definitely hits the spot with all the right flavors.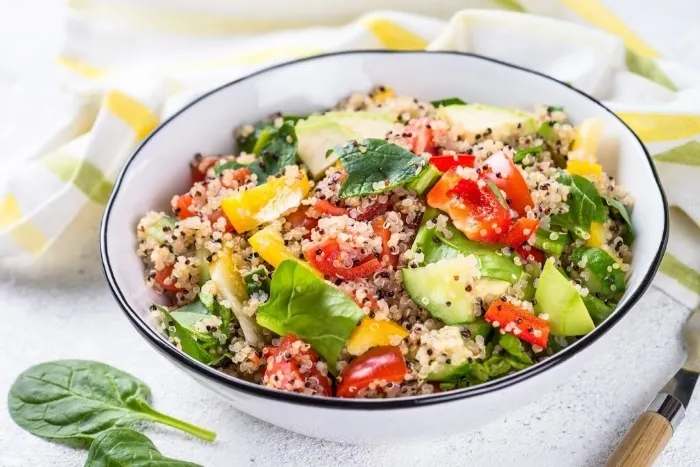 This post was originally published in 2015 but has been updated with new photos and updated instructions.
Today, Kayla and I baked cookies all. day. long. I think I wound up making like 10 dozen cookies of two different kinds. Of course, you have to taste test each batch, so by the time the 9th dozen rolled around, I was quite sick of sweets.
That afternoon, I decided to fix a yummy meal for us that was both lighter in taste and lower in carbs– which is good considering all the cookie dough I had just ingested. That is how I came up with this Greek Quinoa Salad – which has all the flavors you could imagine but only half the calories
How to make a Greek Quinoa Salad
Now — I have gotten to where I LOVE quinoa. It is one of my favorite grains and there are so many ways you can dress it up. You also can try other low-carb recipes and find more healthy options that work for you.
You can buy plain, but if you are pressed for time, they sell all kinds of premixed flavor boxes at the store.
That is what I used for this dish. It already had a zesty lemon flavor pack so all I did was add a few of my favorite veggies to the mix for the ultimate salad.
If you have never cooked with quinoa, all you have to do is get the kind that is pre-rinsed. It cooks up the fastest with the least amount of work involved.
Now, let's get started making this quinoa dish
Cook your quinoa according to package directions. Most of the time, it cooks up just like rice — 2 cups of water to 1 cup of quinoa and then cooks on low for about 15 minutes in a saucepot with a lid.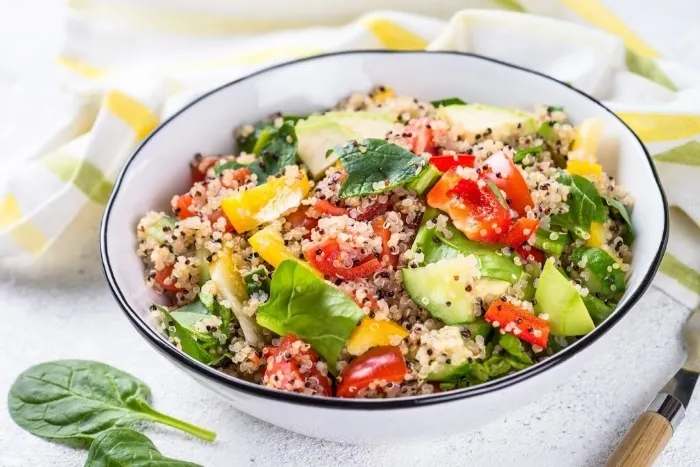 Once you get it done, add it to a plate in a single layer and put in the freezer for about 15 minutes.
This way, it does not melt the feta cheese you are going to be adding to your Greek Quinoa Salad
Then, I add in my Greek favorites — olives (I left these out this time because my daughter hates them, but normally I have them in my salad), tomatoes, red onion or green onion, feta cheese, and then a delicious Greek dressing!
Looking for Other Delicious and Healthy Recipes? Check this list out
Yield: 3 cups
Greek Quinoa Salad
This Greek Quinoa Salad is the perfect healthy lunch for when you need something light and tasty.
Ingredients
For the Salad
2 cups of water
1 cup quinoa
1 lemon, juiced
Pinch of salt
1 cup grape tomatoes halved
1 cup chopped cucumber
1/3 cup pitted kalamata olives halved
1/4 cup diced red onion
1 avocado, chopped
1/2 cup of spinach leaves, torn
2 green onions, diced - both greens and whites
1/3 cup feta cheese
Salt and freshly ground black pepper to taste
For the dressing
1/4 cup olive oil
3 tablespoons red wine vinegar
1 teaspoon dried oregano
Instructions
Using a strainer, rinse the quinoa under cold water until the water runs clear.
Add quinoa, water, lemon juice, and salt to a medium saucepan and bring to a boil over medium heat. Boil for 5 minutes. Turn the heat to low and simmer for about 15 minutes, or until water is absorbed. Remove from heat and fluff with a fork.
Place the quinoa on a plate in a single layer and place in the freezer for 15 minutes to cool it off.
In a large bowl, combine quinoa, tomatoes, cucumber, avocado, kalamata olives, red onion, spinach, green onions, and feta cheese.
To make the dressing, whisk together olive oil, red wine vinegar, and oregano in a small bowl.
Add the quinoa to the bowl with the other veggies. Now, pour dressing over the salad and stir until mixed well. Season with salt and pepper, to taste.
Recommended Products
As an Amazon Associate and member of other affiliate programs, I earn from qualifying purchases.
Nutrition Information:
Yield:
8
Serving Size:
1
Amount Per Serving:
Calories:

136
Total Fat:

10g
Saturated Fat:

2g
Trans Fat:

0g
Unsaturated Fat:

7g
Cholesterol:

6mg
Sodium:

155mg
Carbohydrates:

9g
Fiber:

2g
Sugar:

2g
Protein:

3g