My daughter loves homemade hot chocolate. She takes her cup in the kitchen and experiments with different added flavors.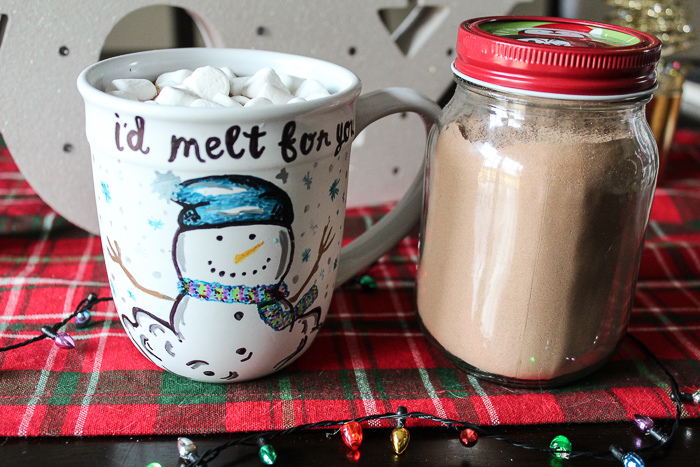 After visiting Starbucks the other day with me, she decided to try and make her own "fancy" concoction! The fun of this version of hot chocolate mix is that it stores well and can be given as gifts for the holidays.
This mix uses simple pantry ingredients such as powdered milk, cocoa powder, and sugar. That's it!
I put them in my Nutra Ninja blender and puree everything together to create a powder like substance just as you would find in the store bought packets of hot cocoa mix.
I buy these festive jars from the Dollar Store during the holidays and use them when I make gifts in a jar. You can tie a ribbon around the jar, or — you can just use the lids they come with.
Then, when you are ready to make your cup of hot chocolate, simply mix 1/3 cup of the mixture with water and you will have a delicious cup of hot cocoa.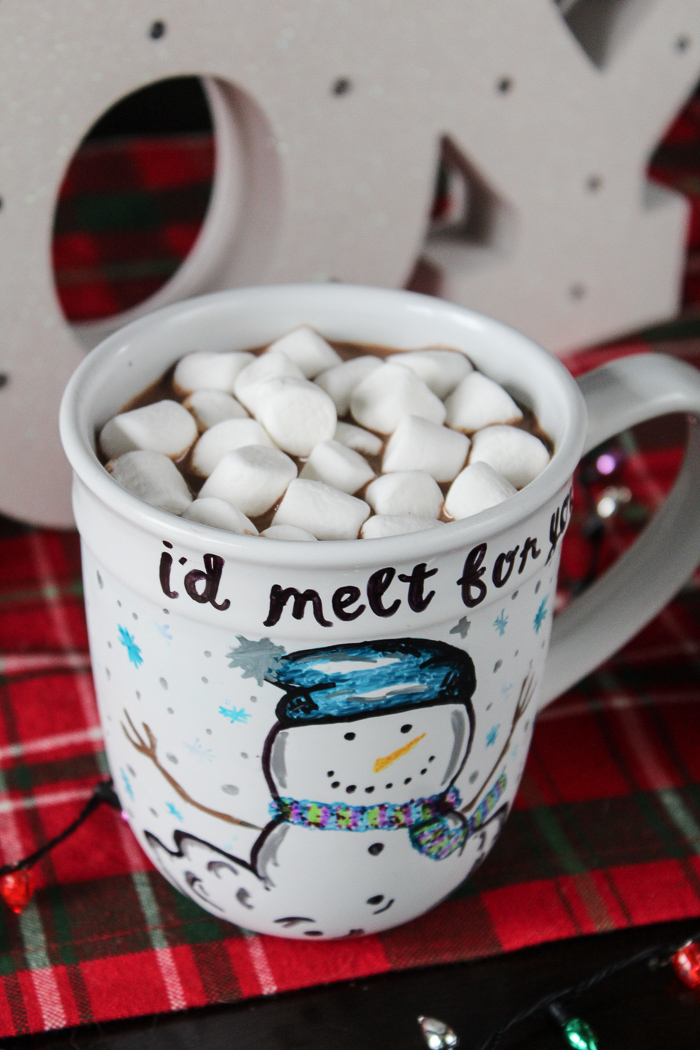 If you want to get really creative with gift giving, you can make personalized Sharpie coffee mugs like the one pictured above. I use this tutorial here and they always come out perfect.
How to Make Homemade Hot Chocolate
Home Made Hot Chocolate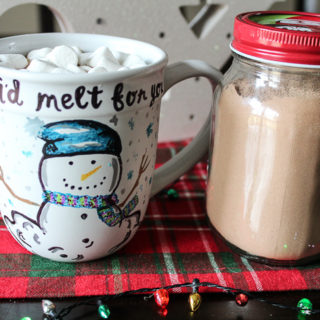 This easy recipe for homemade hot chocolate uses simple pantry ingredients and stores well!
Ingredients
4 Cups Powder Milk
2 Cups White Sugar
3/4 cup Baking Cocoa
Pinch of Salt
Instructions
Measure it all into a blender and blend it up for about 1 or 2 minutes or until it's mixed really well and a fine powder. This is key because it helps it to blend into the water.
To Prepare: Spoon 1/3 cup of the hot cocoa mix into a cup or mug. Add boiling water to the top, stir and serve.
Kayla's variations: Kayla added to her cup of hot cocoa a dollop of whipped cream and then sprinkled cocoa powder on top of that. All I can say was WOW! It really made that hot chocolate taste delicious!
Hot chocolate is great to warm you up on those cold fall and winter nights. There is nothing like a cup of homemade hot chocolate, a roaring fire, and all the friends you can imagine.
I use this recipe a lot when the youth group come over and I have to fix a lot of hot chocolate all at once. I put it in my big dutch oven and keep it heated on the stove.
You can take this basic recipe and use it for anything like Hot Chocolate Mocha (our famous recipe) and more.