This craft for a DIY Sharpie Mug is a sponsored conversation written by me on behalf of The J.M. Smucker Company. The opinions and text are all mine. I'm partnering with Folgers® at Walmart through the Share A Cup & A Story campaign, to celebrate new and old holiday traditions.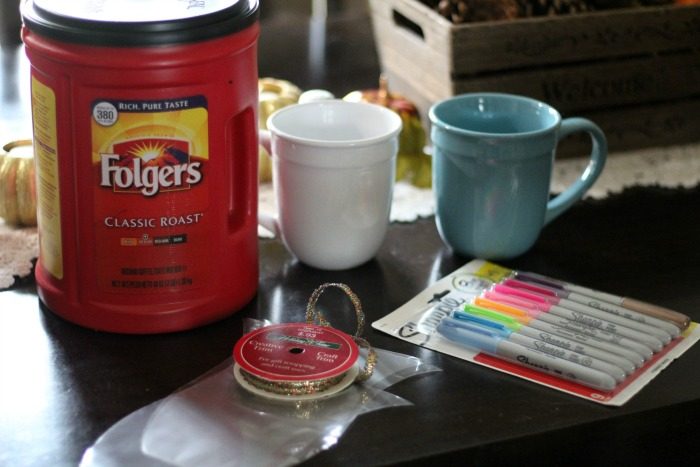 During the holidays, one of my all time favorite things to do is to have make and take days. I do this with my 19 year old daughter and my best friend Michele. We always find fun things to do, make a big lunch, and spend the day crafting.
We had a big day planned but – I wound up getting sick 3 weeks ago and had to have emergency surgery on my appendix, and our schedules have just seemed to collide since then. No worries though, because my daughter stepped up to the challenge and told me she would spend the day with me crafting. So we set out to make our DIY Sharpie Mug.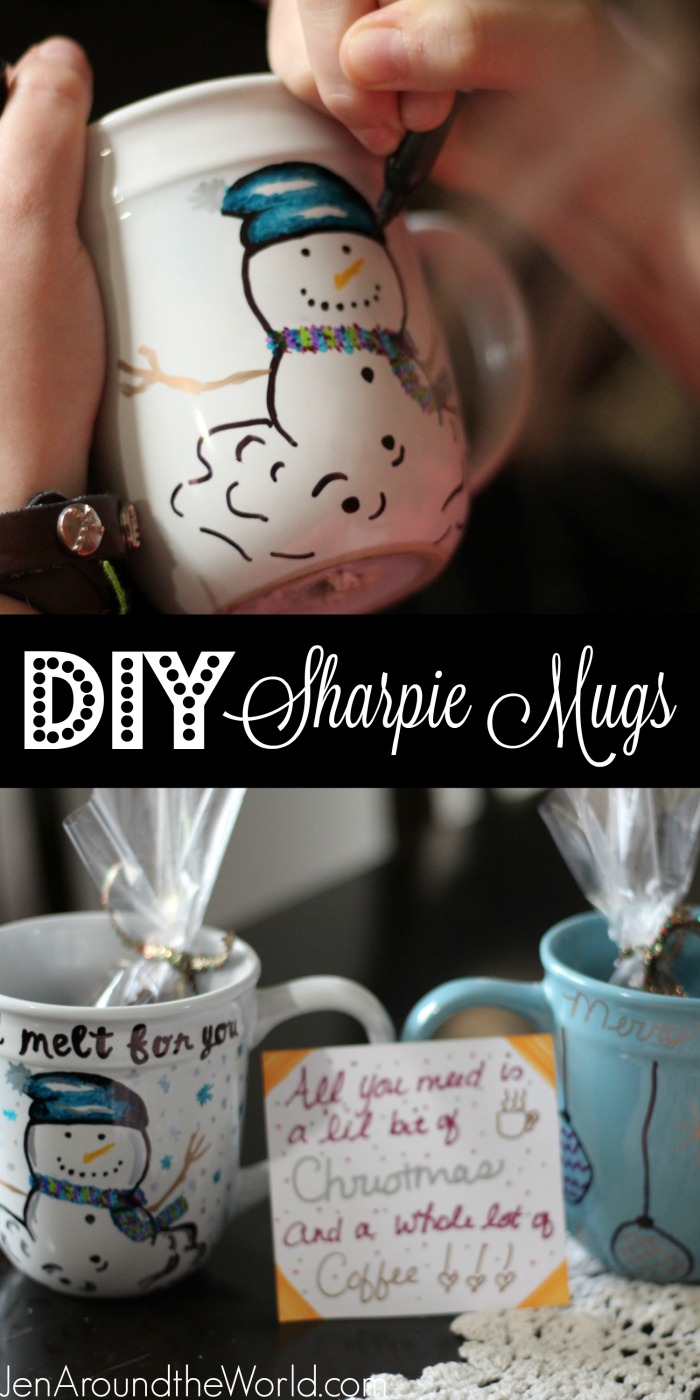 My daughter is a crafty person and art is her love language, so anytime we can sit down and make something together, I feel like I am connecting with her in a way that opens the door for flowing conversation.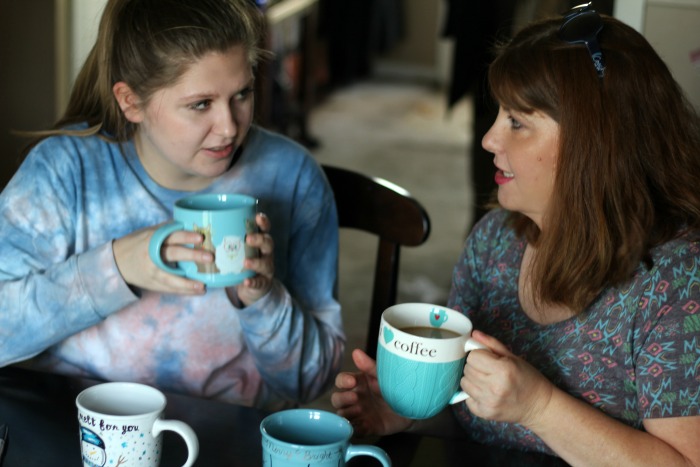 We pour ourselves a large cup of Folgers® Classic Roast coffee, and then we sit at the table and talk for hours while we make things together.
I am not going to lie. As a mom, I live for these moments. I know it won't be long until she has a home of her own and will be out from under our roof. That will be a very emotional day for me because I love spending so much time with her.
But I love the fact that I get to instill in her the importance of connecting with your loved ones and finding ways to make those meaningful conversations last.
Crafting these mugs with my daughter happened to be the highlight of my day. She talked to me about work, about her boyfriend, some health issues she felt needed some attention, and just overall life stuff. I live for these moments. She is my mini me – and just as crazy as her mom.
Folgers allows us the opportunity to pour our hearts out to each other. What is it about coffee that just makes you feel alive and full of conversation? Coffee is MY love language so being able to share a cup with her and talk about everything means the world to me.
And I have Folgers and Walmart to thank for that.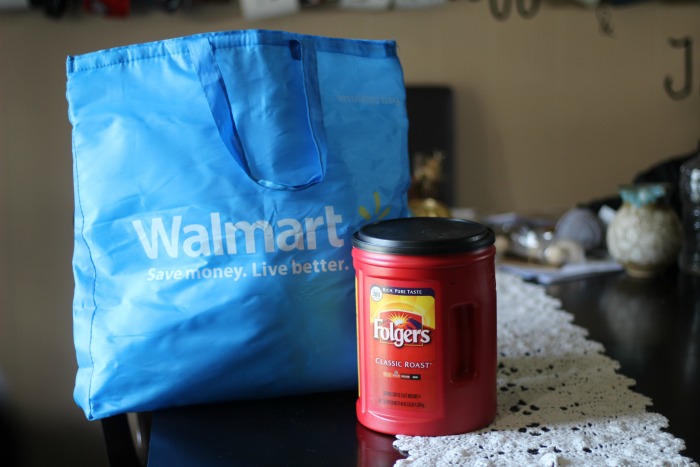 How to Make a DIY Sharpie Mug
At Walmart, they have the perfect cups for this DIY Sharpie Mug craft – I chose blue and my daughter chose white. Then grab some plastic bags from the cake decorating section, some ribbon from the craft section, and of course – Sharpie markers.
To top this craft off, all you need is the 48 ounce canister of Folgers Classic Roast found in the coffee aisle. I like to use the larger canister because it is perfect for making the make and take coffee mugs with a bag of coffee inside each cup, and leaves enough for me to enjoy a cup or two myself.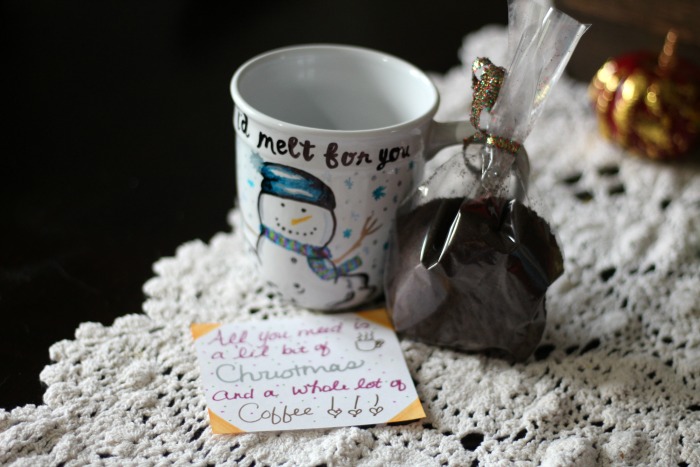 While Kayla and I worked on our mugs, we chatted about the upcoming holidays and how excited we were for Thanksgiving and Christmas. It is our favorite time of year – and as you can tell from our mugs, we definitely are excited for this upcoming season.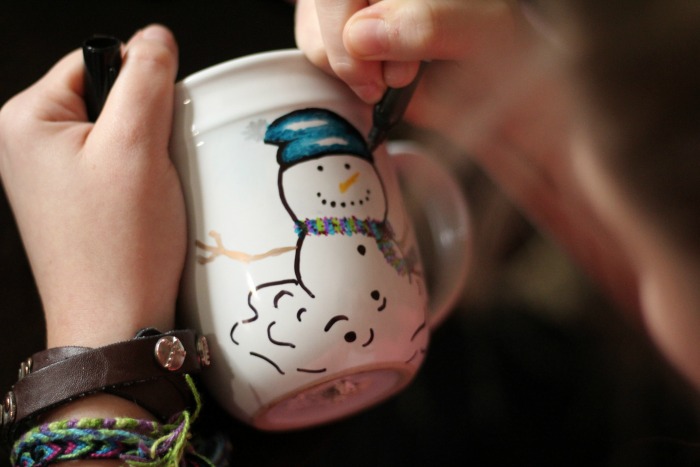 Can you imagine drinking a piping cup of hot coffee out of this cute adorable mug while snow is falling?
While you are making these mugs, you cannot drink coffee out of them. They have to be baked first. Once you get your design complete, simply let it sit overnight and then on the next day, put the cups upside down on a sheet pan and bake at 250 degrees for 2 hours.
When you are done, your mug will be safe to drink coffee from. Be sure to hand wash, but do not wash them in the dishwasher as that might cause your design to fade or chip away.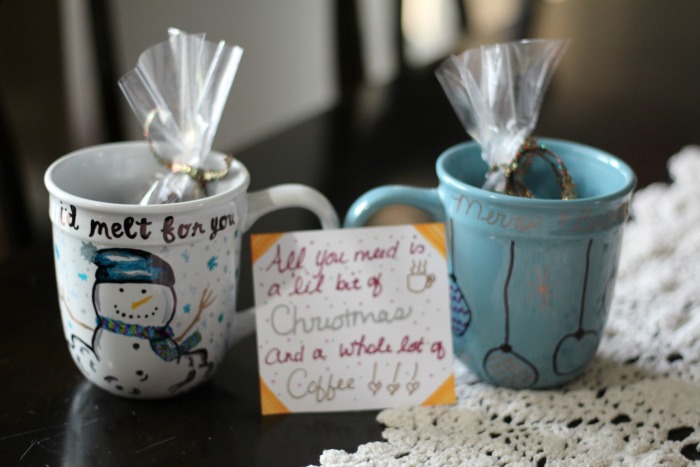 While I am not very crafty and sometimes feel envious of my daughter's artistic ability, I do not let that stop me from enjoying the fun. I am the coffee connoisseur in our home, so while she creates the art, I create cup after cup of delicious Folgers Classic Roast Coffee.
 Share a Cup With Someone You Love
As long as the coffee and the meaningful conversation keep flowing, you will find me close by with my coffee cup in hand, filled to the brim with Folgers, the only coffee you will catch me drinking.
There is nothing like getting together with friends and family and doing something fun for the holidays. This is our yearly tradition and I am so thankful that I have friends and family to do things with.
If you are looking for something fun and meaningful this holiday season, be sure to grab the 48oz canister of Folgers Classic Roast coffee. Invite your female friends over to do something fun – like have a make and take party like ours!
What is your favorite flavor of Folgers coffee to drink? Have you ever made a DIY Sharpie Mug before?