During the holidays, one of my absolute favorite dishes to make is my Coca-Cola Baked Ham. It is so full of delicious flavor, that no one can stay out of it.
Today, I am going to share with you how easy it is to make, but I am also going to share with you how to set up a very festive holiday table using a few items from around your home!
This ham is perfect and to carry over the Coca-Cola theme, you can make this Old Fashioned Coca-Cola cake to go with your meal.
I was thinking about our yearly holiday ham and knew I needed to pick up some Coca-Cola because that is really what makes my ham taste so amazing.
After getting the Coca-Cola home, I decided to fix a fancy dinner for my family that evening instead of waiting until Christmas. I wanted to surprise them all and also do a test run to make sure my ham was going to turn out delicious.
This recipe pairs great with my homemade mashed potatoes, my Blistered Green Beans and my ever-famous Bobby Flay's Parker House Yeast Rolls.
The ham is coated in a brown sugar/Dijon mustard mixture. Then, you take a Coke de Mexico and pour it over the ham and at the bottom of your baking dish. This oval roaster that I found on Amazon is perfect for baking your ham in.
Of course, if you have any left in the bottle, turn it up and drink it! You are making dinner for your family, so enjoy a little drink 🙂
I always top my ham with a few pineapple slices because pineapple makes everything taste better, right? Plus, after the pineapple bake on the ham, they get crusty and delicious and it is my favorite part of the dish.
Bake the ham according to package directions — usually around 2 1/2 to 3 hours. During that time, keep basting your ham with the Coca-Cola juices in the bottom of the dish. The sugars in the juice caramelize on the ham making it have this crunchy outer layer.
How to Set a Festive Holiday Tablescape
While my ham was cooking, my daughter and I decided to deck out our table. We tried something new for dinner. We normally don't make things fancy, but we wanted to really make it special. She set out our pretty plates, complete with napkins and silverware, and I made our candles.
Now — I am all about reusing and upcycling. Instead of throwing away the glass bottles, use them as table decor. I found some star lights and created festive twinkling light centerpieces to grace our table.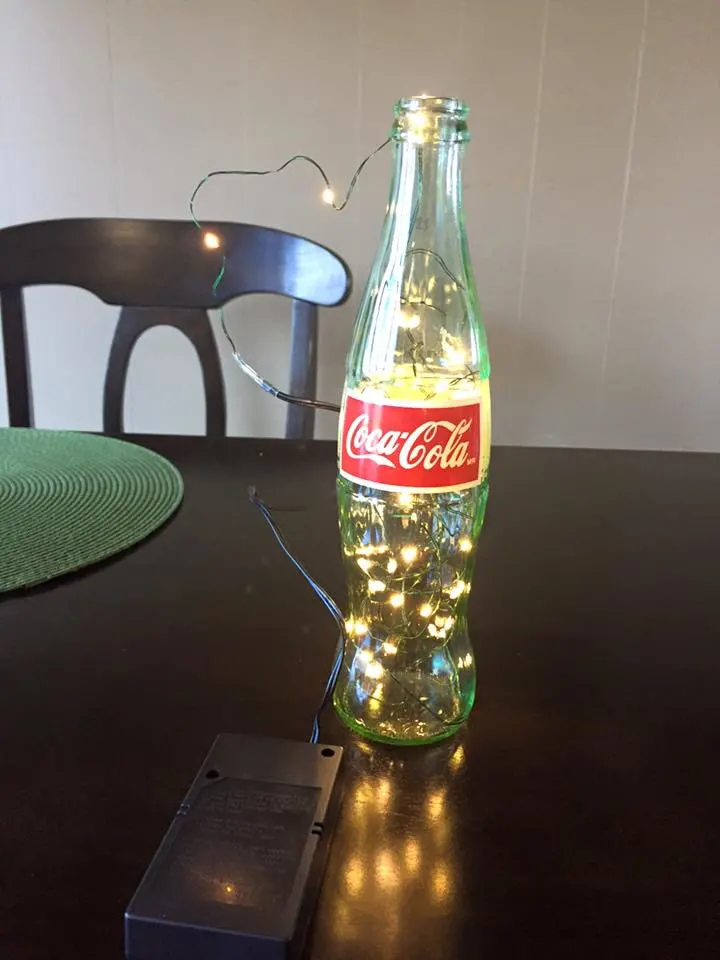 All you have to do is clean out the bottles. Make sure they are dry on the inside, and then fish your light wires down into the bottle.
Then, wrap a few on the outside and leave the battery pack on the table. You can use flowers, or other things to cover and hid the battery pack.
Then, when the ham is done, set it between the two bottles for a beautiful and gorgeous holiday table. We even brought out our fancy wine glasses for a real festive feel!
Once you get the glass bottles stuffed with the pretty lights, just set the table with your delicious ham. Those festive Coke bottles will be the perfect holiday tablescape.
Use Your Leftover Ham in These Recipes
Yield: 12 servings
Coca-Cola Baked Ham
This coca cola holiday baked ham is the best you will ever taste.
Total Time
2 hours
10 minutes
Ingredients
1 bone-in​ fully cooked ham
1 bottle of Coca Cola
2 oranges, quartered
1/2 cup Dijon​ Mustard
1/2 cup of brown sugar
1 15.5 ounce can of Pineapple Slices
Instructions
Preheat oven to 325 degrees.
Get a baking dish and spray the inside with cooking spray.
Remove ham from packaging and place cut side down in your dish.
Take orange slices and place them all around the ham in the bottom of the dish.
Mix together the Dijon mustard and brown sugar. It will create a paste. Smear it all over the ham.
Open the Coke and pour it in the bottom of your dish.
Take pineapple slices and place all over ham.
Bake in the oven for about 2 1/2 to 3 hours. During that time, baste the ham frequently with the juices from the bottom of your dish.
Serve once it is done cooking.
Nutrition Information:
Yield:
12
Serving Size:
1
Amount Per Serving:
Calories:

241
Total Fat:

1g
Saturated Fat:

0g
Trans Fat:

0g
Unsaturated Fat:

1g
Cholesterol:

7mg
Sodium:

386mg
Carbohydrates:

58g
Fiber:

6g
Sugar:

45g
Protein:

5g