These Mint Oreo Cake Balls are full of delicious Oreo flavor and a hint of mint! It's the perfect bite-sized dessert.
I have really been enjoying making all these different Oreo Cake Balls. I have made Birthday Cake Oreo Balls and Peppermint Oreo Cake Balls and now I get to add the Mint Oreo Cake Balls to the list as well.
To make these cake balls, you really only need just a few simple ingredients —
Mint Oreos
cream cheese
White and green melting chips
sprinkles
Using your little Ninja food chopper, make sure and grind all your whole package of Oreos to a pulp! You want coarse little crumbs that look like this —
Next, add in one 8 ounce block of softened cream cheese and blend together. It will take a minute or two for them to come together.
Then, using a cookie scoop, scoop out into balls. Use your hands and roll it around until you have a smooth little ball in your hand.
Place on a cookie sheet covered with parchment paper or on a non stick pan.
Let them set in the refrigerator for 30 minutes so that they can firm up.
Let's Decorate These Mint Oreo Cake Balls
Once you remove them from the refrigerator, pour the entire bags of white and green melting chips into separate microwave-safe bowls and microwave in 20-second increments until the chips begin to melt.
You can use a double boiler if you prefer, but I have found the quick and easiest way is to melt in the microwave.
Take and place each ball in the melted chips and roll it around to cover it completely.
Use a fork to remove the cake ball from the chocolate. Be sure to tap the fork on the side to remove any extra chocolate. Place on the baking sheet.
Continue until you have them all complete and then place them in the freezer for 10 minutes.
Remove from the freezer and take the remaining melted chips and place in a small ziplock bag. Snip the end and then drizzle on each ball to create pretty designs across the top.
Top with fun sprinkles and then place back in the freezer to continue setting up.
Serve to guests or you can place in freezer bags until ready to use.
These balls freeze perfectly so you can make them ahead of time and pull them out when you are ready to serve them.
The inside is creamy and delicious and has the perfect mint flavor.
Don't worry if you can't find mint Oreos. You can just use regular Oreos and add in 1/4 teaspoon of mint extract to achieve the same flavor.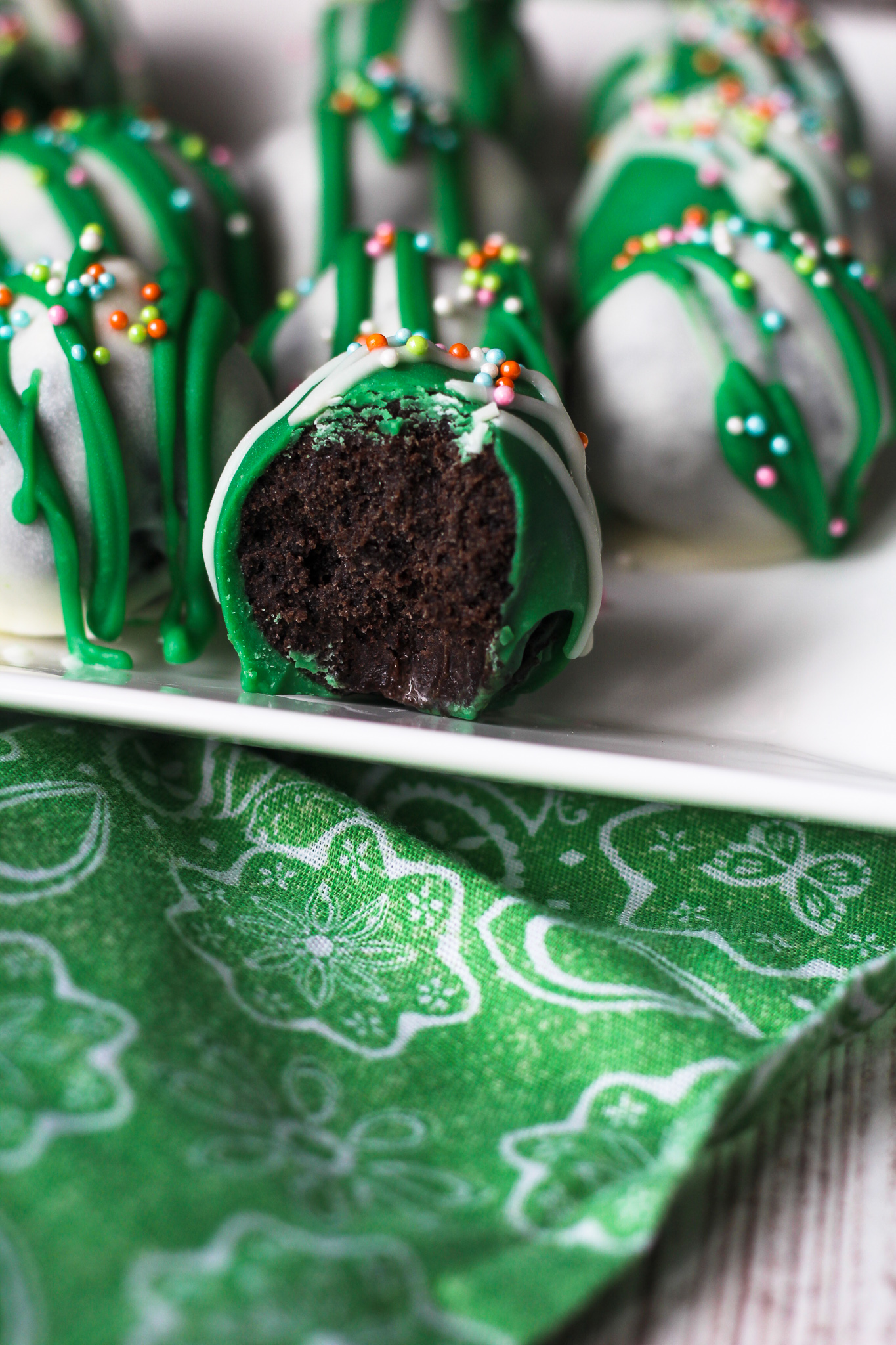 Looking for other bite-sized desserts? Check these out
Yield: 24 cake balls
Mint Oreo Cake Balls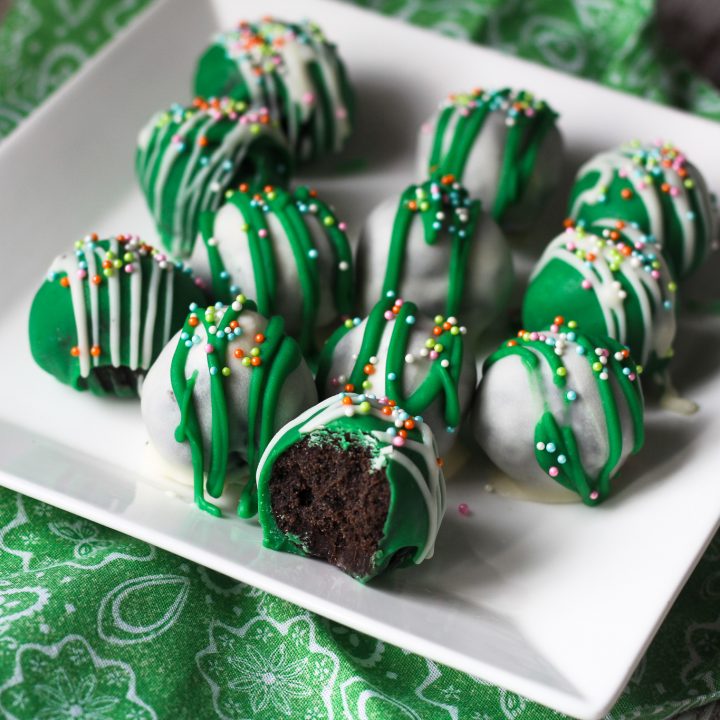 These Mint Oreo Cake Balls are full of amazing flavor and super easy to make.
Additional Time
20 minutes
Ingredients
1 package of Mint Oreos
1 8 ounce block of cream cheese
1 10 ounce pack of White melting wafers
1 10 ounce pack of green melting wafers
Various sprinkle colors
2 tablespoons of vegetable oil
Instructions
Take all the Oreos and grind them in the food processor until you have fine crumbs.
Once you get them ground fine, take the room temperature cream cheese and mix together with the Oreo crumbs. The mixture might be a little wet and that is okay.
Using your cookie scoop, scoop out the dough and roll it into your palms until you create a smooth round ball of dough.
Place them on the parchment-lined cookie sheet. Stick them in the freezer for about 15 minutes to let them firm up.
Once you take them out of the freezer, set them aside while you melt your wafers.
In a microwave-safe mixing bowl, add the entire bag of white melting wafers and the oil.
Heat on 20-second increments until the chocolate is just melted.
Be careful not to go too far because you will burn the melted chocolate for sure.
Set that aside and do the same for the green.
Roll each ball in the melted chocolate until coated perfectly. Set aside on the parchment-lined baking sheet. Do this with alternating colors.
Take the remaining chocolate after all the balls are coated and place each color in a ziplock bag. Snip the end and then drizzle across the balls.
Top with sprinkles.
Continue this same method for all the balls. Once they are all coated, simply place them in the fridge to let them firm up and then serve them to your guests.

Nutrition Information:
Yield:
24
Serving Size:
1
Amount Per Serving:
Calories:

159
Total Fat:

9g
Saturated Fat:

3g
Trans Fat:

0g
Unsaturated Fat:

4g
Cholesterol:

10mg
Sodium:

130mg
Carbohydrates:

19g
Fiber:

0g
Sugar:

8g
Protein:

2g