This simple and perfect Caprese salad makes for a great dinner or side dish. Topped with fresh basil and a simple balsamic glaze.
Nothing excites me more than when my herbs start coming in. My summer meals always have so much more flavor because I top them with fresh herbs like basil or rosemary.
This salad is an Italian favorite with creamy fresh mozzarella cheese, big ripe, plump tomatoes, and fresh basil leaves. Drizzle on a balsamic reduction and a sprinkling of salt for the perfect snack or dinner.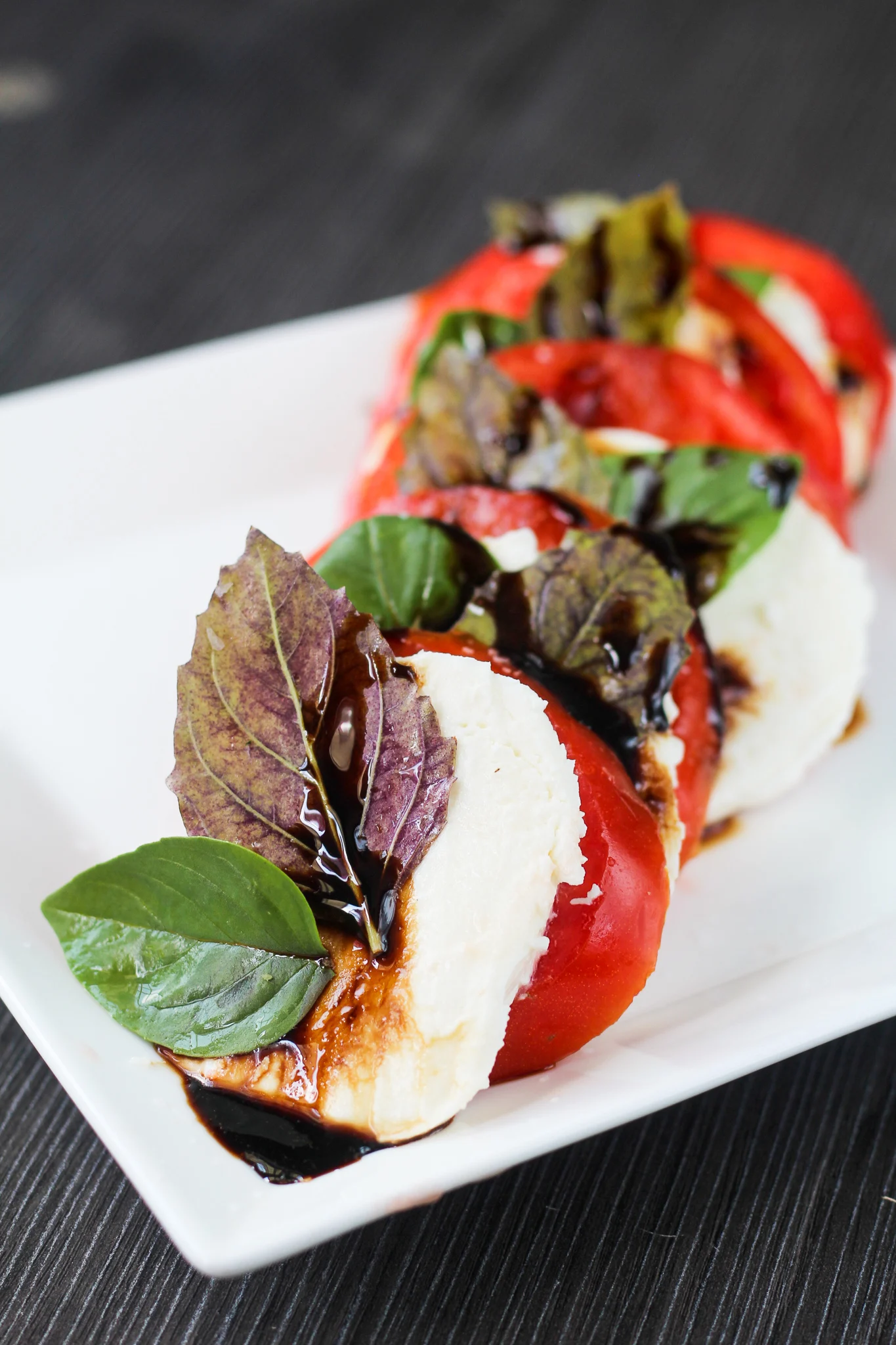 What Type of Mozzarella Cheese Goes Best in a Caprese Salad
There are a few types of ways you can make a Caprese salad, but the only cheese you should be using for this type is fresh mozzarella.
Shredded mozzarella or block mozzarella should never be used because it is hard mozzarella cheese. Fresh is creamy and soft making it the perfect cheese for this salad.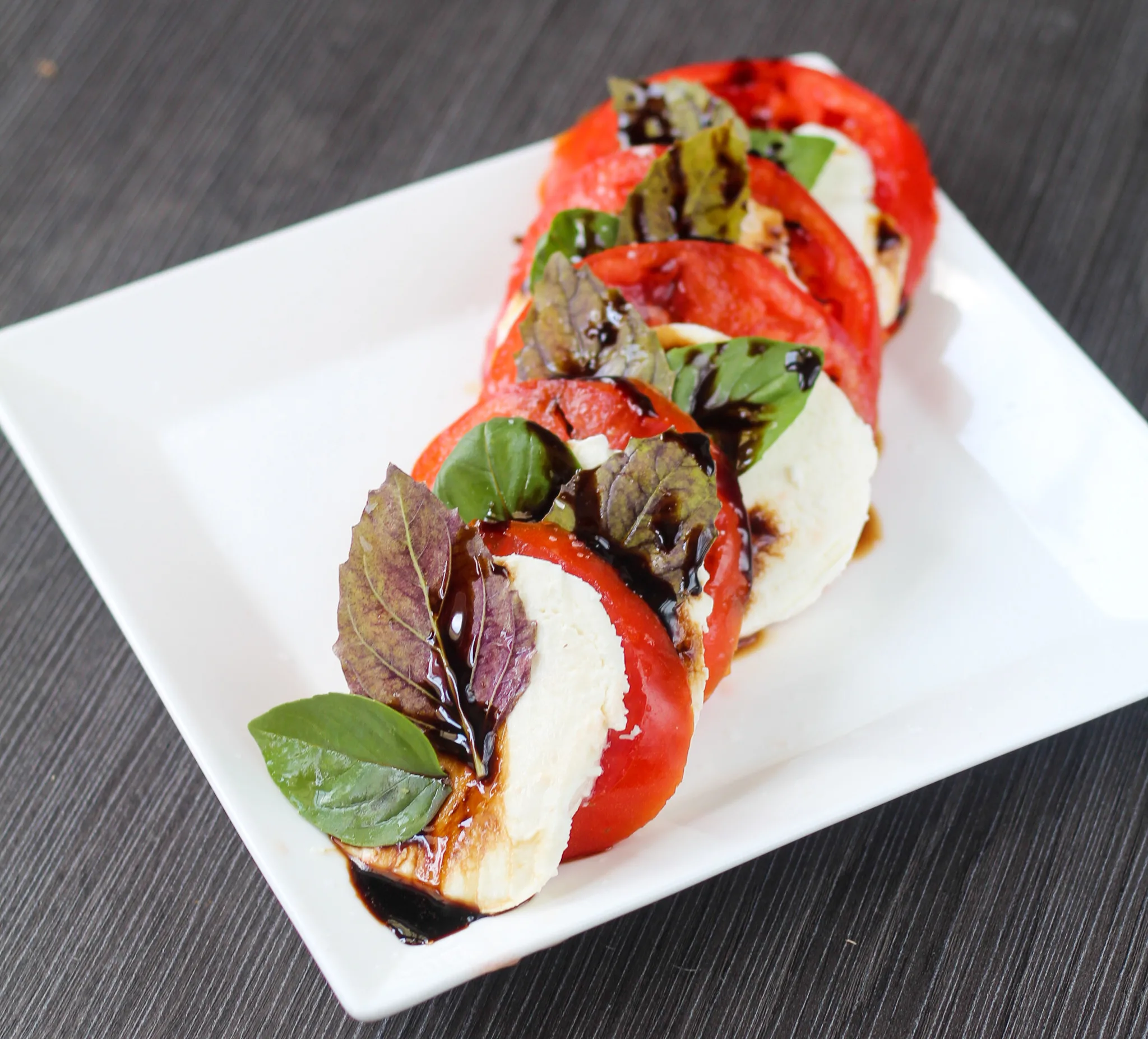 You can use the whole ball of fresh mozzarella or you can use mozzarella pearls. If you use mozzarella pearls, I would also use grape tomatoes.
What Herbs Go Best in a Caprese Salad
For a Caprese salad, the best herb to use is Basil. For this one, I had purple Basil and regular Basil growing so I chose to use both.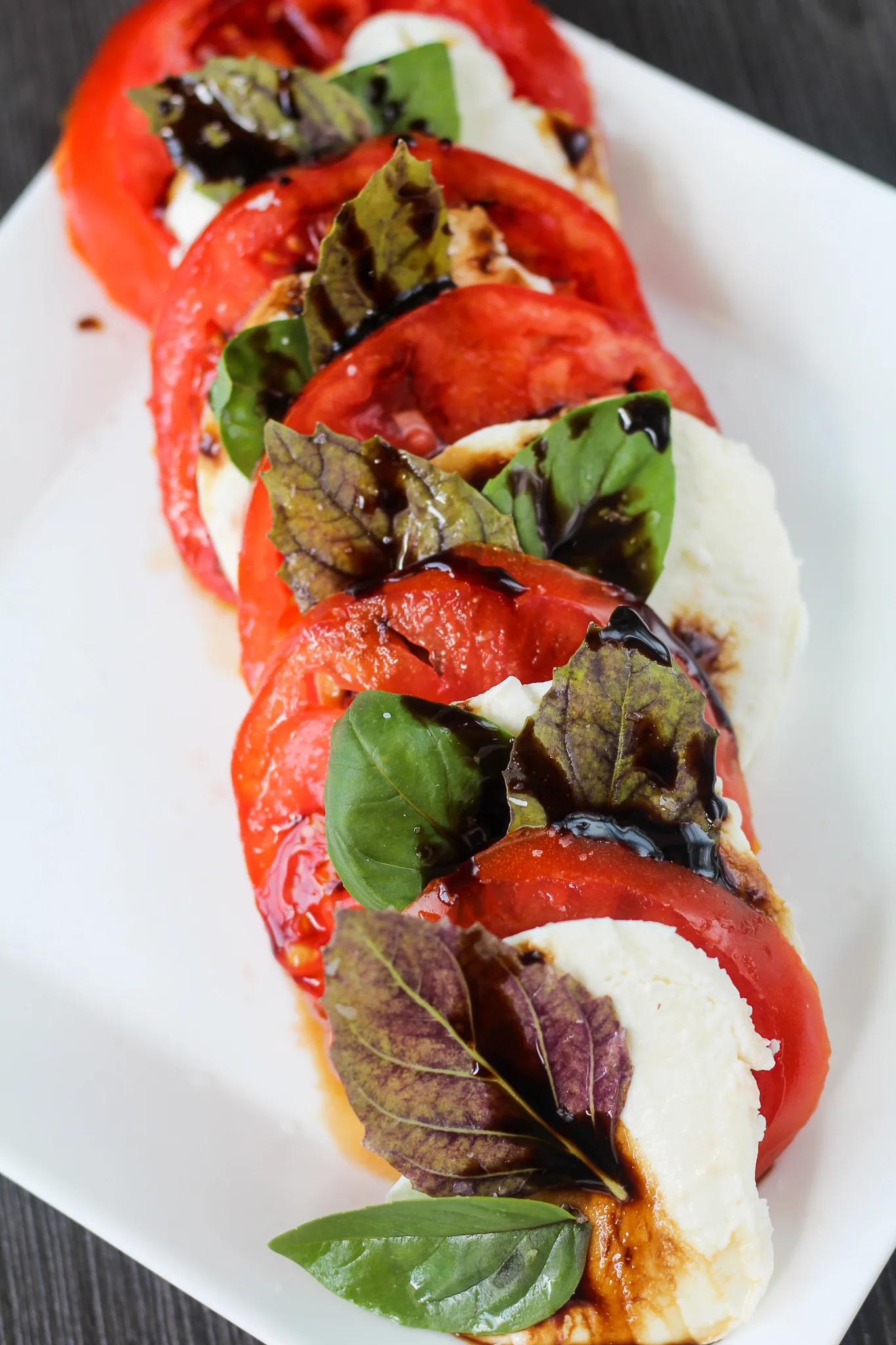 Dried basil will not work in this dish. If you don't have basil growing in your pallet herb garden, you can buy it at the store in the pack. Just make sure it is fresh basil.
So, to put the salad together, slice the tomatoes and set them aside. Slice the fresh mozzarella cheese and set it aside.
Pull the leaves off of the basil and set them aside. Now, let's make a delicious balsamic reduction sauce to go over the top!
How to Make Balsamic Reduction
To make a balsamic reduction, all you need is a really good balsamic vinegar. Now, balsamic vinegar has this pungent taste to it just straight out of the bottle.
But, if you heat it in a saucepan over medium heat and let it reduce by 1/4, it becomes like a sweet syrup instead of pungent vinegar.
It is the perfect sauce over strawberries, watermelon, and this amazing Caprese salad.
Check out these other salad recipes
Yield: 4 servings
Perfect Caprese Salad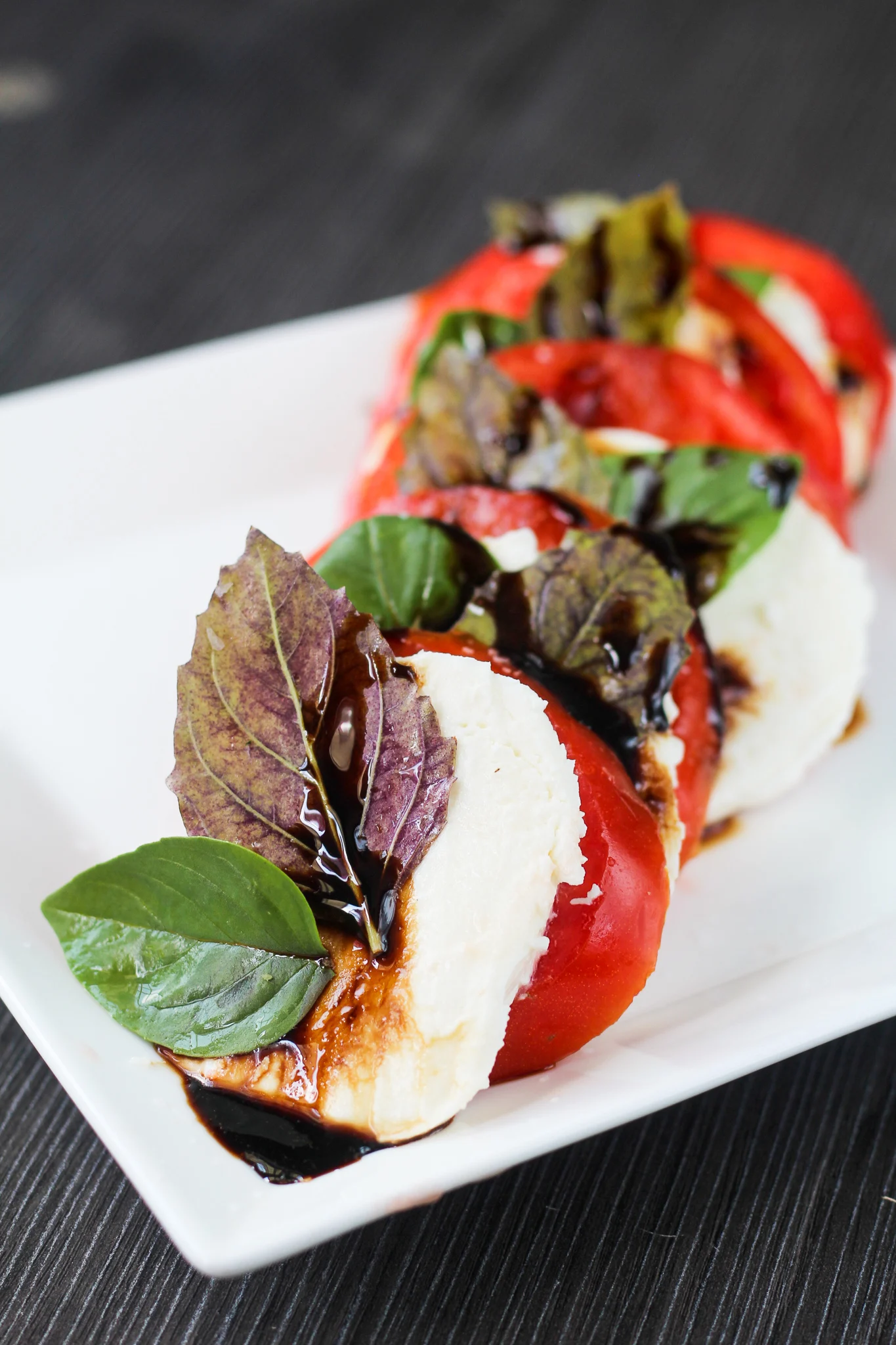 This perfect Caprese salad makes a great starter, main dish, or side dish.
Ingredients
1 large ripe tomato
1 ball of fresh mozzarella
10-12 basil leaves
1/4 cup of balsamic vinegar
salt and pepper for garnish
Instructions
Slice tomatoes and fresh mozzarella and place them alternating on a plate.
Pour balsamic vinegar into a saucepan and heat over medium heat. Reduce by 1/4 and then set it aside to cool.
Take the basil leaves and sprinkle them all over the mozzarella and tomatoes.
Drizzle on the balsamic vinegar. Season with salt and pepper.
Enjoy!
Nutrition Information:
Yield:
4
Serving Size:
1
Amount Per Serving:
Calories:

40
Total Fat:

1g
Saturated Fat:

1g
Trans Fat:

0g
Unsaturated Fat:

0g
Cholesterol:

5mg
Sodium:

116mg
Carbohydrates:

5g
Fiber:

1g
Sugar:

4g
Protein:

2g