Do you love the Pioneer Woman as much as I do? Here are my favorite Pioneer Woman Bakeware pieces.
When the Pioneer Woman came on the scene all those years ago, I immediately fell head over heels in love with her, her family, and her cooking.
Over the years, I have made a ton of her recipes. In fact, one of my most popular is Pioneer Woman Lemon Bars. Of course, this post has some of the Best Pioneer Woman recipes on the Internet.
Then, she got her show on Food Network. I was hooked. Next, she started launching all her cookware pieces — and I have literally bought almost every piece of bakeware and cookware she has produced.
I am obsessed with the vintage look of it all. I also love how versatile the bakeware pieces are, so today, I thought I would share with you my all time favorite pieces!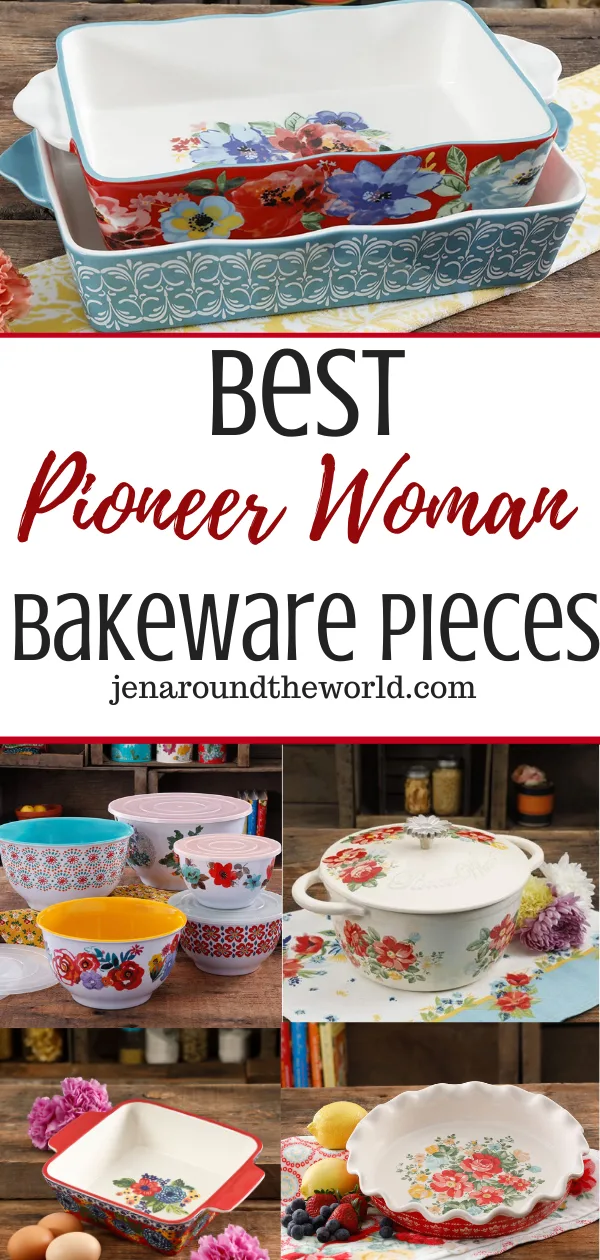 For me, cookware and bakeware pieces have to serve a greater purpose other than just look pretty. With these pieces, you can go from oven to table — making them the perfect pieces to add to your collection.
My Favorite Pioneer Woman Bakeware Pieces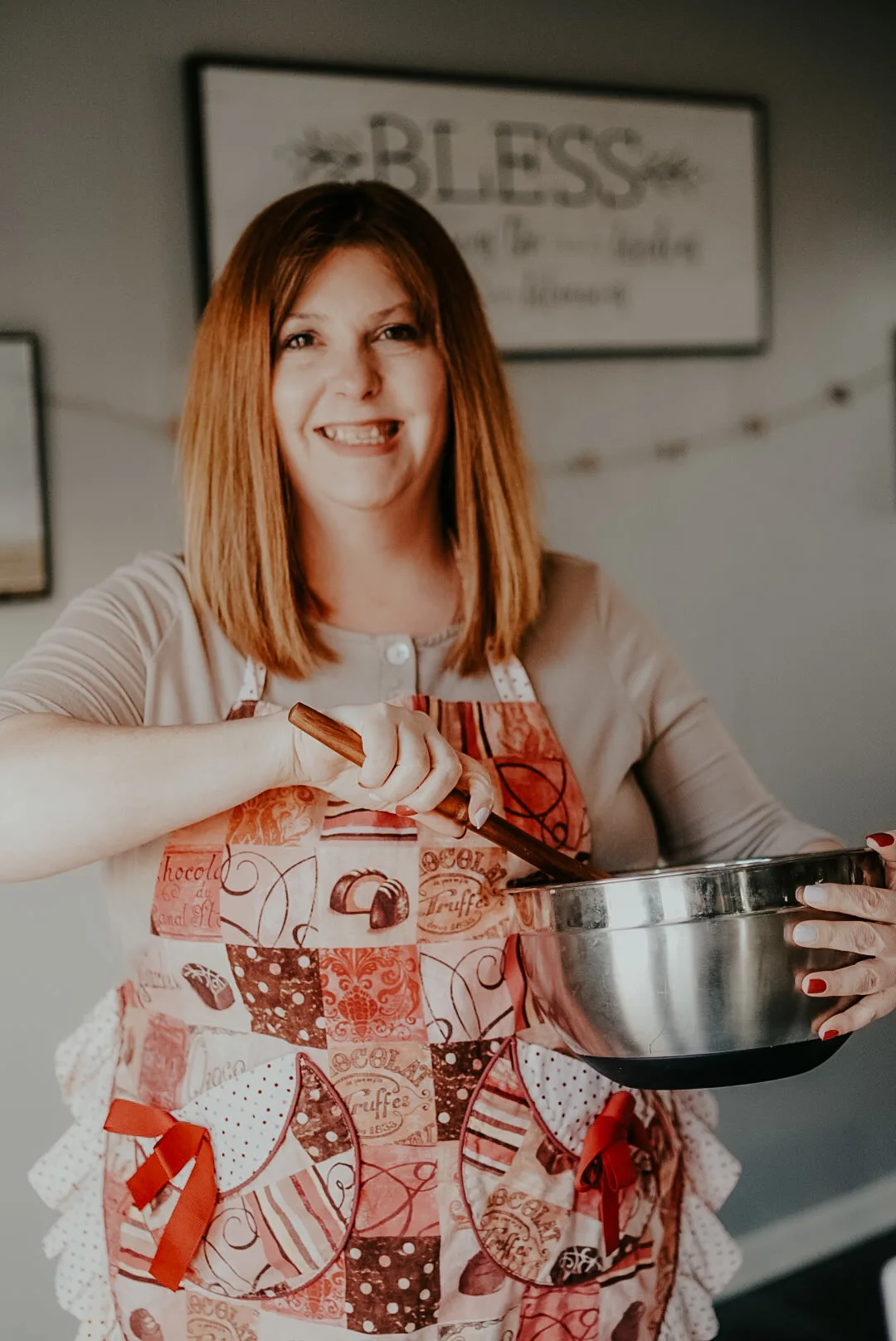 If you love the Pioneer Woman as much as I do, be sure to check out her cookbooks full of delicious recipes!
Spring Bouquet 2-Piece Baker Set Floral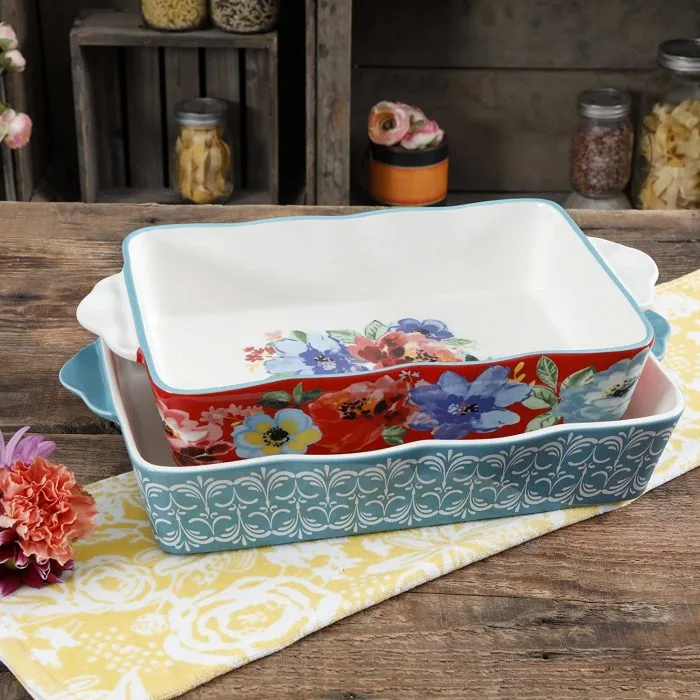 I got this floral spring set for Christmas this year from my hubby and I am so in love with how it looks.
This set includes a 12″ Baker and a 14″ Baker. Both pieces are made of durable stoneware and are both microwave and dishwasher safe.
Timeless Beauty Vintage Floral 3-Quart Enameled Cast Iron Casserole w/Lid
I have about 4 dutch ovens now — 2 6qt and a couple of 3-quart ones as well. I love how beautiful this Pioneer Woman 3 quart Dutch Oven looks, but I also love using it to make soups and stews in.
It is the perfect size for smaller portions.
Country Garden Nesting Mixing Bowl Set, 10-Piece
I use mixing bowls for EVERYTHING. She offers a glass bowl set and this plastic mixing bowl set. Both come in handy and I love that these have lids as well. I use the smallest bowl here to store my Pioneer Woman Restaurant Style Salsa recipe.
I would use these to store leftovers in the fridge but are so good for mixing up cakes and cookies as well.
Speaking of cakes, check out my new recipe for the Best German Chocolate Cake.
Pioneer Woman Dazzling Dahlias 8-Inch Square Baker
I like using smaller pans like this for brownies or cobblers. If you like making recipes like baked oatmeal, this would come in handy as well.
This 8″ square baker is from her designs a couple of years ago. It is so popular and still available today!
Vintage Floral Pie Plate
I have this pie plate and use it all the time. I love making homemade pies from scratch — even my double pastry pie crust — which is the best I have ever tasted.
My favorite thing about this 9″ pie plate is the fluted edge, making it easy to create the perfect crimped edge.
Now that you know my favorite Pioneer Woman Bakeware Pieces, do you have any favorite pieces?