These pumpkin spice baked donuts are coated in cinnamon sugar. They are super fluffy and oh so moist. Baked donuts have such a great flavor that you will not miss a fried yeast donut. Make this easy pumpkin spice donut recipe all fall long!
Earlier this year, I purchased a couple of baking donut pans. I mean, I love a good yeast donut, but I have recently fallen in love with making baked donuts. My Pecan Cinnamon Sugar Baked Apple Donuts are amazing and baked in these pans as well.
They are so much easier and hassle-free. And the flavor combos you can make are amazing.
So, let's get down to making these delicious Pumpkin Spice donuts.
How to Make Pumpkin Spice Baked Donuts
Preheat the oven to 375 degrees.
While the oven is heating, combine your dry ingredients into a large bowl and whisk together.
In another bowl, combine your wet ingredients. Mix until combined.
Now, mix them together.
The best way to get your batter evenly into the donut pan is to use a piping bag and pipe the batter into the pan. If you do not have a piping bag, you can totally use a Ziplock bag.
Scoop all the batter into the bag and squeeze it to one end. Cut the corner (about ¾ inch) and you'll be able to make perfect circles.
Try not to overfill your cavities. To make sure the donuts are a perfect size, I only fill mine up about 3/4 of the way.
Once you get the pan filled, bake for about 15-18 minutes.
Make the Cinnamon Sugar Topping
Melt 1 stick of butter in a bowl and set it aside. Combine cinnamon and sugar in another bowl. Dip the donuts in the butter (both sides) and then dip in the cinnamon-sugar mixture. Flip, and do the other side.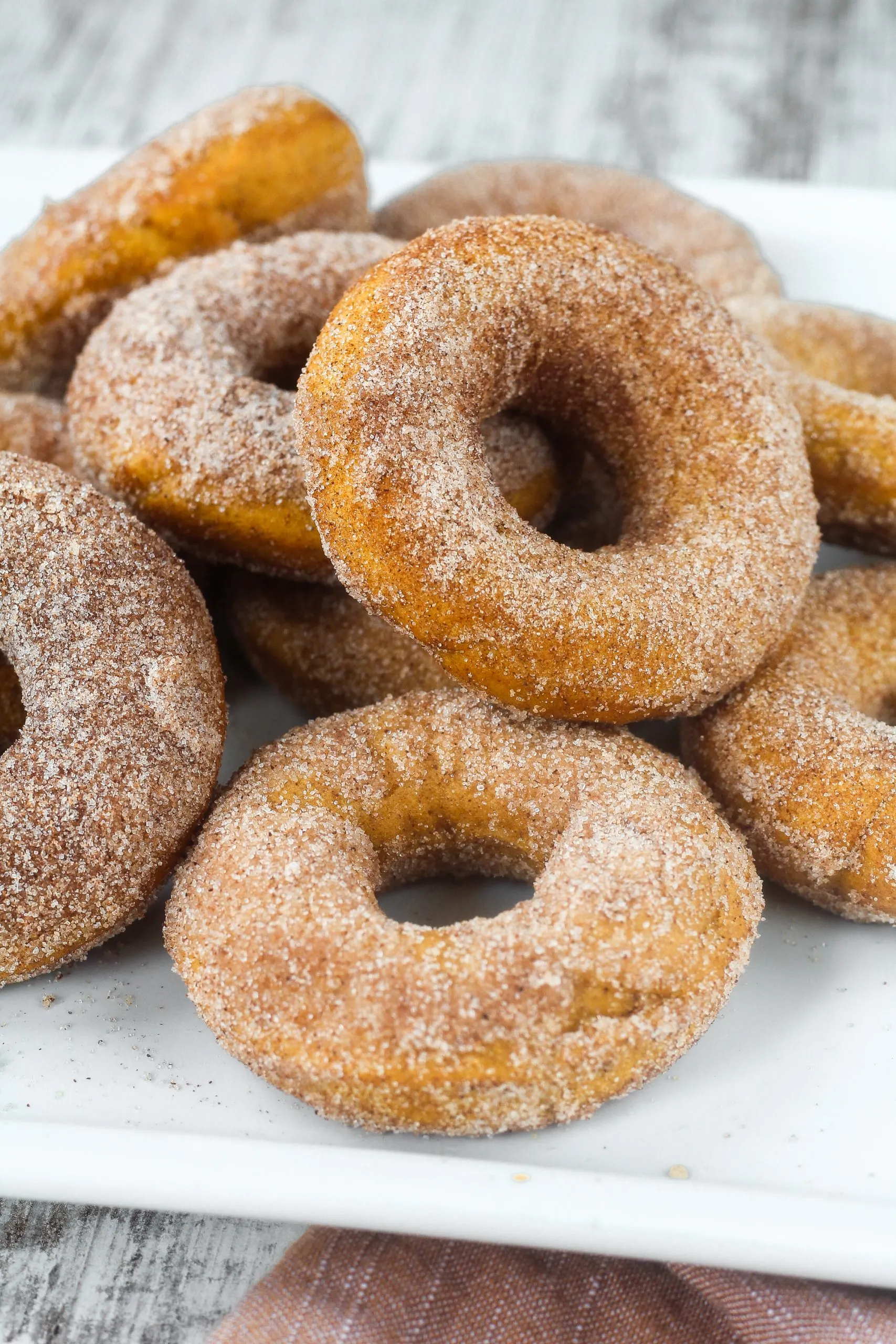 I hope you enjoy these donuts as much as I did. They last for a couple of days. They seem to lose their softness after a couple of days.
Check out these other delicious pumpkin recipes
Yield: 12 donuts
Pumpkin Spice Baked Donuts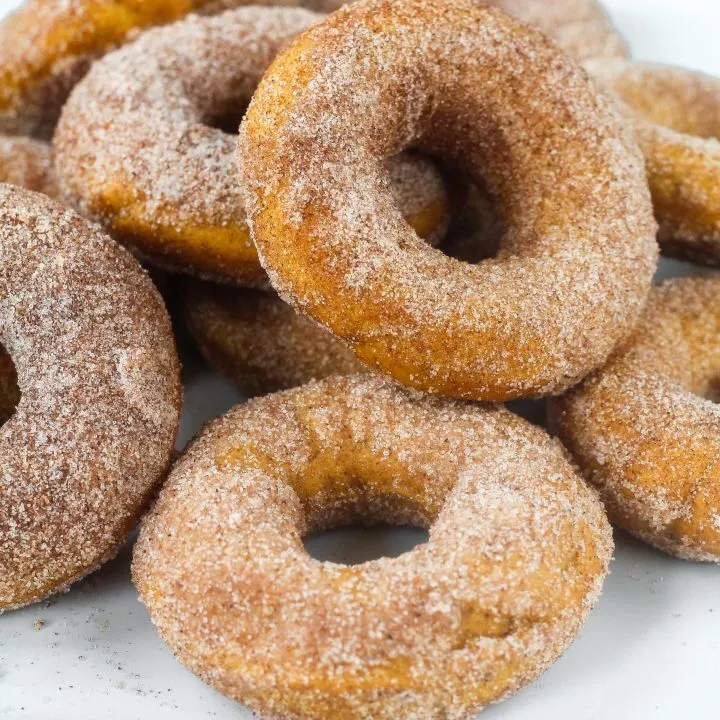 These Pumpkin Spiced Baked Donuts are the perfect bite of pumpkin spice flavor.
Ingredients
2 cups all purpose flour
⅔ cup brown sugar
3 tsp pumpkin pie spice
2 tsp baking powder
½ tsp baking soda
¼ tsp kosher salt
1 cup pumpkin puree
¼ cup maple syrup
2 eggs
1/3 cup of vegetable oil
2 tsp vanilla extract
Non-stick cooking spray
For the cinnamon Topping
1 stick of butter, melted
¾ cup granulated sugar
1 tsp ground cinnamon
Instructions
Preheat oven to 350F degrees
In a medium bowl combine all the dry ingredients. Mix to combine.
In a separate small bowl combine all the wet ingredients.
Slowly mix the wet ingredients into the dry ingredients, until just combined. Do not over mix.
Using a piping bag or a ziplock bag, pour all the batter in, push it to the corner, and cut a ½inch hole on the corner.
Spray the donut pan with cooking spray and pipe the batter in a circular motion to form a donut.
Fill the mold about ¾ full.
Place in oven for 15-18 minutes and then remove from oven.
Carefully remove the donuts from the pan using a spoon, and place them on the cooling rack for 5 minutes.
While the donuts cool, combine the cinnamon and sugar for the topping in a bowl
Melt the butter in another bowl.
Dip the donuts in the butter and then dip in the cinnamon-sugar mixture. You can do one side or both sides. Best served/eaten fresh.
Nutrition Information:
Yield:
12
Serving Size:
1
Amount Per Serving:
Calories:

324
Total Fat:

15g
Saturated Fat:

6g
Trans Fat:

0g
Unsaturated Fat:

8g
Cholesterol:

51mg
Sodium:

238mg
Carbohydrates:

45g
Fiber:

1g
Sugar:

27g
Protein:

4g