Crispy and juicy Air Fryer Lemon Chicken Thighs are quick and easy to prepare. Serve them with your favorite salad and a quick side dish for an easy dinner. This will become your new favorite way to prepare chicken thighs.
I have always been a chicken breast eater, but here lately I am all about the chicken thighs! Air frying the chicken makes the skin crispy and the cooking time minimal.
I got a deal on a bulk buy of chicken thighs at the grocery store so I have been making all kinds of delicious chicken thigh recipes.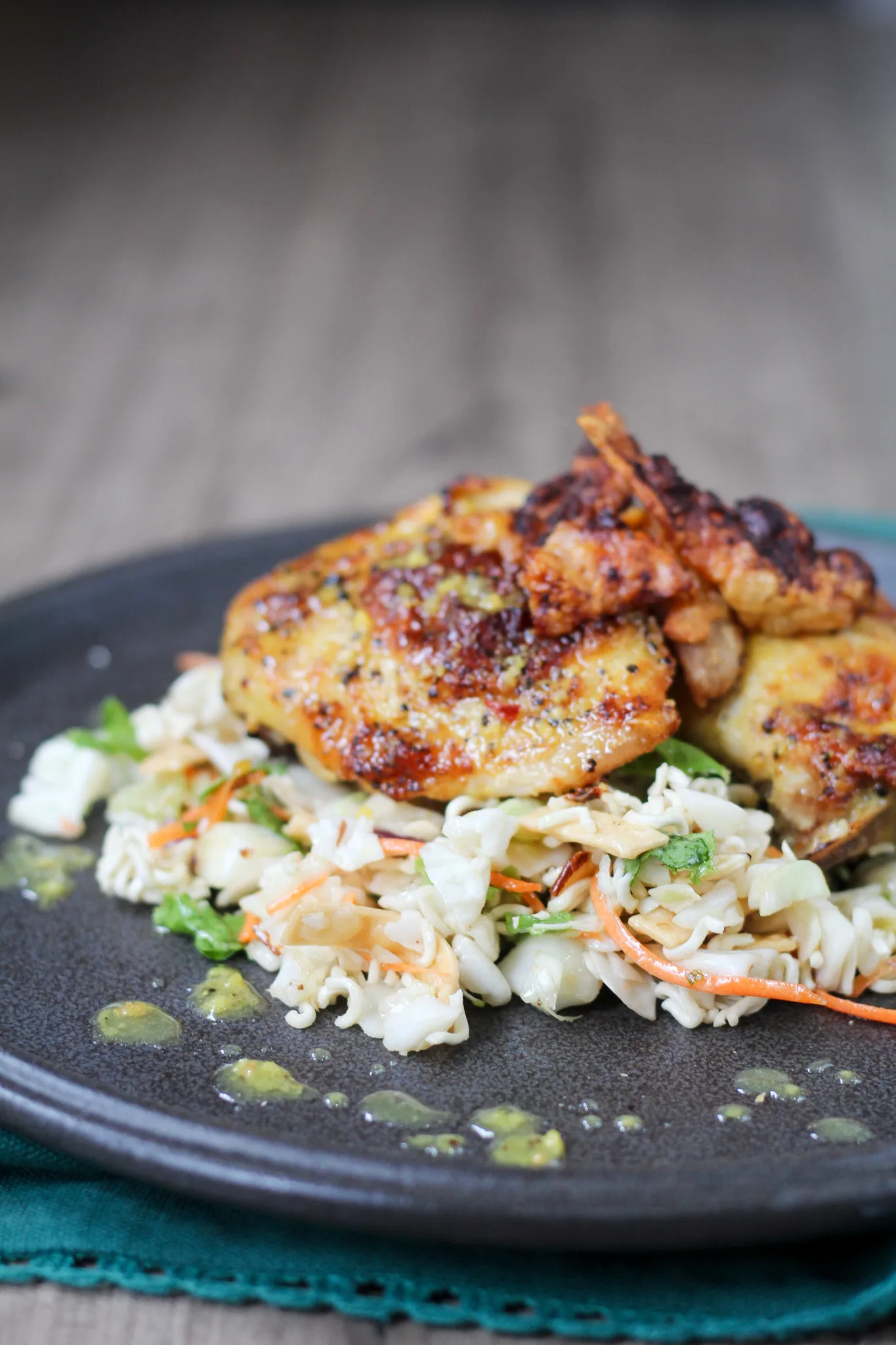 How to Make Crispy Air Fryer Chicken Thighs
Before marinating the chicken, blot it with a paper towel.
Make the spice mixture. Add everything to a small bowl — avocado oil or olive oil, garlic powder, dried parsley flakes, onion powder, Italian seasoning, lemon juice, lemon zest, salt, and black pepper. This makes the perfect lemon pepper seasoning.
Before placing the chicken in the marinade, set aside about 1/4 a cup to 1/2 cup in a small bowl for the finish.
I used bone-in chicken thighs for this recipe, but you can also use chicken breasts, boneless thighs, wings, or whatever part of the chicken you want to use.
Once the chicken has marinated, preheat the air fryer. Spray the air fryer basket with nonstick cooking spray.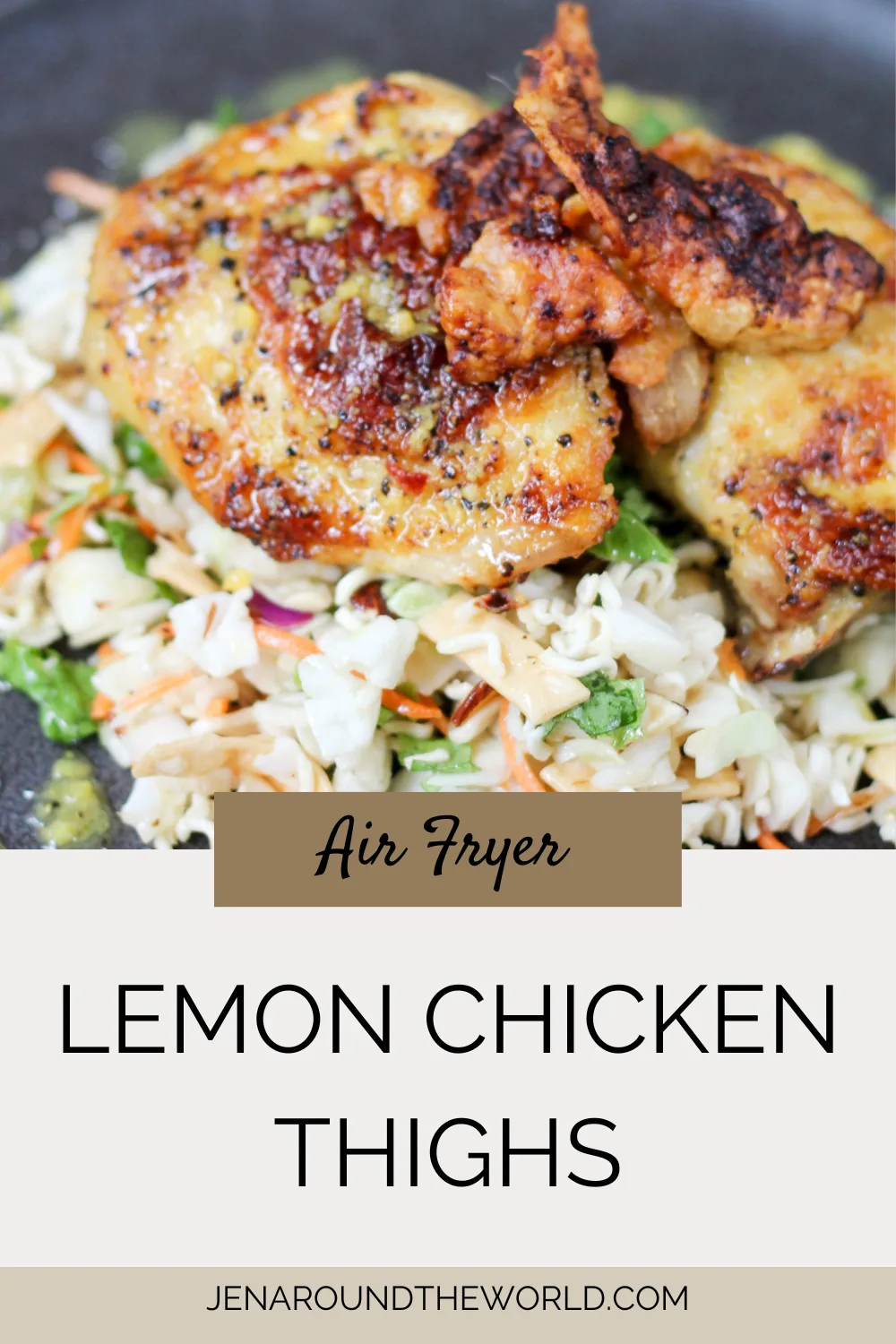 Let the chicken thighs rest at room temperature for about 10 minutes. This gives the skin a little bit of time to tighten up.
Cook the thighs in a single layer with the skin side up in the air fryer at 380 degrees f. Set the cook time for 25 minutes or until the chicken has reached an internal temperature of 165 degrees in the thickest part of the thigh.
You can use a meat thermometer placed in the thickest part of the chicken without touching the bone to ensure you get the perfect temperature.
Favorite Sides To Serve With Chicken Thighs
Serve this easy recipe with the remaining marinade and roasted lemon slices. One of my favorite sides to serve with this chicken is a simple salad. But you can also serve these roasted potatoes.
This is a great way to make a filling meal without breaking the budget. Make it a complete meal by serving some of my Sourdough discard dinner rolls with dinner also.
Storing Chicken
Once the chicken has cooled to room temperature, place the pieces in an airtight container and store them in the fridge. They should stay good for about 5 days.
Remove the leftover chicken from the fridge and you can reheat it in the air fryer again, or heat it in the microwave. Or if you are like my family, enjoy this air fryer lemon pepper chicken thighs cold!
Check Out These Other Amazing Air Fryer Recipes
If you love making air fryer recipes, be sure to check these out. They are delicious.
Yield: 4 servings
Air Fryer Lemon Chicken Thighs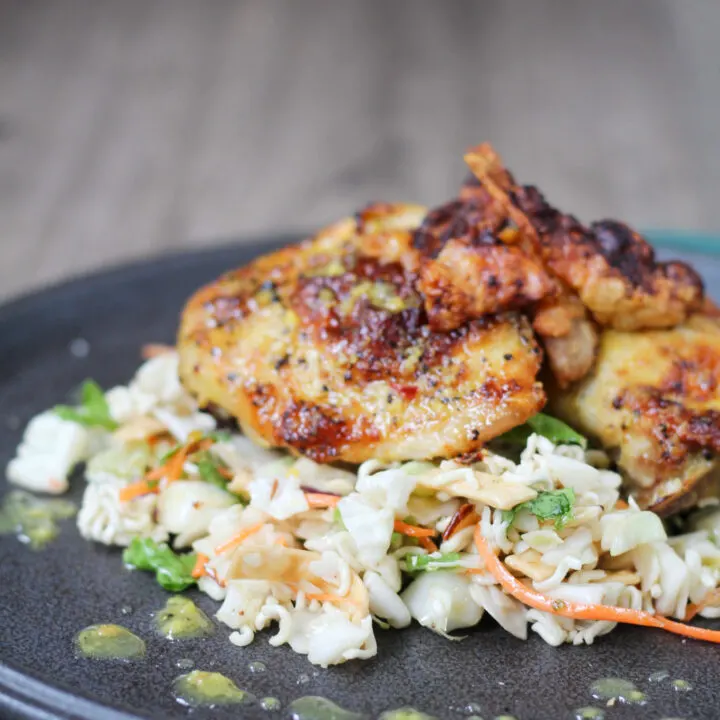 Citrusy and crispy chicken thighs that are cooked to perfection in the air fryer.
Ingredients
1 teaspoon of garlic powder
1/2 teaspoon of onion powder
1 1/2 teaspoons of Italian seasoning
1 teaspoon of black pepper
1/2 teaspoon of salt
1/2 teaspoon of dried parsley
1 tablespoon of lemon zest
2 tablespoons of oil (avocado, olive)
1 tablespoon of lemon juice
6 bone in chicken thighs
Instructions
In a small bowl, combine all of the spices as well as the lemon zest. mix well and set aside.
In a separate bowl, combine the oil and lemon juice. Mix the spices with the lemon juice.
Rub the mixture onto the chicken thighs and rub it in really well.
Let the chicken rest for 10 minutes.
Cook the chicken thighs in the air fryer at 380 degrees F for 25 minutes or until the juices run clear at 165F.
Garnish with fresh lemon slices and fresh parsley if desired.
Nutrition Information:
Yield:
8
Serving Size:
1
Amount Per Serving:
Calories:

243
Total Fat:

17g
Saturated Fat:

4g
Trans Fat:

0g
Unsaturated Fat:

13g
Cholesterol:

125mg
Sodium:

303mg
Carbohydrates:

1g
Fiber:

0g
Sugar:

0g
Protein:

23g