Too hot to turn on the oven? Crank up your air fryer and make these delicious Air Fryer Roasted Cauliflower Steaks. They have an amazing flavor and happen to be the perfect lunch or dinner on hot days like today.
This is a great way to jazz up plain old cauliflower into a main dish everybody will enjoy! It's a low-carb meal that looks and tastes more like Parmesan Chicken than it does cauliflower!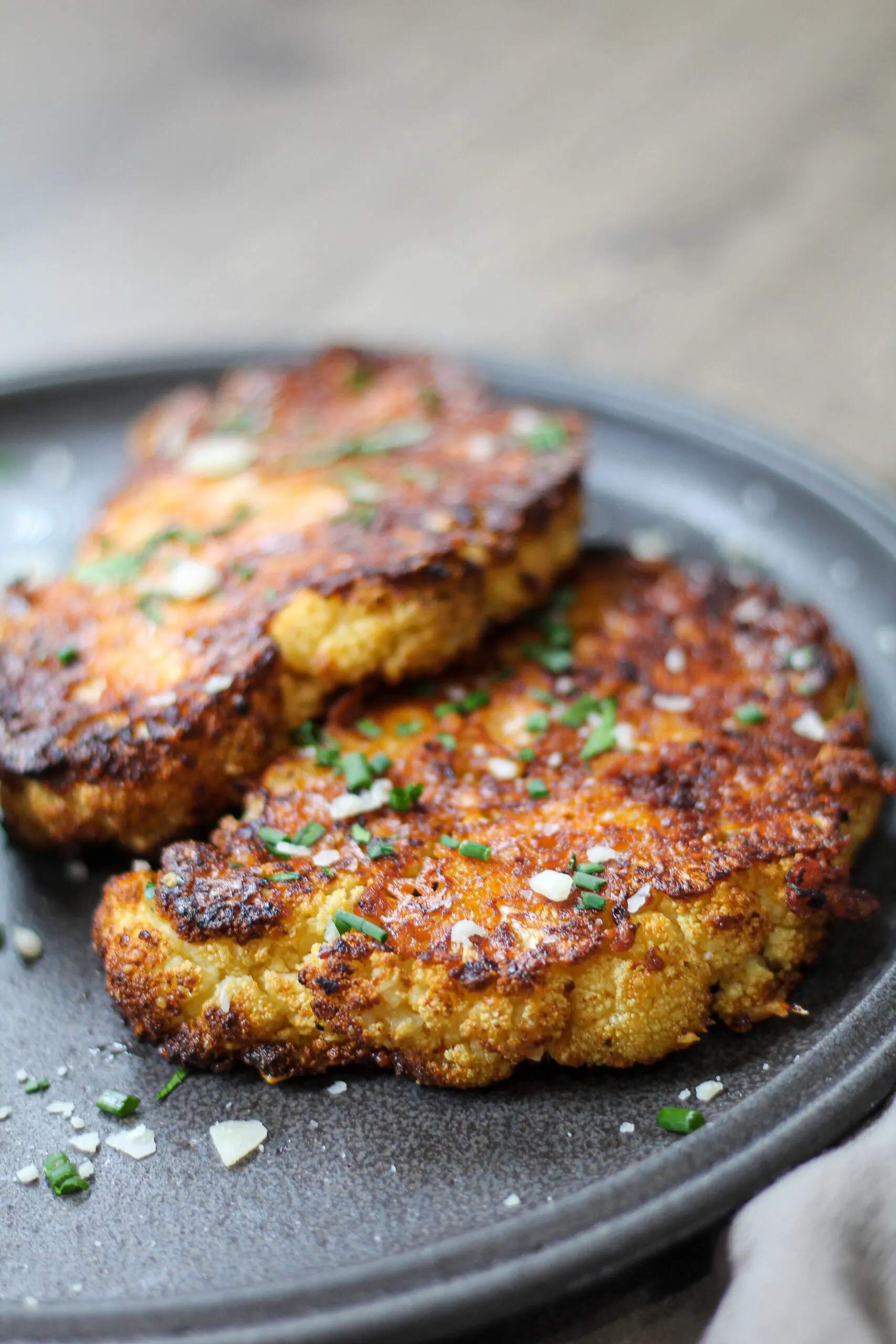 Cauliflower is such a versatile veggie. It's a great fiber intake also. You can dress cauliflower up in so many ways! One of my favorites is Air Fryer Buffalo Cauliflower. It tastes like buffalo chicken to me and is amazing in flavor.
Another great recipe is Cauliflower Fried Rice. You can dress it up or dress it down for the perfect rice dish.
How to Make Air Fryer Roasted Cauliflower Steaks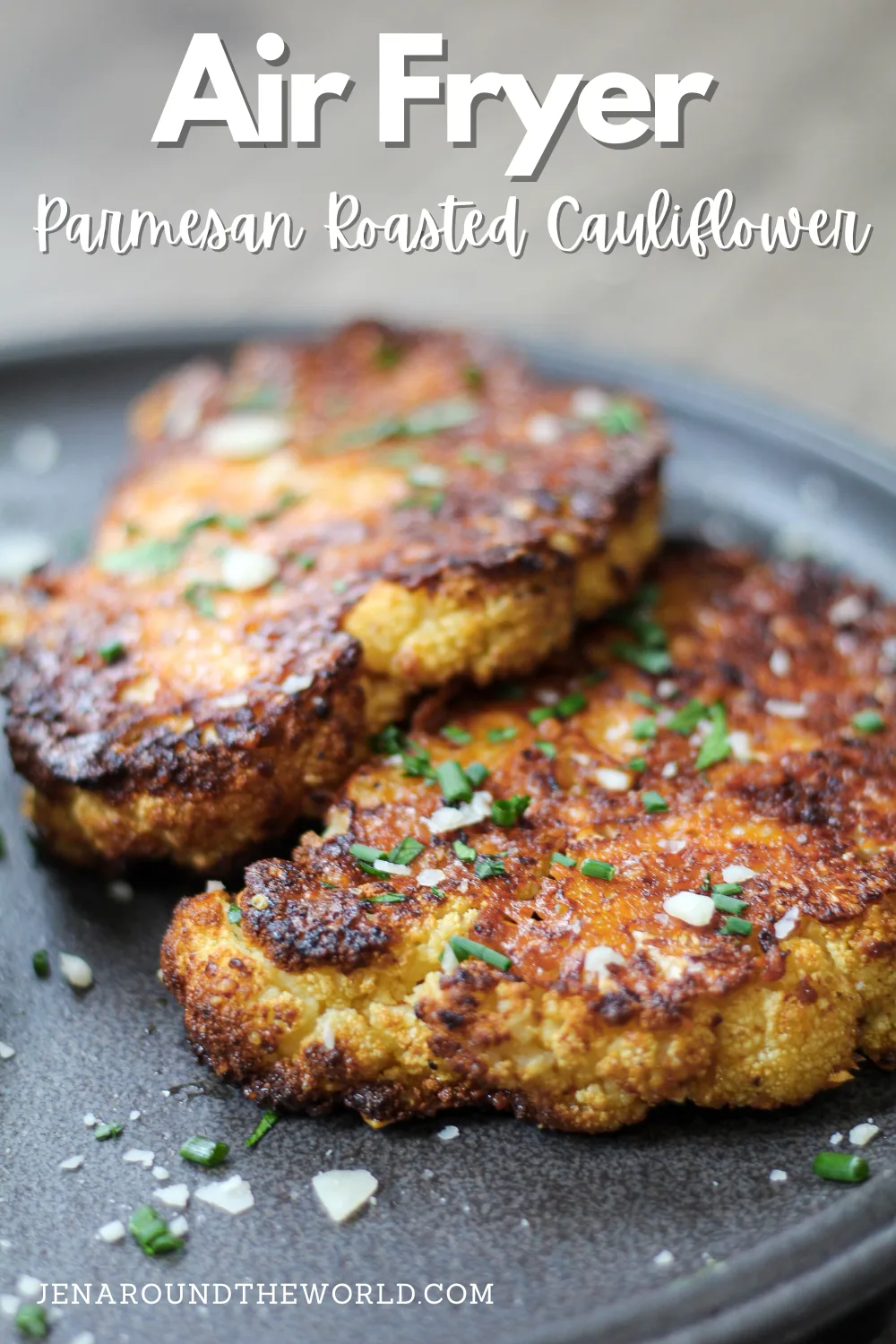 For this recipe, take a head of cauliflower and slice it into 1/2″ slices. You might have some florets that break off. You can either freeze those for later use or you can cook them up right alongside the steaks.
Make sure to preheat the air fryer. Mine has a griddle for the inside, so I used that. However, if your air fryer does not have one, no worries. They still cook the same way on the inside.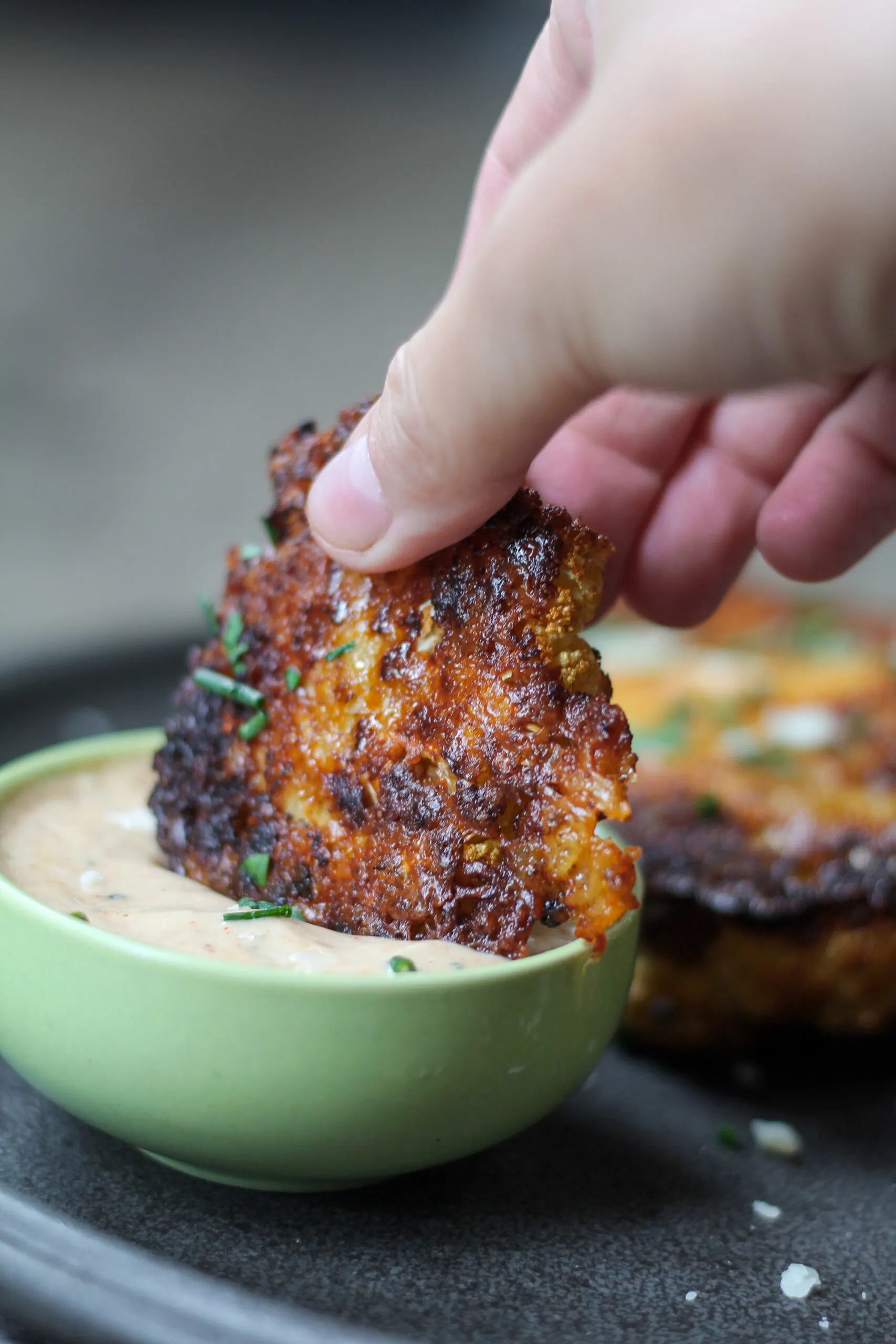 Mix the spices together and then place the steaks in the Parmesan. I had to use my hand to get mine to stick. Place the steaks Parmesan side down and then baste the other side with the spices.
Add any remaining Parmesan and then air fry for 10 minutes at 450. Drop the temp down to 425 and air fry for an additional 20 minutes.
The steaks will be crispy on the outside and tender on the inside. I like to serve mine with a delicious all-purpose dipping sauce.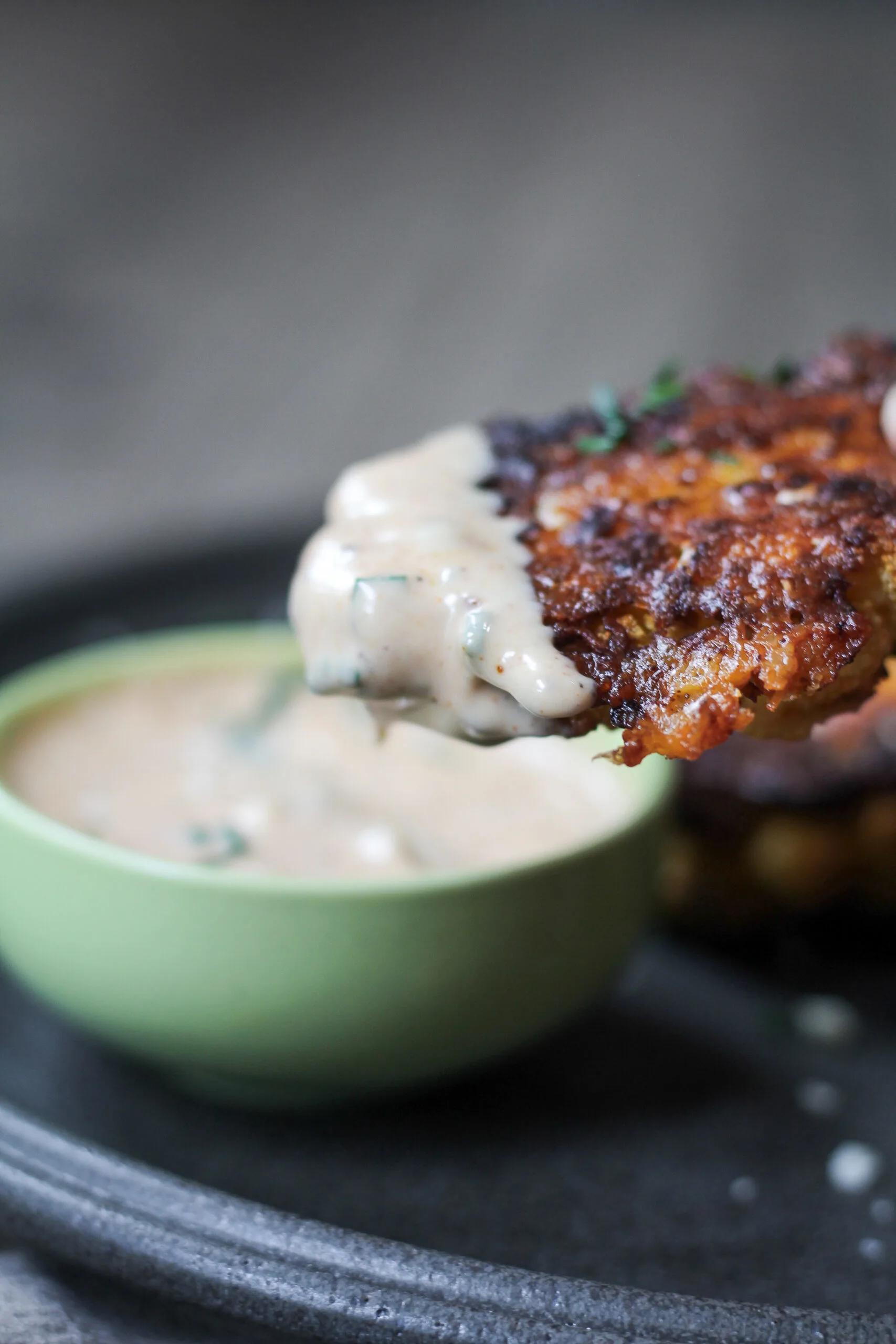 Love Air Fryer Dishes? Check out these yummy recipes
Yield: 6 servings
Air Fryer Roasted Cauliflower Steaks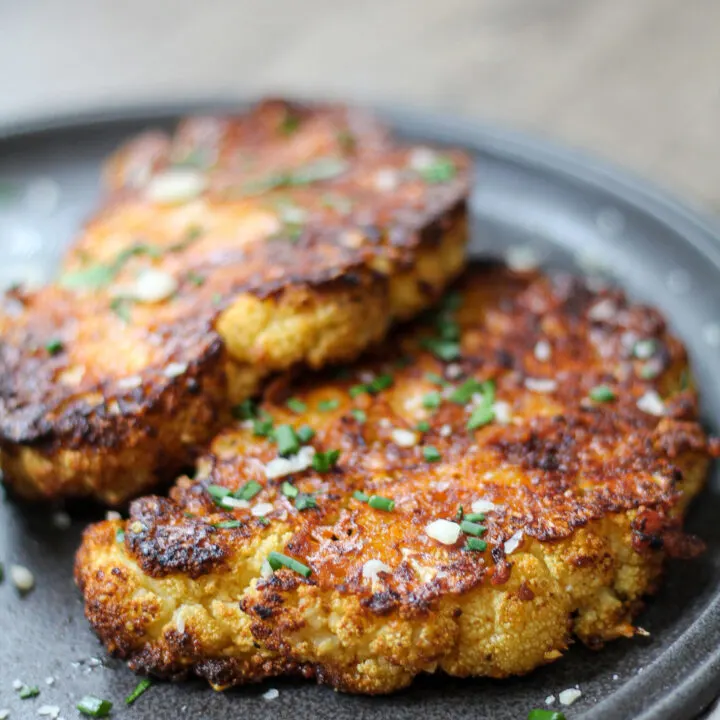 These cauliflower steaks have the best flavor and they are baked right in the air fryer meaning no need to heat the house!
Ingredients
1 large head of cauliflower
1/4 cup of olive oil
3 tablespoons of grated Parmesan cheese
2 teaspoons of garlic
1/4 teaspoon of paprika
1/4 teaspoon of onion powder
1/4 teaspoon of salt
1/4 teaspoon of crushed red pepper flakes
1/2 cup of Grated Parmesan cheese
Instructions
Preheat the air fryer to 450 degrees.
Slice the steaks about 1/2 to 1" thick. If pieces break off, don't worry -- you can still cook those and use them.
Mix the olive oil and all the spices together (exclude the 1/2 cup of Parmesan cheese)
Baste the steaks with the sauce. Sprinkle on the Parmesan cheese.
Place the steaks cheese side down. Baste the other side with the remaining seasoning mix. Sprinkle on any remaining cheese.
Bake in the air fryer at 450 for 10 minutes. Reduce the temperature to 425 and continue baking for an additional 20 minutes.
Enjoy!
Nutrition Information:
Yield:
6
Serving Size:
1
Amount Per Serving:
Calories:

161
Total Fat:

13g
Saturated Fat:

3g
Trans Fat:

0g
Unsaturated Fat:

9g
Cholesterol:

10mg
Sodium:

311mg
Carbohydrates:

8g
Fiber:

3g
Sugar:

3g
Protein:

6g