Have you seen the viral Tiktok Parmesan Roasted Potatoes going around on social media? We hopped on the bandwagon to check them out and they are amazing!
I watch a lot of FoodTok — I just can't get enough! One of my favorite accounts is Dano's Seasoning TikTok. While watching it, they made the most amazing Crispy Parmesan Potatoes and I knew I was going to have to try them out myself! This is an irresistible TikTok recipe that you are not gonna want to miss.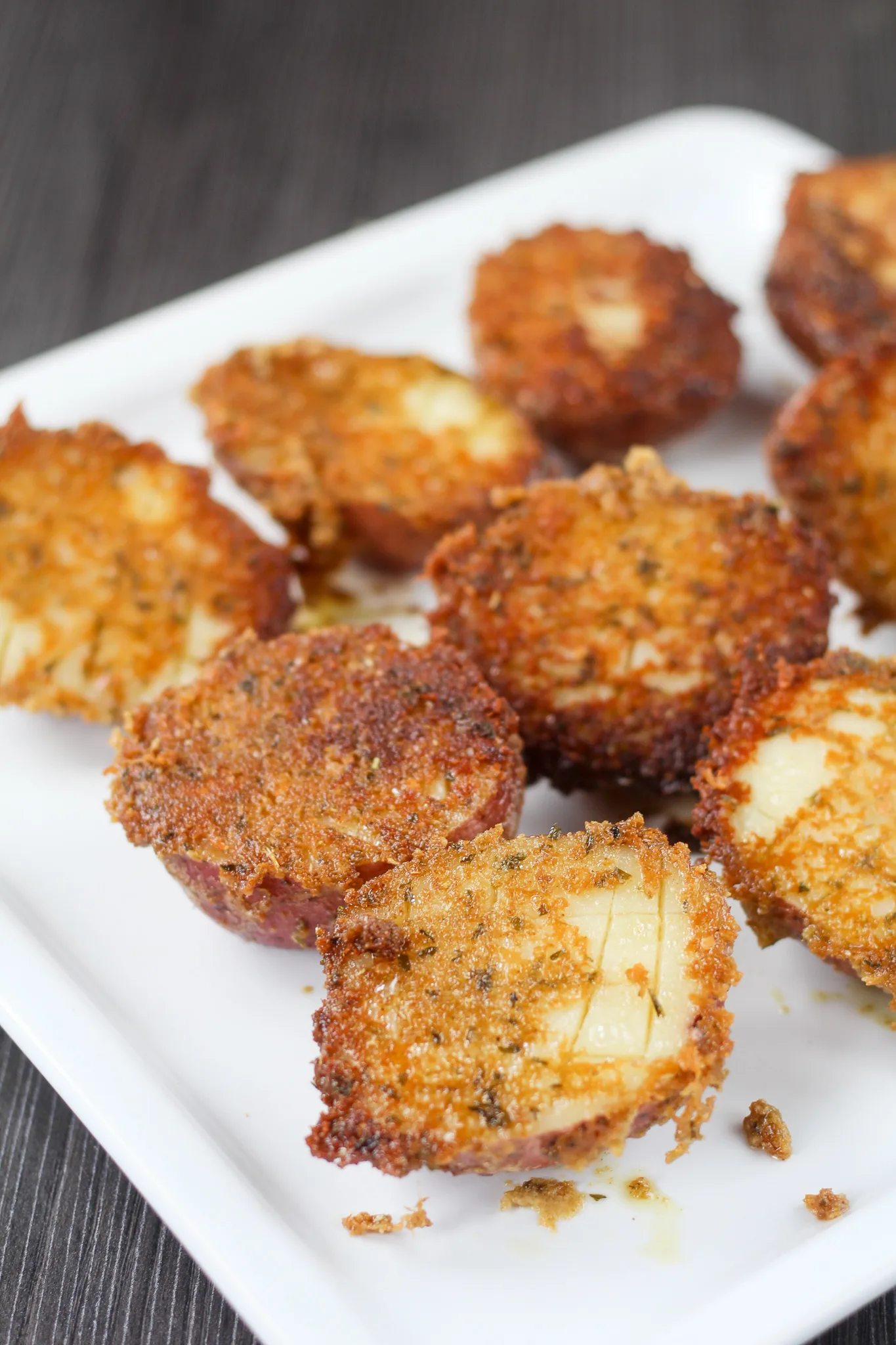 I make a lot of TikTok recipes like the TikTok Ranch Pickles that are out of this world! Other recipes I have made are Green Goddess Salad, TikTok pasta, and those amazing air fryer pasta chips!
Of course, lots of other people have since jumped on the bandwagon and have been making these as well.
How to Make These Cheesy Potatoes
To make this easy recipe, you only need 4 simple ingredients —
Red Baby Potatoes
¾ Stick unsalted melted butter
1/3 Cup Grated parmesan cheese
¼ Cup Dan-O's Seasoning — your choice of flavor — spicy, regular, or chipotle
If you are not a fan of the Dan-O's, feel free to use onion powder, garlic powder, paprika, salt, and pepper. You can even use Italian seasoning or your favorite herb seasoning.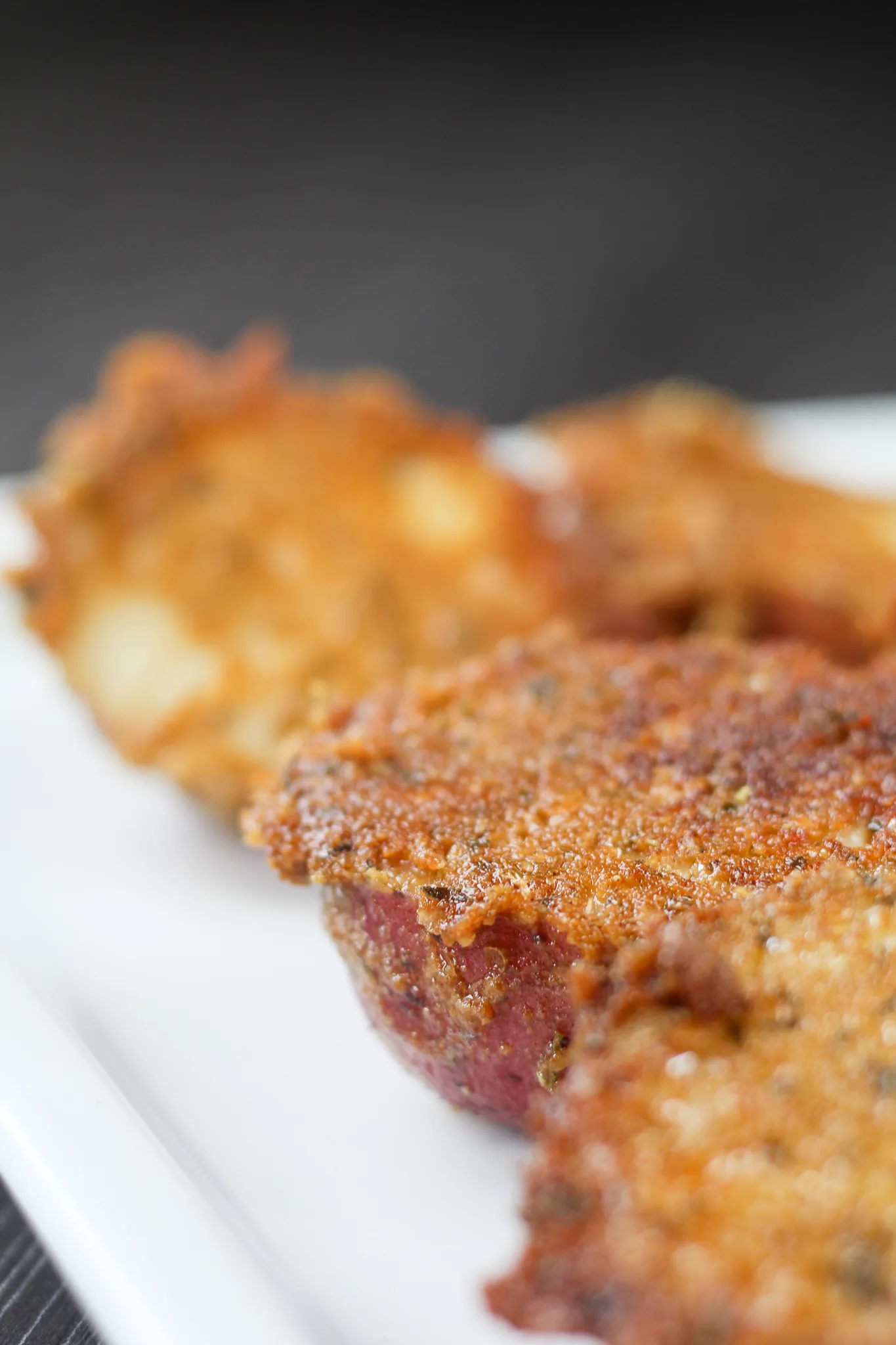 The type of potato that you use for this recipe matters. Use red new potatoes or golden delicious potatoes. They have thin skins which makes them cook up faster. Russet potatoes would not be the ideal potato here. They would take too long to bake which would burn the cheese. For a sweeter flavor, try using sweet potatoes instead.
Preheat the oven to 425 degrees. Cut the potatoes in half longways, then score with a knife by making two cuts on each side, in a criss-cross pattern.
Melt the butter in the microwave in a small bowl, then pour it into a Pyrex dish or on a small baking sheet.
Add about a ⅓ cup of parmesan cheese, and ⅓ cup of Dan-O's to the Pyrex dish and mix it into the butter in the bottom of the pan until it forms a paste. Spread out evenly. I love that I don't need a mixing bowl for this dish. Everything is mixed right inside the baking dish.
Lay the red potatoes face down in an even layer into the Parmesan mixture and bake in the preheated oven for 20 minutes until the potatoes are tender and golden brown.
Additional Toppings for Crispy Parmesan Roasted Potatoes
Remove from the oven and let the baking dish cool down for 5 minutes. These crispy potatoes are everything I dream about. They are SO freaking delicious. The bottom layer is a crispy cheese layer that is so addictive. Now, add sour cream and a sprinkling of fresh chives, fresh parsley, or scallions to the tops of the potatoes.
If you are not afraid of a little spice, throw some red pepper flakes on top of the potatoes. It will give them a little kick.
It's the perfect side dish to serve alongside things like a Garlic and Herb Roasted Chicken or these delicious Blackstone Philly Cheesesteak Sandwiches. This is my new favorite way to serve potatoes!
Serving this potato dish with all of its crispy perfection is a good reason to throw a dinner party for your friends and family! You can't keep all this deliciousness locked up for just you, right?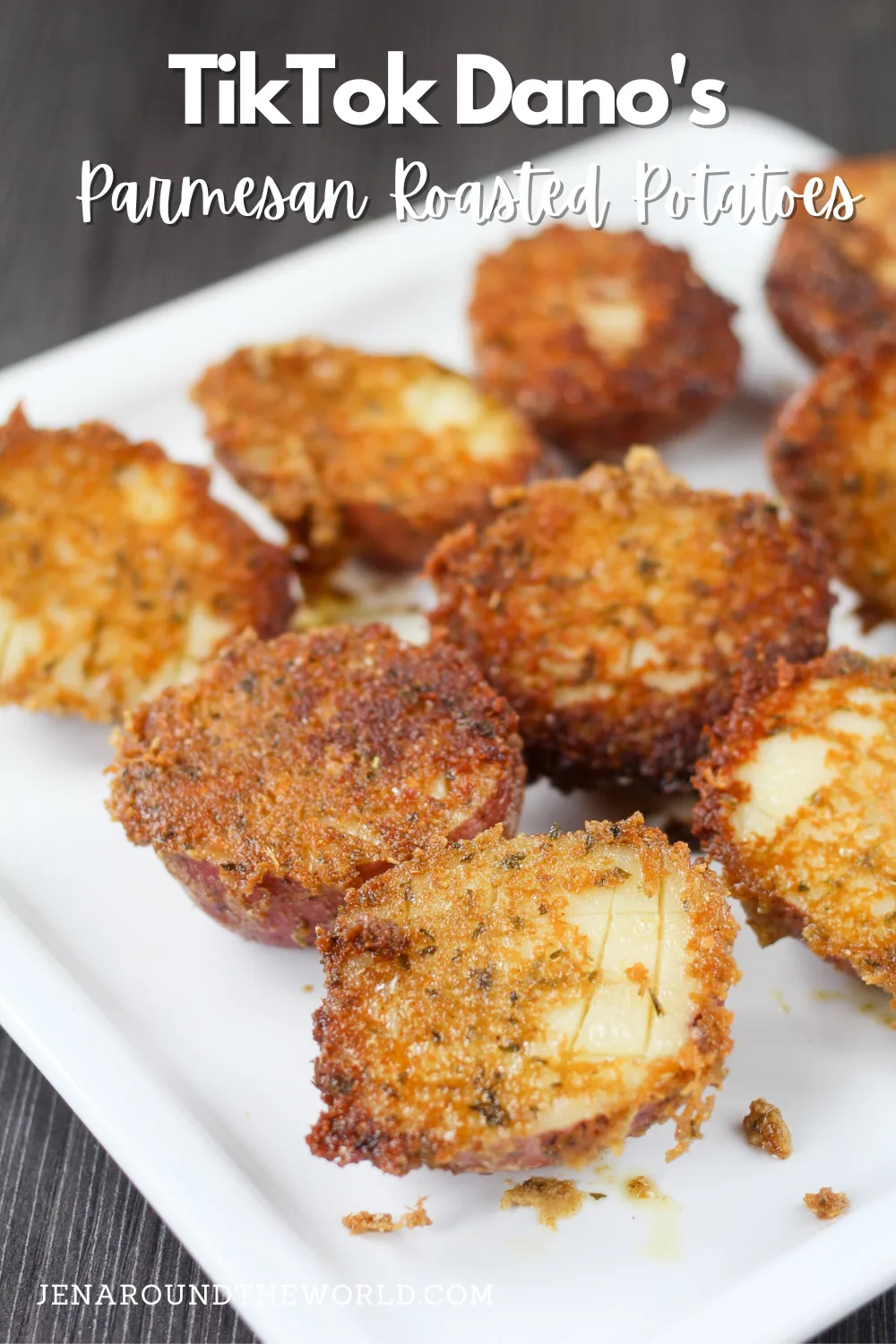 Check out these other popular recipes
Yield: 4 servings
TikTok Parmesan Roasted Potatoes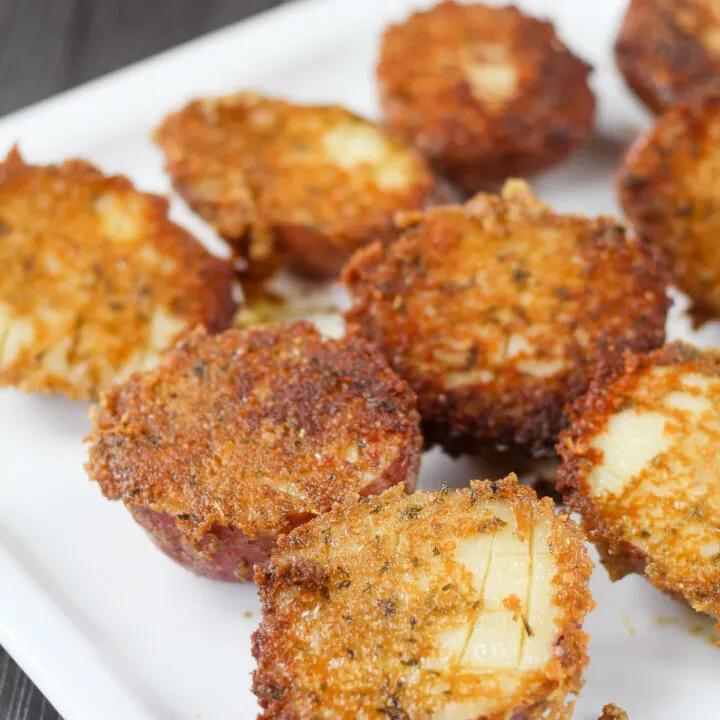 Viral recipe on TikTok that is taking the internet by storm! Delicious potatoes coated in crusty Parmesan cheese
Ingredients
10 new small potatoes
¾ Stick unsalted butter
1/3 Cup parmesan cheese
¼ Cup Dan-O's Seasoning
Instructions
Preheat oven to 425 degrees
Cut potatoes in half longways, then score with a knife by cutting and making a criss-cross pattern on each side.
Melt butter in the microwave, then pour into a 13x9 baking dish.
Add ⅓ cup of parmesan cheese, and ⅓ cup Dan-O's to the baking dish and mix into the butter until it forms a paste.
Spread out evenly on the bottom of the baking dish.
Lay potatoes face down on the dish into the butter and cheese mixture.
Bake for 20 minutes or until potatoes is tender.
Remove from the oven and let cool down for 5 minutes. Enjoy!
Nutrition Information:
Yield:
8
Serving Size:
1
Amount Per Serving:
Calories:

257
Total Fat:

10g
Saturated Fat:

6g
Trans Fat:

0g
Unsaturated Fat:

3g
Cholesterol:

26mg
Sodium:

2372mg
Carbohydrates:

38g
Fiber:

4g
Sugar:

2g
Protein:

6g