Pumpkin Yeast Rolls – Big, soft pumpkin yeast rolls brushed with honey butter are even better than regular yeast rolls! Everyone in my family loves them!
In my family, I am known as the bread maker. I mean, my Bobby Flay Parker House Yeast Rolls are THE BOMB! However, now that my daughter has taken over a lot of the cooking for the blog, she has surpassed me by a long shot!
She recently took on making the best pumpkin yeast rolls that I have ever eaten. This is hands down my favorite bread recipe that has been on the website for a long time.
How to Make Pumpkin Yeast Rolls
If you know someone who's on the fence about pumpkin flavored anything, these rolls are perfect for them. The pumpkin flavor is not strong, so most everyone loves these.
To make this easy dinner roll recipe, you'll need:
Milk
Unsalted butter
Egg
Pumpkin puree
All-purpose flour
Instant dry yeast
Granulated sugar
Pumpkin pie spice
Ground nutmeg
Salt
Add milk and 2 tablespoons of butter to a measuring cup. Microwave it for about 45 seconds and then stir until the butter melts.
Add in the pumpkin puree, 1 egg, and whisk together.
Now, we are going to add yeast and flour. Since it's instant yeast, you don't have to proof it (let it stand with warm liquids for 10 minutes or until foamy). You simply add it with the rest of your dry ingredients.
In a mixing bowl, add the flour, yeast, 1 tablespoon sugar (must-have, it's the yeast's food source), 1 tablespoon pumpkin pie spice, a pinch of salt, and 1 teaspoon nutmeg.
Knead the dough for 5 to 8 minutes. I used my stand mixer, but you can do it by hand.
Put it in a bowl, cover it with plastic wrap, and place in a warm, draft-free place until it nearly doubles in size, about 45 minutes.
Shape into rolls, and put them in a pan and wait until they've nearly doubled in size, likely about 30 to 45 minutes.
Brush with melted honey butter and bake in a preheated 375-degree oven and bake for 25-30 minutes or until the rolls are golden brown.
Remove from the oven and brush with honey butter again.
Check out these other delicious bread recipes
Yield: 10 Rolls
The Best Pumpkin Yeast Rolls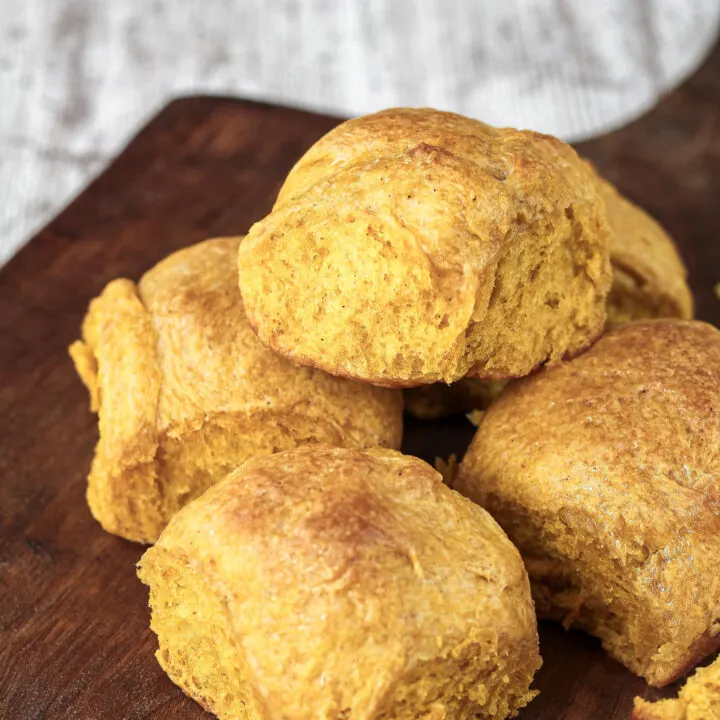 These yeast rolls are full of delicious pumpkin flavor.
Additional Time
1 hour
30 minutes
Total Time
2 hours
5 minutes
Ingredients
1/3 cup milk
2 tablespoons butter
1 large egg
1/2 cup pumpkin puree
2 1/4 cups all-purpose flour
2 1/4 teaspoons instant dry yeast
1 tablespoon sugar
1 tablespoon pumpkin pie spice
1 teaspoon ground nutmeg
1/2 teaspoon salt, optional and to taste
For the honey butter
2 tablespoons of butter
2 tablespoons of honey
Instructions
Add milk to a 2-cup microwave-safe measuring cup, or microwave-safe bowl.
Add the butter and heat on high for 45 seconds. Stir until the butter has melted into the milk.
Add the egg and the pumpkin puree, and whisk to combine.
To the bowl of a stand mixer fitted with the dough hook, add the remaining dough ingredients.
Pour the wet mixture over the dry ingredients.
Turn mixer to low speed, and knead for 5 to 8 minutes, or until dough is smooth and has come together.
Turn the dough out into a mixing bowl that's been lightly sprayed with cooking spray. Flip the dough over once so both sides are lightly greased, and cover the bowl with plastic wrap.
Place the bowl in a warm area until the dough has nearly doubled in bulk, about 45 to 60 minutes.
Punch the dough down and turn it out onto a nonstick surface.
Divide the dough into 8 to 12 equally-sized portions, rolling each portion into a ball. You should end up with 9 or 10 rolls.
Place the dough balls into a parchment-lined 9-inch square pan.
Cover pan with a damp towel, place pan in a warm, draft-free environment until the dough has nearly doubled in bulk, about 45 minutes.
In the last minutes of rising, preheat the oven to 375F.
To make the honey butter, melt the butter in a small microwave-safe bowl, about 45 seconds on high power.
Add the honey and stir to combine.
Before baking, generously brush dough with honey butter; reserve any extra and brush it on after baking.
Bake for 15 to 17 minutes, or until puffed, golden, domed, cooked through, and when tapped, the rolls should sound hollow.
Allow rolls to cool in the pan until they're cool enough to handle before serving.
Nutrition Information:
Yield:
10
Serving Size:
1
Amount Per Serving:
Calories:

182
Total Fat:

6g
Saturated Fat:

3g
Trans Fat:

0g
Unsaturated Fat:

2g
Cholesterol:

31mg
Sodium:

155mg
Carbohydrates:

28g
Fiber:

2g
Sugar:

6g
Protein:

4g