This recipe for my Chicken Scampi will be your new favorite go to pasta dish. The flavorful taste of Dorot Herbs and Spices make it taste like you've been slaving over this dish for hours.
OMG — y'all Thanksgiving is next week — can you believe it? While I am in full prep mode for Thanksgiving, I am always about those quick and easy meals I can serve to my family in those days leading up to Turkey Day.
One of my favorites is this quick and easy Chicken Scampi.
This is one of the easiest recipes you will ever make. I love it so much and have been making it for years. When I used to make this, I used dried herbs.
However recently, I was introduced to Dorot — fresh, frozen herbs and spices that have taken my recipe creations over the top.
I am a huge fan of fresh herbs, so when I heard about Dorot, I knew it was something I wanted to try out for myself. You get pre-portioned garlic and herbs that are flash frozen at their peak of freshness.
What this means for you and me is that we get fresh herbs — all year round.
I think one of the reasons that I love these so much is that there is no chopping involved. I can just pop out the fresh garlic or basil into whatever dish I am making and voila — fresh delicious flavor!
How to Make Chicken Scampi
Making my chicken scampi is simple and easy. You start off by melting butter in a sauce pan and adding in your herbs and spices. For this dish, I used Dorot Garlic, Basil, and Parsley. Add in some salt and lemon juice and you will have the ultimate perfect sauce.
In the sauce, you add in some cubed chicken and let it cook. Make your favorite pasta noodle — such as spaghetti, linguine, fettucini or whatever you desire. Or — if you have the time, you can always try making homemade pasta. It is not as hard as you think it is.
Then toss it in the scampi sauce for a perfect comfort food pasta dish ready in 15 minutes or less. And the best part is that the protein in this dish can be subbed out for anything — beef, shrimp, turkey or pork. The possibilities are endless here.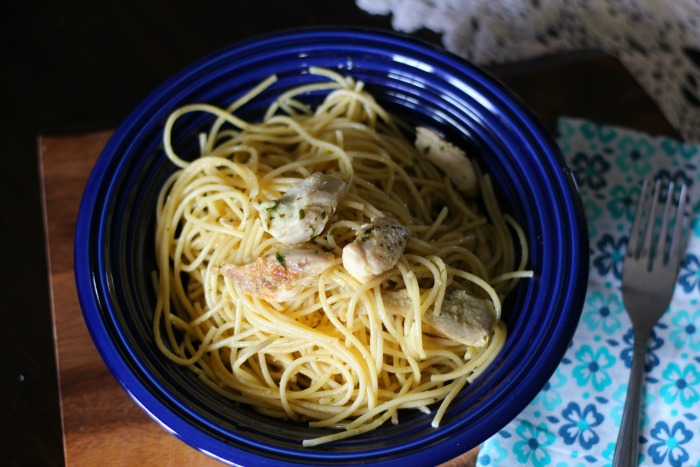 Chicken Scampi – Quick, Easy & Delicious
Ingredients
½ Cup butter
¼ cup olive oil
2 cubes of Dorot Frozen Parsley
2 cubes of Dorot Frozen Basil
¼ tsp dried oregano
3 cubes of Dorot Frozen Garlic
¾ tsp salt
1 TBSP lemon juice, use the real stuff not the bottled mess
4 boneless skinless chicken breasts cut into 1" chunks
1 package of your favorite pasta noodles
Instructions
In a 10" skillet, melt the butter and oil together.
Once the butter has melted, add the parsley, basil, oregano, garlic,and salt. Stir together for about a minute.
Add lemon juice and continue mixing.
While chicken is cooking, prepare your noodles.
When chicken and noodles are done, combine the two and mix together.
Enjoy!
What is your favorite go to pasta dish that you can get ready in 15 minutes or less?
I received complimentary products in exchange for this recipe. All opinions listed are 100% my own.