I was invited to a media event as part of #BloggingBranson sponsored by Stone Castle Hotel & Conference Center. My admission to the Titanic Branson was provided at no cost to me. All thoughts, opinions, and ideas are my own!
Many years ago, I sat plastered to my television screen as I watched Jack and Rose board the Titanic and fall in love.
From that moment, I have been completely obsessed with the movie and everything that happened on that fateful night. Imagine reliving that on a much larger scale when you visit the Titanic Museum in Branson, Missouri.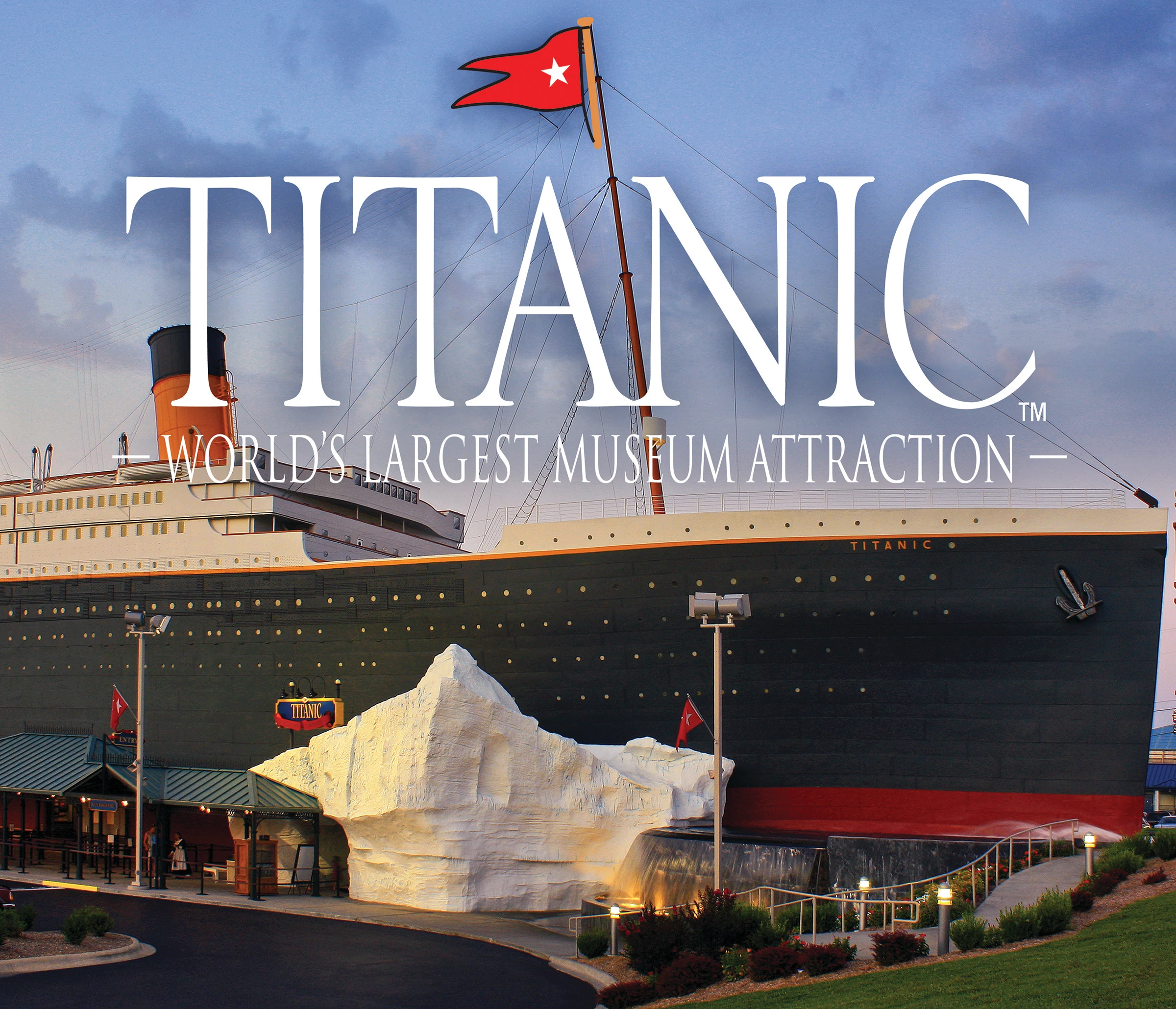 Visiting the Titanic Museum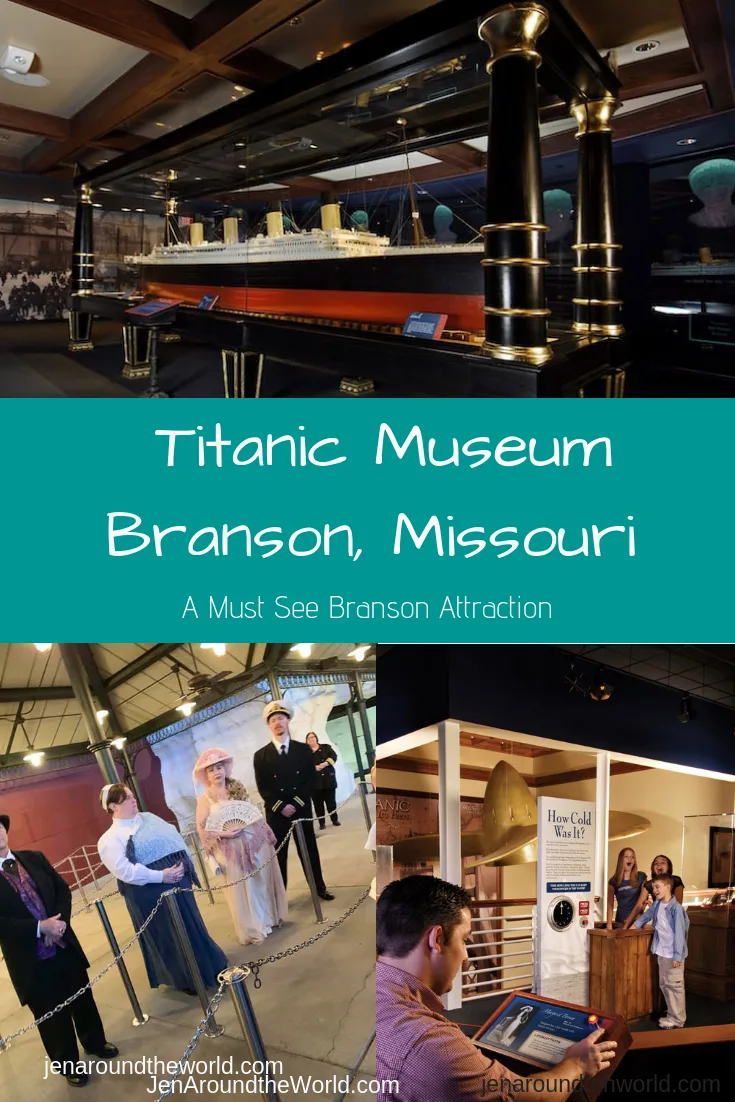 Normally when you visit the Titanic Museum in Branson, it is hosted during the day, but on this special trip, we were invited to solve a murder mystery aboard the Titanic!
Photo Credit: Saving You Dinero
I asked them if they did this often and they said yes! They love doing private events like this, so if you are planning to visit and want to do something really fun, think about doing the murder mystery. It was so fun.
The crew lined us all up and began giving us the story. Four main characters to choose from — but who really committed the murder?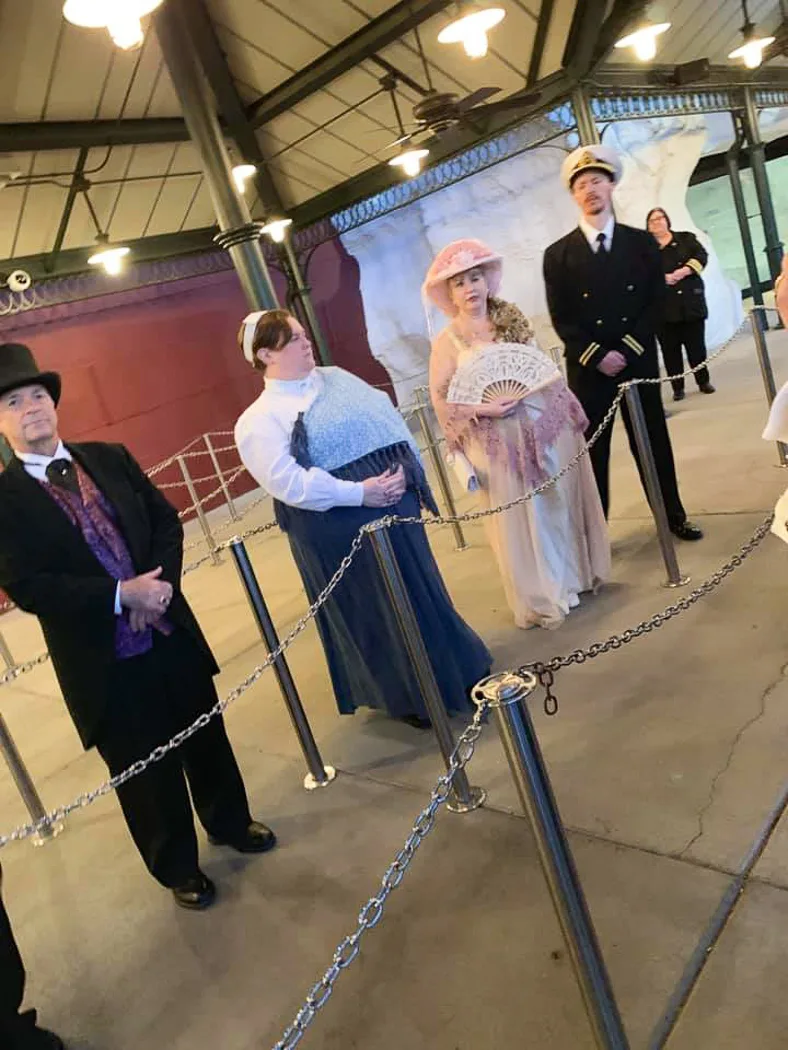 Once the story was given, we were escorted inside to begin our journey.
Inside the Tour of the Titanic Museum
Upon arrival at the Titanic Museum, you are given a card — which happens to be one of the actual passengers on the ship. I have been through this tour 3 times and each time I have been given a different card.
During your tour, you are given the job of paying close attention to each class and seeing if you can find your name among the stories on the wall.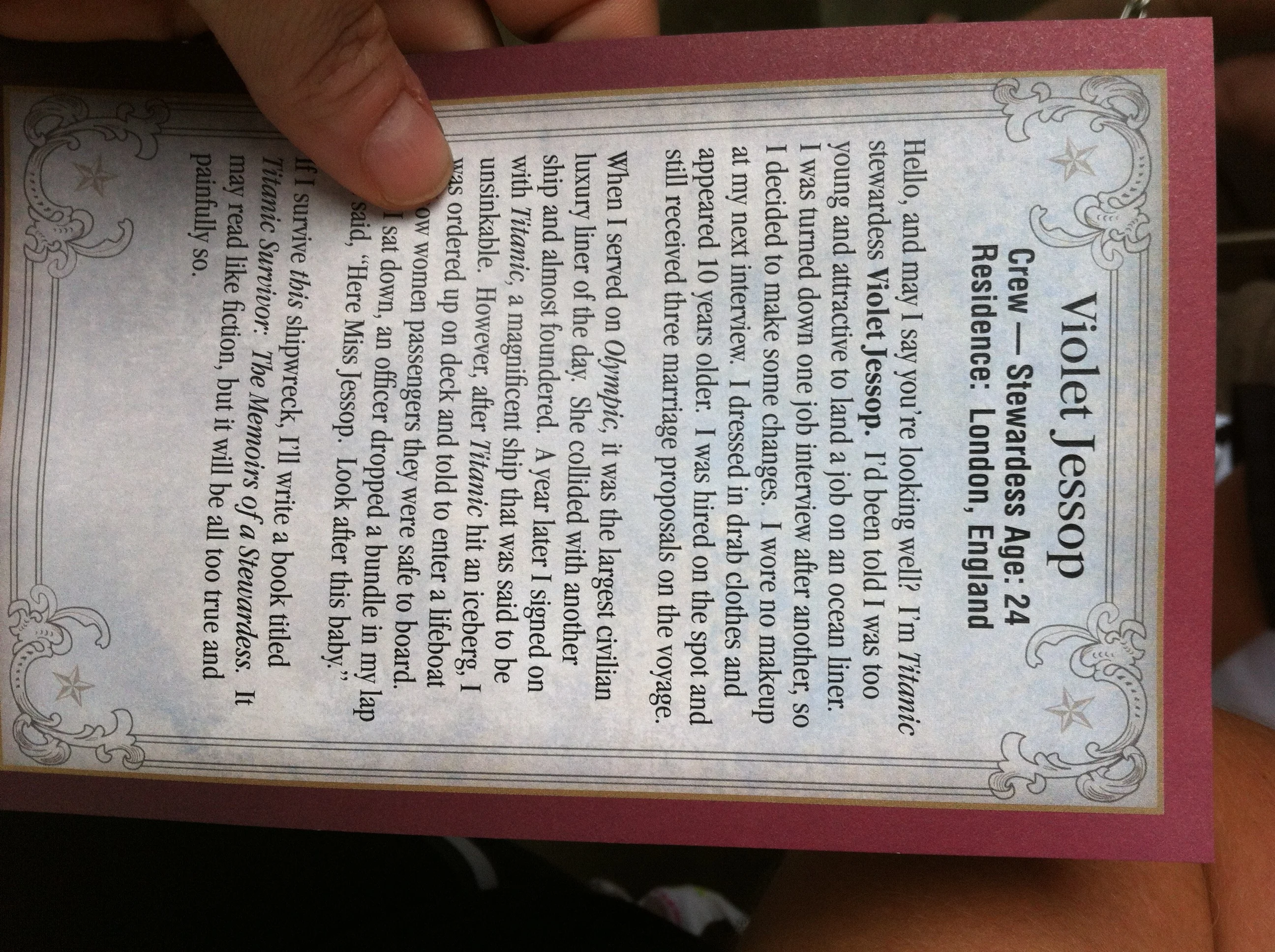 My husband and I were first class passengers this time, but the last time I took this tour I was a crew member. While some first class passengers did perish with the ship, luckily we made it out alive.
Inside, learning about the museum is so amazing. There are some great artifacts from the actual ship that you must see.
While we weren't allowed to take any photos whatsoever because of copyright laws, I did enjoy every single angle of the tour.
The Titanic Museum in Branson has over 400 real artifacts, valuing at over $4 million dollars. There are replicas of the ship, the main staircase, and more. Just recently, they add some life jackets that had finally been recovered to their list of awesome artifacts.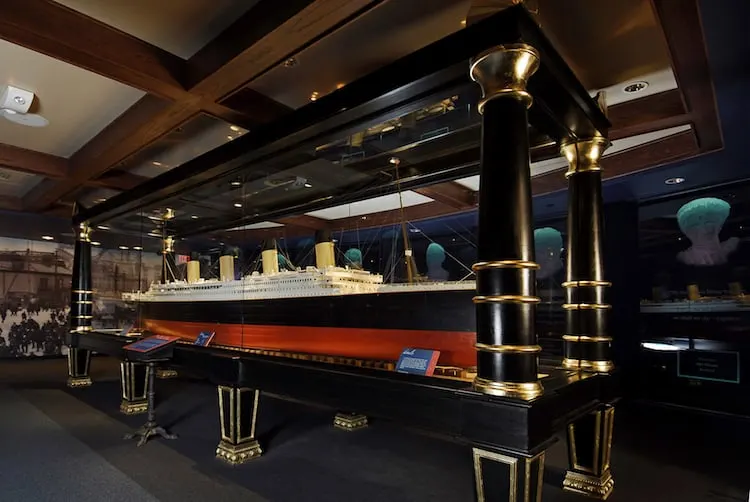 Image Credit: Titanic Museum Branson Missouri
How to Enjoy Your Visit on the Branson Titanic
During our visit, our tour guide shared with us about the eight musicians onboard who famously serenaded the guests until the very last minute of the ship being afloat.
They went down playing from what I understood. This was a moving tribute to these eight men, and the knowledgeable staff shared their stories and made them feel real and relatable.
We got the blessing of having Marty Hughes of the Hughes brothers to play the piano for us and he even received an honor for playing the piano. It was very moving.
Many Interactive Additions
There are platforms at the same angle as the ship was when it was sinking into the sea. We were able to climb these and see how truly upright the ship was when it sank. It was crazy how diagonal that ship got. I honestly cannot believe that anyone could have stood during the last two heights.
Image Credit: Titanic Museum Branson Missouri
Take a chance to walk out onto the deck boat and experience how cold it would have been on that fateful night. I am very cold natured so I was freezing and SO ready to go back inside. The temperatures were so low you felt like you were in a deep freezer or refrigerator. However, if you think THAT is cold — wait until I tell you about the water.
The water in the Atlantic ocean was 28 degrees when the Titanic sank. The Titanic museum had water that was 28 degrees and we were given the test to see how long we could stand the cold.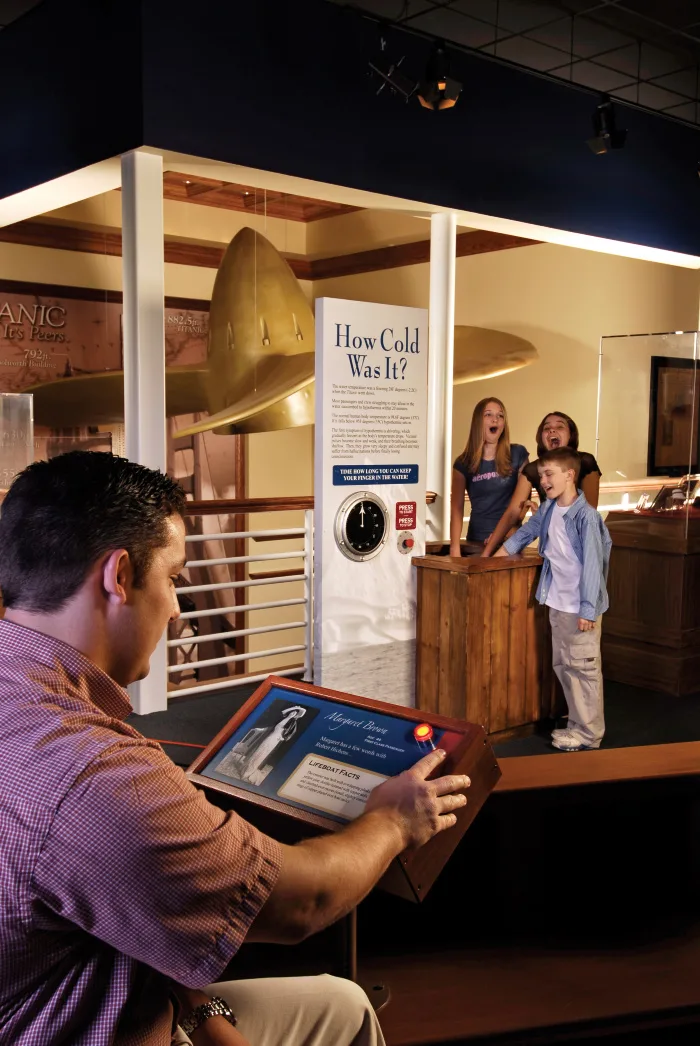 I stuck my hand into the water and in just seconds I was ripping it out because of the bitter cold that was making my fingers hurt. I knew after feeling that ice cold water how quickly their bodies must have succumbed to the cold. What a sad way to die.
As we neared the end of the museum, we had the chance to find out what happened to the people on the cards we'd received as we started our journeys. It was a very humbling experience and I cannot imagine all the families and the terror they experience that fateful night.
Titanic Museum is a MUST SEE Branson Attraction
If you're in the Branson area, put this on your MUST-SEE list!
You can find more information about the Titanic here. If you want to buy your tickets in advance, be sure to check out the awesome ticket combos they have – you can combine Titanic tickets with admission to Samson or even with your stay at Stone Castle Hotel and Conference Center.
If you are wanting to visit Branson and need some more ideas of places to visit, be sure to check out my other posts on the attractions we visited.
You can find the Titanic Museum on the main strip in Branson —
3235 76 Country Blvd & Hwy 165, Branson, MO 65616
Interested in reading more about Branson? Check out these posts!
Silver Dollar City
5 Reasons You Should Visit Branson
Have you ever visited the Titanic Museum? What was your favorite part?