I was invited to a media event as part of #BloggingBranson sponsored by Stone Castle Hotel & Conference Center. My admission to the Hughes Music Show was compensated in exchange for this review. All opinions are 100% my own.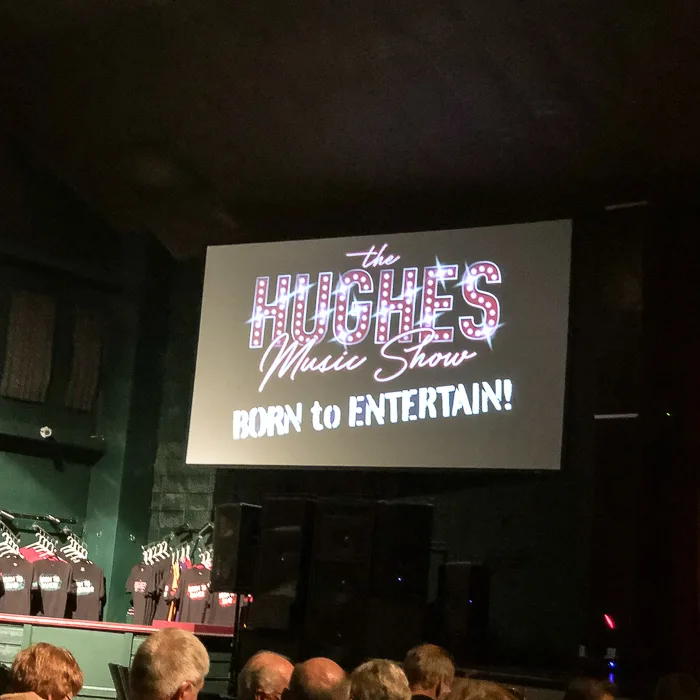 When I tell you that I am a lover of all things musical, I mean it. On my most recent trip to Branson, Missouri, I had the pleasure of attending a very down to earth, but action-packed and song filled theatre show — The Hughes Music Show!
The Hughes family made up of 4 brothers, their wives, and all their children can be counted as possibly one of the biggest families in Branson — and they all perform in the show.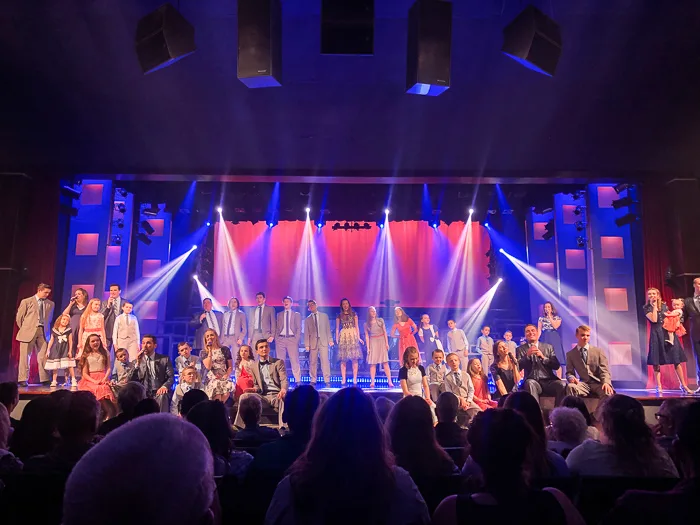 If you start counting how many there are, you might possibly lose count. However, I think there are 30 of them altogether, and as I said — they all perform in some way or another in the show.
You Will Fall in Love with The Hughes Music Show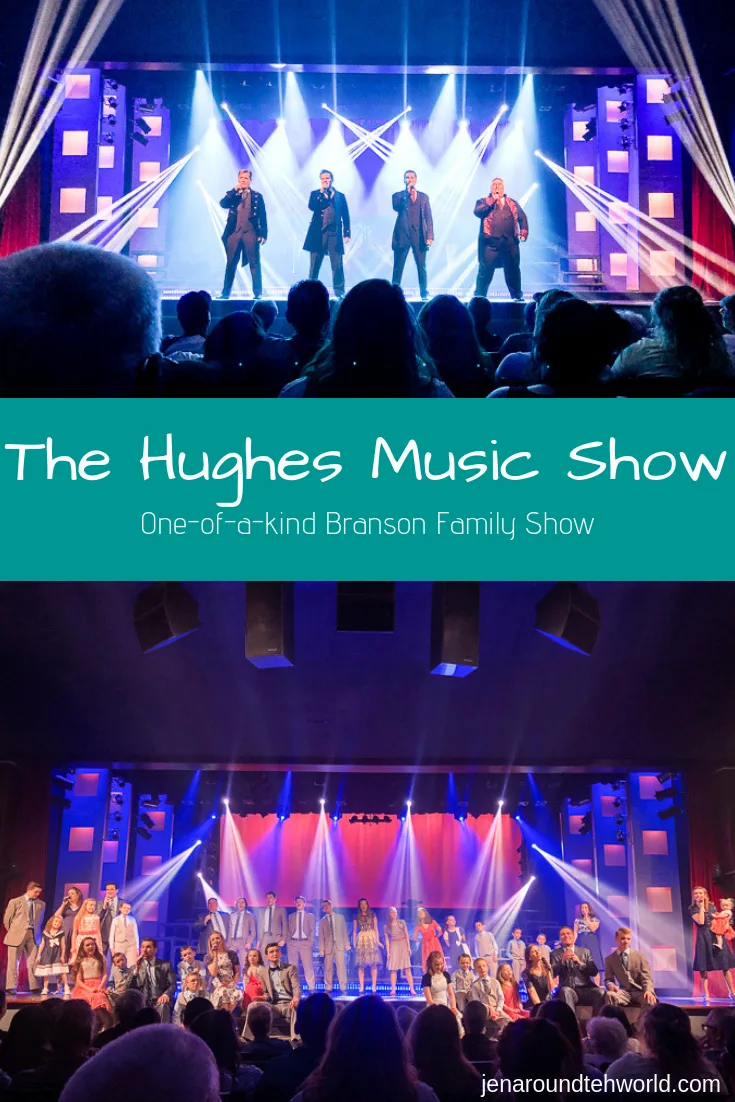 From the moment the family took the stage, I will be honest — it was HARD to stay in my seat. I had no idea what to expect. Was the music going to be old fashioned and catering to the older crowd? Were the acts going to be slow and boring?
However, the answer to all these questions is a definite resounding NO!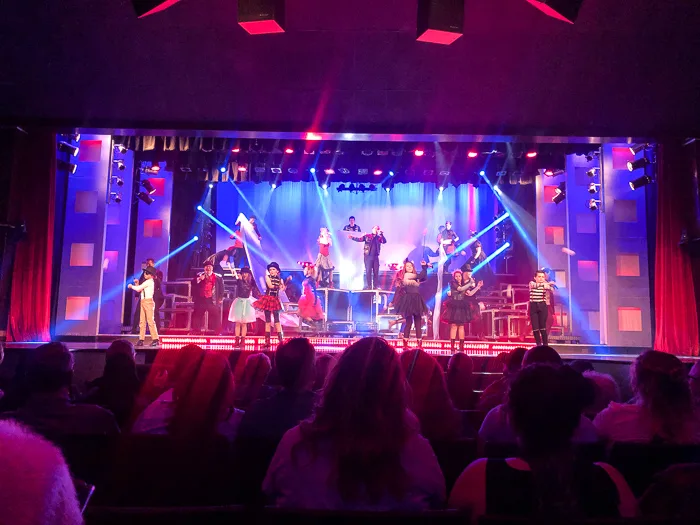 Y'all the opening act was "This is the greatest show" from The Greatest Showman, my favorite musical ever.
And the best part — every single act was so full of theatrics and music and just amazing acting. I loved every minute of it.
This show is for all ages
What I loved most about this show is that there was not just one age group that was targeted. Because their family covers pretty much every age group out there, they had acts to cover everything.
They did songs from way back when. They also covered some of today's hits, and one of my favorites — Greased Lightning from the musical Grease!
I won't lie — I was singing right along and doing all the Grease moves that I have grown up with. Moreover, another blogger and I got tickled at each other because we both looked around at the same time and we were fist-pumping it and moving in our seats like we were on stage too.
It's hard not to when you have amazing songs with awesome dancing and singing going on.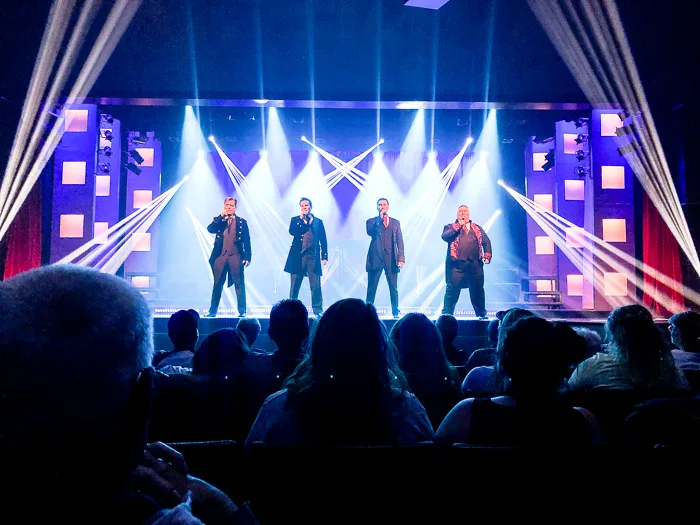 Try to stay in your seat — I dare you! However, let me warn you — you will be the only one in your seat!
Organization is Key for Such a Large Family Show
After the show, we got to talk to all the family members and they were sharing how organized they have to be to pull off a show with a family cast this big.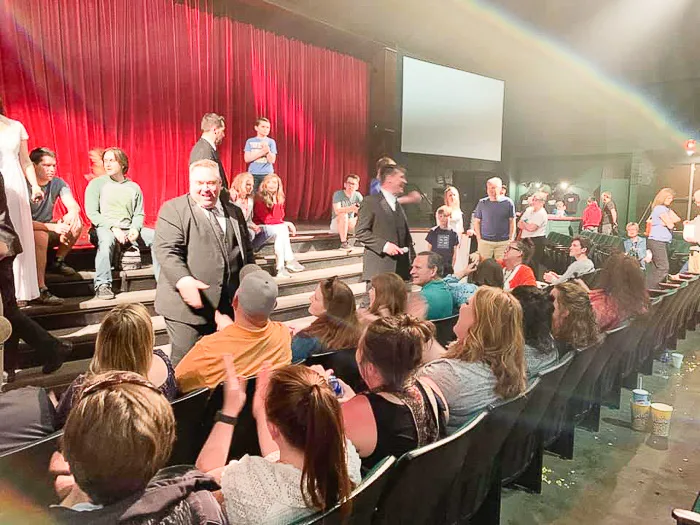 The cool thing is that during the Christmas season, the entire show changes, so there is more learning going on. I seriously need to go back at Christmas and see all the shows going on.
Oh — and if you hadn't guessed by now, all the kids are homeschooled and they run the family business. While you are shopping for merchandise, one of the cast members (aka the kids and family) will be waiting on you.
I was completely impressed that the 10-year-old young lady checking me out was having a math lesson right while I was checking out. She was learning how to use the credit card machine and ring people up.
That spoke volumes to me because you never stop learning — ever.
And I totally bought myself this sparkly purple hat. I had too. You know me 🙂
This is such a great show that Branson has recognized them for several years as being the best with these awards. —
Best Show
Best Christmas Show (10 times)
Entertainers of the Year
Best Musical Family
Multiple Individual Entertainer and Musician Awards
If they have won that many awards, you know the show is killer and YOU NEED TO SEE IT!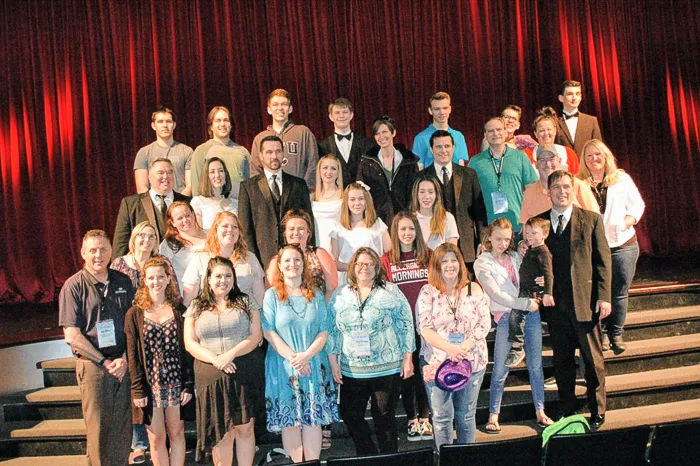 Getting Tickets for The Hughes Music Show
There are several options to choose from when purchasing a ticket for this particular show.
Regular Adult Admission: $39.99
Teen 12-17 $16.99
Child 6-11 $9.99
VIP seating (first 6 rows) adult 12+ $49.99
VIP Seating (first 6 rows) child 6-11 $16.99
Get dinner added to your adult ticket 12+ $18.95
Get dinner added to your child ticket 6-11 $9.95
Click here to order your ticket today!
The Hughes Brother Theatre is located at
3425 W. HWY 76 | Branson, MO 65616
417-334-0076 | 800-422-0076
INTERESTED IN READING MORE ABOUT BRANSON? CHECK OUT THESE POSTS!
Silver Dollar City
5 Reasons You Should Visit Branson
What are your plans for the summer? Grab tickets to see The Hughes Music Show and have a blast in Branson this summer!