These Slow Cooker Cranberry BBQ Weenies are the perfect party appetizer!
If you are like me, when Thanksgiving comes and goes, you probably have a TON of leftover jellied cranberry sauce. I know I do.
I stock up on it before Thanksgiving when it goes on sale at the grocery store. Once I stock up and everyone has had their fill of holiday food, I have to find creative ways to use it up.
Like my recipe for these Cranberry BBQ Weenies. This is a great recipe for the holiday season, but it's also great for game day as well! It makes a bunch and is a big hit for a large crowd.
This recipe came about because I am a huge fan of a little smokies recipe that you make with grape jelly and BBQ sauce, so I thought — why not try it with jellied cranberry sauce? This recipe requires zero minutes of prep time which is my favorite!
The result is these super savory weenies that have just a touch of sweetness, but more of a BBQ taste and feel. Of course, if you have homemade cranberry sauce with fresh cranberries in the fridge, feel free to use that also.
How to Make Cranberry BBQ Weenies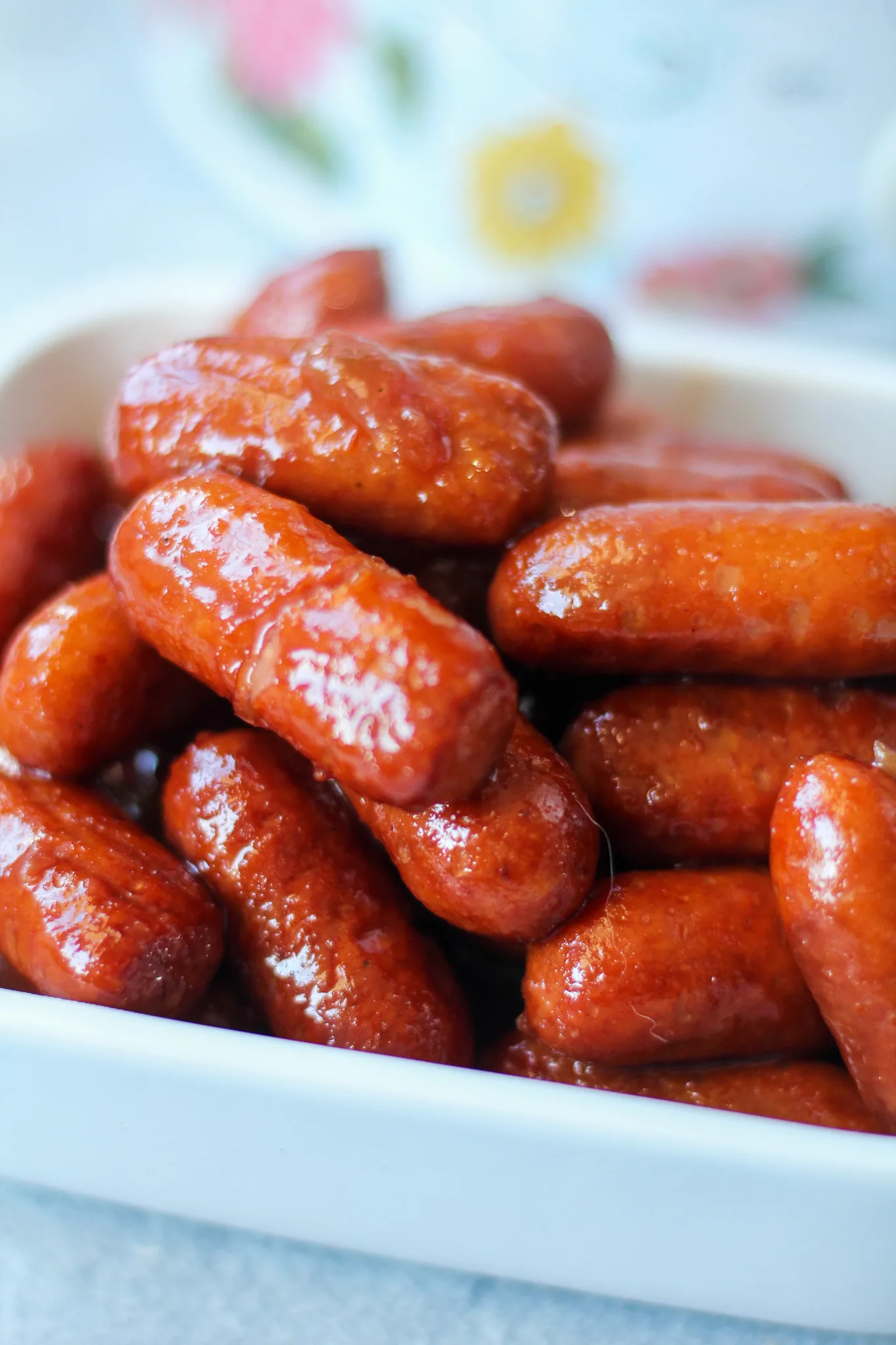 It's funny — these are my son's favorite cocktail sausages. When he came home from work last night, he spied them and before the night was over, he had eaten them all.
Every. Last. One. Of. Them.
But that's okay because I have several more cans of jellied cranberry sauce in the pantry. I will be experimenting with other recipes soon to share with you!
To make these delicious little nuggets of goodness, combine cranberry sauce with BBQ sauce (my favorite is Sweet Baby Rays) and the lil smokies in the slow cooker and mix well. Turn it on low heat and leave it for a couple of hours. Stir, put it on the warm setting, and serve! This is an easy appetizer that you can serve all year round.
As an added addition, you can swap out the cocktail sausages and use hot dogs instead. For a little kick, throw in some hot sauce or red pepper flakes.
In the meantime, check out this video that shows exactly how I made these crockpot little smokies. Like I said — they are simple and easy.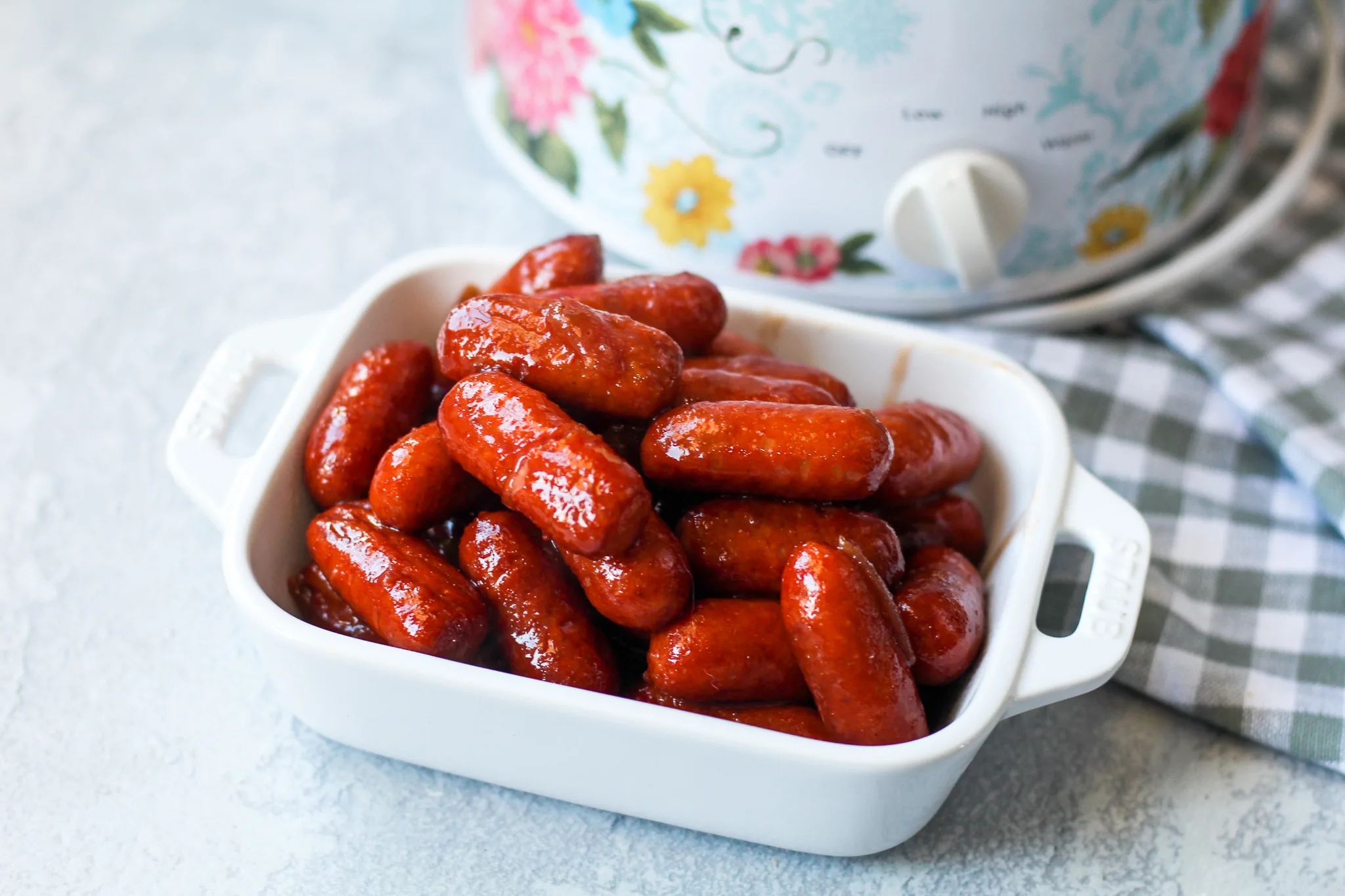 This recipe is so versatile. You can add different jellies like orange marmalade to give them a stout flavor or experiment with things like honey, brown sugar, and soy sauce to make a spicy BBQ sauce. Or, like me, use the leftover jellied cranberry sauce. Make a tangy sauce to dip them in.
These little weenies are perfect for making great appetizers. I have used them for recipes like original BBQ lit'l smokies made with grape jelly and chili sauce, everything seasoned cocktail weenies, and more.
How to Store these BBQ Weenies
To store the weenies, put them in an airtight container and place them in the fridge until ready to eat. They will stay good for about 3-5 days. Serve them with a side of white rice and a green salad for a simple and easy leftover dinner.
What about you? How do you use leftover jellied cranberry sauce?
Check Out The Easiest Appetizers Below
Yield: 15 servings
Cranberry BBQ Weenies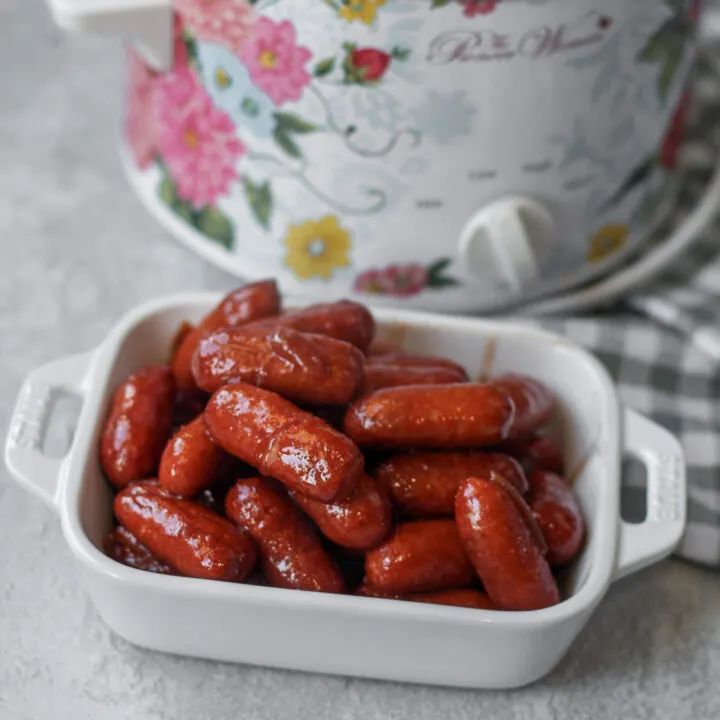 This recipe is perfect for parties and to use leftover jellied cranberry sauce.
Total Time
2 hours
10 minutes
Ingredients
1 can jellied cranberry sauce
1/2 bottle BBQ Sauce, any flavor
1 pkg cocktail weenies
Instructions
Mix all together in a slow cooker and cook on high for 2-3 hours. Enjoy hot or at room temperature.
Nutrition Information:
Yield:
15
Serving Size:
1
Amount Per Serving:
Calories:

33
Total Fat:

0g
Saturated Fat:

0g
Trans Fat:

0g
Unsaturated Fat:

0g
Cholesterol:

0mg
Sodium:

18mg
Carbohydrates:

8g
Fiber:

0g
Sugar:

6g
Protein:

0g